Posted by Maggie on June 17, 2022 in From the editors
I'm telling ya, folks. When stocking up on important items, make sure you're doing so with Tylenol and Advil.
This cluster-fuck migraine is only going to get bigger.
Caitlin McFall: Biden announces $1.2B in additional Ukraine aid: The U.S. will provide additional artillery, coastal defenses and advanced rocket systems … Given the Biden boys' financial history with Ukraine, I don't think it's impropper to suggest that a certain percentage of this $60+ billion being sent to Ukraine is being "banked" somewhere for the Biden family interests, among others in the US Congress with family members with kin invested in that country (look it up).
Hey, Brandon, when you repeat a lie it doesn't make it the truth…
Bradford Betz: Biden gets testy, falsely claims inflation in 'every other major industrialized country' higher than US: President Biden said the U.S. was in relatively good standing to overcome inflation
In his first interview with The Associated Press, the president – running contrary to what many economists are forecasting after the Federal Reserve raised interest rates – said a recession was "not inevitable."

"We're in a stronger position than any nation in the world to overcome this inflation," Biden said, pointing to 3.6% unemployment rate and America's relatively strong standing in the world.

At the notion that his administration's policies were responsible for the worst inflation in 40 years and record-high gas prices, the president reportedly bristled.

"If it's my fault, why is it the case in every other major industrial country in the world that inflation is higher? You ask yourself that? I'm not being a wise guy." …

The latest figures on inflation for these countries indicate the following: Germany at 7.9%, France at 5.2%, Japan at 2.5%, India at 7.04%, Canada and Italy at 6.8%, and Saudi Arabia at 2.2%. Meanwhile, data released last week showed that U.S. inflation rose in May to a four-decade high of 8.6%.
He claimed the same bullshit a few days ago in front of the AFL-CIO…
Houston Keene (June 14, 2022): Biden falsely claims inflation 'worse everywhere but here,' but US rate higher than most developed countries: US wholesale inflation hit 10.8% on Tuesday
Does 10.8% strike you as lower than those countries' rates in the chart above?
It was fact-checked and debunked after that grumpy old man conniption. It's fact-checked and debunked now with this "feisty" AP interview as well. Gov. Ron DeSantis gives an audible scoff and ridicule of this latest running lie from the administration…
CBS-Miami: Florida Gov. Ron DeSantis rips into Biden on inflation, gas prices
DeSantis-2024, baby!!!
Whichever minion(s) writing these lies is not very good at all and needs to be exposed for the "disinformation" being intentionally hoisted on the American people who know better.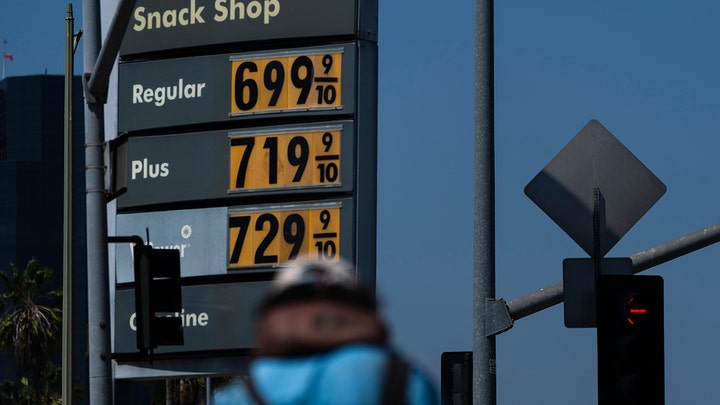 Chris Enloe: Fox News reporter unravels Biden's newest narrative on inflation with abrupt fact-check: 'That's not true'
VIDEO: The Strategic Funds managing director Marc LoPresti and Circle Squared Alternative Investments CIO Jeff Sica analyze the Fed's inflation plan: Wall Street throwing a tantrum over Fed's attempt to conquer inflation
Teny Sahakian , Matt Leach: GAS PAINS – Biden, Putin, or the pandemic — who's really to blame for insanely high fuel prices? Americans sound off
Oh, wait. We have a new "disinformation czar" as Kamala Harris now has that new job to add to all the other 'jobs' she's been tasked with 'heading'…
Alexander Hall: Kamala Harris announces launch of White House 'task force' to stop online 'gendered disinformation,' abuse: The new White House task force will 'address online harassment, abuse, and disinformation campaigns targeting women and LGBTQI+ individuals' …
Vice President Kamala Harris announced the launch of a "Task Force to Address Online Harassment and Abuse" Thursday at the White House.

Harris praised the task force in her remarks as a means for societal progress, saying, "No one should have to endure abuse just because they are attempting to participate in society."

A memo on the task force released by the White House condemned "gendered disinformation" and proclaimed the administration will be "developing programs and policies to address online harassment, abuse, and disinformation campaigns targeting women and LGBTQI+ individuals who are public and political figures, government and civic leaders, activists, and journalists in the United States and globally."

The memo suggested that online "harassment" has devastating costs for democracy itself by "undermining [people's] ability to exercise their human rights and participate in democracy, governance, and civic life."

It went on to claim, "Online abuse and harassment, which aim to preclude women from political decision-making about their own lives and communities, undermine the functioning of democracy."

The Director of the White House Gender Policy Council and the Assistant to the President for National Security Affairs will lead the "interagency effort to address online harassment and abuse, specifically focused on technology-facilitated gender-based violence, and to develop concrete recommendations to improve prevention, response, and protection efforts through programs and policies in the United States and globally."

Although Harris mentioned concern about white supremacy online and privacy protection for abortions in her remarks, neither she nor the memo mentioned far-left Antifa groups doxxing politicians or other dangerous leftist activity online…
Well, of course not. Those are the left's "freedom fighters", or something. Kammy herself was funding and promoting the bailing out of those violent criminal bastards and bitches over the last two years. Anyhow, one 'disinformation board' down, another pops up, just like that, y'all!
OFFingFS … This F-ing government is #WOKING this country into a deep #COMA…
Timothy Nerozzi: Government asks for $10M to study how to ask about sexual orientation: Other government agencies look to the US Census Bureau for guidance in crafting their own data collection questions. … I've seen videos of those on-the-street interviews at "PRIDE" parades and rallies, and none of those celebrating their gender/sexual whatever are shy about answering questions.
Sarah Taylor: CDC issues insane sex guidance to prevent the spread of monkeypox … But we're not allowed to point out the spread of the pox is primarily coming from the homosexual community, just like we weren't allowed to say COVID19 came from the Wuhan bio-weapon lab in Wuhan, China.
Using our tax dollars to buy votes…
Richard Vedder: Four reasons Biden's student loans 'forgiveness' plan is wrong: Canceling student loan debt is a way to buy votes while paying off supporters
Anyhey … Can somebody in the press ask the administration if Harris is getting additional salaries for all these "jobs" she's being assigned to head? What a fantastic and brilliant multitasker this woman is, huh? Here's how well her governing of her border job on the US border. These are just the recent 'terrorists' that were nabbed by Border Patrol, not the 'got-aways'. So, a thinking person would probably conclude the ones caught were decoys so the got-aways could, you know, get away deep into our nation. And they have been for over 15 friggin' months.
Meanwhile, you say you're okay with "red flag laws" on guns? Think again. Google "SWATTING". 'Red flag laws' will be twisted and used this way…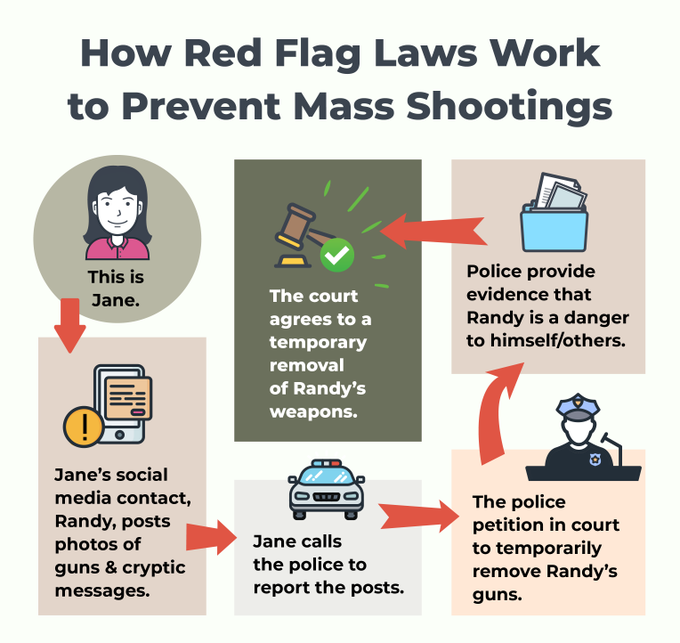 Red flag laws allow us to take action when someone who has a gun begins to act erratically.

Red flag laws still require due process, and any removal of weapons is temporary. pic.twitter.com/IVPHgbrvhD

— Governor Tom Wolf (@GovernorTomWolf) June 16, 2022
Twitchy: Gov. Tom Wolf posts a cartoon version of how red flag laws work to prevent mass shootings
This is Jane.

Randy doesn't like Jane, so he calls the police on her.

Police petition in court to seize Jane's weapons, without Jane being able to present a defense.

The court approves it, and a SWAT team shows up at Jane's home early in the morning.

Jane has been swatted. https://t.co/3rjlyo203y

— Spike Cohen (@RealSpikeCohen) June 16, 2022
"This is Dave. Dave is stalking his ex-girlfriend who has a restraining order against him. Dave calls the police and claims Jane is suicidal. The police go to court and petition to temporarily take Jane's guns away… 1/2

— Running Bear (Come and Take Them) (@running_bare) June 16, 2022
"The court agrees, and the police remove Jane's guns from her possession. Now defenseless, Dave breaks in one night and brutally stabs Jane to death because 'If I can't have her, no one can.'"

— Running Bear (Come and Take Them) (@running_bare) June 16, 2022
There is no due process. How many regular citizens can afford to spend $5000-$10000 on a competent attorney to "clear" their name and contest the seizure of a $500 firearm? Then there's the missed work. Many folks get fired for missing work. And permanent reputational damage.

— Mike Kilo (@Mike___Kilo) June 16, 2022
"We need red flag laws and consequences for those who abuse them." – actor Matthew McConaughey
Where is the protection for law-abiding gun owners who will be wrongly targeted by some1 seeking to purposely/nefariously disarm them?…

— Maggie (@drillanwr) June 17, 2022
Don't come at us with 'red flag laws' until you address the abuse of them. Yes, it will be abused, and by the local/state/fed governments too.

— Maggie (@drillanwr) June 17, 2022
Case-in-point…
The Blaze: AOC worries Senate gun bill fails to address 'violent misogyny and white supremacy'
D. Parker: Gun deal in jeopardy after senators fail to agree on gun confiscation red flags … Good!
"ABORT! ABORT! ABORT!" – The dems/left think they can run on abortion and J6 in November. Yeah– no, Americans know the SCOTUS ruling would kick the abortion issue and laws back to the individual states. Abortion is not being outlawed, as they and the MSM would have you believe. The American people will LITERALLY be voting their wallets/bank accounts/401Ks/retirements/credit card debt/mortgages/savings accounts/gas tanks/utility bills/grocery budgets/etc. … NOT the right for a woman or a pregnant man to slaughter a baby in the womb or on its way out at birth…
Carlos Garcia: Biden says he might issue pro-abortion executive orders if Supreme Court overturns Roe v. Wade
Kimberly Ross: Roe v. Wade getting overturned won't decide 2022 midterm elections
David Spunt , Timothy H.J. Nerozzi: FBI investigating attacks on pregnancy centers as potential acts of domestic violent extremism: The FBI is soliciting help from any member of the public that might be able to provide information or a lead on suspects
Danielle Wallace , Kelly Laco: Rep. Michael Guest: Mayorkas must address 'anarchist extremist' Jane's Revenge attacks on pro-life centers, demands DHS briefing on 'leftwing violent extremist attacks' on pro-life centers, churches
This is CNNNNNNNNNNNNN:
CNN is sorta-kinda evolving in its staunch leftist propaganda machine stance since Jeff Zucker's resignation months ago brought in 'new blood', Chris Licht, as captain at the helm of the sinking ship…
Thomas Barrabi: CNN's Chris Licht wants to avoid calling Trump election claims 'the big lie': report
New CNN boss Chris Licht reportedly nudged producers to avoid describing former President Donald Trump's claims that the 2020 election was stolen as "the big lie" – a move that comes as top brass drive a shift toward neutral news coverage.

Licht, who took over as CNN's president earlier this year and is driving an overhaul at the left-leaning network, revealed his preference during a conference call with show executive producers and management on Tuesday, Mediaite reported.

The CNN president suggested that shows should instead refer to Trump's disproven claims as "Trump election lie" or "election lies." Licht asserted that using the phrase "the big lie" essentially parroted the Democratic Party's "branding" and hurt CNN's objectivity when covering the topic…
So then, just drop the adjective "big" but continue with "lie"? Yeah, that works. Why not the whole re-wording of "lie" with "disproven"? What? Huh— Oh, it's really not been factually disproven to be a 'lie'.
Anyhow, the anchor jocks at CNN are getting a bit weary of having to hold the bedpan for old Joe as it is real obvious the democrat shart is not even cognizant enough to control a TV remote…
Twitchy: Don Lemon made a shocking admission during his interview with other CNN hosts
Brian Flood: CNN's Van Jones gets 'nervous' about Biden verbal stumbles: 'You wonder … is something else there?'
Twitchy: 'YOU'RE asking me this question? OMG!' Don Lemon actually asks Karine Jean-Pierre a REAL question about Biden's stamina and she LOSES it (watch)
Twitchy: CNN's Van Jones says many Dems want the WH to be honest when it comes to Biden's cognitive state
Meanwhile, the anchor that many not-so-lovingly call "Tater" or "Spud" looks to be on his way out so he can spend even more time watching FOX News Channel…
SOURCE: Stelter is "down to weeks if not days" left at CNN. They go on "He is everything that reminds the new owners of the Zucker era they desperately want to get past" – More to come.

— Jon Nicosia (@NewsPolitics) June 15, 2022
They continue: "Management is confident Stelter is the one sharing the internal pushback to fellow media reporters while simultaneously stirring discontent within the ranks"

— Jon Nicosia (@NewsPolitics) June 15, 2022
Sierra Marlee: Stelter 'down to weeks if not days' at CNN, causing internal turmoil at network, source claims
Twitchy: CNN's Brian Stelter paraphrases Fox News' commentary on Thursday's January 6 committee hearing
Paraphrasing Fox's commentary after today's 1/6 hearing: Powerful testimony, but the committee should have a full slate of Republicans; 1/6 proves the country's institutions held; the coup plot was implausible; hearing's 2024 talk taints it with politics

— Brian Stelter (@brianstelter) June 16, 2022
Paraphrasing my commentary after today's 1/6 hearing: Powerful testimony that no one gives a $hit about because the average American is struggling to pay for gas and food.

— Ryan Saner PAK (@rsaner42) June 16, 2022
~~Many thanks to Maggie and The Universal Spectator for reprint permission.