Posted by Maggie on October 6, 2022 in General News
Oh, really?
Answer the phone, Brandon, it's OPEC+ on line 1, Putin on line 2, Iran on line 3, China on line 4, North Korea on line 5, Venezuela on line 6, your daughter Ashley's on line 7, and Hunter's on the 'hotline' … he needs another Russian hooker bailout.
Charlie Spierling: VIDEO – President Joe Biden on Wednesday was caught on a hot mic while visiting Fort Myers Beach, Florida, telling a local mayor that "no one fucks with a Biden." … Well, Puddin-head, looks like you just got fisted by your Saudi pal—- I can now freely use that term, "fisted", now that our kids are being taught about it in public schools.
OPEC says no, SPR options all but gone…

The WH has one option left and it is the one option they should have never turned away from in the first place – the US based oil and gas industry.

Life comes at you pretty fast….

— US Oil & Gas Association (@US_OGA) October 5, 2022
TBT: John Solomon (10/22/21): US Oil and Gas Association Pres. Tim Stewart warns, current policies going to push generation of Americans into 'energy poverty' … And therein is their master plan. When you hear them say "transitioning" it is not the futuristic sci-fi society of sterile shining cities with smooth-gliding streamlined vehicles humming along. They do not want us seeking independent comfortable lives, producing and consuming on demand (from material goods and food) or even having families. We are no longer to be an envied world leader of freedom, individuality, ingenuity.
There's an oil supply '100 times bigger' than US reserve:
U.S. Oil and Gas Association President Tim Stewart says 4,600 federal drilling permits are waiting on the Biden admin's approval.
Biden guilty of "unpatriotic & disreputable economic policy"..https://t.co/YTzXjYlLmF

— Ron Hanforth (@ronhanforth) May 24, 2022
Maria Bartiromo does a great job scorching Biden and what he's doing and not doing to deliberately push their 'green' climate change ideology/agenda on us…
VIDEO: Maria Bartiromo: Biden admin 'doing business with killers' instead of 'doing business with drillers': Maria Bartiromo discusses OPEC cutting back on oil production and unpacks what impact this will have on U.S. energy.
VIDEO: "A DEGREE OF PANIC AND SPASMS" inside the White House as it sees rise in gas prices, reliance on foreign oil: Sen. John Thune, R-S.D., on the Biden administration facing backlash for reliance on foreign oil, refusal to produce in the United States as OPEC+ cuts oil production
VIDEO: Rick Perry: Biden has used the Strategic Petroleum Reserve for political purposes
Bradford Betz: PLAYING THE FUEL – US oil industry mocks Biden after OPEC+ announces production cuts: OPEC+ says it is cutting oil production by 2 million barrels a day
VIDEO: Retired U.S. Army Gen. Keith Kellogg provides expert analysis of Russia's war on Ukraine and how it is impacting America's volatile gas prices. Russia is 'gaining' from OPEC's decision to cut oil production … Know how to throw a major boulder through Vlad's glass window? The answer is simple but simple-minded Brandon won't do it…
NYPost: Rather than White House whining about OPEC, America needs to drill, baby, drill — but Biden refuses
Charlie Spierling: The White House on Wednesday accused the Organization of the Petroleum Exporting Countries (OPEC+) of siding with Russia by deciding to cut oil production. … Welp, Vlad is obviously playing chess while old Joe can barely comprehend "Chutes and Ladders".
The courts don't seem to be going the left's way right now:
Timothy H.J. Nerozzi: St. Louis man convicted in David Dorn's murder sentenced to life in prison without parole: Stephan Cannon was convicted of murder in July in death of former St. Louis Police Capt. David Dorn
VIDEO: Widow of David Dorn calls out Cori Bush, leftist prosecutors: Ann Dorn slams Rep. Cori Bush and other Democrats for continuing to support the 'defund police' movement. Her husband, former St. Louis Police Capt. David Dorn, was killed by rioters in the summer of 2020.
Adam Sabes, David Spunt: Federal appeals court rules Obama-era DACA program illegal, buts says 600,000 already in US can stay: The Biden administration enhanced legal protection for recipients of DACA
Lawrence Richard: Biden scolds 'MAGA Republicans' after 5th Circuit Court strikes down DACA, orders no new applicants: More than 600,000 immigrants are currently protected by DACA, though the court said no new applicants could be accepted
Meanwhile, somebody call the idiotic arrogant self-righteous corporate #WOKE MLB…
OUTKICK: GEORGIA ELECTION LAW HAS BEEN UPHELD, SO WHERE IS MLB'S APOLOGY? … The MLB's political stunt cost the city's businesses, big and small, millions of dollars.
"Jim Eagle" has landed…with a thud. It was not enough to call it "Jim Crow on steroids" and "sick," President Biden wanted the public to know that the law was flagrantly unconstitutional. It was just upheld by federal judge Steve Jones, an Obama appointee.https://t.co/mXhGZ7J7jg

— Jonathan Turley (@JonathanTurley) October 4, 2022
…However, President Biden once again has moved on. For weeks, Biden denounced the law as taking us back to the segregation period and even the Civil War. Yet, the ruling met with a shrug from the White House. It is a familiar pattern…

— Jonathan Turley (@JonathanTurley) October 4, 2022
Jonathan Turley: "Jim Eagle" Has Landed: A Federal Court Rejects Challenge to Georgia Election Law
After being declared the "new confederacy" and subjected to a costly boycott, Georgians could be forgiven if they view Biden's claim as more foul and fowl.

Given the exhausting media coverage and condemnations of the law, one would expect the legion of legal experts out in force on a judge upholding the allegedly "modern Jim Crow law." Instead, it has been crickets . . . almost as if the earlier coverage was knowingly exaggerated for public consumption.

After the post-2020 changes, Democrats denounced the Georgia election laws as flagrantly unconstitutional and abusive. Georgia Democratic candidate for governor Stacey Abrams tweeted "It's Jim Crow in a suit + tie." Rep. Ro Khanna, D-Calif., called the laws "anti-American, racist, and a betrayal of our Constitution." Democratic attorney Marc Elias (who allegedly hid the Clinton campaigns funding of the infamous Steele dossier) said in an interview that "democracy was assaulted with a pen" in the Georgia election law. Liberal publications like Vanity Fair called it "a broad, profoundly undemocratic assault on voting rights."

Now that such claims were actually subjected to judicial review and rejected, there is little discussion of Jim Crow. The group that lost before the district court is closely associated with Abrams, who previously refused to concede the election of Gov. Brian Kemp in the last election.

President Biden once again has moved on. For weeks, Biden denounced Georgia as taking us back to the segregation period and even the Civil War. Yet, the ruling met with a shrug from the White House.

It is a familiar pattern. The president has often made sweeping legal claims and then refused to address the rejection of those claims…
…The Georgia ruling actually came on the anniversary of one of the most reprehensible examples. A year ago, President Biden rushed to condemn border agents falsely accused of whipping migrants from horses along the border…

— Jonathan Turley (@JonathanTurley) October 4, 2022
…The MLB is also silent in its decision to punish Georgia before any review of the courts. While some of us disagreed with Stacey Abrams and Biden, the MLB simply punished the whole state for a law now uphold and entirely constitutional.

— Jonathan Turley (@JonathanTurley) October 4, 2022
MORE:
Cowardly cowards and crime…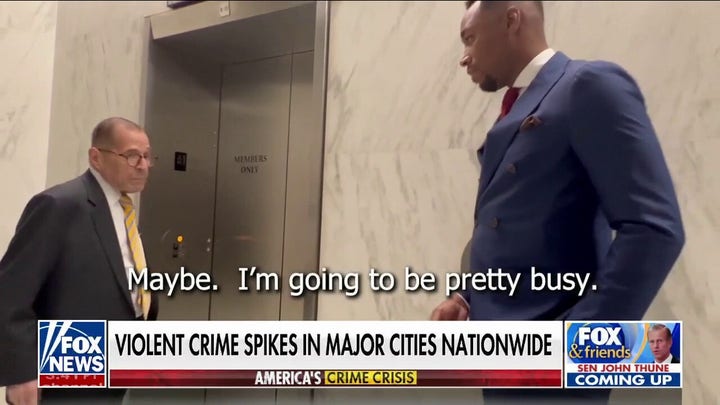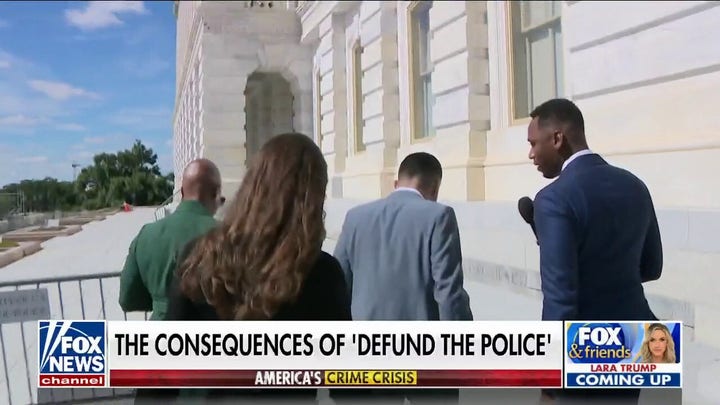 Bailee Hill: DODGEBALL – Dems on Capitol Hill run away from Fox News' questions on crime crisis gripping US cities: Democrats Nadler, Schumer, Omar, Pressley dodge Fox News' Gianno Caldwell's questions on America's crime crisis. Dems don't want to answer for their policies, 'defund police' rhetoric (w/VIDEO) … A reminder that Gianno Caldwell's younger brother was murdered in a yet unsolved drive-by shooting in Chicago. Chicago, where the mayor of the city makes dance videos for social media while in her office…
Why does she keep making these horrid videos and why are taxpayers paying for it? pic.twitter.com/LTsWPo7IY5

— Ian Miles Cheong (@stillgray) October 5, 2022
While people are being killed in her City …
Crime is out of control
Victims cry out for help

Lori Lightfoot has time for this … https://t.co/VF4juQ13sH

— Lawyerforlaws (@lawyer4laws) October 5, 2022
Yet another instance of major criminals not only not incarcerated but having had prior gun law violations dropped…
Stephanie Pagones, Rebecca Rosenberg: MARIST COLLEGE MURDER: Marist College dad murder: Suspect threatened to shoot man in face in prior New York robbery: Paul Kutz, 53, of Great Neck, Long Island, was shot to death in a 'random act' of violence, police said
VIDEO: Judge Jeanine Pirro blasts New York governor for 'aiding and abetting' criminal behaviorand weighs in on murder case of Marist College dad shot in hotel with new details on the suspect
VIDEO: NY executive Dutchess County, N.Y. executive Marc Molinaro criticizes Democrats for soft-on-crime policies after recent murder of a father at a hotel near Marist College during family weekend: Biden admin, Dems must 'take responsibility' for crime
Tricks not Treats…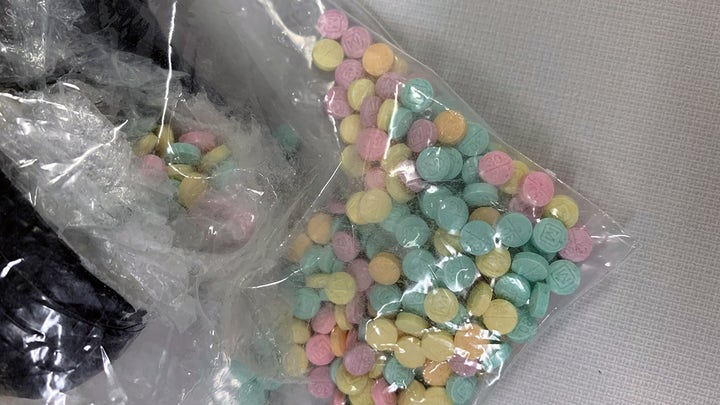 Danielle Wallace: NY DEA largest 'rainbow fentanyl' bust to date uncovers candy-colored pills in LEGO children's toy box: DEA says seizure of 15,000 fentanyl pills from LEGO box in Manhattan part of Mexican cartels' disturbing marketing trend … They are producing them so similar-looking to candies that they can be easily slipped into packages of candy.
For those anti-gun and anti-2A MSM pundits…
Brie Stimson: Thailand mass shooting: More than 30 killed at daycare center, including children: The mass shooting happened in the province of Nongbua Lamphu in Thailand … We just don't hear about them in our MSM.
BONUS:
This: pic.twitter.com/w2mhij0sAH

— Paula Bolyard (@pbolyard) October 5, 2022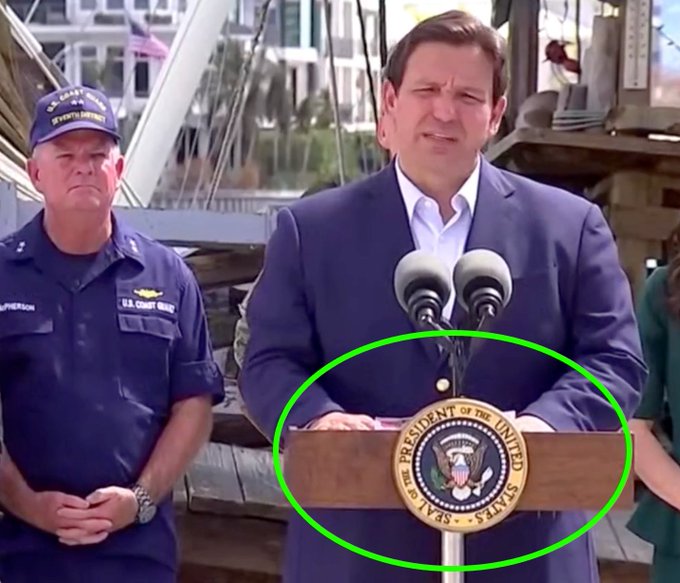 Paula Bolyard: DeSantis Flashes His Alpha-Dog Energy in Meeting With Diminished Biden
It's actually rather shocking that Biden's advance team didn't think through the optics of DeSantis—a possible opponent in the 2024 election—speaking at the presidential podium, but we thank whoever screwed up for giving us this amazing photo op.

Biden smiled inappropriately and fiddled with his shirtsleeves while DeSantis spoke about recovery efforts in Florida.

When the governor concluded, he glanced over to Biden and invited him to the podium—Biden's podium. The president, true to form, didn't know what he was supposed to do. He appeared to ask Nikki Fried whether it was his turn, and she nodded for him to go ahead…
Just made this my Facebook profile picture…
~~Many thanks to Maggie and The Universal Spectator for reprint permission.