Our friend Maggie tackles a favorite topic of hers and our Radix Verum, Space and the coming return of "Dune" on film:
Posted by Maggie on October 16, 2021
If you have never seen the motion picture "Interstellar" I, again, strongly recommend it. It's not just a sci-fi flick. It is about humanity, and being an individual human among the stars.
Ben Sherlock: Interstellar: 15 Powerful Quotes That Make You Think: Known for approaching space scientifically, here are the most unforgettable quotes in Christopher Nolan's Interstellar.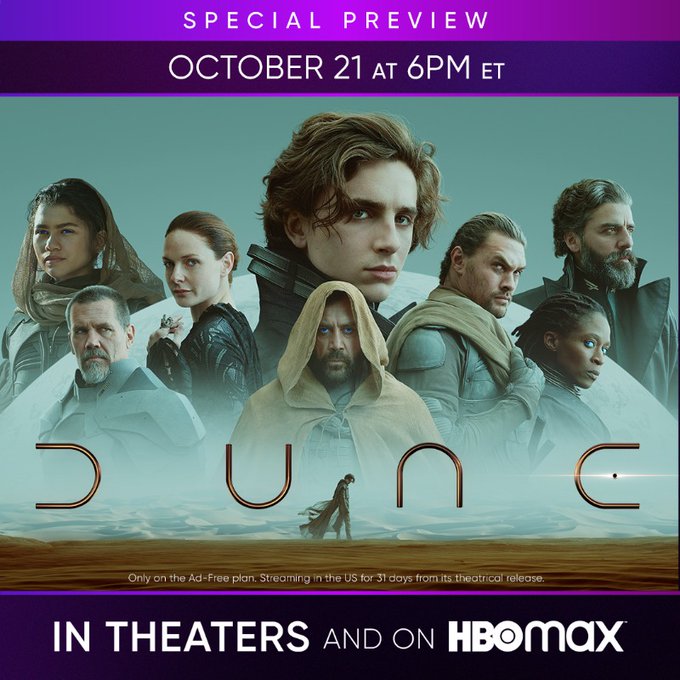 The latest theatrical film translation of Frank Herbert's classic sci-fi masterpiece novel(s) "DUNE" is out in theaters Thursday October 22. However, if you have HBOMax it is being previewed in your home the evening before at 6:00pm. A Hell of a lot of "DUNE" purists have been waiting a long time for this. It better blow our socks off.
Christian Holub: What Dune's out-of-this-world costumes reveal about its characters
Christian Holub: Check out these 13 gorgeous photos from the set of Dune
Brian Lada: Catch a glimpse of the Hunter's Moon and another treat from the cosmos on Wednesday October 12 … My son-in-law will be out hunting during this next week. I just gave him the heads-up to put down his bow and snap some pictures while in his tree stand.
Ed Browne: NASA Targets 'Bizarre' Time Capsule Trojan Asteroids With Lucy Mission
Eric Mac: Meteorite crashes through roof and lands on Canadian woman's bed … Crikey!!!
Douglas A. McIntyre: This Is the Largest Moon in the Solar System
There are 214 moons in our solar system. Of these, 158 are confirmed and another 56 are provisional, meaning scientists suspect a moon exists or the moon has been seen only once. Of the 16 moons that have mean diameters of over 1,000 kilometers, four orbit Jupiter, four orbit Saturn, and four orbit Uranus.

The largest moon in the solar system is Ganymede, which orbits Jupiter. It measures 5,262 mean km and is followed closely in size by Titan, which orbits Saturn and measures 5,150 mean km. (A kilometer is roughly 0.62 miles.) Ganymede (pronounced "GAN uh meed") is the ninth-largest object in the solar system, about 41% the size of Earth…
Chris Ciaccia: Hubble finds persistent water vapor on half of Jupiter's moon Europa
Daniel Chaitin: James Webb Space Telescope to be a powerful eye in search for alien life
Caroline Vakil: NASA adviser quits after request to change name of James Webb telescope denied: An adviser for NASA wrote an open letter on Tuesday on why they decided to quit after a request to change the name of the James Webb Space Telescope was denied by the agency. … Cancel culture heads into space now.
Michelle Starr: Wild New Paper Claims Earth May Be Surrounded by a Giant Magnetic Tunnel
Space High:
When William Shatner returned from his momentary trip into 'space' one of his most memorable remarks upon return was, "I'm so filled with emotion about what just happened. I just, it's extraordinary, extraordinary. I hope I never recover from this. I hope that I can maintain what I feel now. I don't want to lose it." Well, he is still reflecting on the late life experience.
Sydney Shea: George Takei disses William Shatner as 90-year-old 'guinea pig' for Blue Origin space trek: William Shatner can't get away from George Takei's criticism — even in space. … Jealous much, Sulu?
Heather Schlitz: William Shatner pushes back at Prince William after space trip, saying he has 'the wrong idea' about spaceflight … Obviously Wills didn't inherit his grandfather Prince Philip's enthusiasm and awe for space flight (if that element of Netflix's "The Crown" is to be believed).
This piece was published on the site Inverse just a few days before Shatner went up with the civilian crew of the Blue Origin space capsule's second flight Wednesday. SpaceX's Crew Dragon capsule Inspiration 4 mission was three days in orbit…
Inverse: INSPIRATION4 PILOT REVEALS AN OVERLOOKED, MIND-ALTERING PROBLEM WITH GOING TO SPACE – Sian Proctor went to space as part of the Inspiration4 mission. … I contend that you were not up there long enough to get past the novelty of space life. I would imagine crews on the ISS for long stretches, months, initially are enamored with the experience. However, I would guess that those chosen for ISS missions are very closely vetted for any sign of claustrophobia. Space travel to Mars might be quite the psychological test of human mental strength against very limited living quarters and the impossible reality of no turning back just because a crew member is freaking out. Unlike the higher possibility of getting somebody off the ISS and back to Earth in days.
~~~
~~Many thanks to Maggie and The Universal Spectator for reprint premission.