Posted by Maggie on June 4, 2022 in From the editors
Check the timeline chart below (oh, and that slight pink reflection in the TV screen-grab is the bouquet of my homegrown peonies on the table behind me). Note when Biden was inaugurated and watch that graph line climb and climb and climb since then…
Yeah, blame Putin, huh? Joe, are ya trying to tell us "Russia-Russia-Russia" interfered in the 2020 election to get YOU elected?
Californians traded mean tweets for $10 gas.

I hope they enjoy it.

— Julio Gonzalez – juliogonzalez.com (@TaxReformExpert) June 4, 2022
Joshua Young: Biden claims 'more Americans feel financially comfortable' since he took office … He just says shit off the top of his plugs-riddled head or reads what's been written for him by ignoramus idiots working for the administration, and we're just supposed to nod along in collective agreement, or something. The career self-serving shithead makes as much sense as this post's header photo.
BREAKING: After Comey and McCabe maintained an office inside the DNC's law firm and gave a Hillary Clinton campaign lawyer security badge privileges to FBI HQ, they planted a special reserve agent inside the White House to secretly spy on President Trump and report back to FBI HQ

— Paul Sperry (@PaulSperry30) June 2, 2022
Margot Cleveland: Why The Special Counsel Needs To Fight For More Spygate Documents, Stat: Special Counsel John Durham's prosecution of Igor Danchenko, the Russian national who served as Christopher Steele's primary sub-source, will soon heat up.
Adam Mill: Clinton's Plot Came Closer to Succeeding Than January 6 Ever Did: There's only one rule in D.C. the Justice Department consistently enforces—all laws and norms exist to preserve and extend the Democratic Party's monopoly over key institutions.
Jordan Boyd: Why Won't The Pulitzer Board Answer Trump On Whether Its 'Review Process' Is Legit Enough To Revoke Prizes For Russia Hoax Propaganda?
Eric Lendrum: Trump Threatens Lawsuit if NYT, Washington Post's Pulitzer Prizes for Russia Hoax not Rescinded … Good.
Victor Davis Hanson: Trumpology: The path to the 2024 presidential election will be shaped entirely by how things look for Donald Trump in the wake of the 2022 midterms.
The disaster that is the Biden Administration has been a godsend for Trump. Had Biden simply plagiarized the successful Trump agenda, there would have followed no border disaster, no energy crisis, no hyperinflation, and no disastrous flight from Afghanistan.

Had Biden followed through on his "unity" rhetoric, he could have lorded over Trump's successful record as his own, while contrasting his Uncle-Joe ecumenicalism with supposed Trump's polarization.

Of course, serious people knew from the start that was utterly impossible. A cognitively challenged Biden was a captive of ideologues. Thus, he was bound to pursue an extremist agenda that could only end as it now has—in disaster and record low polls.

Still, how ironic that the Biden catastrophe revived a Trump candidacy. Biden likely will cause the Democrats to lose Congress. His pick of a dismal Kamala Harris as vice president has likely ensured, for now, fewer viable Democratic presidential candidates in 2024.

So, will Trump run? …
This administration is hell bent on destroying our economy, our borders, our crime-infested cities, our police, our right to self-defense, and our energy independence. How could any rational person not see this catastrophe in the making?

— James Woods (@RealJamesWoods) June 3, 2022
Joe Biden walks into a bar holding a pile of dog shit in his cupped hands and says to the bartender, "Look at what I was too smart to step in." #BidenIsAFailure

— H.L. Chiselfritz (@RotNScoundrel) June 3, 2022
Jeffrey H. Anderson: Biden's Shameless Portrayal of Himself as a Deficit Hawk: Since the Tea Party arose in reaction to runaway spending and Obamacare, the national debt has more than doubled, from less than $12 trillion in 2009 to more than $30 trillion today.
BattleSwarm: Biden Administration Changes Rules To Get Graft Flowing To Leftwing Cronies Again
Matt Vespa: Are We Just Going to Ignore Biden's Biggest Whopper in His Shoddy Anti-Gun Address Last Night?
… Biden tossed out statistics that are undoubtedly wrong or half true. The biggest one centered on the firearm industry.

This great industry is shielded from nonsensical lawsuits from liberal lawyers who think they can shred the Second Amendment by suing the gun manufacturers out of existence. If they had their way, every gun maker would be on trial right now. People would sue them for homicides and other gun-related events for which these companies bear no responsibility. On faulty safety defects, that's a different story and something worthy of a lawsuit. For homicides, no—Remington didn't sell the weapon to the criminal, and it was never meant to be used in a crime. The Protection of Lawful Commerce in Arms Act which was passed in 2005 under George W. Bush is essential to protecting our Second Amendment.

Yet, Joe Applesauce for brains says the gun industry is "the only industry in this country that has that kind of immunity."

That's wrong, Joe. You lied. I know the lights are getting dimmer by the day because your brain function is slightly higher than a yam, but I'm pretty sure the pharmaceutical companies enjoy a massive legal shield from the COVID vaccine. Oh wait—they do…
As the anti-gun/anti-Second Amendment faction waves around the bodies of victims of individual shooters and twist the data numbers inside-out we have yet to see the data of the injuries, deaths, effectiveness, post-vax efficiency, infections and hospitalizations … and we know there is data.
Tristan Justice: Debunking Biden's Tired Gun Rhetoric And Lies … Again. And Again. And Again.
Tristan Justice: If Joe Biden Cared About Gun Laws, Hunter Biden Would Already Be In Jail: Before President Biden lectures Americans about responsible gun ownership, some self-reflection is warranted.
VIDEO: Friday Follies: Hunter is back in hot water
The Second Amendment was inspired by British plans to disarm every American.

A part of you probably already knew this, but didn't have the details.

I'm about to chill you to the bones And give you every piece of evidence you need moving forward. So buckle up.

— THE Red-Headed libertarian™ (@TRHLofficial) June 3, 2022
Please click here to follow this info-bomb Thread Reader by The Red-Headed Libertarian.
Newt Gingrich: Biden's new gun control push: The left only has one answer to addressing crime
BIG DEAL, AMERICA HAS THE WORLD'S HIGHEST-RANKING ONE: World's largest plant found in Australia.
Stephen Green: WEEKEND AT BIDEN'S
Weekend at Bernie's answered the age-old question of how many laughs can a movie milk out of the corpse of a dead fraudster. 'Weekend at Biden's' is giving us the answer to how many tears will the Left shed trying to control the walking husk of a fraudulent president…
Salena Zito: Ignoring the Noise and Running on Good Governing Are the Biggest Lessons of Georgia: Brian Kemp defeated Stacey Abrams four years ago in their first matchup. Abrams has yet to concede she lost that election.
Matthew Crawford: Covid was liberalism's endgame: Liberal individualism has an innate tendency towards authoritarianism
ZeroHedge: Watch: Fauci Admits Biden Mask Mandate Is About Preserving "Authority"
Jonah Goldberg (2/5/2008): You want a more 'progressive' America? Careful what you wish for: Voters should remember what happened under Woodrow Wilson.
Brian C. Sheetz Rifleman Report: Shall Not Be Infringed
Gavin Wax: The Biggest Threat to the Second Amendment? RINOs: Americans are craving genuine leadership. They won't get that with weak-kneed Republicans who are looking for openings to compromise with the Democrats on our constitutional rights.
Michael Walsh THE COLUMN: Forget Guns. Whatever Happened to Men?
… Guns have been a part of American society since the Pilgrims shot their first turkeys, and have served the country well throughout its history. That some of them have been used in the commission of crimes by criminals hardly outweighs their usefulness to the founding and maintenance of the Republic. Just ask Sergeant York.

The perfect cannot be the enemy of the good. A disarmed domestic society is not something devoutly to be wished for. In any case, what the gun-grabbers are really aiming for is not "gun control" or "common sense" gun laws but confiscation and abolition. And with nearly 400 million firearms in the country, and gun ownership widely popular, that is not going to happen as long as the Second Amendment is the law of the land. In the meantime, see what just happened in Canada, which is now completing its post-Covid descent into a fascist tyranny…
CAREER SUICIDE TO LEAK SUPREME COURT DRAFT? Maybe, maybe not, according to The Washington Free Beacon's Kevin Daley. He asked six top law firms about this issue and all six declined to respond. But they are hosting Drag Queen Bingo nights, so there's that.
Michael Barone: Politics as the Leisure of the Theory Class
Don't get your transgender panties in a wad…
"Political correctness is communist propaganda writ small. In my study of communist societies, I came to the conclusion that the purpose of communist propaganda was not to persuade or convince, not to inform, but to humiliate; and therefore, the less it corresponded to reality the better. When people are forced to remain silent when they are being told the most obvious lies, or even worse when they are forced to repeat the lies themselves, they lose once and for all their sense of probity. To assent to obvious lies is in some small way to become evil oneself. One's standing to resist anything is thus eroded, and even destroyed. A society of emasculated liars is easy to control. I think if you examine political correctness, it has the same effect and is intended to…" – Theodore Dalrymple
Paula Bolyard: Groomers Say Kids Will Be Exposed to 'Nudity and Kink' at Pride Parades, But Don't Worry, It's 'Educational'
Mark Tapscott: Liberal Intolerance of First Amendment Freedoms on Full Display in Biden's 'Pride' Month
I'm at Amazon's Seattle headquarters, where about 30 Amazon employees are staging a die-in during Amazon's Pride Flag raising ceremony in protest of the company's continued sale of what they say are transphobic books. pic.twitter.com/Pz0Pyy0Mzi

— Katherine Long (@_katya_long) June 1, 2022
"Transphobic books"? Seriously their demand's tht any1 and their book(s) w/a rightfully different/opposing opinion on the issue not be sold by Amazon? What, like The Holy Bible? Start your own company strictly/discriminately LGBTQ+ only & get back to us how well that goes for ya

— Maggie (@drillanwr) June 4, 2022
Alejandro Avila @ Outkick: AMAZON CALLED OUT AS 'ANTI-TRANS' DURING PRIDE FLAG CEREMONY
Amazon needs to take a cue from Netflix, and steal their "Culture Memo," and rewrite it with book-related language (or maybe expand it, and keep the existing language to cover Prime Video): Netflix Fires Major Warning Shot At Its Woke Employees With New 'Culture Memo.'…
Remember, activists are using the existence of the white box below in order to argue that the blue and pink areas are meaningless "social constructs" with no basis in biological reality. pic.twitter.com/7LfbGyyoUI

— Colin Wright (@SwipeWright) June 3, 2022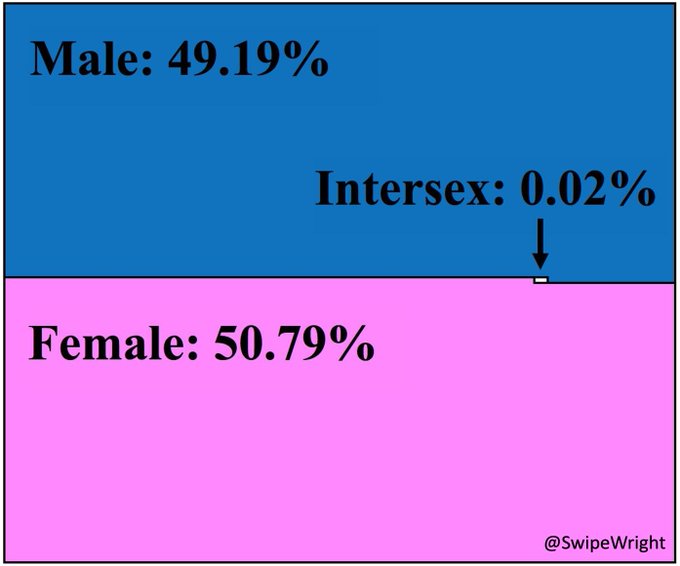 Follow the whole Twitter tweet thread here.
Katherine Hamilton: Exclusive: Florida State Health Agency Issues Report Challenging Science of Transgenderism: The State of Florida is set to issue a formal report questioning the science behind "gender-affirming" care for people who believe they are transgender.
Paula Bolyard: Pride Is Still a Sin and the Rainbow Still Belongs to God
MORE:
Musk is planning to combine diner & drive in movie theater with electric car charging stations.

OMG…HOW LONG DOES IT TAKE TO CHARGE ONE OF THESE CARS? 🤣

— 🇺🇸 Native Cherokee 🇺🇸 (@USACherokee) June 4, 2022
Lawrence Richard: California court rules a bumblebee is a fish under environmental law: The Appellate Court ruled a lower court 'erred when it reached a contrary conclusion' … Since men can now give birth and nurse babies it's only natural that bees are fish. Right? I venture to say I believe this all began with "pregnant chads".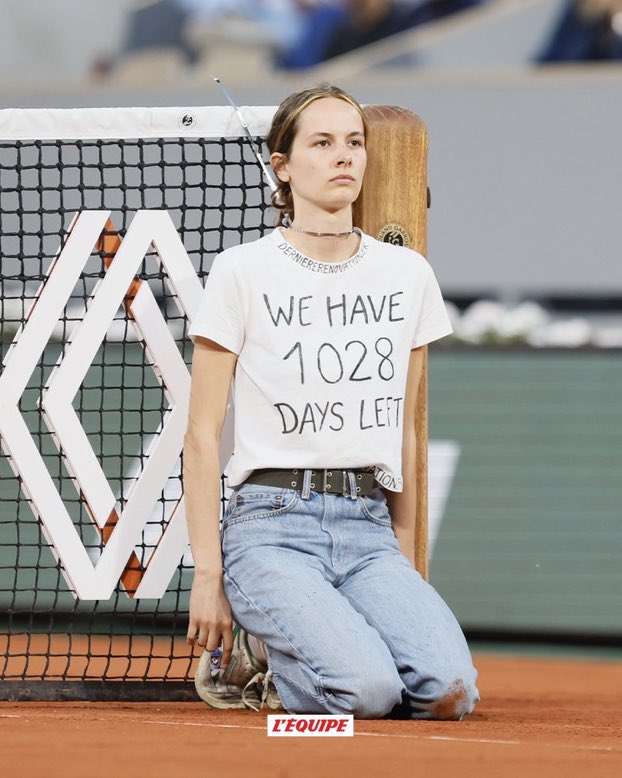 Twitchy: PHOTOS: Activist at the French Open disputes AOC's climate-apocalypse timeline, says we only have 1028 days left until . . . something
They should have genuinely just left her there and continued playing. https://t.co/lwm9PLnfkT

— Stephen L. Miller (@redsteeze) June 3, 2022
You've never truly lived until a tennis ball traveling at 85 mph just misses your head by a few inches.

— Stephen L. Miller (@redsteeze) June 3, 2022
Where's John McEnroe when you need him?

— Maggie (@drillanwr) June 3, 2022
Those homegrown peonies I mentioned at the start of this post that are actually double this bunch now that the big black ants have left after the recent rain, and I could pick more to bring in…