Posted by Maggie on April 8, 2022 in From the editors
My gawwwwwd!
I'm having a very tall and icy Margarita tonight and searching my movie collection for the perfect movie to fit my end-of-this-shit-week mood. I'm leaning toward either "Now, Voyager" or "ALIEN" … Perhaps both, back-to-back.
After 18 months with the judge ruling in their favor on nearly every issue, the DOJ did not get a SINGLE CONVICTION in the alleged plot to kidnap Gretchen Whitmer

— Julie Kelly 🇺🇸 (@julie_kelly2) April 8, 2022
Julie Kelly: Two Acquitted in Whitmer Case, FBI Misconduct Central: In a huge defeat for the U.S. Department of Justice, a jury today acquitted two men accused of conspiring to kidnap Michigan Governor Gretchen Whitmer in the fall of 2020. … The FBI was involved in, shall we say, directing the January 6th staged 'insurrection' as well…
This raises many, many questions about who knew about this and who was involved.

But it also raises MANY questions about January 6–the head of the FBI field office mainly responsible for this caper was moved to DC FBI field office several weeks before January 6. No coincidences https://t.co/o0W5DiEOTW

— Julie Kelly 🇺🇸 (@julie_kelly2) April 8, 2022
Julie Kelly: Another January 6 Narrative Goes Boom: Capitol Police did, in fact, let the protesters in the building.
Considering this case, the fact that the FBI refuses to tell Congress about any UC/CIs present at J6, & that two Iranians just successfully pretended to be UC Feds in a scheme 2 entrap secret service agents. maybe we need some reforms to Fed undercover practices? https://t.co/oKSCz9XLuq

— Kyle Shideler (@ShidelerK) April 8, 2022
He's talking about this story…
According to Charging Docs: Since Feb 2020 — Taherzadeh and Ali used their "false and fraudulent affiliation" with DHS to ingratiate themselves with members of federal law enforcement and defense. @wusa pic.twitter.com/2erzV76InI

— Lorenzo Hall (@LorenzoHall) April 7, 2022

Elizabeth Faddis: Fake authorities arrested in alleged scheme to cozy up to Secret Service … It is also being said these two men have Iranian connections – developing…

HotAir: Fake federal agent who befriended Secret Service had visas from Iran, claimed ties to Pakistani intelligence … The only thing that could possibly make this even more intriguing and damning is if we find out that one or both of these guys illegally came across the US/Texas border … or are connected to others who did and are also embedded with US security and/or intel agencies.
And he ain't wrong.
Rick Moran: Men Accused of Impersonating DHS Agents Have Possible Ties to Iranian Intelligence
Kevin Downey, Jr: BREAKING: No Convictions in Whitmer 'Kidnapping' Case, Another Black Eye For the FBI
Jim Hoft: HUGE BLOW TO FAKE NEWS AND FBI: Zero Guilty Verdicts in Case of Alleged Plot to Kidnap Leftist Governor Whitmer – Not Guilty Verdict for 2, Hung Jury on 2 Including Ring Leader!
Margot Cleveland: Explosive Pennsylvania Testimony Explains How Leftist Money Infiltrated Election Offices In 2020
Joseph Simson: This Study Shows How Biden's Stimulus Contributed To Inflation: Contrary to claims from the White House, economists at the Federal Reserve Bank of San Francisco say President Joe Biden's stimulus package contributed significantly to inflation.
Richard Hernandez: What if Things Don't Go Back to Normal? … Perhaps they will not exactly and completely return to the normal as we knew it before the China plague, but they cannot go to the end game the left has planned for us.
Stephen Green: 'BOGEYMAN TRUMP IS UNDER THE BED!' Democrats' Possible 'Dark' Midterms Strategy … All these dem-operatives in DC and the MSM are trying to light that 'gaslight' flame but the tank is empty. They are in critical mass denial of the polls: Paul Bedard @ Washington Examiner: Rasmussen Reports Poll: Trump, not Biden, 'better for America,' 42%-28%
The National Pulse: DATA: Americans Want Trump Back in 2024, Including a Whopping 1 in 5 Democrats. THE EXTRAORDINARY NEW NUMBERS FROM RASMUSSEN PLACE TRUMP IN A COMMANDING POSITION.
Victor Davis Hanson: Can Ukraine Ever Win? There is as yet still no deterrent force that can stop Russia's bombs and missiles and disrupt Vladimir Putin's nihilist strategy.
Technically Speaking:
Kate Conger and David E. Sanger: U.S. says it secretly removed malware worldwide, preempting Russian cyberattacks
Kurt Knutsson: Dangerous spyware app lets strangers record you: Google warning – How to check for this Russian-type hidden spyware
Kurt Knutsson: Google issues urgent warning for anyone using Chrome browser: Follow these step to safely fix known Google Chrome vulnerability
David Snow: Ukrainians use 'Find My' to track Russian troops who stole devices
Matt Margolis: 'Erased' Hunter Biden Laptop Material to Be Released Soon
Movie News:
Christian Toto: Mark Wahlberg Breaks Ranks with A-List Hollywood (Big Time) – 'Father Stu' star slams Cancel Culture, demands path to forgiveness
The Left in This Country is Beyond Certifiable:
Monica Showalter: Trump-hating impeachment plotter complains about all the 'polarization and partisan infighting' in the country … The only reason the left is bemoaning 'polarization and partisan infighting' is 1. they really over-estimated those alleged "81 million Biden voters" were actually real to the rest of us, and 2. that they were so overly confident in their master plan that they did not think democrats would ever choose country and their own household budgets over party when things got bad and getting worse with the administration's and the party's blessing.
Victor Davis Hanson: The Nihilism of the Left: In pursuit of its utopian omelet, the Left cares little about the millions of middle-class Americans it must break to make it.
Kevin Downey, Jr: History 101: The Left Is Awakening a 'Sleeping Giant'
Merrill Matthews: Media on the Clinton scandal: See no evil, hear no evil, speak no evil … Just wait for this damn dam to break like the Hunter Biden story. The MSM is dead and buried in this country. So are the DOJ and intel agencies.
The left is all-in for slicing, dicing and drugging everyone's children…
You would think we hit it, when the hill to die on for modern leftists is pedophiles and child groomers in school but we haven't peak leftism yet, trust me it can get much worse

— 🌎 Shawn Taylor (@staylormusic) April 7, 2022
Joel Pollak: WATCH — Psaki: 'Transgender Kids' Not a 'Kitchen Table' Issue: White House press secretary Jen Psaki attacked Republicans from the briefing room Thursday, saying that they are targeting "transgender kids" and denying them "life-saving" medical care. She said transgenderism was not a "kitchen table" issue. … WRONG! Our kids are indeed our 'kitchen table' issue, not yours and definitely not #WOKE government employees, especially shit-for-brains "teachers".
Kyle Becker: Jen Psaki Threatens Parents Who are Blocking 'Medically Necessary, Life-Saving' Transgender Surgeries for Children … In just about every state a child cannot get pierced or tattooed before 18-year-old without parent/guardian consent. Transgender surgeries and drugs are NOT 'Medically Necessary, Life-Saving' actions. If a child is suicidal over gender the problem will not be solved with radical genital mutilation and hormonal dosing. And it looks as if the #WOKE left has its "crisis" tag line…
Cristian Laila: Pete Buttigieg Says Prohibiting Classroom Instruction of Sex and Gender Identity in Kindergarten Classes Will "Kill Kids" (VIDEO)
Twitchy: 'You stupid or somethin'?!' Author's analogy comparing trans kids to correcting left-handed children is the fail-iest FAIL of them all
Ace: Nurse Suspended From School — For Revealing That Teachers Were Counselling 12-Year-Olds Students to Become "Trans," While Keeping This Secret From The Students' Parents' Backs
Sally Zelikovsky: How the Schools Got Queered
In the early 2000s, most parents tolerated some political correctness in the schools, even if they didn't agree 100%, and they generally accepted the diversity and anti-bullying curricula being promoted. The dirty little secret was that these efforts were initially drummed up, pushed, and driven by well-funded LGB activist organizations, like GLSEN, whose long-term goal was to "queer the schools" under the guise of looking out for the kids.

The concept of "diversity" started out fairly generic and innocuous — tolerance for people who are different. But it quickly narrowed to be almost exclusively about gay kids in middle and high school. At the first Diversity Day in our school, there were no black, Asian, or Indian students, or any with disabilities. They were gay, bi, or lesbian.
Megan Fox: Yes, the Gender Cult Is Full of Groomers and We Won't Stop Saying It
Chris Queen: Disney Has Turned Its Back on What Made It So Great
EXTRA-EXTRA:
Meanwhile, Barry always has insisted the US Constitution and its Bill of Rights are horribly "flawed"…
Robert Spencer: Barack Obama Comes Out Against the First Amendment
Obama first insisted, with his characteristic near-incoherence: "I am close to a First Amendment absolutist. I believe in the idea of not just free speech, but also that you deal with bad speech with good speech, that you engage, um, that, that, that, that the exceptions to that are very narrow, um, and, and, and, y'know, particularly, uh, among this cohort of folks in college, and I've talked to my daughters about this, um, y'know, I don't want us to be such a society of manners that, like, we can't, we feel like our feelings are hurt and we can't hear something that, uh, somebody says, and, and, and we wilt. Uh, I think, uh, I want us all as citizens to be in the habit of being able to hear stuff that we disagree with and be able to answer with our words." His First Amendment absolutism, however, only went so far.

After a good bit more rambling, Obama got around to asserting that in order to limit the spread of what he called "toxic information," it would be "reasonable for us as a society to have a debate, and then to put in place a combination of regulatory measures and, uh, industry norms, uh, that leave intact the opportunity for these platforms to make money, but say to them that, there, there, there's certain practices that we are not, that we don't think are good for our society and we're gonna discourage." There goes the First Amendment…

The Hunter Biden laptop is the clearest indication that regulatory measures designed to protect the public from "disinformation" can prevent the public from learning genuine and important information that is inconvenient to those who have the power to enable that information to be labeled "disinformation." If Obama is really as "close to a First Amendment absolutist" as he claims to be, he should acknowledge that there have been many other cases lately in which what was dismissed as "disinformation" turned out to be absolutely true, including the discounting and later verification of the claim that the COVID virus originated with a lab leak in Wuhan, China.

If the government had regulatory measures in place controlling "disinformation," we might still not know about Hunter's laptop, or the 10% he set aside for "The Big Guy" from his influence-peddling, or how the COVID virus originated, or about a host of other issues. Nowadays the guardians of acceptable opinion are flagging as "disinformation" any assertions that men are men and women are women and that one cannot turn into the other. How is that going to look once a bit of sanity returns to society?
Stephen Kruiser: Reminder — Barack Obama Is Un-American and Awful
Pretty soon all we'll have is 'food for thought', or 'thoughts of food'…
Recall my post "Hump Day" post this past Wednesday regarding the projected coming 'food shortages' and the buying-up of U.S. agricultural lands by China, AND the very wealthy such as Bill Gates, who demands we give up real meat for synthetic meat…
Natalie Winters: A Chinese Influence Group Tied To Bill Gates Wants To Collaborate With American Agriculture Officials.
In other news:
Joe and the White House gang celebrated Ketanji Brown Jackson's confirmation to the US Supreme Court today outside where the sun could zap all those spewing COVID germs. It was the perfect time for old Joe to tell everyone another of his great Walter Mitty-esque "true story … true story … not a joke" stories…
Jim Hoft: Joe Biden Starts Mumbling Incoherently About Foothills of Himalayas During Celebration of Pedo Defender Ketanji Jackson in White House Lawn
And Kamala Harris echoes Joe's feelings and sentiments in this "historic" moment…
Hey now, "but no mean tweets,," doncha know … God, help us.
BONUS: Comfortably Smug's Annual Hack Tournament winner: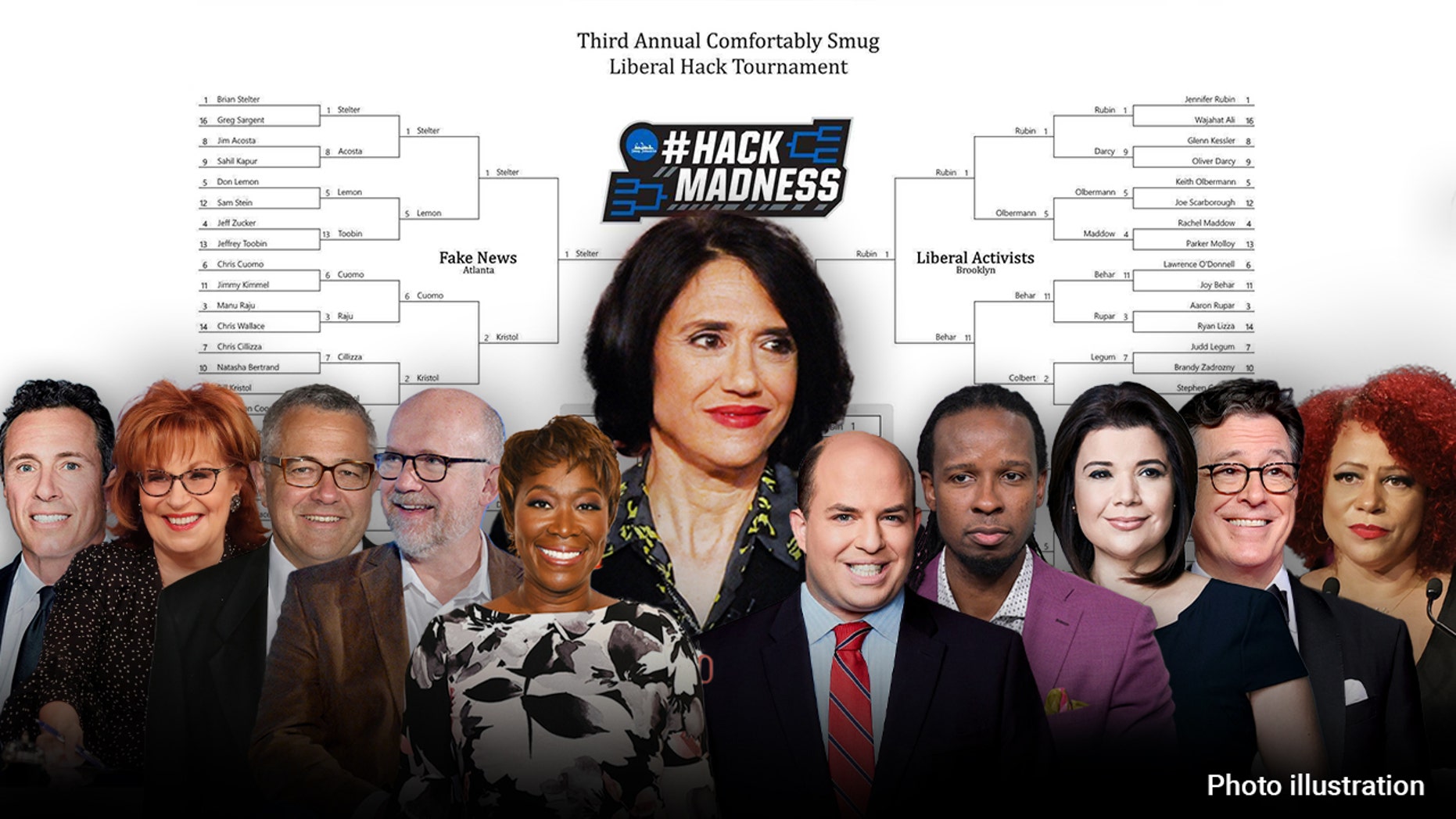 Second year in a row for Jen, and well-earned.
Joseph A. Wulfsohn: Jennifer Rubin reigns supreme, makes history with back-to-back 'Liberal Hack Tournament' victories: The Washington Post columnist shattered the glass ceiling last year as the first woman to win the tournament
Jennifer Rubin continues to shatter glass ceilings, this time becoming the first person of all genders to win the "Liberal Hack Tournament" two years in a row. The Biden-loving columnist from the Washington Post decisively defeated the legacy media's loyal janitor Brian Stelter by a 54-45 margin.

Rubin's cult following did not let her down. Her transformation from being the Washington Post's biggest critic of President Obama to becoming the paper's biggest cheerleader for President Biden continues to amaze the English-reading world. Her columns reached must-read status at the White House so much so that she had developed a Twitter love affair with Biden's chief of staff Ron Klain, as Politico first reported.

"We've witnessed a return to glory. In spectacular form, Rubin demonstrated why her name belongs among the greatest competitors of all time. We may never see another like her again," a #HackMadness spokesman told Fox News…
Axually, Jen's qualifications are much higher than "Spud" Stelter's. She's a has been intellectually sound conservative political commentator turned wack-job demo-commie zombie. Stelter always has been and always will be little more than a panting and sniveling propaganda jerk for the left while sitting with his trousers off at a failing cable "news" channel desk.
Here is Jen Rubin's acceptance speech from earlier today…
Sometimes is leads like a day like today. Amen.

— Jennifer 'I stand with Ukraine' Rubin 🇺🇦🇺🇦 (@JRubinBlogger) April 8, 2022
Obviously hung over after celebrating her #HackMadness win last night.

— Corn Pop's Gun Moll (@jeannebodine) April 8, 2022
~~~
~~Many thanks to Maggie and The Universal Spectator for reprint permission.