Versus
Posted by Maggie on May 13, 2022 in From the editors
Just the Facts:
Jen Psaki says that "The Ultra MAGA Wing, The MAGA King" policies do not align with the "vast majority of the public." pic.twitter.com/d5y3AlszUJ

— Townhall.com (@townhallcom) May 12, 2022
The vast majority of the public is not in-line with the Biden policies that have us paying $4.50+/gal & inflated costs on everything. Look at the polls, Jen.

— Maggie (@drillanwr) May 12, 2022
Brian Flood: BLATANT LIE – White House gets away with shockingly false vaccine claim on Twitter: Twitter allows White House to make 'clearly false' claim that COVID vaccine wasn't available until Biden era. White House statement was 'very clearly false,' one fact-checker wrote
Twitchy: White House tweet about what wasn't available when Biden took office quickly debunked using previous WH tweet; UPDATED
Gabriel Hays: White House buried over tweet claiming there was 'no vaccine' when Biden took office: 'Delete this': 'Biden himself has said 8% of seniors had gotten the vaccine on the day he took office. Biden was one of them,' WaPo fact-checking chief Glenn Kessler tweeted.
When President Biden took office, millions were unemployed and there was no vaccine available.

In the last 15 months, the economy has created 8.3M jobs and the unemployment rate stands at 3.6% — the fastest decline in unemployment to start a President's term ever recorded.

— The White House (@WhiteHouse) May 12, 2022
Hey, thanks for laying naked the reason you've officially crafted your Ministry of Truth, WH comrades. Awaiting in accordance with your great wisdom the official recommendation that "Brawndo's got what babies crave" as an answer to the formula shortage. pic.twitter.com/GrKOxHJ0Fy

— Maggie (@drillanwr) May 13, 2022
Biden got his 1st shot 12/21/20
He didn't take office until 1/20/21 – Where's Mary Poppins https://t.co/isSggOWq96

— SeldenGADawgs (@SeldenGADawgs) May 13, 2022
Reported for misinformation, there certainly was a vaccine and 8.3 million people went back to their jobs that's not job creation.

— gmg (@gobluesurf) May 12, 2022
VIDEO: David Webb: Biden is a skilled political liar: David Webb slams the Biden administration for ongoing fentanyl overdoses as a result of an open borders policy and crack pipes found at distribution centers.
VIDEO: Joe Concha: The Biden admin's messaging is failing
The Left's Twisted Sisters of Baby-Eaters:
The running narrative for the left is that inflation shows a need for abortion, thus, abortion helps inflation. Yeah, run on that, you sick Marxist sons and daughters of bitches and bastards…
Democrat Rep. Katie Porter claims #Bidenflation "reinforce[s]" the "need" for abortion.

"The fact that we're seeing this jump in expenses … pay more at the grocery store, pay more at the pump, pay more for housing is a reason" for abortion. pic.twitter.com/jVjuzXRhPz

— RNC Research (@RNCResearch) May 12, 2022
So now the Bidenflation script is to blame 'born babies'. She's not the only 1 that's been pooping the bed with this evil line of illogic/unreasonable thinking. Yellen crapped bigtime the other day. Seriously? Sell Americans on the idea to abort the unborn to deal w/ inflation?!?

— Maggie (@drillanwr) May 12, 2022
Lindsay Kornick: Rep. Katie Porter claims inflation 'reinforces' the need for abortion on MSNBC: The Labor Department announced inflation rates increased by 8.3% in April
Twitchy: Artist famous for nude portrait of Donald Trump likens inconvenient unborn babies to a sexually transmitted disease
Milking It On the Border: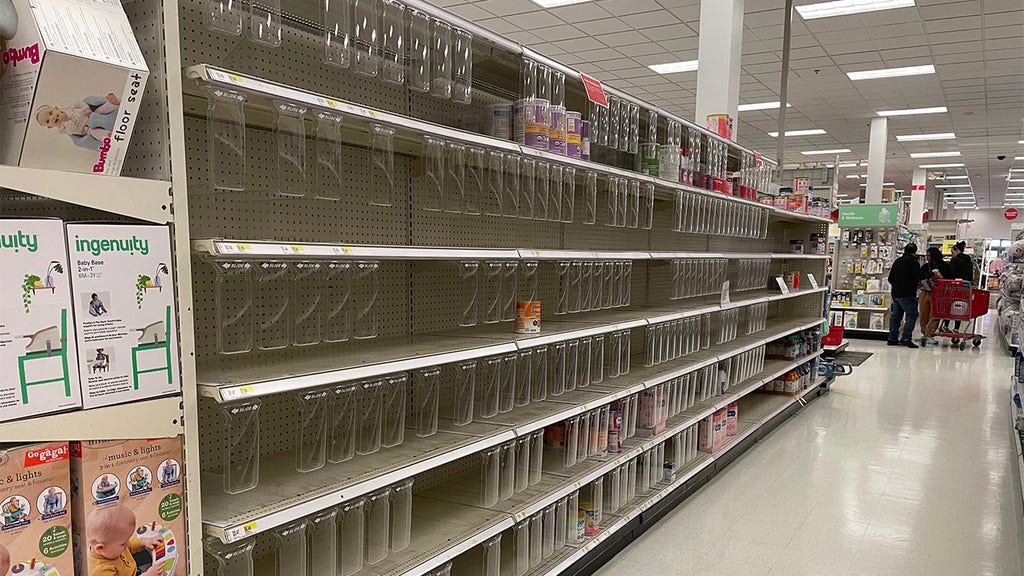 Quick query, the 2 to 3 million people that Biden brought into the country illegally, do their babies have baby formula?

Who paid for it?

I'm guessing it's the peoples whose babies don't have baby formula.

—  Shawn Taylor (@staylormusic) May 12, 2022
Biden pushing for more 'imported' baby formula. How abt the gov send all the formula they've stockpiled on the border for illegals to the stores for American babies & these countries/Mexico send their formula to our border to use for their illegal human trafficking here.

— Maggie (@drillanwr) May 13, 2022
Callie Patteson and MaryAnn Martinez: Border detention center looks stocked with baby formula despite shortage
Naomi Lim: Biden irks parents once again with baby formula shortage
Ace: Jenny Pflapjacks Claims Biden Has Been On Top of the Baby Formula Crisis But Biden Hasn't Ever Mentioned It And She Won't Even Say When He Was First Briefed On It
Cristina Laila: 'Call a Doctor or Pediatrician' – Psaki When Asked What Parents Should Do if They Can't Find Baby Formula (VIDEO)
Katie Pavlich: Biden's Incoming Press Secretary Karine Jean-Pierre Laughs When Asked Who Is Handling Baby Formula Crisis
Madeline Osburn: The FDA Was Making It Difficult For Moms To Get Baby Formula Long Before The Supply Chain Imploded: The formula shortage is finally bringing attention to the FDA's labeling games that have angered many moms for years.
Kristine Parks: Wash Post fact-checker calls uproar over Biden sending baby formula to border amidst shortage 'faux outrage': Formula shortages hit 43% the first week of May
VIDEO: Dr. Marc Siegel: If government doesn't handle baby formula shortage, we'll 'lose infants'
The Brandon Ministry of Bullshit:
Twitchy: CNN fact-checker takes on (part of) the White House's tweet containing weapons-grade BS … When you've lost CNN's heavily biased Daniel Dale.
Meanwhile, the High Minister of Truth forecasts her 'newspeak' duties…
Ariel Zilber: Nina Jankowicz says verified Twitter users should 'edit' others' tweets
The "disinformation expert" tapped by President Biden to head a new US agency division that critics have likened to an Orwellian "Ministry of Truth" says that "verified" Twitter users should be able to edit other users' tweets if they believe they are misleading.

Nina Jankowicz — whose appointment as director of the new Disinformation Governance Board in the Department of Homeland Security has stoked concerns about government censorship — told participants in a recent Zoom chat that she is "verified" by Twitter before adding that "there are a lot of people who shouldn't be verified, who aren't legit" because "they're not trustworthy."

She then adds: "Verified people can essentially start to 'edit' Twitter [in] the same sort of way that Wikipedia is so they can add context to certain tweets."…
Twitchy: YUP! Elon Musk has just ONE word for Minister of Truth Nina Jankowicz pushing to allow verified Twitter users to 'edit' other's tweet
Disconcerting …

— Elon Musk (@elonmusk) May 12, 2022
She doesn't want to "add context," she just wants to give a rebuttal to posts she doesn't like and have her response deemed as fact.

— Thought Criminal (@Craftmastah) May 12, 2022
Somebody needs to tell her that 1984 is not a how-to manual.

— Samuel Culper 722 (@politiwars) May 12, 2022
It's really too bad Orwell's prescient masterpiece isn't a musical with a soundtrack so she could sing everything & not just stumble through her inane declarations like a drunkard ordering her 10th drink.

— Maggie (@drillanwr) May 13, 2022
Globalist Ukraine Puppet:
NEW – Ukraine's Zelensky will virtually join Klaus Schwab's annual meeting of the World Economic Forum. pic.twitter.com/NMb7ydOFJ7

— Disclose.tv (@disclosetv) May 13, 2022
Oh … The cabal / Kharzarian puppet!!! https://t.co/eW964efaER

— ℝ ℚℕ ℂℂ ❤️ (@CecibatMelej) May 13, 2022
Debra Heine: Rand Paul Blocks Swift Passage of $40 Billion Ukraine Aid Package
The top Democrat and Republican in the U.S. Senate joined forces in a rare moment of unity on Thursday in an attempt to pass $40 billion in aid for Ukraine, only to be stymied by a single Republican lawmaker: Sen. Rand Paul.https://t.co/ln2wdmiUeS

— Newsmax (@newsmax) May 12, 2022
My oath of office is to the U.S. Constitution, not to any foreign nation. Congress is trying yet again to ram through a spending bill – one that I doubt anyone has actually read – and there's no oversight included into how the money is being spent.

— Rand Paul (@RandPaul) May 13, 2022
All I requested is an amendment to be included in the final bill that allows for the Inspector General to oversee how funds are spent. Anyone who is opposed to this is irresponsible.

— Rand Paul (@RandPaul) May 13, 2022
While I sympathize with the people of Ukraine, and commend their fight against Putin, we cannot continue to spend money we don't have. Passing this bill brings the total we've sent to Ukraine to nearly $54 billion over the course of two months.

— Rand Paul (@RandPaul) May 13, 2022
It's threatening our own national security, and it's frankly a slap in the face to millions of taxpayers who are struggling to buy gas, groceries, and find baby formula.

— Rand Paul (@RandPaul) May 13, 2022
It may have all been part of their master plan…
John D. O'Connor: <a href="https://amgreatness.com/2022/05/12/did-russiagate-enable-the-invasion-of-ukraine/&quot; rel="noopener" target="_blank">Did Russiagate Enable the Invasion of Ukraine? Even though Vladimir Putin was unsuccessful in getting Hillary Clinton elected in 2016, because he supported the Russiagate deceit, Putin got an even weaker U.S. leader in Joe Biden.
Christopher Roach: Forever War Revisited: American support for Ukraine is chasing an elusive, vaguely defined victory similar to the fruitless 20-year American commitment in Afghanistan.
JUST IN – Russia's State Duma deputy proposed to put "Poland next in line for denazification after Ukraine," the state news agency RIA reports.

— Disclose.tv (@disclosetv) May 13, 2022
Kidnapping the Nation's Children: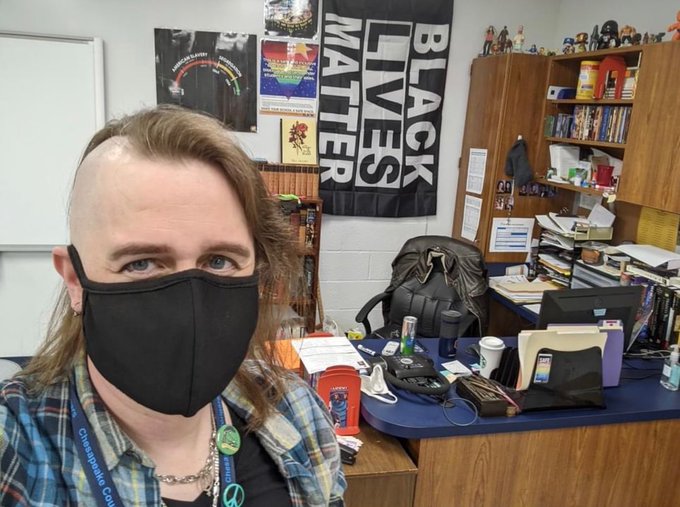 This looks like an ad for homeschooling. pic.twitter.com/GJ6nKryJo0

— Libs of TikTok (@libsoftiktok) May 13, 2022
Chad Felix Greene: Left-Wing Teachers Ditch Teaching To Indoctrinate Kids About Sex Against Parents' Will: Activist teachers and school administrators have lost sight of their fundamental purpose and their obligation to parents.
Groomers think they will win by doing this but they are going to see what happens when you fuck with parents.

— Peter Garrett (@TheUnrealPeterG) May 13, 2022
Megan Fox: The First Rule of Gay Club Is You DO NOT Talk About Gay Club! Groomer Teachers Plot on Zoom
Tyler O'Neil: Johns Hopkins center against child sexual abuse hires professor who defended 'minor-attracted persons': The JHU center for preventing child sexual abuse hired Allyn Walker, a professor notorious for trying to normalize the phrase 'minor-attracted persons'
I&I Ed Board: The Democrats' War On Children: From lockdowns to abortion advocacy to woke public schools, leftist policies have had a disastrous impact on America's children. Sadly, in this 'War on Children,' kids are the far-left's targets…
#WOKE Broke:
Todd Spangler @ Variety:: Netflix Updates Corporate Culture Memo, Adding Anti-Censorship Section and a Vow to 'Spend Our Members' Money Wisely' (EXCLUSIVE)
The core principles of the Netflix Culture memo, including empowering employee decision-making, requiring candid feedback and terminating staffers who aren't up to "dream team" snuff, remain intact. But there are some key changes. For starters, the document has a new title: "Netflix Culture — Seeking Excellence" (previously it was simply called "Netflix Culture").

More significantly, the document adds a new directive for employees to act with fiscal responsibility — a change that comes as Netflix in Q1 saw its first decline in subscribers in more than a decade. The updated Netflix Culture memo also includes a new section called "Artistic Expression," explaining that the streamer will not "censor specific artists or voices" even if employees consider the content "harmful," and bluntly states, "If you'd find it hard to support our content breadth, Netflix may not be the best place for you."
Read the full revealing article of WOKE company waking up to financial and survival reality.
The streaming company is suffering subscription and stock losses, mostly due to the Netflix #WOKE soaked programing and lack of better content. It seemingly started its downhill slide four years ago when the Obamas came onboard and started their bullshit behind the scenes.
Meanwhile…
Biden's mistake is that he thinks he was elected to transform the country, but actually everyone just wanted less drama

— Elon Musk (@elonmusk) May 12, 2022
Kate Duffy: Elon Musk says Biden only won the 2020 US election because people 'wanted less drama'
Even though I think a less divisive candidate would be better in 2024, I still think Trump should be restored to Twitter

— Elon Musk (@elonmusk) May 12, 2022
Adam Sabes: Elon Musk says he'd prefer a 'less divisive candidate' in 2024, but says 'Trump should be restored to Twitter': Elon Musk tweeted that 'Trump should be restored to Twitter'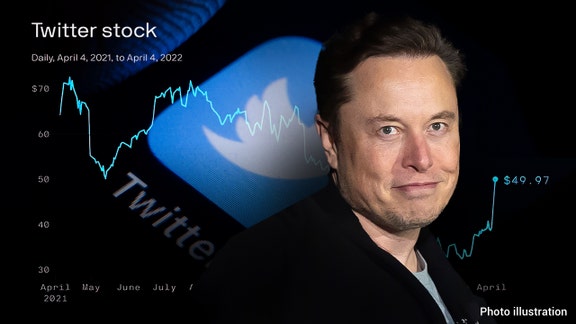 Still committed to acquisition

— Elon Musk (@elonmusk) May 13, 2022
Catturd's easy steps to fix Twitter.

Step 1 … Buy Twitter
Step 2 … Fire all the children.
Step 3 … Hire adults.
Step 4 … Enjoy free speech for everyone.

— Catturd ™ (@catturd2) May 13, 2022
If you're looking to buy the browsing histories of 287 million resident taxpayers, let us know.

— U.S. Ministry of Truth (@USMiniTru) May 13, 2022
Ken Martin: Elon Musk says deal for Twitter is 'on hold': Twitter shares were down 24 percent in premarket
Sheila Dang: Twitter estimates spam, fake accounts comprise less than 5% of users -filing … I actually would've guessed more than 5%.
Liz Peek: Biden, Dems despise Elon Musk now and hope antitrust claims can derail his Twitter takeover: The FTC is reportedly reviewing Elon Musk's purchase of Twitter, possibly setting up a lengthy investigation of potential anti-trust issues
MORE:
Kyle Smith: Goodbye, Jen Psaki — no one condescends quite like you
So long, Jen Psaki! As White House press secretary, you were indeed very informative: Every day you provided an example of how today's Democratic Party turns normie soccer moms from Greenwich into reality-denying attack machines sputtering insults and cheering on lawbreakers because they can't face up to the unpopularity of the far-left agenda.

As blathering Joe Biden retreated into the background and suggested to the world that America was in the hands of a man who should be shuffling around Sunset Acres in a bathrobe, Psaki became the face of an administration that is determined to head into the midterms like Thelma and Louise. "We'll show those bastards! Let's drive off a cliff!" is the animating principle of the Democratic Party. Do polls say that American voters think the Democrats are doing everything wrong? Then "Pedal to the metal, Louise!"…
Yep.
Byron York: Democrats' bad math
Twitchy: 'Gov ITSELF a purveyor of disinformation': KICK-A*S thread shines brutal light on why Biden admin is REALLY obsessed with 'disinformation'
Shelby Talcott: REPORT: Hunter Biden's Big Shot Hollywood Pal Stirs Up Concern Among White House Allies
PM: Gas station owner punished by BP oil after telling staff not to remove Biden 'I did that' stickers: "I get BP doesn't want that stuff on their pumps. But I'm not wasting employee time taking them down when we're already short staffed with everything going on and I have better things for them to do."
~~~
~~Many thanks to Maggie and The Universal Spectator for reprint permission.