Posted by Maggie on September 23, 2022 in General News
There is no other way to describe what is continually going on right now, and coming soon, than "Volumes of Fuckery".
Heartless Clumps of Useless Tissue … And I Don't Mean The Unborn:
The latest desperate attempt to dehumanize the unborn has taken on a new false narrative/fake premise. For years the pro-abortion activists/advocates have virulently opposed pre-abortion ultrasounds for pregnant women considering abortion. Seems they just don't believe women should have all the medical data due to them when making personal medical decisions about their own bodies. They are now taking it to a whole nother level…
Georgia Democrat Stacey Abrams: "There is no such thing as a heartbeat at six weeks. It is a manufactured sound designed to convince people that men have the right to take control of a woman's body."

REMINDER: Abrams supports NO LIMITS on abortion. pic.twitter.com/f7XxeqzfF6

— RNC Research (@RNCResearch) September 22, 2022
I'll let Redsteeze put this latest attempt by Abrams and those defending her in a proper nutshell perspective…
Stacey Abrams is pushing a theory here that ultrasound machines, used in hospitals now all over the world, were designed by a cabal of men, to manufacture a sound beat on purpose, in order to convince women to keep unwanted pregnancies. This is beyond QAnon shit. https://t.co/4pOoUJRt52

— Stephen L. Miller (@redsteeze) September 22, 2022
See how he did that? Get the full scope out of this post-Roe mental breakdown of the pro-abort left…
Paula Bolyard: 'Fact' Checker Glenn Kessler Claims Fetal Heartbeat Is a 'Misnomer,' Instantly Regrets Getting Out of Bed Today
FWIW, "fetal heartbeat" is a misnomer. The ultrasound picks up electrical activity generated by an embryo. The so-called "heartbeat" sound you hear is created by the ultrasound. Not until 10 weeks can the opening and closing of cardiac valves be detected by a Doppler machine. … https://t.co/OODSeeFMas

— Glenn Kessler (@GlennKesslerWP) September 22, 2022
Please specify. Is the embryo Frankenstein? pic.twitter.com/5As1nDMm2x

— Stephen L. Miller (@redsteeze) September 22, 2022
Stephen, I don't think you understand. Before the baby develops a heart, it rubs its little feet on a small patch of carpet inside the womb. That's the electricity picked up by an ultrasound mission — please educate yourself before commenting in the future.

— Henry Rymer (@OptimusRyme) September 22, 2022
HEH!!! But even the British NIH disagrees with the NPR and The Atlantic propaganda…
Yeah, look for the NIH to change their site's "information" just like Planned Parenthood has…
Timothy H.J. Nerozzi: Planned Parenthood edits fact sheet to say no heartbeat at 6 weeks of fetal development: Planned Parenthood now differentiates between 'cardiac activity' and 'heartbeat'
Here's the origin of this myth…. Naturally, it's @TheAtlantic. Check out the LONG list of corrections… https://t.co/tbpv0Kpvqu

— Larry O'Connor (@LarryOConnor) September 22, 2022
Favorite part of article:

"Moira Weigel is a writer and a doctoral candidate in comparative literature at Yale University. She is the author of Labor of Love: The Invention of Dating."

No mention of any degree in any medical field despite her attempt at a "Dr Jill" type title.

— Maggie (@drillanwr) September 23, 2022
This NPR report offers a detailed look at a complex subject. https://t.co/7MftFIDwqW

— Glenn Kessler (@GlennKesslerWP) September 22, 2022
Using NPR as your "source" that the heartbeat at 6 weeks is a myth is more hysterical than your newspaper's "fact checks"

— SeldenGADawgs (@SeldenGADawgs) September 22, 2022
Again, the two (more likely than not are pro-abortion) female writers of the May 2022 NPR article are journalism/English majors, not medical professionals. The medical citations "quoted" in their missive piece are out of full context, and I redirect you back to Stephen Miller's simple responses to this latest bullshit attempt by the left to dehumanize life in the womb … and, really, at any stage of pregnancy and birth.
Twitchy: Apparently Planned Parenthood decided to abort their acknowledgment of fetal heartbeats just in time for Stacey Abrams' insanity
There is an full-blown balls-to-the-wall effort by democrats, their MSM, and other leftist ankle-biters to make their dem candidates in the November midterms elections pro-something other than reality … you know, inflation, crime, the open border. And some devils are spinning their own evil…
Jon Brown: Christians slam Newsom for 'disgusting' pro-abortion billboards quoting Jesus: 'Satanic': A Catholic priest said Newsom's billboards exhibit 'one of the worst distortions of a Bible passage I've ever seen'
Imagining the devil in his advertising office at the top of the highest skyscraper in hell giggling to himself as @GavinNewsom uses Jesus' own words to support killing babies pic.twitter.com/pMo5qa1WmS

— Catholic Answers (@catholiccom) September 21, 2022
I think this has to be one of the worse distortions of a Bible passage I've ever seen. Shame on @GavinNewsom & his government.

The most basic level of loving your neighbor as yourself is not killing your neighbor, yet that's exactly what abortion does. https://t.co/5JHR6I2ZJ5

— Fr Matthew P. Schneider, LC (@FrMatthewLC) September 21, 2022
MORE:
Biden's Broke-Ass Border:
From border invasion to home invasions…
Bradford Betz: Texas farmer near border says migrants 'bull-rushed' his property, broke into elderly grandparents' house: The Texas farmer shared footage of the migrants breaking into his property on TikTok
A Texas farmer who owns a 150-acre ranch along the U.S.-Mexico border recently shared footage of migrants running onto his property and barricading themselves inside the home where his grandparents live.

The farmer, who wished to remain anonymous, told Fox News Digital his family has owned the property for upwards of 100 years. The video, he said, illustrated a daily occurrence for his family. But the problem has grown worse in recent years, he said…

"I feel that we're at an all-time peak right now. We're at the highest we've seen this in, ultimately, 90 to 95 years," he said. "We've seen thousands of people cross through here, with no problem and all due respect (saying), 'Hey, we're just trying to get through no problem.' Go ahead. We understand that."

He added: "But that video … when they have zero respect and barge in your home on a Sunday at four o'clock in the afternoon when you're sitting down, rest and relaxing, recliner up and your door flings wide open and three people that you don't know just come running through the kitchen, it's unfathomable."

(Members of one of the migrant caravans riding on a truck in Donaji, Mexico. (AP))
Bailee Hill: Texas rancher issues dire warning on border crisis, migrant influx: 'Coming to your town': Migrant encounters at the US-Mexico border hit more than 2.1 million so far this fiscal year
Meanwhile, Biden's Broken "Border Czar" says what…
Alexander Hall: Kamala Harris slams 'irresponsibility,' 'dereliction of duty' of GOP governors sending migrants to blue areas: The vice president blamed the Trump administration for decimating the immigration system … Compare and contrast the illegal crossings data of the Trump administration years to your dumb-assed almost two years, you ignorant hack!
VIDEO: Kamala Harris ripped for complaining about GOP governors' 'political stunts'
VIDEO: Lara Trump: We cannot sustain this border policy
Media Talking-Points Memo went out, y'all…
Nikolas Lanum: Media, Dems point fingers at Republicans for border crisis, skirt around placing blame on Biden: One CNN commentator defended Biden sending migrants across the country, claiming he was reuniting families
FLASHBACK: FNC (1/21/19): Democrats turn down Trump's offer of DACA extension in exchange for border wall funding
Biden Farming-Out Millions to Foreign Farmers Around the World:
This might not be as bad if the climate change insanity cult wasn't removing fertilizers and other fossil fuel based methods from farms around the world, and if Biden wasn't sending BILLIONS to pretty much fully fund the damn war in Ukraine. Or is this just another Biden laundering money operation…
Biden-Harris Administration Invests $178 Million in International Food for Progress Projects
VIDEO: National Black Farmers Association President John Boyd, Jr. slams Joe Biden for not standing with American farmers, prioritizing foreign interests and pleads with Biden administration to support American farmers … "It's basically two people at farm auctions here, it's China and Bill Gates buying up American farms…"
… not to mention also paying off student loans and spending gazillion$ on bullshit like the "Inflation Refuc—- er, Reduction Act"…
DM: "And I'm not sure how much it has to do with inflation, but that's OK": Biden's climate envoy John Kerry admits he doesn't think the Inflation Reduction Act has 'much to do with inflation' – and lauds what it does for the climate: … It's always okay when democrat policies don't do what they promise they will do.
"Thank you, Brandon, may we have another"…
Twitchy: 'No mean tweets though'! Dow Jones drops below 30,000 and Tweeps can't wait to 'THANK' Joe Biden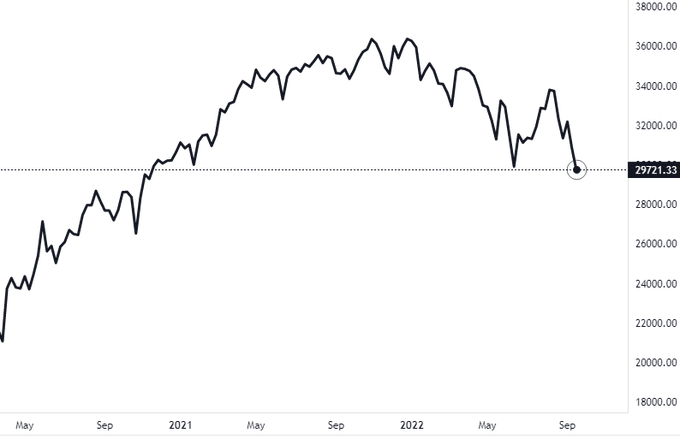 Emily Crane: Americans have lost $4.2K in income under Biden, study says
Meanwhile, in the RINO habitat of The Swamp…
Tyler Olson, Kelly Laco: 'A NEW DIRECTION' – House Republicans unveil sweeping 'Commitment to America' agenda ahead of midterms … That's fandamntastic, Kevin, but we're beyond damn sick and tired of the GOP saying and not carrying-out. So, admit that while you're trying to sell this to an over-stressed-out American public.
Oh, about that Russia-Ukraine War…
Have to wonder and ask how many of these military-age Russian men will be showing up and crossing our southwestern border now…
Jake Cordell and Essi Lehto: Russian draft prompts exodus by some men as air fares jump
Isabella Higgins and Jade MacMillan: Long queues form at Russia's borders as Putin's military mobilisation order prompts men to flee
-Prices for air tickets out of Moscow soared above $US5,000 for one-way tickets to the nearest foreign locations
-Kremlin spokesman Dmitry Peskov says reports of an exodus of draft-age men were exaggerated
-Some EU countries including Estonia, Latvia, Lithuania and Poland, have begun turning away Russians from crossings
Nick Mordowanec: Russians Fleeing Putin's Order Will Have to Sign Form Condemning War at Bar
One bar in the South Caucasus nation of Georgia is making Russians sign a form expressing their disdain for Russian President Vladimir Putin's actions upon entering…

Even prior to the mobilization announcement, Dedaena bar in the Georgian capital of Tbilisi forced Russian citizens desiring to enter the establishment to fill out a "visa."
VIDEO: Tucker Carlson: The Russia-Ukraine Conflict: We are the closest we've ever been to nuclear conflict in history
VIDEO: Dan Bongino: Why Trump's foreign policy was successful
MSM Malpractice…
VIDEO: Mainstream media completely ignores political murder story: Pete Hegseth argues the unequal media coverage of right-wing and left-wing violence by mainstream outlets shows a 'lack of equal justice' in America. He also discusses 'dangerous' new woke military policies.
Adam Sabes: 'NO EVIDENCE' – North Dakota official says 'no evidence' supports suspect's claim teen was Republican 'extremist': Shannon Brandt told officials that the teen was part of a 'Republican extremist group,' according to court documents.
Meanwhile, J6 fodder…
Twitchy: 'I will NOT do this': Miranda Devine talks about heroic FBI/J6 whistleblower in EYE-OPENING interview with Tucker Carlson (watch)
Twitchy: Jamie Raskin tries weaseling out of talking about Ray Epps by playing 'dumb' but Thomas Massie ain't havin' NONE of it (watch)
Twitchy: 'Raids for MISDEMEANORS'! Julie Kelly's thread on FBI whistleblower exposing 'rot and corruption' at FBI around J6ers a MUST-read
BONUS: Castro's bastard son in Canada always generates nothing but L.O.V.E…
Here's Castro Jr. representing Canada and its people at QEII's funeral…
In a Game of Thrones world would he be called Justin Snow or Justin Sand, hmmm?
He also has some thoughts on women's rights and "peaceful protests" that are not related to his country and how he himself handles such issues…
Canada strongly supports people who are expressing themselves and protesting peacefully in Iran. We are calling on the Iranian regime to end its repression of freedom of expression – and to end the ongoing harassment of, and discrimination against, women.

— Justin Trudeau (@JustinTrudeau) September 22, 2022
You learned from the best dictators to go against PEACEFUL truck drivers. You need to sit this one out

— SeldenGADawgs (@SeldenGADawgs) September 23, 2022
Bro you trampled old ladies with horses

— Mostly Peaceful Memes (@MostlyPeacefull) September 23, 2022
Is this a fucking joke? There's no way you wrote this. Your henchmen literally shot a Journalist and you trampled a Native Grandmother. You can't be seen in public without someone calling you a Communist Traitor. For the love of God stop prostituting Canada to the WEF.

— Liz Churchill ™ 🇨🇦 (@liz_churchill1_) September 23, 2022
You violently suppressed peaceful protest in Canada. You groped women, fired women. You are an awful, awful excuse of a man.

— Viva Frei (@thevivafrei) September 23, 2022
Meanwhile, in Iran: It wasn't that Mahsa Amini did not wear a hajib, but for not 'wearing it properly' …
Benjamin Weinthal: Iran's 'morality police' accused of murdering woman for not properly wearing hijab, sparking protests: Protests against the regime have reportedly taken place outside the hospital where Amini died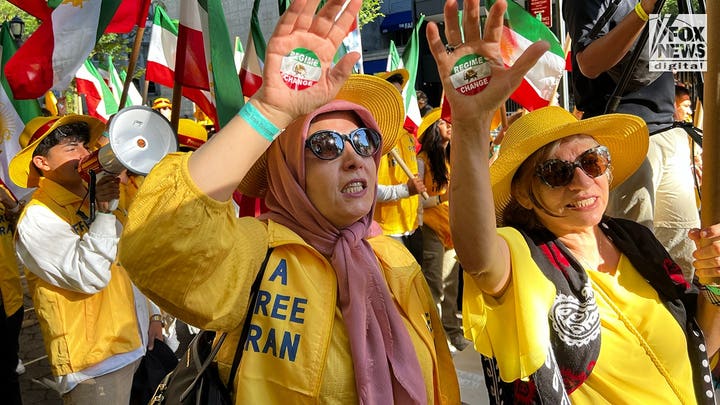 Peter Aitken: Iranian president speaks of 'justice' to UN as protests consume his country with demands for regime change: Raisi pledged to hold the US accountable for Qassem Soleimani's death via tribunal
Michael Lee: Iranian protests taking off in 100 cities, 30 provinces, with dozens killed and widespread arrests: Mahsa Amini died in police custody after being arrested for not wearing a face covering in public
Anders Hagstrom: Iran protests: 9 dead in escalating unrest as demonstrators set fire to police stations, stab regime enforcerIranian regime cuts access to social media in a dozen cities, possibly signaling violent crackdown
Twitchy: AOC's take on the courageous Iranian women protesting and burning their headscarves over Mahsa Amini is nothing short of revolting
~~Many thanks to Maggie and The Universal Spectator for reprint permission.