Posted by Maggie on June 24, 2022 in From the editors
The big invasion is on, as well as the big surrender at the U.S. border.
NEW: Video from @TxDPS shows hundreds of migrants wandering off the side of a highway near Eagle Pass, TX this afternoon after they crossed illegally. This is in Border Patrol's Del Rio sector, which continues to be inundated with massive groups almost daily. @FoxNews pic.twitter.com/FqgLSmT4Ui

— Bill Melugin (@BillFOXLA) June 24, 2022
EXCLUSIVE: Video shows Mexican cartels boasting on #TikTok about the stash of cash they make smuggling migrants across the southern border under Biden

Story: https://t.co/qw9I5sMmjd pic.twitter.com/wQnF3rw28M

— Anna Giaritelli (@Anna_Giaritelli) June 23, 2022
Brie Stimson , Bill Melugin: Hundreds of migrants seen wandering on side of road in Texas amid illegal immigration surge: The area in the Del Rio sector has seen record illegal crossings … (w/VIDEO)
Tyler Olson: At the southern border: Dozens of migrants detained as Border Patrol contends with the nightly influx: Border Patrol rounds up crossers as a drone likely belonging to a cartel keeps a careful watch
The coordinated war on the U.S.A. by China…
Tori Richards & Anna Giaritelli: Cartels boast on TikTok how they make millions smuggling migrants across border … Well, TikTok is a China CCP heavily monitored media and the fentanyl is coming from China, so, the cartels are letting the CCP know the shipments are successfully getting through.
Adam Shaw: FLOW OF FENTANYL: Republicans call for Biden to push Mexican president to combat fentanyl smuggling: Some proposals include adding cartels to the foreign terrorist organization list … They should already be on that list by now, for cripesake!
Adam Shaw: DEA warns of 'nationwide spike' in fentanyl-related mass-overdose deaths, as border crisis rages: DEA said fentanyl is killing Americans at an "unprecedented rate"
Byron York: Biden lets in 1 million illegal border crossers. Maybe 2 million
FNC: Rep. Mayra Flores says Democratic Party has abandoned the Hispanic community to focus on White liberals: Newly-elected congresswoman Mayra Flores reflects on her stunning election victory and why Hispanics are fleeing the Democratic Party
FNC: 'ENOUGH IS ENOUGH' – State AG, Gov. DeSantis target migrant flights, border smugglers: Governor DeSantis announced strike force last week to target immigration-related crime
The Fully Scripted and Choreographed (Soros) Puppet:
Biden continues to add to his real legacy … cheating…
Joseph A. Wulfsohn: BIDEN's CHEAT SHEET – Biden holds notes that read 'YOU enter the Roosevelt Room,' 'YOU take YOUR seat'A White House official tells Fox News such notes are a longstanding practice for politicians … Okay, but those other guys were able to … and allowed to … go off teleprompter and off-script and not reveal themselves as a muddled, wandering nursing home resident. Last month Elon Musk warned teleprompter-reliant Biden is risking a Ron Burgundy moment. Elon, he's already had a few of them.
Meanwhile, those Biden fluffers in the MSM…
Nikolas Lanum: CNN, ABC, MSNBC, CBS journos hype Biden gas tax holiday, now claim president can affect prices: 'No-brainer': Democrats, including Barack Obama, have criticized the idea of a federal gas tax holiday
Megan Henney , Suzanne O'Halloran: Former Obama economist warns stagflation threat level is 'highest in a long time': Fed war on inflation could increase odds of stagflation scenario: Fmr. Obama economist
VIDEO: Can the Fed attain a soft landing as the central bank tries to curb red-hot inflation? Thomas Hoenig, the former Kansas City Federal Reserve president, weighs in, arguing that a 'recession is a fair call.'
New: A vast conservative coalition is designing a policy agenda, building a staff list, in preparation for a Republican president, to begin undoing Biden's legacy "on hour one, day one."https://t.co/pJ4kl3Y4Dc

— Philip Melanchthon Wegmann (@PhilipWegmann) June 24, 2022
New: A vast conservative coalition is designing a policy agenda, building a staff list, in preparation for a Republican president, to begin undoing Biden's legacy "on hour one, day one."https://t.co/pJ4kl3Y4Dc

— Philip Melanchthon Wegmann (@PhilipWegmann) June 24, 2022
Philip Wegmann: Conservatives Already Preparing for Post-Biden Presidential Transition
The Loser J6 Committee Ain't No Hit-Filled J5:
Has the January 6 committee released the full transcript or video of any of its interviews — the original sources of the snippets and sound bites it is using during its presentations? 1/3

— Byron York (@ByronYork) June 24, 2022
The committee, with a very willing press, is doing a masterful job of feeding the public little bits of what it has gathered in, it says, about 1,000 interviews. Its shows are like a TV news package: sound bites, with lots of committee-added context. 2/3

— Byron York (@ByronYork) June 24, 2022
Maybe the committee will release everything in a few months. We'll have to look at full material, then go back to committee's presentations, and compare the two. Would be much better to release it all now, even if it diminished the show. 3/3 End.

— Byron York (@ByronYork) June 24, 2022
Hell no. Or the 14,000 plus hours of video that @SpeakerPelosi didn't want anyone to see. Or the missing evidence from the Ashley Babbitt murder. That would prove not only that they're bold liars but treasonous too.

— Christa Free (@ChristaLorenzFr) June 24, 2022
It's political theater, it'll probably take FOIA requests to get the full transcripts, just like the 14000 hours of video from Jan 6 that is only released in snippets to advance a narrative.

— Briscoe Darling 🇺🇸 (@mapiii1968) June 24, 2022
MORE: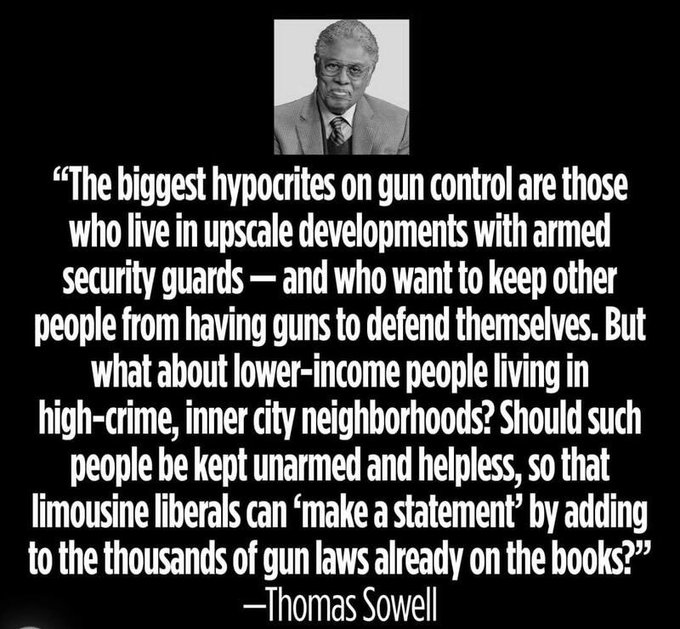 "States can't regulate guns, but they can ban abortions — why?" (@TheHillOpinion) https://t.co/7AQK7189MO pic.twitter.com/7A7p9J8yHT

— The Hill (@thehill) June 23, 2022
Because there is a clearly stated recognition of a right to own and carry guns in the Constitution.

Stop pretending this is difficult or controversial. https://t.co/mh7fLnlC28

— Chad Felix Greene 🏳️‍🌈 (@chadfelixg) June 23, 2022
Which amendment says Abortion is a right given by God?

we'll wait

— Musings of a nobody (@JustaCi54400863) June 24, 2022
Twitchy: Alan Dershowitz asks why states can't regulate guns but can ban abortions
Alex Nitzberg: 'Supreme Court lawyer' says it would be 'weird' for the high court to leave abortion up to states 'after it just imposed a constitutional right to concealed carry of firearms'
Here ya go, folks. Want to know how those almighty "red flag laws" will be wrongly used and abused? Here's one example of the descriminating politicized thought process will go…
The kind of people who desperately want to carry concealed weapons in public based on a "generalized interest in self-defense" are precisely the kind of paranoid, insecure, violence-fetishizing people who should not be able to carry concealed weapons in public.

— Jill Filipovic (@JillFilipovic) June 23, 2022
Concealed carry permit holders are one of the statistically most law-abiding subgroups in all of society.

But go off, Jill.

🙄🙄🙄

The absolute privilege of this tweet.

— Brad Polumbo 🇺🇸⚽️🏳️‍🌈 (@brad_polumbo) June 23, 2022
Show me the last mass shooter who had a CC permit. Or who was a member of the NRA for that matter. Y'all are hell bent on punishing the innocent while making excuses for the guilty. Enough of this bullshit.

— Hecate's Ghost (@ghost_hecate) June 24, 2022
Amy Swearer & Cooper Conway: Debunking the Myth of "Concealed-Carry Killers"
1 – The Violence Policy Center claim falls apart when even the slightest bit of scrutiny is applied to it.

2 – Americans defend themselves with their firearms between 500,000 and 3 million times every year.

3 – Concealed-carry permit holders have intervened to stop many scenarios that likely would have turned into mass killings but for their actions.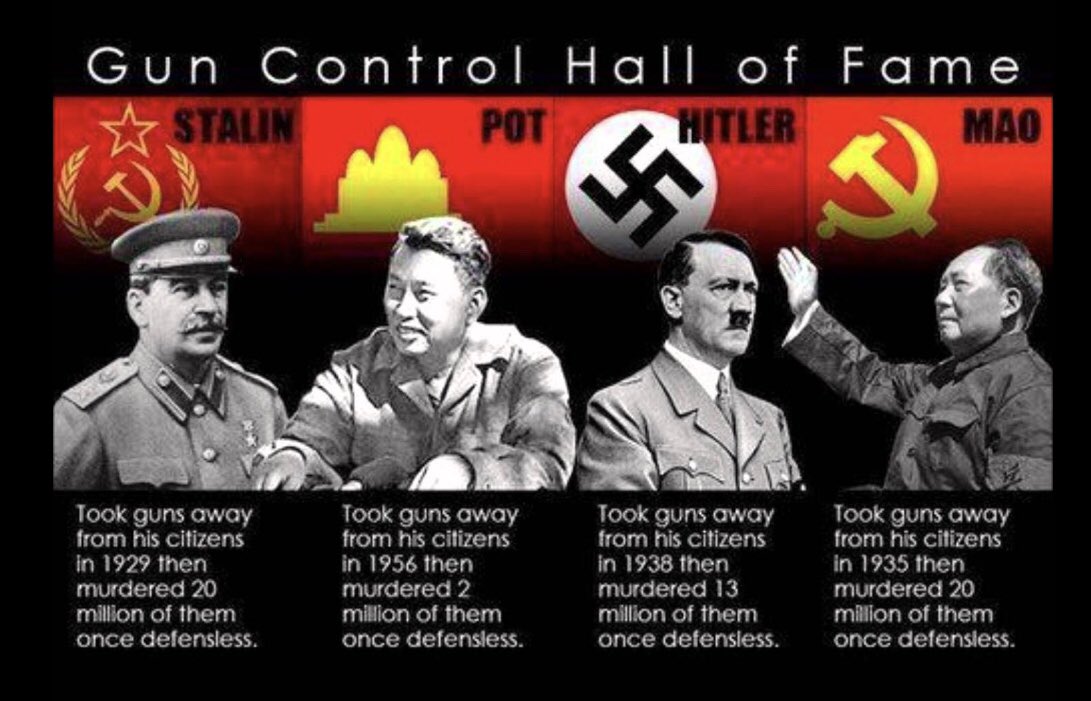 Statistically speaking, the other mass shootings that the left/MSM/Dems refuse to address are done, in places like Chicago, by criminals who have not purchased, are not background-checked or registered law-abiding gun owners or legally poses their guns.
Twitchy: Here are the 15 Senate Republicans who joined Dems in final passage of gun control bill … The RINO herd.
15 GOP yeas on the gun bill:

Blunt
Burr
Capito
Cassidy
Collins
Cornyn
Ernst
Graham
McConnell
Murkowski
Portman
Romney
Tillis
Toomey
Young

— Chad Pergram (@ChadPergram) June 24, 2022
On a day when the DOJ abuses its power with a raid on the home of the former assistant attorney general of the US, these f's decided to gift the dems red flag laws that will be used against the very people who voted for them.

It's a disgrace. AK can get rid of Murkowski this yr.

— Free Person Ultra (@katbritton08) June 24, 2022
Hollywood's never been over-populated with 'the best and brightest'…
Tracy Wright: Ron Perlman slammed for deleted tweet saying Supreme Court gun decision 'for whites only': Twitter users were quick to point out that the Supreme Court's ruling was led by Justice Clarence Thomas, who is Black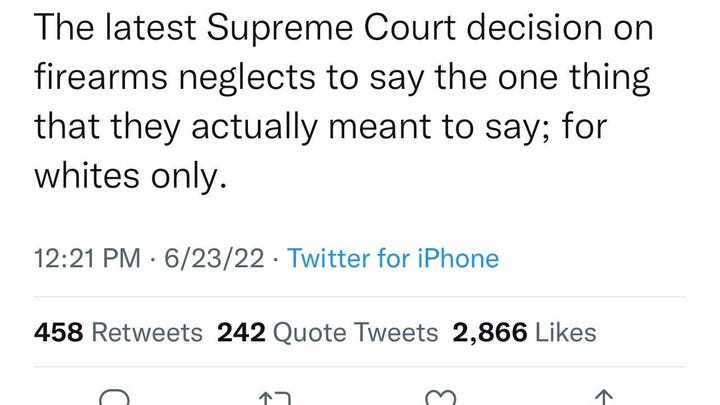 Why'd you delete this, @perlmutations? Did you figure out a Black man is responsible for the decision?

It's like some of you are getting dumber in real-time. pic.twitter.com/mADLUixiaW

— The🐰FOO (@PolitiBunny) June 23, 2022
And as the left tries to convolute Second Amendment gun rights with 'abortion rights' because "my body my choice" … except when it involves vax injections…
Christopher O'Donnell & Ian Hodgson: Publix won't give COVID vaccine to children under 5: The Lakeland grocery chain said it will not explain its decision "at this time." … Let me guess, legal "liability" for adverse reactions and/or injuries/death of toddlers and babies because of the experimental vaccine?
STUNNING: At Today's Congressional Testimony, Dr. Deborah Birx Admits the Biden Admin's Vaccine Efficacy Claims Were Actually Just Based on 'Hope' Not Science‼️👁👁‼️😵‍💫😵‍💫‼️😬😬‼️💊💊‼️💥 pic.twitter.com/m7J4eEBjfx

— Paul Milligan (@plmilligan1968) June 23, 2022
ALL the data, what there is of it, on adverse reactions and/or injuries/death from the vaccines must be immediately released with the gusto that those two-year tally numbers of COVID cases and deaths have been.
The 'fresh new Hell' in the gender bending and twisting era seems to be firmly centered in anti-women terminology…
Twitchy: Fresh term for women thoroughly rejected by the 'womb carriers'
Pelosi Privilege…
Nikolas Lanum: New York Times spotlights Pelosi's lavish California living, husband's troubled driving history
VIDEO: Jesse Watters: How Paul Pelosi was made to look like a victim: The 'Jesse Watters Primetime' host probes the timeline and circumstances of Paul Pelosi's vehicle crash leading to his DUI charge
Allie Griffin: Nancy Pelosi's husband Paul charged with DUI causing injury, could face jail time … It'll be alright. I'm sure Paulie will get "community service' handing-out PBJ sammies and water bottles to migrants working in one of the Pelosi vineyards. And the Pelosi team of lawyers will pay 'undisclosed' damages out of court to the 'other guy' in the accident.
People who have had the feds come to their door at dawn: Roger Stone, Rudy Giuliani, James O'Keefe, Jeff Clark.

People who have not had the feds come to their door at dawn: Hunter Biden, Andy McCabe, Peter Strzok, Michael Sussman.

— Greg Price (@greg_price11) June 24, 2022
#WOKE is all fun and games until you lose an eye…
After 25 years associated with @Gannett and @USATODAY, I've got some things to say about how the company is going off the rails, wokism is taking over and conservatives are being purged. You can read more about it in my New York Post op-ed. https://t.co/d1jqv8Tr21

— David Mastio (@DavidMastio) June 24, 2022
David Mastio: USA Today demoted me for a tweet — because its woke newsrooms are out of touch with readers
This you? https://t.co/l6yoM9GWSq

— Sean Davis (@seanmdav) June 24, 2022
I'm partially to blame because I didn't speak up publicly until the axe fell on me. I was demoted for tweeting that women are the people who get pregnant. A braying mob of my colleagues demanded I be fired for making the workplace "unsafe."

— David Mastio (@DavidMastio) June 24, 2022
Tristan Justice (5/14/21): Insane USA Today Editor Says Republicans Who Ousted Cheney Are A Greater Threat Than 9/11 Hijackers: USA Today Editor David Mastio wrote an op-ed Thursday claiming Republicans who voted to remove Liz Cheney from leadership were greater threat than terrorists.
Twitchy: Blue-check journo exposes how USA TODAY and Gannett have been deliberately purging conservative voices in DAMNING receipt-filled thread … David Mastio's full Twitter tweet thread within the link. I suppose we're supposed to be *gasping* in shock. Well, we have been a longtime warning about that 'crocodile' eventually coming for those pushing others in the line of the chomping. But they called us 'conspiracy theorists'. I wonder what else we'll be proven prescient about.
~~Many thanks to Maggie and The Universal Spectator for reprint permission.