Posted by Maggie on April 27, 2022 in From the editors
A week of successful launches for a certain billionaire investor.
Elon @elonmusk gave a a whole new meaning to flipping the bird.

— Shukri Abdirahman (@ShuForCongress) April 27, 2022
Shootin' for the Stars…
Brie Stimson: SpaceX successfully launches NASA's Crew-4 astronauts bound for International Space Station: The astronauts will arrive at the ISS 16 hours after launch
Pointing Us Back to this Representative Republic's 'North Star', the First Amendment…
DM: 'Burning the evidence before the new boss starts?': Don Jnr and right wingers see giant leaps in their Twitter followers after Musk bid was accepted – as Obama and left wingers lose huge numbers amid speculation algorithm has been changed
Right wing figures on Twitter such as Florida's governor, Ron DeSantis, and Donald Trump Jr have seen their number of followers soar
Left-leaning people like Alexandria Ocasio-Cortez and Barack Obama have witnessed a noticeable drop in followers
The fluctuations have been dramatic since Monday, when Elon Musk's $44 billion takeover of the company was confirmed
Twitter on Tuesday confirmed that the figures were organic, and were not due to any internal alterations to their operations
Trump Jr, however, did not believe the company and speculated that it was due to artificial restraints on right-wing figures finally being lifted
He claimed that the changes were being made before Musk's team took over to avoid an embarrassing expose of their practices 
Nothing to see here … Move along…….. Riiiiiight???
Some of the numbers movement is related to some folks who'd dumped Twitter because it had become a POS, now returning, and some of the "moving to Canada if he" left taking a dump out of the years-long churning cesspool they helped foment. However, it's not wrong to assume the Twitter STASI crew is trying to 'rearrange the deck chairs' before their reign sinks. They can deny it all they want but one thing remains. "Twitter is forever" as has been said. And no amount of scrubbing will erase the evidence. BTW, Makes ya wonder about, um, Facebook's electronic 'books', eh?
By "free speech", I simply mean that which matches the law.

I am against censorship that goes far beyond the law.

If people want less free speech, they will ask government to pass laws to that effect.

Therefore, going beyond the law is contrary to the will of the people.

— Elon Musk (@elonmusk) April 26, 2022
This is perfectly logical, but will still outrage everyone trying to control a narrative on here.

— Tim Young (@TimRunsHisMouth) April 26, 2022
It is perfectly illogical. Obvious example: churches, libraries, movie theaters, etc all regulate speech in ways that are wholly necessary to have a useable service.

The same applies here. Allowing harassment and abuse to proliferate on here would make Twitter unusable.

— Steven DeCaluwe (@DrDeCaluwe) April 27, 2022
The problem is you are assuming and opining that the 'free speech' Elon and the rest of us are intending, is harrasent and abusive. We are against pushing a political narrative, censoring views and content. Free speech should be free.

— Lenora_GunaBBiblical_Rio🍊🚚🙏🇺🇸♥️ (@lenora_del_rio) April 27, 2022
You do realize you must be physically present at those locations and twitter does support mute and block functionality.

— Eric Houser (@housered62) April 27, 2022
Thank you! Mostly it's the 'bot squad' that has several members constantly opening new accounts and stalking designated people until that person dumps their Twitter account.
Lawrence Richard: Elon Musk seems to throw shade as Truth Social passes Twitter on App store: The comment comes after Twitter agreed to Musk's offer to purchase the platform … You have to wonder that the uptick in social media site that the conservatives flocked to for free speech not allowed on old Twitter, is possibly the left now infiltrating these other conservative friendly sites in order to make trouble. Truth Social, if you aren't aware, is the social media site built by Pres. Trump and Devin Nunes. Yesterday, I did see one leftist signing out from Twitter and insisting she was going to GETTR, a social media site that the conservatives have been using as an alternative for months.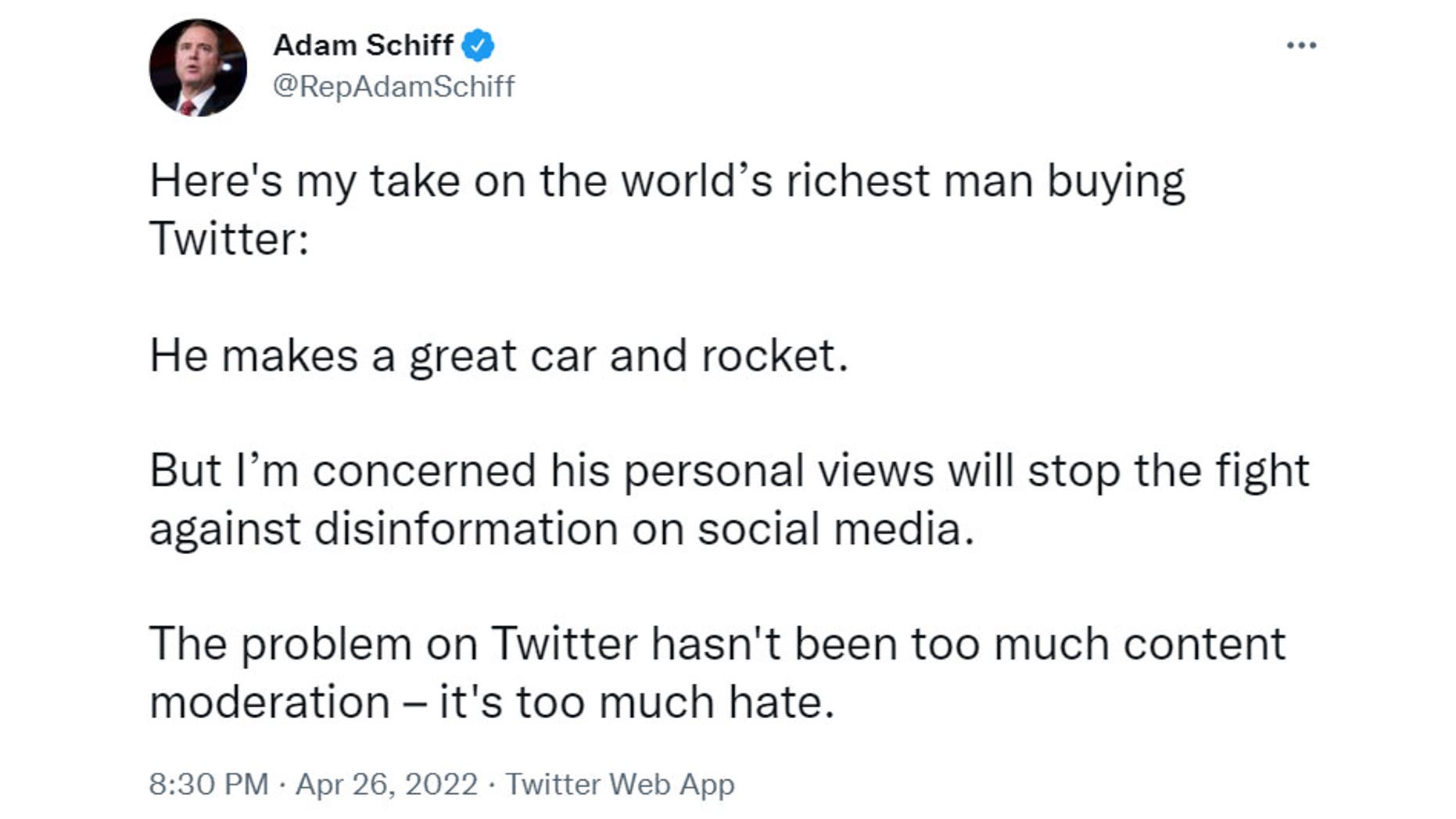 It really is all about silencing anyone and everyone who is not chanting the leftist narrative line.
Brandon Gillespie: Critics blast Adam Schiff as 'king of disinformation' following his concerns about Musk's Twitter purchase: Schiff has faced years of criticism for spreading misinformation on Trump-Russia collusion
Here's my take on the world's richest man buying Twitter:

He makes a great car and rocket.

But I'm concerned his personal views will stop the fight against disinformation on social media.

The problem on Twitter hasn't been too much content moderation – it's too much hate.

— Adam Schiff (@RepAdamSchiff) April 27, 2022
Rep. Adam Schiff, who has spent more time promoting conspiracy theories – to the considerable detriment of our country – than nearly anyone in public life over the last few years, wants you to think he's concerned about disinformation on social media. pic.twitter.com/98UkL2jQhk

— Drew Holden (@DrewHolden360) April 27, 2022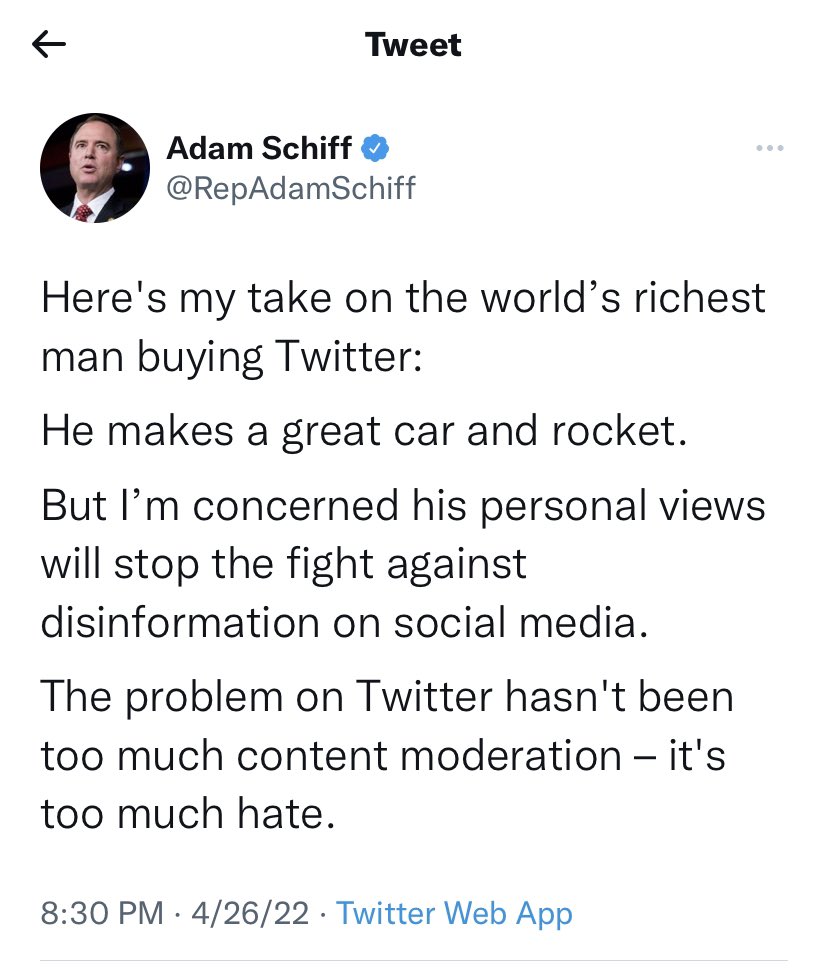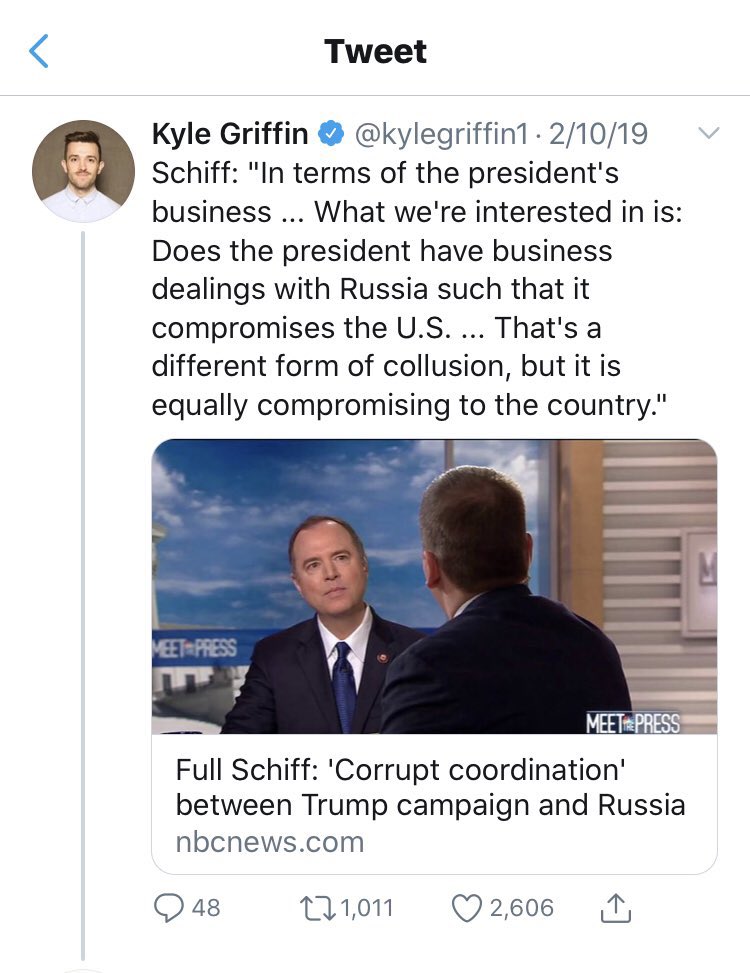 Remember when you knowingly and maliciously pushed disinformation for YEARS, falsely claiming to have evidence of Trump colluding with Russia to steal the 2016 election?

— Mollie (@MZHemingway) April 27, 2022
How about the time he took a call from a couple of Russian comedians who fooled him into thinking they had naked pictures of Trump. 🤪

— Deb Heine, Dissident (@NiceDeb) April 27, 2022
You'd be a fool to not realize by now that most Americans see you as a major source of disinformation.

— IrritatedWoman (@irritatedwoman) April 27, 2022
The guy who lied for 2 years about having evidence of Russian collusion by Trump is concerned about disinformation.

— AdamInHTownTX (Not a Biologist) (@AdamInHTownTX) April 27, 2022
You fabricated text messages from Jim Jordan. You lied about Russian collusion. You fabricated emails from Don Jr. You are the last person on earth who should be whining about "disinformation." YOU are the biggest source of disinformation in the country. https://t.co/HUVmj5gOQu

— Sean Davis (@seanmdav) April 27, 2022
VIDEO: Joe Rogan praises Elon Musk as 'movie star type of superhero'
Daily Zuby: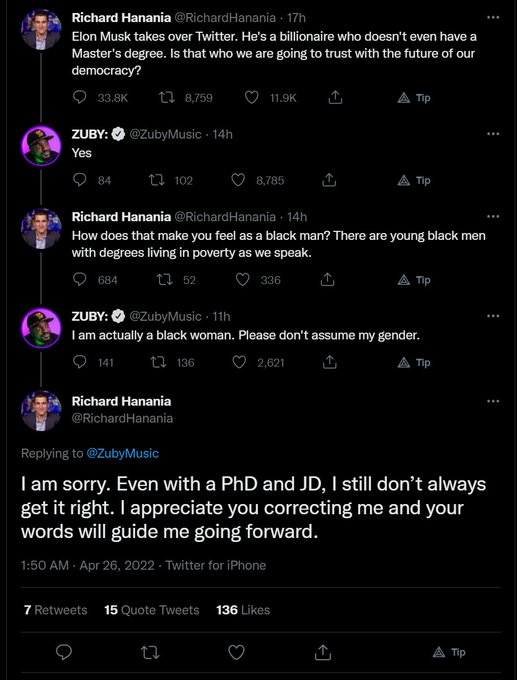 There is zero way to distinguish the left from a parody of the left

— Harrison Krank (@HarrisonKrank) April 26, 2022
Hanania is definitely trolling

— Will Chamberlain (@willchamberlain) April 26, 2022
Richard Hanania @RichardHanania is indeed trolling. The full tweet thread is pretty funny, and a lot of people bought it.
Twitchy: Elon Musk weighed in on the Hunter Biden and Sussmann stories and there's not enough popcorn in the world for what's about to happen
VIDEO: Tucker Carlson: The Biden administration's allies and media are uniting to defame Elon Musk
Twitchy: 'Complete BS': Saagar Enjeti busts WaPo journo who straight-up lied about him in order to paint Elon Musk as a safety threat
BooHoo. @Twitter Chief Censor broke down in tears bcse @elonmusk will probably own company soon and she won't be able to designate our factual Tweets as"in dispute" or cancel us. All the lefties are freaking out at the thought of rigorous debate on Twitter. #WelcomeElon.

— Victoria Toensing (@VicToensing) April 27, 2022
Thomas Barrabi: Elon Musk banned from criticizing Twitter under terms of $44B buyout
The contamination clean-up is always worse than the toxic spill…
Twitter lawyer Jim Baker, when general counsel of the FBI, personally arranged a meeting between the FBI and Michael Sussmann. In this meeting, Sussmann presented fabricated evidence in the Alfa bank matter. @elonmusk, this is who is inside Twitter.

He facilitated fraud. pic.twitter.com/myKOQov3cO

— Cernovich (@Cernovich) April 27, 2022
Sounds pretty bad …

— Elon Musk (@elonmusk) April 27, 2022
Instead of wasting $44 billion buying Twitter, Elon Musk could have spent it on the Clinton Global Initiative to eradicate poverty throughout the Clinton family.

— Michael Berry (@MichaelBerrySho) April 26, 2022
The left always hates when what they stole is taken away from them…
Megan Fox: [WATCH] Amazon Employees Hold Secret Zoom Meeting Plotting to Ban Conservative Children's Book
Paula Bolyard: Leaked Audio Shows Twitter Execs Trying to Comfort Staff in All-Hands Meeting
DM: Woke Amazon staffer cries in meeting to discuss the 'trauma' caused by best seller children's book 'Johnny the Walrus' that compares being transgender to pretending to be a walrus … The crazy left are now like the worms that frantically crawl up out of the ground when it rains, only to wither in the sun and air and/or be eaten by birds.
Johnny The Walrus is no longer classified as a children's book on Amazon. They moved it to the politics category. Amazon has decided that books promoting self-acceptance are not appropriate for kids. Books promoting chemical castration and hormone pills are totally fine though.

— Acclaimed Children's Author Matt Walsh (@MattWalshBlog) April 27, 2022
Onto Other News:
Yes, there is other news in the newsfeed…
Biden Crapola:
I did it all for you, "Big Guy"— Well, 10% … I did 10% for you, "Big Guy". Yeah.
Miranda Devine (4/4/22): Throwing Hunter Biden under the bus won't be enough to clear Joe
But tell us what you really think, Hunter…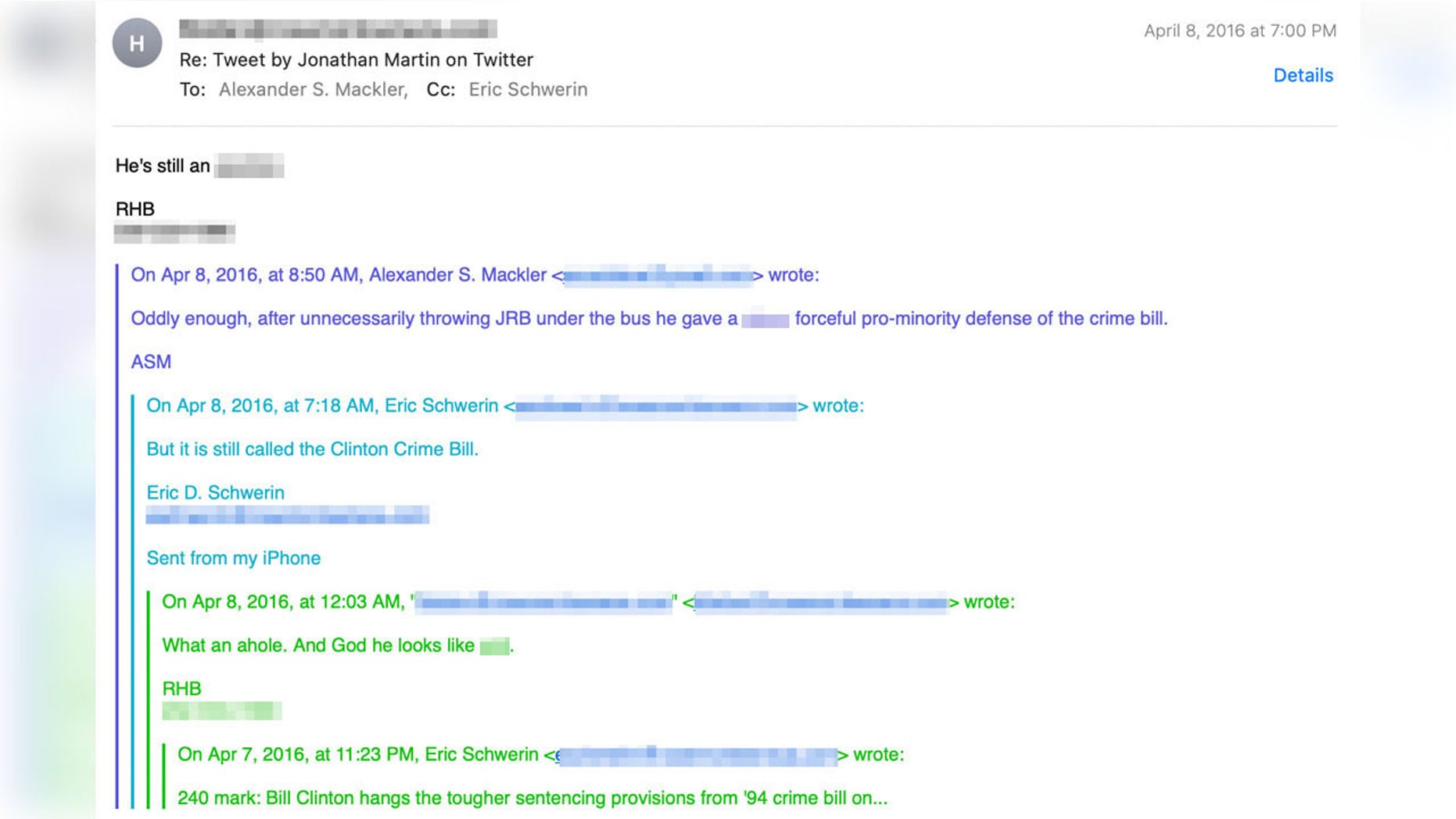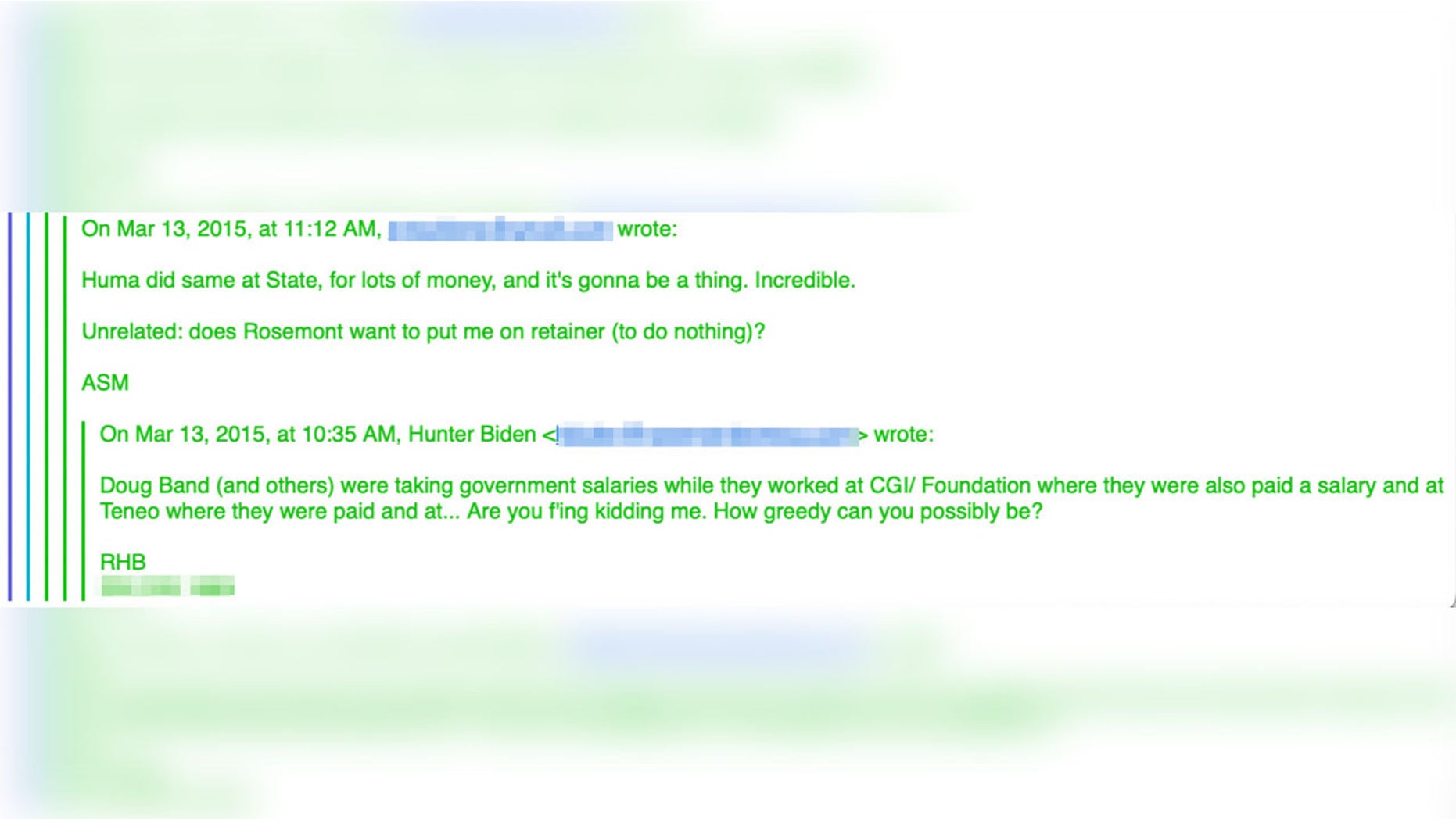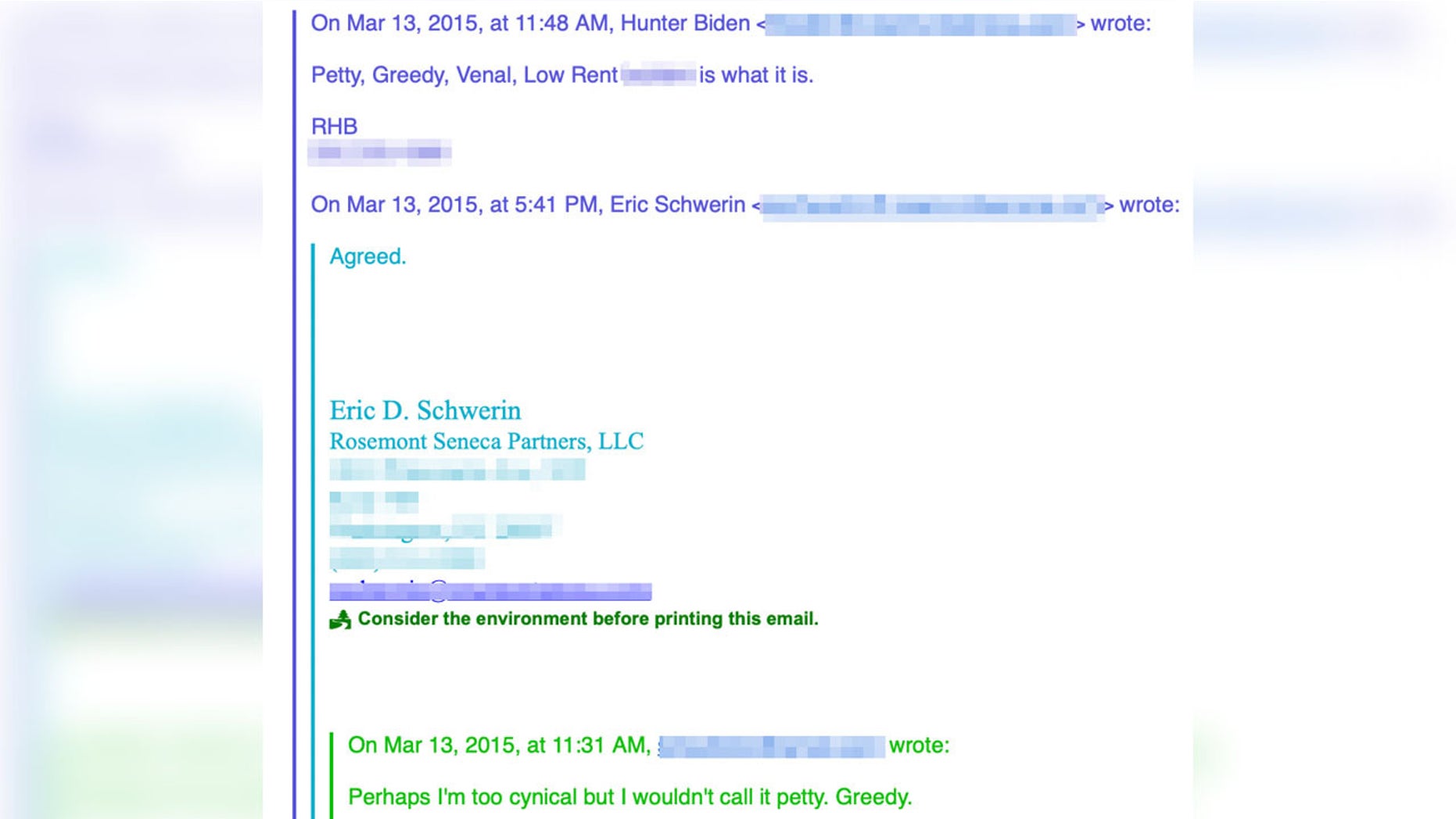 Jessica Chasmar , Cameron Cawthorne: Hunter Biden ripped Bill Clinton as 'a–hole' who 'looks like s—,' said Clinton aides are 'greedy': Emails – 'Petty, Greedy, Venal, Low Rent bulls–t is what it is,' Hunter Biden said about Clinton aides double dipping on salaries … Well, you know the Clinton Foundation had its own grifts going on at the time and were obviously in competition for those foreign big bucks the Bidens were working on. Safe to 'assume', ya know.
Bruce Golding: Joe Biden agreed to pay Hunter's legal bills tied to Chinese firm deal: email
Eric Lendrum: Newly-Revealed Email Reveals that Joe Biden Paid Hunter's Legal Bills over Chinese Firm Deal
Kevin Haggerty: Joe Biden's $5.2 million in unexplained income revealed in financial records obtained by DM
VIDEO: Miranda Devine: Biden's involvement in Hunter's business deals unsustainable for White House
#BuildBackBrandon …
Why should a trucker who didn't go to college have to pay off a lawyer's student loan debt?

Because that is what Biden is proposing when he says he will "forgive" student loan debt.

— Tom Cotton (@TomCottonAR) April 26, 2022
Tyler Olson: Thune, GOP senators push bill to ban Biden from canceling student debt, as president mulls 'executive action': Federal student loan payment pause currently set to expire at end of summer
Pretty sure this kicks Americans out of jobs (again) & boosts China's LED production (again). Too bad the China leg of the supply chain could eventually have us in the dark. No worries. All part of the plan, cold, dark & hungry.
Breanne Deppisch: Biden finalizes rule to ban incandescent lightbulbs, reversing Trump
Thomas Catenacci: Biden Blocks Oil Drilling On Millions Of Acres Of Land As Gas Hits $4.13 Per Gallon … Just a reminder that Brandon is 'Selling Out U.S. Oil Reserve' to Europe.
VIDEO: Sen. Marco Rubio rips Biden admin for 'encouraging' border crisis: 'It's a joke'
Paul Bedard: Sheriffs shocker: 'No border left': President Joe Biden's 15-month dismantling of U.S.-Mexico border protections and policies has essentially eliminated efforts to keep illegal immigrants out of the nation, according to the nation's front-line sheriffs.
Lisa Schiffren: Impeach Mayorkas: Alejandro Mayorkas has flouted the nation's immigration laws and effectively opened America's borders. It's time for him to go.
Anders Hagstrom: Biden admin to comply with court order blocking removal of Title 42 border restrictions: Biden's fellow Democrats were critical of his plan to end the restrictions … Title 42 is a health measure that was trying to keep untested, unvaxxed, and infected illegal aliens out of the U.S.. But hold the phone, y'all, Dr. "The Science" Fauci just might have an avenue out for old Joe now…
Midterm Election Cycle Politically Calculated COVID "Relief":
Lawrence Richard: OUT OF THE WOODS? Fauci makes a bold declaration about the end of the pandemic in America … US is 'certainly' out of the 'pandemic phase'. Fauci still suggested people get vaccinated yearly and 'longer' than they might expect
Meanwhile…
Callie Patteson: Vice President Kamala Harris tests positive for COVID-19 … Now she's "seeing it with her own eyes! WITH HER OWN EYES!" How exciting. BTW, Harris is "fully vaxxed and twice boostered", so, there's that.
Twitchy: COVID positive. Double-boosted. No symptoms. So, why is Kamala Harris now taking Pfizer's Paxlovid?
Twitchy: Will journos and President Biden follow the science now that Anthony Fauci says it's too risky for him to attend the Nerd Prom? … So, you see, broke-back Fauci can't seem to quit COVID, even after he says something 180 degrees different moments before. THAT is exactly how this bloke has operated for over two years.
Rick Moran: CDC Says 3 in 5 Americans Have Been Infected by COVID at Least Once
Chris Donaldson: Pfizer seeks FDA emergency use approval on booster jabs for kids 5-11 years old … Admit this was a bio-weapon and these last two years have been one long experiment on the mass public. It would primarily explain why the off-brand therapeutics were so demonized and banned and doctors threatened with career death if they dared prescribe them to infected/sick patients. Why? Because in a phased clinical study it ruins the data/results if something outside the strict protocol is allowed in.
Chris Donaldson: Dr. Deborah Birx dials up the hyperbole to hawk new tell-all Trump trashing book
And now that the UK is calling out the government for dumping sick covid patients into nursing homes, and deeming it unlawful" we MUST have investigations into what happened here in New York and other states across the country. https://t.co/1XHcbktDKv

— Janice Dean (@JaniceDean) April 27, 2022
It almost makes you wonder if they don't hate DeSantis so very much because he took the necessary steps to protect nursing home patients, which by comparison reveals their culpability. It didn't have to be this way. https://t.co/uc3vq0Huyh

— NiedermeyersDeadHorse aka NDH (@NiedsG) April 27, 2022
Russia! Russia! Russia!:
Bradford Betz: Russia's Gazprom cutting off gas supplies to Poland, Bulgaria for refusing to pay in rubles: European leaders said they would not comply with the rubles requirement
Tyler O'Neill: Zelenskyy demands 'global control' over Russia's nuclear capabilities after 'completely irresponsible actions': Russia fired missiles over three nuclear power plants on the anniversary of the Chernobyl disaster, president says
Caitlin McFall: Kremlin escalates rhetoric and claims Ukraine is developing nuclear weapons: Russia claims its 'special military operation' will remove neo-Nazis allegedly 'created' by Western nations
Mike Brest: Former Marine Trevor Reed, detained in Russia since 2019, returned to US in prisoner swap
The Swamp and It's Creatures:
Michelle Malkin: Orrin Hatch's beltway barnacle legacy
Terresa Monroe-Hamilton: Tucker Carlson warns Kevin McCarthy is poison for GOP, 'a puppet of the Democratic Party'
Robert Jonathan: Senator squeals on government 'spending porn', '$530,000 to a group called Hookers for Jesus': U.S. Sen. John Kennedy called out both Republicans and Democrats over their failure to get serious about stopping wasteful federal government spending, which includes more than a half a million dollars for an organization called Hookers for Jesus, as well as sending checks to dead people…
When "Marriage" no longer has meaning:
Welp, here's hoping that if they've had any 'vax' it's the HPV vax— and here's hoping it's more effective than that 'other vax'…
Ben Cost: Man with 9 wives has 'sex schedule' to 'fulfill my sexuality at any cost'
Look, they're not even holding hands in their wedding picture. *tisk-tisk*. What's even more nuts is there are lawyers that would take his side in a divorce case…
Brooke Kato: 'Fictosexual' man married hologram bride, but now struggles to bond with her
Wait … Who'd be crazier? Lawyer(s) on his side or lawyer(s) on her side??? #SMOD
Weekly Readers: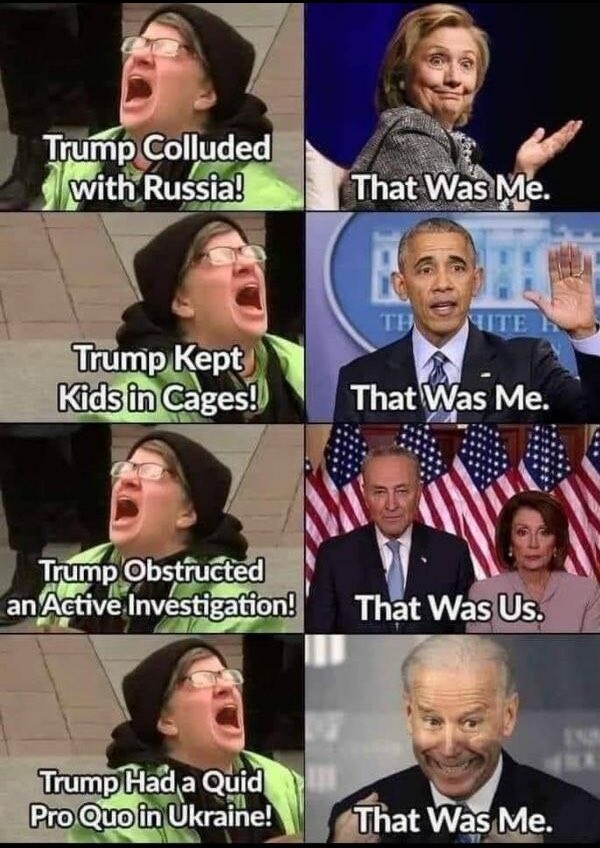 Drew Allen: The Ruling Class' Pantheon of Lies: Barack Obama doesn't want to prevent the flooding of the public square with raw sewage. He wants the exclusive ability to flood the public square with sewage and prevent its cleanup.
Victor Davis Hanson: Our Spanish Civil War? Deep and brutal strife in 1930s Spain was a prelude to the barbarity of World War II. Now with the war in Ukraine, we're reminded that the veneer of civilization is very thin.
Keith Whitaker: Panic at St. Vincent: What did David Azerrad's talk force his liberal arts audience to see? It helped pull back a veil, revealing that to be "antiracist" means, by the antiracists' own tortured logic, to be anti-white.
Nathan Stone: Don't Be Afraid to Call It Grooming: Sometimes a mask is so completely torn away that only the willfully and ideologically blind or the stupid cannot see what the real game is…
Carol Beth Litkouhi: Why I'm suing my kids' school district: Parents have a legal right to know what our children are taught in school
~~~
~~Many thanks to Maggie and The Universal Spectator for reprint permission.