Posted by Maggie on May 18, 2022 in From the editors
If ever there was a time where this nation and society needed a whole Hell of a lot of "sunlight" exposure, it's right now…
Inflation is rampant, an engineered virus is making yet another comeback, our border is leaking criminals and drugs like a sieve, we're 30 trillion dollars in debt, there's no food on the shelves, but our fearless leader wants us to pay off every deadbeat's debt.

This must stop.

— James Woods (@RealJamesWoods) May 18, 2022
It's a similar story in many countries. It's like it's been planned….

— Mowbs (@mowbs32) May 18, 2022
Margot Cleveland: Spygate Conspirators Start Selling Their Hoax To A Washington DC Jury, But The Facts Don't Fit: On Tuesday, trial in United States v. Sussmann began. Michael Sussmann's theory of defense has major factual holes.
Ilya Shapiro: The Supreme Court leaker must pay: The leaker has to face real consequences
John Daniel Davidson: If Anyone Believes In 'Replacement Theory,' It's Democrats Who Think Voters Are Stupid: Democrats have been bragging that 'demographics is destiny' for years. But a more diverse electorate isn't voting the way they'd hoped.
Tucker Carlson: The Democratic Party has decided they will change the electorate: Tucker reveals the great replacement theory is coming from the Democrats
Rick Moran: 'Replacement Theory' Isn't Entirely a Loony Conspiracy Theory. It's Public Policy
NEW: We're proposing a comprehensive plan to combat domestic terrorism, strengthen state gun laws, & investigate social media platforms promoting violent extremism.

In wake of the racist act of terror in Buffalo, New York will lead the charge to confront this epidemic head-on.

— Governor Kathy Hochul (@GovKathyHochul) May 18, 2022
Emma Colton: Gov. Hochul orders New York State Police to create new unit to fight hate speech online: New York Gov. Kathy Hochul said the Buffalo grocery store shooting 'is white supremacy in this nation at its worst' … Pretty sure she'll find herself in court on atleast two items on her laundry list. Fact is, the crazy bastard already broke the existing gun laws on the NY books. The ball was dropped more than once on this guy when warning signs were either shrugged-off or given below minimal attention.
Bruce Bawer: How Dare He Pick on Communism? Once again, Florida's Ron DeSantis proves he has all the right enemies.
Kevin Downey, Jr: White Privilege? Young Black Man Who Brutally Assaulted Elderly Vet in Nursing Home Won't Have to Stand Trial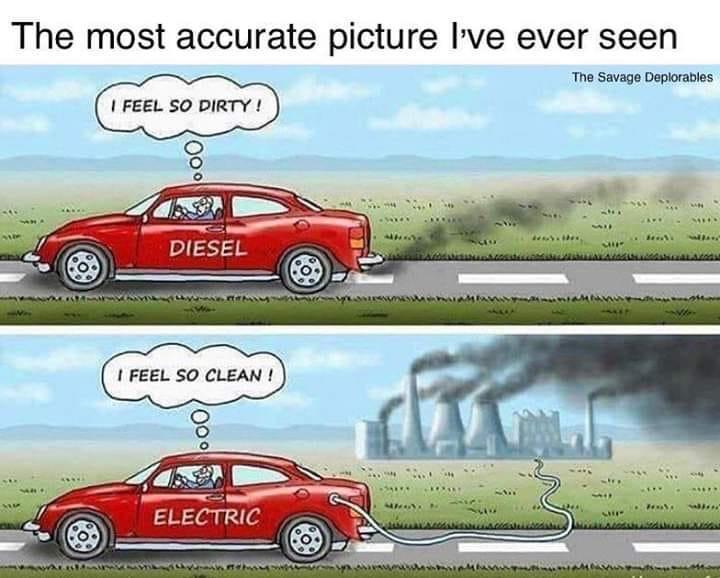 Biden admin – just buy an electric car. pic.twitter.com/LdezrutF1d

— Stephen L. Miller (@redsteeze) May 18, 2022
Phil LeBeau @ CNBC: EV battery costs could spike 22% by 2026 as raw material shortages drag on
At the Politico sustainability summit, @SecGranholm doubles down on the Biden admin's atrocious messaging that the answer to high gas prices is switching to electric vehicles. pic.twitter.com/duie8wsbVa

— Matt Whitlock (@mattdizwhitlock) May 18, 2022
They have no clue how many people in America rely on a "disposable" $2,000 "beater" to get them back & forth to work & the grocery store. How long will it be before the used electric vehicle market has cars available in that price range?

— Sofa King Ultra MAGA (@CarlF68) May 18, 2022
Twitchy: WH press secretary's response to question about stock market plunge explains a LOT (Trump called it)
Karine Jean-Pierre was asked about today's stock market dive and her response was:

"We do not- that's not something we keep an eye on every day."

You know who does keep an eye on the markets every day? People watching their 401k tank faster than Biden's approval.

— Spencer Brown (@itsSpencerBrown) May 18, 2022
FBN: Dow sheds 1,164 points in worst day since 2020: Target says inflation will hurt profitability for the rest of the year
Joy Pullmann: If Biden Were Trying To Destroy America On Purpose, He'd Do Nothing Differently: Every piece of evidence indicates that every choice Biden's team makes will not unravel global calamities but instead increase them. And Republican leadership appears to be fine with this.
Hanna Panreck: Whoopi Goldberg: 'Gas prices aren't bad because of anything Biden did,' baby formula shortage 'not on him': The national gas price average hit $4.567 per gallon on Wednesday … Dementia or willfully lying?
Ed Morrissey: Welcome back Carter: Yellen acknowledges "stagflationary effects" from energy, food price spirals
Time to reign in Ukraine's blank check:
Kristina Wong @ Breitbart: Congress Poised to Pass $40 Billion in Taxpayer Funds for Ukraine Aid: Congress is poised this week to approve $40 billion in American taxpayer funds for the Ukraine war, with little debate and no clear end to the conflict.

Twitchy: 'Holy cash cow!' Here's a breakdown of the $40 billion aid package for Ukraine
Pro-abortion is getting so sciency:
Twitchy: 'Run on this': Physician for Reproductive Health sheds more light on pro-abort mindset with answer on 'what makes a human being'
.@RepMikeJohnson: "How does one qualify as fully human? What makes a human being?"

Dem pro-abortion witness: "What makes a person a human being is them being born…That's why we have birthdays." pic.twitter.com/2QgARHliyQ

— Townhall.com (@townhallcom) May 18, 2022
OK, again with the it's a pony/kitty/puppy/Kumquat in the woman's womb.

— Maggie (@drillanwr) May 18, 2022
She's saying it's not a human being one day before being born. https://t.co/gj8NEUpwMx

— Stephen L. Miller (@redsteeze) May 18, 2022
She is indeed. But *hand-raised* I stopped having a "birthday" about 10yrs ago. So, I guess I'm no longer human being?? … Oh, and look for Rep Johnson to be deemed a 'hateful racist/sexist' for even daring to ask her this.

— Maggie (@drillanwr) May 18, 2022
This is why they need Roe. They will get smoked having to embrace and campaign on this and they know it.

— Stephen L. Miller (@redsteeze) May 18, 2022
So a baby in the womb 5 minutes before coming out isn't human until outside the womb?

— Richad Benbow 🇯🇲🇺🇸 (@AntonioB79) May 18, 2022
Well, I'm sure she/they might even argue the whole 'birthday' logic that not until the first birthday. Wait for it. California's already heading in that direction.

— Maggie (@drillanwr) May 18, 2022
This is a "doctor" -and from her answer she's also the birthday party coordinator at a ChuckECheese.

— Mike du Jour (@MikeLester) May 18, 2022
Then Rep. Mike Johnson questioned this brilliant pro-abort mind…
Took her a min to agree it's wrong to murder a 10 yr old.

— Hoe-Style Takeover (@neutspec) May 18, 2022
Well, perhaps not a minute, but it was indeed a pregnant pause.

— Maggie (@drillanwr) May 18, 2022
Twitchy: 'Trust the experts™': Pro-abortion witness tells Rep. Dan Bishop that yes, men can get pregnant and have abortions
Twitchy: 'Left him stuttering': Americans United for Life CEO gives Rep. Jamie Raskin just enough rope to hang himself (and other pro-abort Dems)
Raskin: "The GOP witness is calling for a nationwide ban on abortions with no exceptions for rape and incest."

Foster: "If we added rape and incest exceptions, would you vote for it?"

Raskin: "Reclaiming my time." pic.twitter.com/Z79apd2hcS

— Greg Price (@greg_price11) May 18, 2022
.@RepChipRoy just confronted an abortion doctor with the realities of the abortions that she has performed.

Watch her get offended and accuse Rep. Roy of using "inflammatory language." pic.twitter.com/uKQfMZadbM

— Townhall.com (@townhallcom) May 18, 2022
So if describing in detail what a 20-week abortion looks like is "inflammatory", maybe she shouldn't be performing them.

— AdamInHTownTX (Not a Biologist) (@AdamInHTownTX) May 18, 2022
Here's a 20 week-old baby in the womb…
Clearly arms, legs, head (with a brain), and torso (with a beating heart) … not tree branches and a tree trunk.
Guy Benson: Liberal Yale Professor: Roe Was Bad Law and the Alito Draft Is Constitutionally Sound
This is what setting up the fake premise and false narrative for the MSM looks like. In a sane administration and society this would be called highly irresponsible, to say the least…
Eric Lendrum: DHS: Violent Domestic Extremists Have Infiltrated Abortion Debate
Robert Spencer: DHS: 'Domestic Violent Extremists' Are 'Infiltrating' the Abortion Debate
Twitchy: Karine Jean-Pierre says it seems 'very one-sided' who is calling for violence against the Supreme Court
DOOCY: "Are these threats from pro-abortion activists or anti-abortion activists?"

Karine Jean-Pierre: "It seems like to us that it is very one-sided on what we call out as intimidation or as violence." pic.twitter.com/kEq2PI1fWT

— Townhall.com (@townhallcom) May 18, 2022
More 'sciency' stuff from Dr. "THE SCIENCE":
"My point is, if we've reached a point in COVID where we no longer need Title 42 as a COVID restriction for illegal entry, why do we still need travel restrictions for American citizens for legal entry into their own country?"
Sen. Rubio: Transcript: Rubio Stumps Fauci On COVID Testing Travel Requirements, Illegal Immigration
The reality is almost nothing we have done has had any impact on covid at all. The entire response is cosmetic theater. Having a Republican and a Democrat in charge has actually provided perfect evidence of this truth. The virus was gonna virus no matter what.

— Clay Travis (@ClayTravis) December 20, 2021
WALGREENS WAS TRYING TO PUSH THEM ON ME THE OTHER DAY, BUT I ALREADY HAVE LIKE 6: White House makes more home COVID-19 test kits available at no cost. "The government pays for them!" they told me, though I think actually the government makes insurance pay for them, which is not the same at all.
~~~
~~Many thanks to Maggie and The Universal Spectator for reprint permission.