Posted by Maggie on November 2, 2022 in General News
Ahhh! "College"!
And one of those leftist females is waving the "amnesty" banner for the last 2+ years of COVID fascism. Well, that's not going over very well with real people who had to live it day to day, and had their families fractured on every level, lost work/careers/businesses and had their children's academic, sociological, psychological and physiological levels impeded and dragged down. And then there are the people that were delayed (or denied if they refused the vax jabs) medical care, treatments, surgeries and many died from cancers and heart ailments, etc. And then there are the celebrities and "blue-checks"/talking-heads on social media and the MSM that insisted anyone that refused the vaccine must be refused any medical care, even in the ER. So, again, Hell no, Prof. Oster…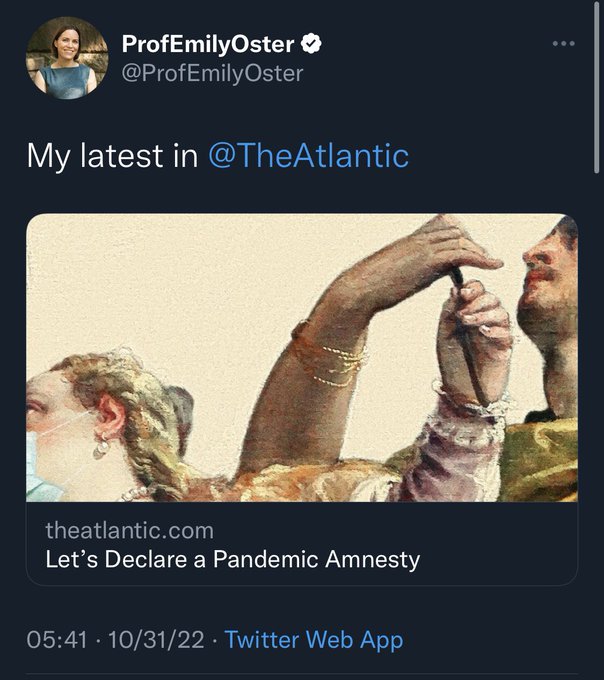 Hi Emily, did you lose your job because incompetent, malicious "experts," administrators or politicians demanded you comply with mandates that were based on purposeful lies and misrepresentations, while never receiving an apology or admission of guilt?

Thanks so much

— Ian Miller (@ianmSC) October 31, 2022
No. People want justice and accountability.

Nobody has properly acknowledged nor apologised for the immense pain, grief, and harm they caused to others. People who never wronged them at all.

Including you. We have receipts.

— ZUBY: (@ZubyMusic) October 31, 2022
Hell no. I'll never forget what the Democrats did- how they destroyed thousands of lives by forcing school/business closures, people died alone in hospitals while nurses danced because they didn't allow visitors, thousands lost their jobs for refusing a vax, list goes on and on.

— Libs of TikTok (@libsoftiktok) October 31, 2022
Thanks for mentioning the thousands of dead nursing home seniors after several governors decided to flood their nursing homes with covid infected patients. Oh wait. You didn't.

— Janice Dean (@JaniceDean) October 31, 2022
 So I read the Emily Oster piece today. Then I watched the video of the older woman in a care home trying to hug her son through the window and the despair as she realized she couldn't. There's no amnesty in my vocabulary today.

— Public Health Prof, PhD (@PH_Prof1) November 2, 2022
Michael Brendan Dougherty: A 'Pandemic Amnesty'? Hell, No: 'Forget everything, learn nothing' is a bad way to ensure accountability for our institutions.
Kaylee McGhee White: Why 'COVID amnesty' isn't possible: "There is an understandable tendency among those who overestimated and overreacted to the COVID-19 threat to use ignorance as an excuse … I'd be much more sympathetic to this argument if the over-the-top government restrictions and social conformity lasted only until the data began rolling in. But that's not what happened…"
No, instead people with opposing views/data/ideas were silenced, banned from social media and "canceled" away from the process and development of the protocols and the therapeutics and treatments, and then the vaccines that have been causing a lot of medical problems still going ignored. Doctors (like my doctor) were threatened with losing their medical license and accreditation, should they stray from the narrow and rigid box these others constructed and dictated for them to remain in, horribly violating the norms of real science, and the (as we are told) sacred doctor-patient relationship and trust about their care. And most especially other "scientists" (some closely involved in viral science and medicine, and with the mRNA vaccines) who aren't the highest-paid federal government employees.
Laura Ingraham: Should there be amnesty for officials who made 'disastrous' COVID decisions? How decisions regarding COVID were 'disastrous' … and how they haven't learned anything at all. (w/VIDEO)
Emily Burns: With whom does Emily Oster want an amnesty? Moms, so they will return to the democratic fold: Just another cynical attempt to ask women to forget the harms of the last few years.
No "amnesty" for this. https://t.co/YeiFNUEFVG

— Stinson Norwood (@snorman1776) November 2, 2022
Mary Kekatos: New York drug overdose deaths spiked by 68% during COVID pandemic: A large share of the deaths were due to opioids, a report found.

External causes of death by week, Ages 17-39 since 2018
Overdose, Intentional Self-Harm, Traffic Accident, Assault, etc… pic.twitter.com/HDUj4Nrdek

— Stinson Norwood (@snorman1776) September 12, 2022
I was told by experts that these lives were worth the sacrifice

—   (@txsalth2o) November 2, 2022
A Ring in Hell for these people…
"First, do no harm" … Well, these people doing this to children is nothing but pure evil. Her use of the term 'evolving' is quite unsettling. The drugs are 'evolving'. The process is 'evolving'. After nearly 3yrs of the COVID BS have we not learned a thing about being lab rats for these "scientists"? And "age is just a number"? Um, no…
DM: EXCLUSIVE: 'Age is just a number': Doctor at gender clinic in Philadelphia defends providing breast surgery to children as young as FOURTEEN
Dr Nadia Dowshen, from the hospital, said a child's views were more important
She also said they offered surgery to children as young as 14 years old
Critics told 

DailyMail.com

 it was 'empty-headed' to treat children like adults

They said she was 'ignoring everything we know about human development' 
More leftist female college grads…
Paige Williams: Mothers Fuelling the School-Board Wars: Moms for Liberty claims that teachers are indoctrinating students with dangerous ideologies. But is the group's aim protecting kids—or scaring parents? … She's dog-whistling "racists … white supremacy". Okay, Paige, tell this man and those parents sitting behind him…
The Blaze: 'Our beef is with YOU': Muslim dad GRILLS school board over OBSCENE library books: 'We're not going to give up until this issue is finally resolved, and unfortunately, it's not going to get resolved until you guys are removed from the board'
Chrissy Clark: EXCLUSIVE: Hispanic Voters Oppose Drag Queens For Kids, Gender Ideology In Schools
The demo-commies…
J.A. Frascino: The Deep State is alive and well: It appears that Democratic voters, the media, and now even Democratic politicians are becoming useful idiots of a Deep State that harnesses their respective influences to change America to its liking
James Patrick Riley: Talking To Cogs . . . and Mistaking Them for People: Was man made for the law or was the law made for man?
Hans Bader: Washington State Supreme Court gives black plaintiffs a racial advantage
Tristan Justice: SCOTUS To Decide If American Indian Babies Can Be Ripped From Adoptive Parents On The Basis Of Skin Color: A 1978 law allows for children to be taken from the only parents they've ever known to live on a reservation hundreds of miles away.
Curt Mills: Barack Obama's Carter Years: The late secretary of Defense represented the technocratic reality belying the appeal of his charismatic boss.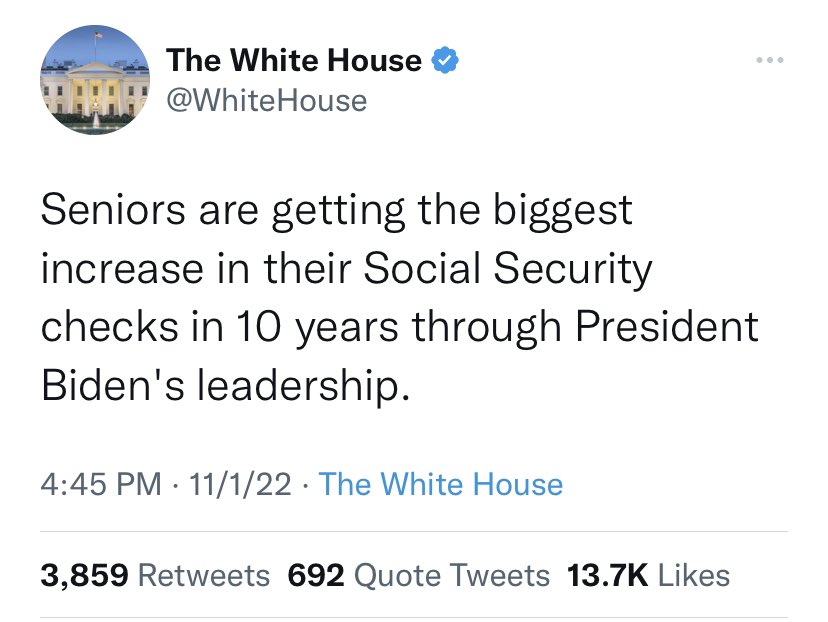 Lol this tweet crediting Biden's leadership for an increase in social security payments due to record high inflation has officially been DELETED by the White House. pic.twitter.com/JV6OI6l9pa

— Greg Price (@greg_price11) November 2, 2022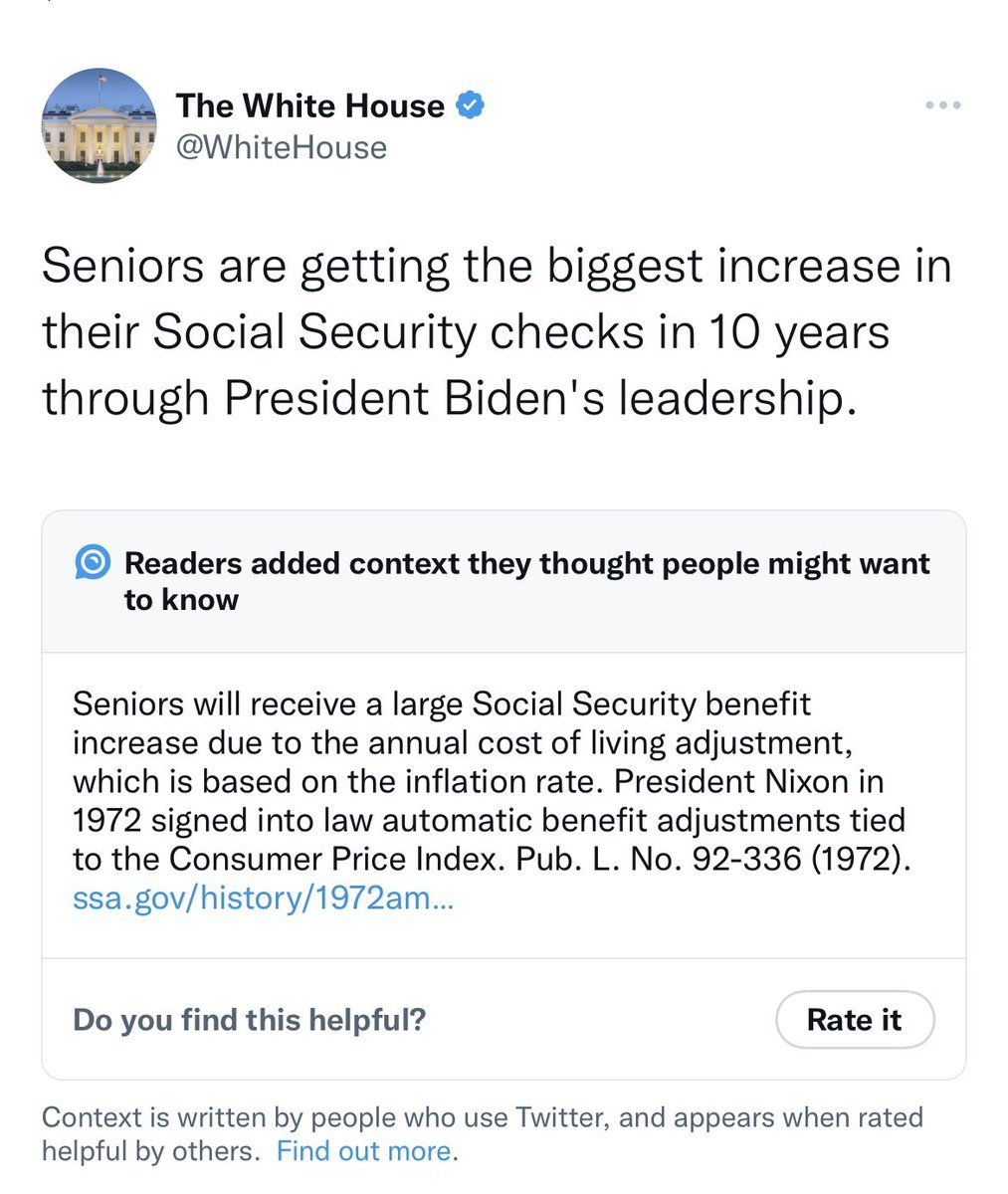 More of that new Musk Era 'misinformation/disinformation' flagging on the Biden White House Twitter account.
John Hugh Demastri: The Government Is Set To Spend More On Debt Payments Than The Entire Defense Budget
MORE:
Rick Scott: American energy is on ballot and it's time to send Biden, Democrats a clear message: President Joe Biden is intent on waging a war on American energy and it hurting every American
Rebekah Koffler: The Russia-Iran monster: Biden's strategic incompetence has created a new menace for America
Stephen Kruiser: Liz Cheney Completes Her Pathetic Transition to the Dark Side