Posted by Maggie on September 5, 2022 in General News
I've told y'all before that I don't particularly 'celebrate' "Labor Day".
Beginning as a young school kid I always saw the holiday as an official end to summer, and my freedom to have my time as my own in wonderful weather and long hours of day light. I still feel that way. As an adult and neo-student of history I've felt the holiday was inspired and created by early communists in our country baiting our blue-collar workers into their unionized ideology. *shrug* Whatever. Americans don't need an excuse to fire-up the grill and ice the drinks.
But seeing as it is pretty much a common thread of thought of most of us it does signal an end to summer that has gone by far too fast … again. At this point in my life that's even more depressing than getting another year older.
Scott Powell: Labor Day Is A Celebration Of American Exceptionalism, Job Creators, And Hard Workers: Labor Day should be recognized as the holiday that celebrates not only labor, but also the ideas, job creators, and institutions central to the flourishing of the United States and its people.
Biden's Spotted-Dick Reich:
It was far too easy and predictable. People knew ahead of last Thursday night's badly written (obviously by old Joe's fiction-writing staffers) and staged (probably by some Che-loving Hollywood set designer) Biden bloviation exactly what the tone and tenor was to be…
Ace: Biden Will Summon His Supporters to Wage a War For the "Soul of the Nation" Against Republicans Who Are "Semi-Fascists" and a "Threat to Democracy"
Robert Stacey McCain: The Symbolism of Philadelphia
Joe Biden gave a speech last week in which he gave lip service to things that Democrats don't actually believe in, e.g., the Constitution and the rule of law, as a pretext to accuse Republicans — all 74 million Americans who voted for Donald Trump — of being a "threat to our democracy."

Biden spoke in front of Independence Hall in Philadelphia, a gesture by which he attempted to identify himself as defending the founding principles of America when, in fact, he and his party are against those principles and are doing everything in their power to destroy America.

Biden does not deceive us…

The symbolism of choosing Philadelphia as the site of last week's speech was perhaps more fitting than Biden realized, because Philadelphia is a city that Democrats have absolutely ruined…
Then, a day later, the old fart was told the Thursday night message wasn't polling well internally, so…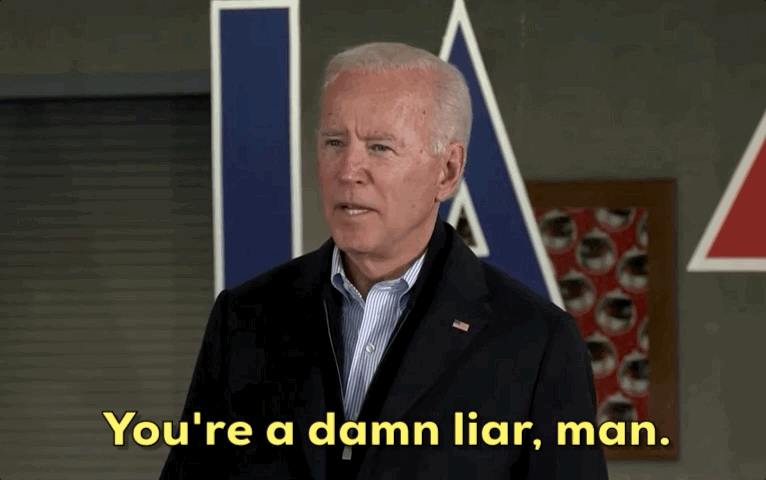 BIDEN walking it back: "I don't consider any Trump supporter to be a threat. I do think anyone who calls for the use of violence and fails to condemn violence when its used, refuse to acknowledge an election has been won… That is a threat to democracy."

— Charlie Spiering (@charliespiering) September 2, 2022
Give it a week or 2 & Biden & his Press Sec will be claiming he never said what he said Thursday night. That it's right-wing "misinformation".

— Maggie (@drillanwr) September 4, 2022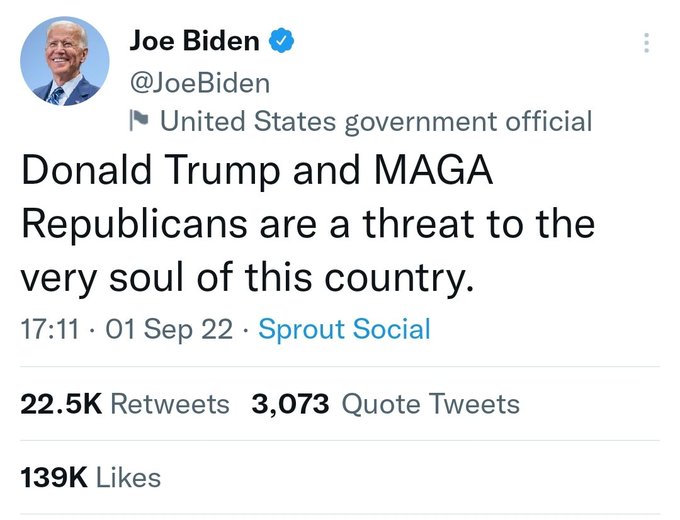 Steven Nelson: Biden walks back attacks on Trump voters in anti-MAGA speech
Matt Margolis: Everyone Around Biden Is an Election Denier, Including Him
Campaigning for MAGA Republicans and Trump without even trying…
Trump is attacking law enforcement and yet again using language he knows will provoke violence. Only one group of Americans has a chance to diminish this danger— Republicans.

If my fellow Republicans fail to step up to stop this, they will share the blame for all that follows.

— Liz Cheney (@Liz_Cheney) September 4, 2022
Another Liz Cheney left-wing talking point.

— Wendell Husebø (@WendellHusebo) September 4, 2022
Stephen Kruiser: The Morning Briefing: Democrats' Unhinged Attacks Are Only Making Trump Stronger
Matt Margolis: EPIC: Kari Lake Destroys a Reporter Who Asks Her About Questioning Election Results
"Mass Formation Psychosis" is the psy-ops the left is using in this country right now:
From our youngest in the public schools to the corporations to our military and to the voting (and non-voting) population. From 'gender identity' to 'sex reassignment' to COVID to political 'wrong-think'…
Everything we stand for rests on the platform of democracy.

Those who threaten that platform, threaten the soul of this nation. pic.twitter.com/fP5a7jfkaF

— President Biden (@POTUS) September 3, 2022
Cut "the soul of this nation" BS. You & Pelosi seriously even suck at being " holier-than-thou" hypocrite Catholics. And so does your Twitter bot squad running your inane account. 1 day you're warning about "extremist" Christians. The next you're stern & scolding, smug theocrats.

— Maggie (@drillanwr) September 4, 2022
VIDEO: Tucker Carlson: How totalitarian states emerge through mass formation
As I said it's even being done in the nation's teachers union-run public schools…
Chris Queen: New Poll: Americans Are Increasingly Dissatisfied With K-12 Education
Salena Zito: Pennsylvanians feel left out by Biden's student loan policy
Nicholas Giordano: In President Biden's America, those that do the right thing get punished: The message is clear. Those that acted responsibly are being penalized all because of President Biden's vote-buying scheme.
Yeah, nothing is safe from the Mass Formation Psychosis conditioning and re-defining…
Years ago, during the cloning controversy, the Raëlian cult became publicized. So, I read a bit about them. They usually come to mind when I see what's going on in world, and particularly US, society right now.
Protection Racket 100% for "The Big Guy":
Miranda Devine: FBI agent Timothy Thibault hid intel from whistleblower on Hunter and the 'Big Guy' Joe Biden
Jim Hoft: "This Is a Country that Is Unfair and Broken" – President Trump Compares FBI's Raid on 16-Year-Old Barron Trump's Bedroom to FBI Ignoring Hunter Biden Laptop from Hell
Jonathan Turkey: Hats off to Hillary: Prosecuting Trump in the shadow of Clinton's emails
Hillary Clinton recently hawked a line of hats with a mocking logo — "But her emails." The taunt was directed at Donald Trump, who faces a real possibility of a criminal charge after the FBI's search of his Mar-a-Lago residence.

While Clinton considers her prior conduct a subject of mirth, the FBI's handling of her case will cast a long shadow over any potential prosecution of the former president, including the recent focus on an obstruction charge. There likely would be an assortment of "but her emails" objections to a charge that could have been made as readily against Clinton or her associates…
A couple of factors that make Hillary's case even worse are she was not in authority to declassify anything, she and her team intentionally deleted tens of thousands of subpoenaed emails and then deliberately scrubbed systems before literally disintegrating their electronic devices into pieces. During that time I'd read that as a government official/worker even your personal phone or computer becomes government property if you do even just the slightest of government related activity/work communication from it. During her time at the State Department it was very obvious Hillary was deliberately off-the-grid with her private server in some obscure person's bathroom closet, and her and her team's countless devices.
Miranda Devine: Tyrannical old Joe's secret police state
Bad Business:
Sam Kirk @ WTRF: Coal miners help push tourists' dead electric car in West Virginia … D'OH! DUH! DERP!
Winter is coming, as is the Biden reich and their MSM blaming Putin for your frostbite and busted water pipes…
And the Strategic Oil reserves run out at the same time.

Guess what happens then?

— Shay Patrick Cormac (@ShayCormac_1) September 5, 2022
AFP: OPEC+ agrees oil output cut to prop up prices
Larry Johnson: Ukraine's President Zelensky Warns Europe to Brace for Bleak Winter as Russia Cuts Oil and Gas Exports Ukrainian Allies
VIDEO: Steve Hilton: Government 'stay-at-home' subsidies are driving more Americans out of the workforce
Walmart under attack…
Brad Matthews: 14-year-old girl suspected of lighting fire inside Atlanta-area Walmart charged with arson
ABC NEWS: Plane down, pilot in custody after threatening to crash into Mississippi Walmart store
Jim Hoft: You Can't Make This Up: Terrence Williams Put His Own Picture on the Box of his Pancake Mix — Facebook Labeled it as 'Racist'
Gwendolyn Sims: Bed Bath & Beyond CFO Plunges to His Death in NYC
(Gustavo) Arnal's death came just two days after Bed Bath & Beyond announced plans to cut about 20% of its workforce … The move stood in support of "the company's seemingly desperate bid to stay afloat" after its ill-advised and damaging woke decision to stop selling any My Pillow products of conservative Trump-supporting businessman Mike Lindell…

After the store closing and layoff announcement, Bed Bath & Beyond's stock fell more than 21% Wednesday, and overall, its stocks were down 65% over the last 12 months. Interestingly, FoxNews reported, "Arnal sold 42,513 shares of Bed Bath & Beyond stock on Aug. 16 for more than $1,029,000, according to MarketBeat.com. Following the transaction, Arnal still owned 267,896 shares in the company, valued at more than $6,488,000." It's unclear what will happen to his remaining shares and how his death will impact the company and stocks…
MORE:
Meanwhile, in the stores of England and coming soon to the US, no doubt, the WEF Klaus Schwab's army of shit-heads…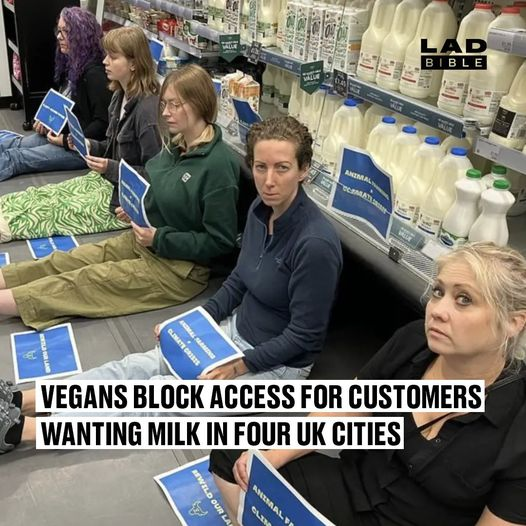 Peter McIlvenna: Liz Truss is Announced as Britain's New Prime Minister – But is She an Improvement on Boris Johnson? … No doubt Klaus now has her on speed-dial.
Our 'top people' are not our 'best people'…
Hanna Panreck: Karine Jean-Pierre not asked about denying migrants 'walking across' the border during MSNBC appearance: 'It is not that simple. It's not just that people are walking across the border,' Jean-Pierre said on (last) Monday
Ban guns, or something…
Gwendolyn Sims: Mass Stabbing in Canada Kills 10, Wounds at Least 15 More
From the files of "More Hoaxes"…
Twitchy: What a TOOL! Even TWITTER busts 'activist' Andrew Wortman for flat-out LYING about vendors selling Nazi flags at #TrumpRally
Remember what they used to do to horse thieves…
Audrey Conklin: Police say TikTok-led Kia, Hyundai car thefts increasing across the country as lawsuits mount: The 'Kia Boyz' trend on social media that gained traction in 2021 teaches people how to start Kia or Hyundai vehicles without keys
As the leftist-sympathizers in the world admire and put lipstick on the former Soviet dictator…
J. Michael Waller: In Protecting The KGB, Gorbachev Laid The Foundation For Putin's Gangster-State: Gorbachev has died, but the KGB that he nurtured and protected lives on under an ungrateful Vladimir Putin.
~~Many thanks to Maggie and The Universal Spectator for reprint permission.