Posted by Maggie on August 15, 2022 in General News
I wonder how many followed the directions.
Now for this from the Biden family's posh vaycay as the rest of y'all had literal 'staycays' at home with your vehicles in the driveway…
Jill Biden goes for shopping in Kiawah Island shops with Hunter's wife. pic.twitter.com/BbZH1bFCC6

— Real Mac Report (@RealMacReport) August 14, 2022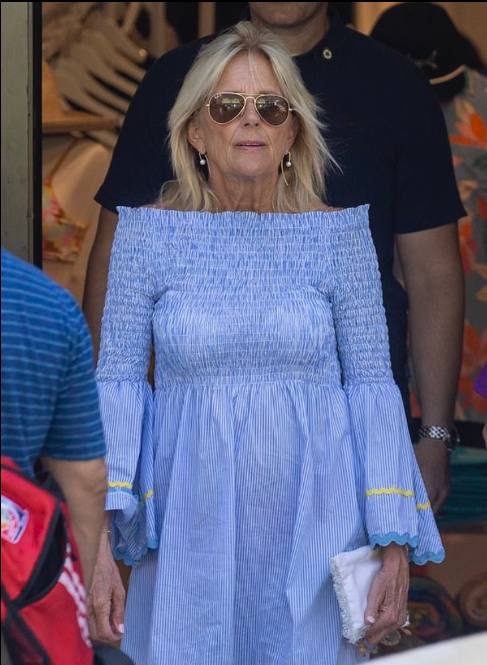 Oh! Oh! What a lovely frock! Reminds me of something…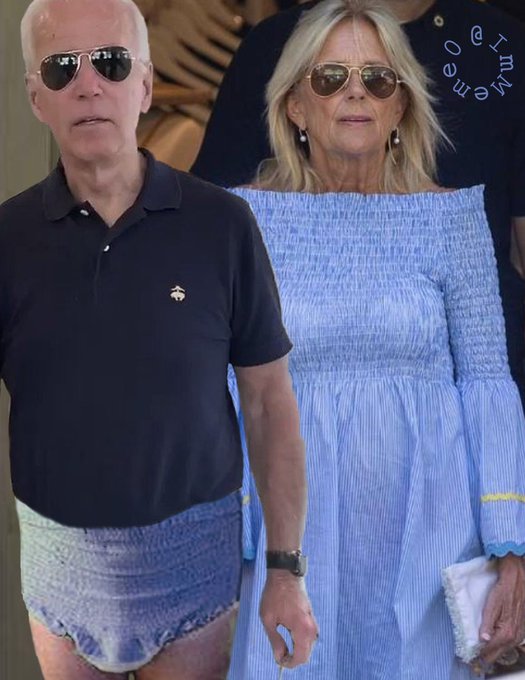 VIDEO: Biden's lavish vacation scrutinized as Americans struggle: 'It doesn't look good' … Well, if Jill's frock is any indication…
Meanwhile…
Biden's One Year Afghanistan FUBAR Anniversary:
Paul Best: White House drafts memo defending Afghanistan withdrawal: A report by House Republicans criticized the Biden administration for failing to plan and leaving US-trained Afghan troops behind
Susan Crabtree: New GOP Report: Biden Misled Public on Afghanistan
VIDEO: Former Green Beret on Biden's Afghanistan exit: This made Saigon look organized
Ben Evansky: Afghanistan withdrawal, 1 year later: Taliban takeover of Kabul that President Biden never saw coming: 15 days after the Taliban entered Kabul, the last American officer left
Danielle Wallace: Brother of Marine killed in Afghanistan withdrawal commits suicide at memorial for fallen service member: Lance Cpl. Kareem Nikoui's brother reportedly killed himself a year later
Daniel Greenfield: An Afghan Muslim Refugee Carried Out America's Worst Islamophobic Killings: Leftists import bigoted killers and blame "Islamophobia."
Karl Evers-Hillstrom: 'Shocked and disheartened': How coal country is reacting to Manchin's climate deal … Of course the democrat ass-kissing United Mine Workers president has flip-flopper Manchin's back.
It wasn't about "Orangeman Bad" having 'the nukes codes':
Y'all know those nuke launch codes are changed regularly…
Tristan Justice: BREAKING: FBI Raid Warrant Demanded Seizure Of Literally Any Record Trump Ever Saw During 4-Year Presidential Term: The FBI search warrant obtained by The Federalist authorizes confiscation of every record Trump ever saw as president.
Brooke Singman: FBI seizes privileged Trump records during raid; DOJ opposes request for independent review: Some records seized at Trump's Mar-a-Lago home covered by attorney-client privilege, sources say
Tim Hains: Kash Patel: Now That FBI Has Another "Ongoing Counterintel Investigation" They Can Make All Russiagate Documents Classified Again
Brooke Singman: EXCLUSIVE: 'VERY DANGROUS TIME' – Trump says he 'will do whatever' he can to 'help the country' after FBI raid
Margot Cleveland: Records Suggest A Backbench Bureaucrat's Partisan Grievance Spurred The FBI's Nakedly Political Raid On Trump: The purpose of the grand jury investigation and raid on Mar-a-Lago was to get Donald Trump, not documents. … Speaking of FBI 'backbenchers'…
Twitchy: 'Beyond parody': Guess who MSNBC's Morning Joe brought in to vouch for the FBI's integrity
MSNBC's Morning Joe brings on @PeterStrzok to argue on behalf of the FBI's integrity: "It's not that the FBI is targeting any one side or the other. What you see is the FBI going out on a day-in and day-out basis objectively investigating allegations of law." pic.twitter.com/bIyBladBMg

— Tom Elliott (@tomselliott) August 15, 2022
Good God, what's next? They bring on Lois Lerner to defend the hiring of 87,000 new IRS agents?

— AdamInHTownTX (Not a Biologist) (@AdamInHTownTX) August 15, 2022
VIDEO: Mark Levin on Mar-a-Lago raid: The ruling class has gone 'rogue'
Michael Walsh: 'Alea Iacta Est'
The Democrats, a criminal organization masquerading as a political party, love to boast about their "firsts," and they are indeed impressive…

… That's quite a record, and yet today's Democrats seem hell-bound to top it. Under the demented, corrupt hulk of non compos mentis called Joe Biden, they've destroyed the booming Trump economy, humiliated their own country with the summary abandonment of the Afghanistan war, turned loose the nation's criminals on a legally defenseless population, let loose the dogs of debt, inflation and commodity scarcity, blown up the supply chain, solidified the power of the Praetorian Deep State, weaponized the intelligence community and the FBI in the service of the Party, terrified the gullible via their reprehensible Covid scare tactics, crippled the domestic energy industry, injected the poison of Critical Theory into the national bloodstream, and castrated much of the Bill of Rights, including the first, second, fourth, fifth, ninth, and tenth amendments. As soon as they can figure out a way to quarter soldiers in your homes and apartments, you can bet they will…

Never before in the history of our Republic—a phrase conservatives ought to be using as a counterweight to the Democrats' deceitful "our democracy"—has the nation's chief legal officer ordered an armed raid on a former president, in this case on Biden's immediate predecessor and the leading contender for the GOP nomination in 2024.

It's step of breathtaking audacity, but hardly surprising. Not for nothing is the Democrats' unofficial motto "by any means necessary"…

The key to understand the Left, pretty much from Rousseau on, is that they believe in an "arc of history," which amazingly bends toward their preferred transient policy prescriptions in the here and now. It's a kind of misplaced messianism, with an imminent savior ready to descend to earth to establish a new kingdom of heaven, one in which they will witness the destruction of their enemies, and over which they will rule for ever and ever, amen…

Like Caesar, they're playing for keeps now. Either they complete their overthrow of the Republic or, in Ben Franklin's memorable phrase, they'll all hang together. The die is cast: "by any means necessary"? You ain't seen nothing yet…
Stephen Kruiser: The Morning Briefing: Biden's Revenge-Fest Isn't Going to Work Out Well for the Dems
Oh, BTW, yeah "But her emails" is important on several levels…
Twitchy: Let's talk about Hillary Clinton's handling of classified documents a bit
Hillary Clinton destroyed data and information that was under subpoena. Did the @FBI raid her home? pic.twitter.com/kCtJJHIEYx

— Ian McKelvey (@ian_mckelvey) August 13, 2022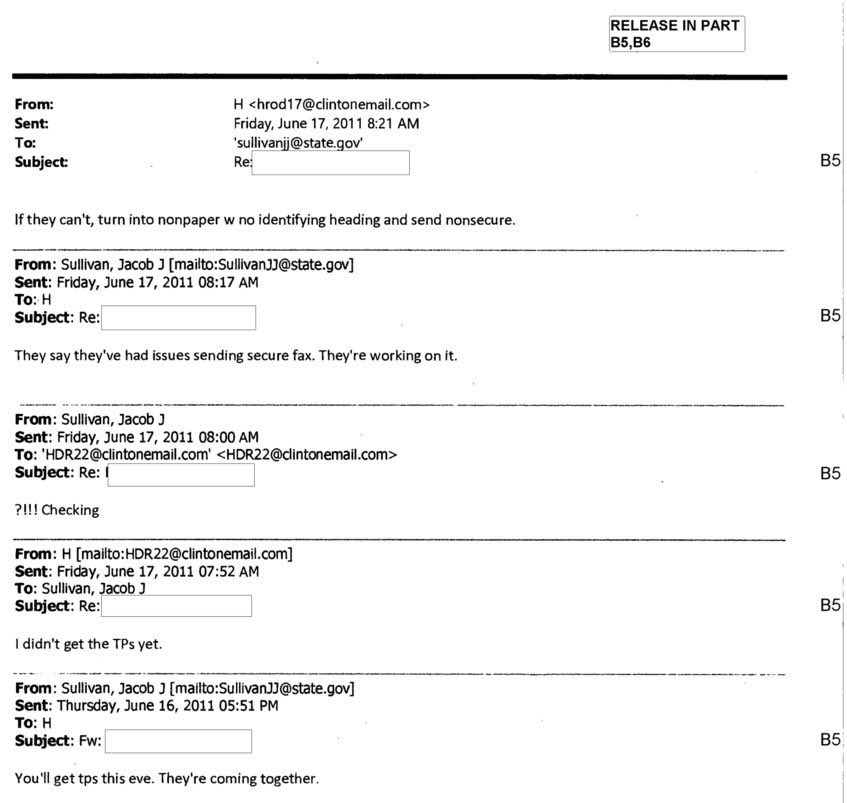 Here, Hillary Clinton orders a subordinate to remove classified markings from sensitive documents, thereby allowing them to be sent trough non-secure channels. This is a clear violation of the law.

Did the @FBI raid her home? pic.twitter.com/qm51rPTO7G

— Ian McKelvey (@ian_mckelvey) August 13, 2022
Joshua Caplan (10/18/17): Who Let Hillary Clinton Keep Computer Server Nearly Two Years After Leaving State Dept?
The Marxist MSM turning up the flames on their burning-at-the-stake of Christians/Catholics:
And The Atlantic is waving the blazing torch (Links to The Atlantic's BS in their tweets.)…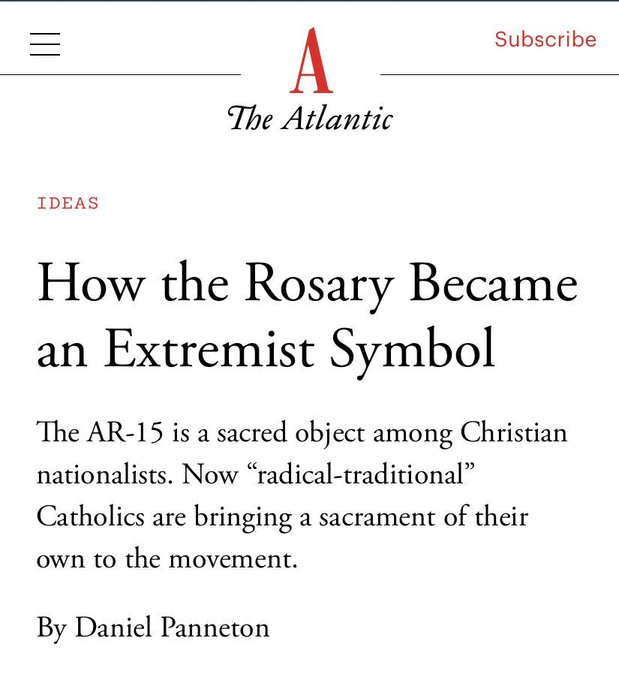 "Militia culture, a fetishism of Western civilization, and masculinist anxieties have become mainstays of the far right in the U.S.—and rad-trad Catholics have now taken up residence in this company," @DBPanneton writes: https://t.co/3KRl4C3adE

— The Atlantic (@TheAtlantic) August 14, 2022
Well, they might have a point…
Joe Biden: "Next Republican Who Tells Me I'm Not Religious, I'll Shove My Rosary Beads Down Their Throat" https://t.co/HvV3uE7NRZ

— LifeNews.com (@LifeNewsHQ) September 8, 2021
Nah…
I'm not catholic, but this is pure bigotry against a religious group. It comes from the same person quickly crying "islamophobia", ever since a terrorist attack happens, even before anyone knows the ethnicity of the attacker.

— Jason Vieira 💮 (@JasonVieira) August 15, 2022
Alexander Hall: Atlantic op-ed claims Catholic rosary has become 'an extremist symbol': The author claimed, 'Catholics are a growing contingent of Christian nationalism'
The (almost certainly inadvertent) timing of @TheAtlantic's attack on the Holy Rosary on the Feast of the Assumption speaks volumes about both The Atlantic and the Rosary. pic.twitter.com/0DuYklzxyb

— Michael Knowles (@michaeljknowles) August 15, 2022
Putting aside the ignorant subheadline, the main evidence cited in the article is that some Catholic extremists are posting pictures that include Rosary beads.

Would The Atlantic ever argue mainstream elements of Islam become extremist symbols bc radical jihadists use them? https://t.co/C8bBLEj2qW

— AG (@AGHamilton29) August 15, 2022
If praying the rosary, asking Our Blessed Mother to pray for everyone and me, makes me an extremist, then I guess I'm an extremist. "Holy Mary, Mother of God, pray for us sinners now and at the time of our death. Amen."

— ⚾️ Mary #FlyTheW 🐻 (@mchastain81) August 15, 2022
To live the Catholic life is to be an extremist who rejects the world and all its pomps, vanities, and false maxims.

— Jeremiah Poff (@JJ_Poff) August 15, 2022
And about those attacks and fire-bombings on pregnancy aid centers and churches…
A pro-abortion-rights group called Jane's Revenge is claiming credit for acts of vandalism throughout the U.S., reports @kait_tiffany, and right-wing activists and politicians are eating it up. https://t.co/HdXsSxLixw

— The Atlantic (@TheAtlantic) August 15, 2022
"Vandalism"??!!??
No, it's "ARSON".
The Atlantic "journalism"??
No, it's bad "self-parody".

— Maggie (@drillanwr) August 15, 2022
Twitchy: 'The Atlantic is bad. REALLY bad': RedSteeze takes The Atlantic APART for a plethora of crap articles (attacking the Rosary?) in BRUTAL thread
Ah I see we're still pushing the "how dare you speak up against literal arson" piece https://t.co/qeBA3bIMzZ

— Stephen L. Miller (@redsteeze) August 15, 2022
The Atlantic is bad. You should realize it's bad. It's really bad. People writing for it should know it's bad. It's bad. It should be celebrated when it folds. National holiday

— Stephen L. Miller (@redsteeze) August 15, 2022
Sorry guys, you don't get to lecture about why you quit Fox News over dangerous opinions and then go contribute to an outlet that declares the rosary a hate symbol and also actually why are you so mad about fire bombing pregnancy centers?

— Stephen L. Miller (@redsteeze) August 15, 2022
@stephenfhayes An NBC MTP contributor suggested executing a former president and you didn't walk out out over it.

Here is the Atlantic calling the rosary a hate symbol and fire bombing pregnancy clinics just great, do you guys see your fucking problem yet? Do you get it?

— Stephen L. Miller (@redsteeze) August 15, 2022
@stephenfhayes It's fine if you left Fox over this kind of stuff. But now you've swallowed your tongue over colleagues like Bechloss and Joy Reid or Andrea Mitchell. **This** is how you lost the party, This <—–

— Stephen L. Miller (@redsteeze) August 15, 2022
Anyway, hoping for your principled resignation at NBC and David's at The Atlantic over this *or* an explanation as to why not. @stephenfhayes

— Stephen L. Miller (@redsteeze) August 15, 2022
VIDEO: Pro-abortion protesters clash with anti-abortion Catholics in New York City: A group of anti-abortion activists were swarmed by pro-abortion protesters as they demonstrated outside an NYC church and Planned Parenthood location.
MORE:
In case you missed it…
Kamala Harris, who probably still calls meteorites "falling stars", tossed her latest word salad (starting at about 1:48 with BS regarding the inflation creation act and climate change bullshit, but her spaced-out tossing starts at 6:08) and let's everyone know she knows nothing about space, space innovation, and, you know, inequity in space…
If Star Trek's Mr. Spock did a Vulcan mind-meld with this woman he'd run screaming, throw himself on the floor in the fetal position, and then rise to "space" himself at the nearest starship hatch.
Canucks living under the dictatorial rule of Castro Junior have thoughts about our American rights…
Twitchy: Canadian journalist claims gun violence happens because "in most States, you can buy a gun like you can buy a bag of chips" … Seriously! I'm so pissed that in these last few years of shrinkflation they've stealthy reduced the chip capacity in the mags—- er, bags!!!
If her gums are flapping and her dentures are clacking Nan's lying…
Joe Hoft: OH NO, NANCY! Pelosi Secretly Met Taiwan Chip Manufacturer – Pelosi's Son Is 2nd Largest Stakeholder in China Related Company – But "Absolutely" No Business Was Discussed?
Strike that Dr. Evil pose, Klaus! …
Kevin Downey, Jr: A WEF Op-ed Is Calling for Global Censorship. We Really Need to Cut Ties With These Commies
That list must be YUGE!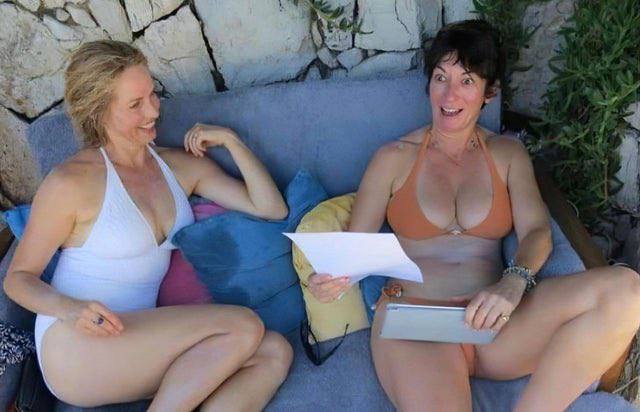 Yesterday The Atlantic put out an article claiming child trafficking was a "fake" epidemic!

Here's a photo of the owner of the Atlantic Laurene Powell getting cozy with Ghislaine Maxwell! pic.twitter.com/qfmOHVSA2N

— Luke Rudkowski (@Lukewearechange) December 10, 2021
Jim Hoft: WHO IS JOHN DOE?… Mysterious, Anonymous Power Broker is Attempting to Block Gateway Pundit from Accessing Epstein Client List … Above photo is Laurene Powell, Owner of The Atlantic and widow of tech giant Steve Jobs, lounging with Jeffrey Epstein's paramour 'widow' and human trafficking rancher for Epstein Island Ghislaine Maxwell.
The CCP's and CDC's China COVID Caper…
Karol Markowicz: Too little, too late: Disband the CDC now
VIDEO: Dr. Nicole Saphier: Current vaccine requirements are culture-based, not data-driven
VIDEO: Physician: CDC encouraged discrimination against unvaccinated people
Kevin Downey, Jr: Polio or Monkeypox: Which Virus Will the Left Use to Save Drop Boxes in November?
TUS Boss's rant on it all…
So, if it's safe now, it was safe then? Ya don't say!
~~Many thanks to Maggie and The Universal Spectator for reprint permission.