Posted by Maggie on August 7, 2022 in General News
The printing and burning money, taxing-to-Hell demo-commie inflation monster…
After an overnight and morning-long "vote-a-rama" the Senate is set to actually vote for this bullshit bill's passage.
When we pass the Inflation Reduction Act, working families will get rebates to buy efficient appliances and weatherize their homes. And folks will have tax credits for efficient heating and cooling and rooftop solar.

Families will see their energy bills drop by the hundreds.

— President Biden (@POTUS) August 5, 2022
Rebates are taxpayer-funded subsidies for your green energy cronies. And have you seen how much debt Americans are taking on in this shrinking economy? No one will have the money to install solar panels when they're struggling to pay bills and put food on the table, Joseph.

— AdamInHTownTX (Not a Biologist) (@AdamInHTownTX) August 5, 2022
This is exactly why no democrat can be trusted, every act is always full of pork and democrat agenda items, who foots the bill for all this? We do

— Bulldog (@ThePatrioticBu2) August 5, 2022
America is not buying what your selling.
Your rebranding of Build Back Broke Green New Climate China Production Encouraging Inflation Act will plummet the US economy into a deeper recession.
This endless spending is evident of how out of touch u are with hard working Americans

— SAL, GOLDSTARFATHER (@SALGOLDSTARFAT3) August 5, 2022
Jim Hoft: As Democrats in US Senate Unilaterally Pass $369 Climate Blowout – Study Finds 96% of the Data Used to Support Democrat Bill Is Flawed … "Flawed"??!? Hell, most-all the data is false/faked.
FNC: FIGHTING WORDS – Manchin fires back at Trump for pledging to campaign against him over Dems' spending bill … NEWS FLASH to Sen. Joe Manchin: THIS bullshit bill will forever have your name in reference to it, and worse yet, YOUR name is ahead of Schumer's name in that damning reference.
Joseph Simonson: Dems Poised To Make IRS Larger Than Pentagon, State Department, FBI, and Border Patrol Combined: Manchin-backed Inflation Reduction Act would more than double agency's size
Twitchy: Face it, this is NOT about the rich paying their fair share: Dems PROTECT those making $400k or more from being targeted by 87,000 new IRS agents
Brad Polumbo: Even Bernie Sanders admits Biden's 'inflation reduction' plan is a joke
Kyle Morris: Sens. Sanders, Warren set to give billionaires free pass after years of knocking tax loopholes for wealthy
Twitchy: Oh honey, NO! Rep. Val Demmings claiming 50 top military leaders say Inflation Reduction Act will protect us from climate-related threats BACKFIRES
Matt Margolis: Dems Miffed Bernie Sanders Telling Truth About Inflation Reduction Act
Twitchy: THIS! Carol Roth owns Paul Krugman (we know, it doesn't take much) for claiming Biden has added more jobs than Trump in one PERFECT tweet
Matt Margolis: Democrats Nix COVID Precautions to Ensure Vote on Spending Bill in Senate
Just so you know …If you have the highest inflation in 40 years due to out-of-control government spending – Democrat's solution is to spend another $739 billion dollars.

Get ready for the Biden recession to turn into the Biden depression.

— Catturd ™ (@catturd2) August 7, 2022
As the demo-commies continue the mission to turn this nation into a socialist/communist cesspool remember that they are always speaking admiringly about third world countries and communist shit-holes like Cuba. All you need do is look at democrat strangleholds like California's LA and San Francisco, New York City, and others where democrats infest government. They are lawless, poverty-stricken with huge swaths of drug and mentally ill infested encampments that add to the crime, and once vibrant businesses that provide important services/products to the rest of the population boarded-up and abandoned. Even the police populations in those areas are diminishing as mayors and city councils promote and enable criminals over innocent productive, hardworking, taxpaying citizens…
Dean Balsamini: Nearly 2,000 NYPD cops quitting before getting full pensions — a 71% jump from 2021
Danielle Wallace: Bodega clerk Jose Alba leaves NYC 'afraid for his life,' mulls move back to Dominican Republic: Bodega clerk Jose Alba reportedly considering move out of country after Manhattan judge drops murder charge
Jazz Shaw: Lightfoot's plan to sue Chicago's gangs has stalled
A while back, Chicago Mayor Lori Lightfoot put forward a proposed bill that she named the "Victims' Justice Ordinance." If enacted, it would authorize the city to take gang members to court and sue to seize their assets. This was a plan that was seen as being crazy enough that she couldn't even get all of her fellow Democratic aldermen on the City Council to go along with it…
What "assets" exactly?
REPORT FROM THE BLUE ZONES: "Pardon me for getting local here, but this is my home and I love it, and I'm tired of people shooting people. Everybody's sick of it and nothing will change." Not until there's a drastic change of leadership.
Christina Gonzalez: LA City Council to vote on initiative that would require hotels to give up empty rooms to the homeless
Ed Morrissey: Peak Berkeley: Protesters halt low-income housing construction to demand …
MORE:
Jim Hoft: Stephen Miller: Joe Biden's Open Border Policies a "Crime Against Humanity" that Deserves "The Eternal Shame of History" (VIDEO)
Chris Queen: The Biden Administration Has Found a Sneaky Way to Compile an Illegal Gun Registry
Cardinal Pritchard: Here's what you do if the ATF shows up at your door asking to see your guns
Matt Margolis: GOP to Go on Offense Against Intel Officials in Hunter Biden Probe
FOX5 NY: Second bus of migrants arrives in NYC from Texas
John Hinderaker: BRINGING THE HAVOC HOME
Yesterday the New York Times attacked Republican governors for sending a handful of the illegal immigrants who have invaded their states to other jurisdictions. The Times headline was "G.O.P. Governors Cause Havoc by Busing Migrants to East Coast."

No. The havoc was caused by the Biden administration luring illegals to the border and inviting them to cross without consequences. A tiny fraction of the havoc the Democratic Party has inflicted on red and purple states is now coming home to roost in blue states. That is a good thing…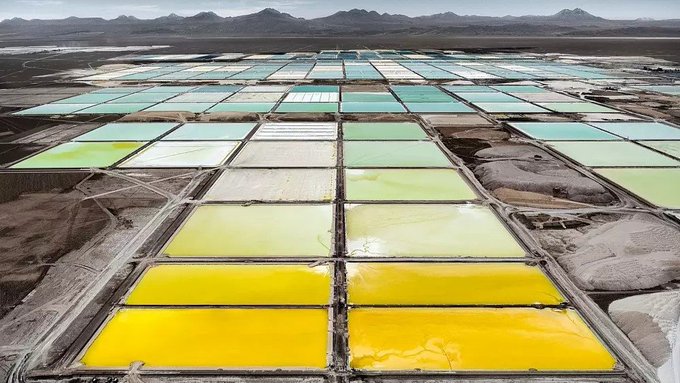 This is a Lithium leach field. This is what your Electric Car batteries are made of. It is so neuro-toxic that a bird landing on this stuff dies in minutes. Take a guess what it does to your nervous system?
Pat yourself on the back for saving the environment. pic.twitter.com/HRVClWXSU3

— keith dickie (@rkdickie) August 6, 2022
~~Many thanks to Maggie and The Universal Spectator for reprint permission.