Posted by Maggie on June 16, 2022 in From the editors
Why hasn't Joe Biden condemned the attempted assassination of Justice Brett Kavanaugh?

— RNC Research (@RNCResearch) June 16, 2022
Joe: "Not a joke, man. I condemn the attempted assertation of Rhett Butler— Huh– What? Who? Yeah, that's what I said … "

— Maggie (@drillanwr) June 16, 2022
Remember now, you are skinned of your color and heritage if you dare think/believe differently and do not tow the leftist line chained around your neck…
Collin Anderson: Here's Why the South Texas Special Election Spells Doom for Dems in November: Republicans send first Mexican-born woman to Congress in Dem stronghold
Anders Hagstrom: TAKING 'HISPANICS FOR GRANTED'- Texas Democrats slam party after Republican Mayra Flores flips House seat: Taking Latinos 'for granted': Democratic leaders are blowing off the Texas defeat as a fluke (w/VIDEO)
Twitchy: They've got NOTHIN': MSNBC analyst basically throws in the towel and tells Democrats to just scare the Hell' out of minorities and women (watch)
Meh, Thoughts and Prayers…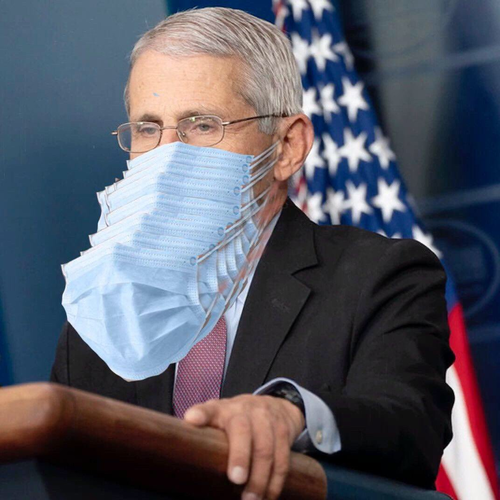 Stephen Kruiser: The Morning Briefing: LOL…Dem Fetish Boy Fauci Has the Wuhan Chinese Bat Flu … Fauci is allegedly 4-jabbed (I say 'allegedly' because I wonder hmmm…) and wears multiple layers of masks. Great job, everyone! He'd better damn well NOT be taking Ivermectin or
Today I asked Fauci a simple question: Are there any studies that show a reduction in hospitalization or death for children that take a booster?

His answer: No

Then why is the government recommending it?

— Rand Paul (@RandPaul) June 16, 2022
REMATCH!

Dr. Fauci sweats and stammers under the pressure of @RandPaul's questions. pic.twitter.com/D9pMLBgdZB

— Townhall.com (@townhallcom) June 16, 2022
Biden blowing gas-out-his-ass to try to blow out the Bidenflation energy fuse he lit: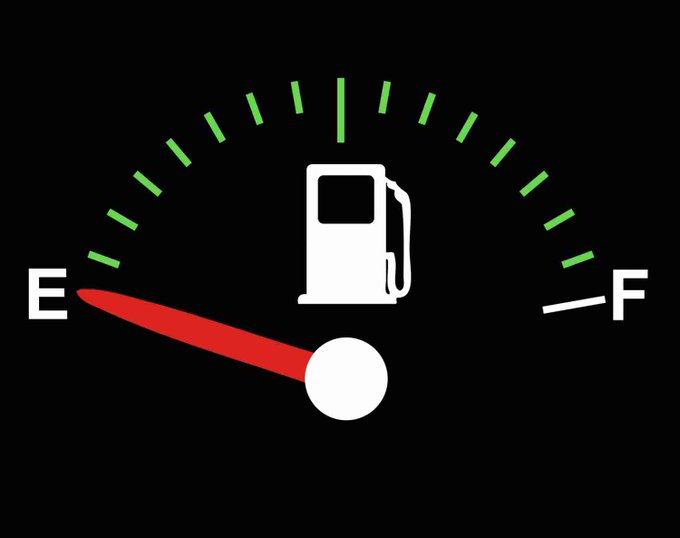 Bradford Betz: White House shifts from blaming Putin to oil companies for high gas prices, calls on them to 'be patriots': President Biden called on oil refiners to produce more gasoline and diesel to offset high prices
Oh look they wrote Biden a letter of a list of items to do to help but Biden said no pic.twitter.com/gOld78v76t

— Liberal Science Is Confusing (@lovecraft1977) June 15, 2022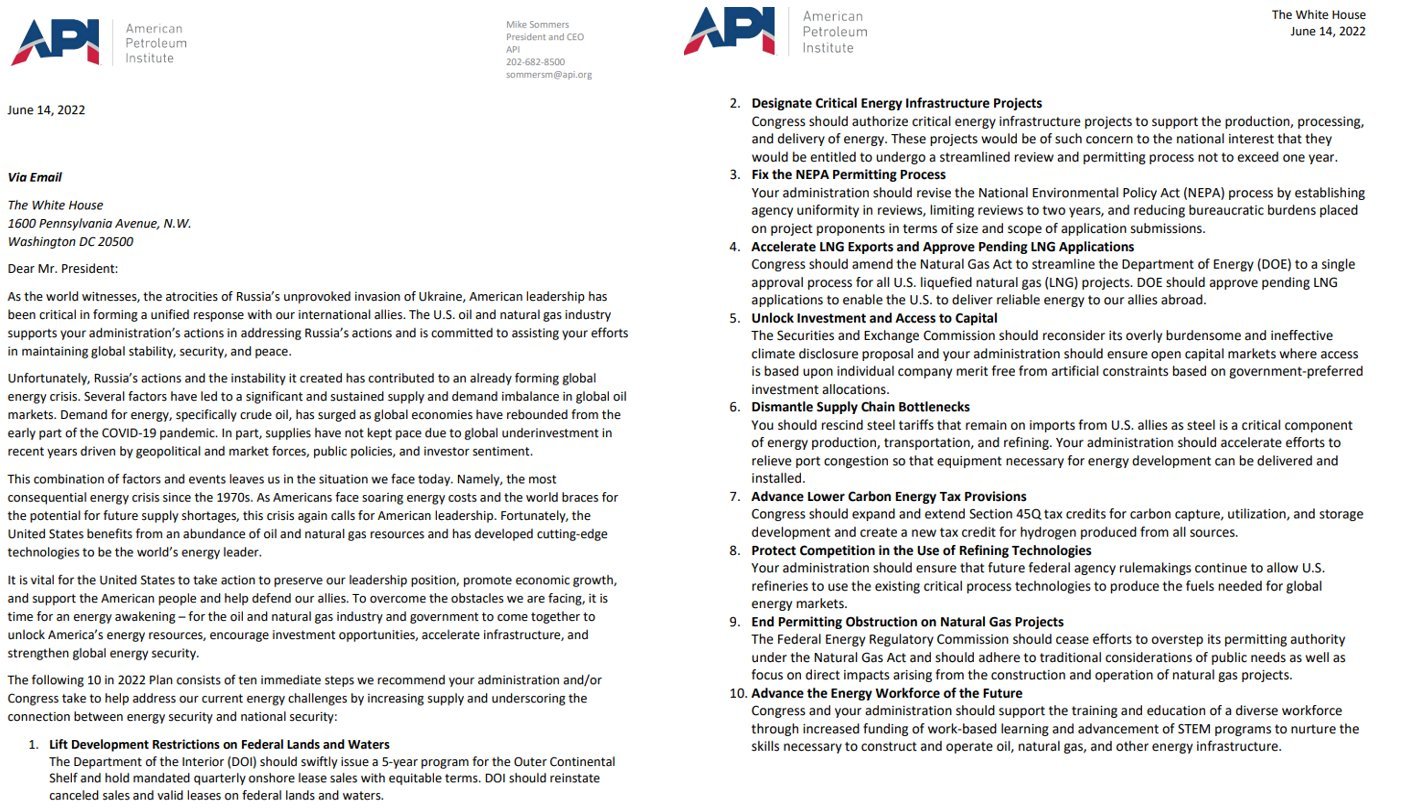 VIDEO: American Petroleum Institute CEO Mike Sommers: API unveils plan to lower costs, secure American energy and calls out the White House for 'demonizing' the oil and gas industry.
VIDEO: United Refining Company chairman John Catsimatidis: Biden's letter to oil companies urging more gas production – The impending recession does not have to happen
VIDEO: Biden and the Democrats want high gas prices
Larry Kudlow: Here's the worst economic news today
So, all eyes on the Fed today, which raised their target rate by 75 basis points as everyone expected, because they leaked it to the Wall Street Journal on Monday. Here's the worst economic news today.

Retail sales unexpectedly fell and the GDP tracker from the Atlanta Fed for the second quarter is now 0.0%. Remember, Q1 actual was -0.5%.

Are we in a recession? Could be… don't know yet, hut here's a mind-blowing quote from the Fed press release: "Overall economic activity appears to have picked up after edging down in the first quarter." So, somebody is wrong here.

Either falling retail sales from the Commerce Department are wrong or Jay Powell is wrong. They can't both be true. For the first time in my career, I'm betting on the Commerce Department…
Paul Bedard: GOP: Democrats choose Fido and Muffy over inflation-shocked public
On Wednesday, with gas at an all-time high of $5.014 a gallon and inflation at 8.6%, the House Oversight and Reform Committee's subcommittee charged with looking out for consumers will hold its first hearing of the year to discuss Seresto's flea collar for dogs and cats…
Enforce the Damn Existing Gun Laws:
People seriously need to pay attention to the primary flaw in our current gun laws … they are not being enforced and violators aren't being punished but put back out on the streets by the legal system and it's social justification operatives and apologists within. And the latest results
Louis Casiano , Bill Melugin: California suspect who killed two El Monte police officers was on probation for gun charge, sources say: Cpl. Michael Paredes and Officer Joseph Santana of the El Monte Police Department were killed during a shootout with a suspect who was on probation, authorities said
Are you ready for my "I told you so!"??? Here it comes, Spectators…
The deceased suspect accused of killing two California police officers during a shootout was a gang member on probation for a weapons charge after receiving a lenient sentence under a plea deal.

Justin William Flores is accused of killing two El Monte police officers Tuesday night.

He had a previous strike conviction ad received two years probation for a charge of being a felon in possession of a firearm. The sentence is in accordance with the policies of Los Angeles County District Attorney George Gascon, who was recently taken to task by a state appeals court over his refusal to prosecute three-strike cases.

That allowed Flores to plead no contest and receive a light sentence despite having a strike on his criminal record.

Sources in the district attorney's office told Fox News that if Flores would have been prosecuted in February 2021 under the normal procedure, he would have likely been sentenced to up to three years in prison…
Ready for the Soros funded and backed LA DA George Gascon's rationalization?
"The sentence he received in the firearm case was consistent with case resolutions for this type of offense given his criminal history and the nature of the offense," a statement from Gascon's office to Fox News said. "At the time the court sentenced him, Mr. Flores did not have a documented history of violence."
The guy was a gang member that had two priors, one being a felon holding illegal drugs and an illegal gun! Had the almighty "progressive" social justice warrior DA taken the laws, including the gun violation, seriously this thug would've been in prison and the two officers who both had wives and little children would be alive!
This is just one horrifically stark example of one of the biggest problems behind the gun crimes in our country, the plea deals and the non-serious DAs and the justice system in general. And I, for one, am sick of hearing 'the jails and prisons are so overcrowded … we can't just keep throwing people in prison'. Umm, yeah, you damn well can. Figure it out.
Meanwhile, the effort to recall LA DA George Gascon looks to have collected enough signatures on the petition and will hopefully be moving forward.
And to make this worse, the city of LA looks to be on the hook for paying for this cop killer thug's funeral expenses.
Twitchy: James Woods: LA DA George Gascón has 'blood on his hands' after two El Monte cops were killed by a felon on probation for a gun charge
VIDEO: Virginia attorney general on woke prosecutor removed from case by judge
Meanwhile, "progressives" must progress…
Robert Zimmerman: Today's blacklisted American: Biden administration purging conservatives from FBI
Blacklists are back and the Democrats have got 'em:According to numerous whistleblowers talking to the office of Congressman Jim Jordan (R-Ohio), the FBI has been aggressively blacklisting any employee who happens to express any conservative opinions at all.

Jordan detailed the most recent actions in a June 7th letter [pdf] to Chris Wray, director of the FBI, which was also a follow-up on another such letter sent in May.

[…]

According to Jordan, at least six FBI agents have come forward as whistleblowers, with two describing FBI blacklisting in connection with statements made by agents to a local school board. The other four agents were either suspended or had their security clearance removed because they raised questions about the Democrats' narrative concerning the January 6, 2021 protests.

In every case, it appears the agents broke no laws and violated no federal policy…

Apparently, the management of the FBI under Wray, in league with the Democrats running the Biden administration, have decided that conservative agents should not have these rights, and are acting to punish any that dare exercise them…
See how that's working, America? "Justice" is most definitely no longer 'blind', and our federal police department has been fully politicized. And do not think it would swing the other way were it being run under a republican administration. We have already seen evidence of where the FBI and the DOJ are firmly planted when they did everything they did for over four years with Pres. Trump, and continue to do so with this shit-show January 6 committee … and never forget those J6 protestors and even bystanders at the Capitol lawn that have been sitting in DC jails for over a year without due process, their lives ruined forever.
Other, like, deadly important things the DOJ/FBI ain't got no damn time for because they're chasing down parents at school board meetings and unarmed wanderers/vandals/'rioters'/loiterers at the Capitol on January 6, 2021…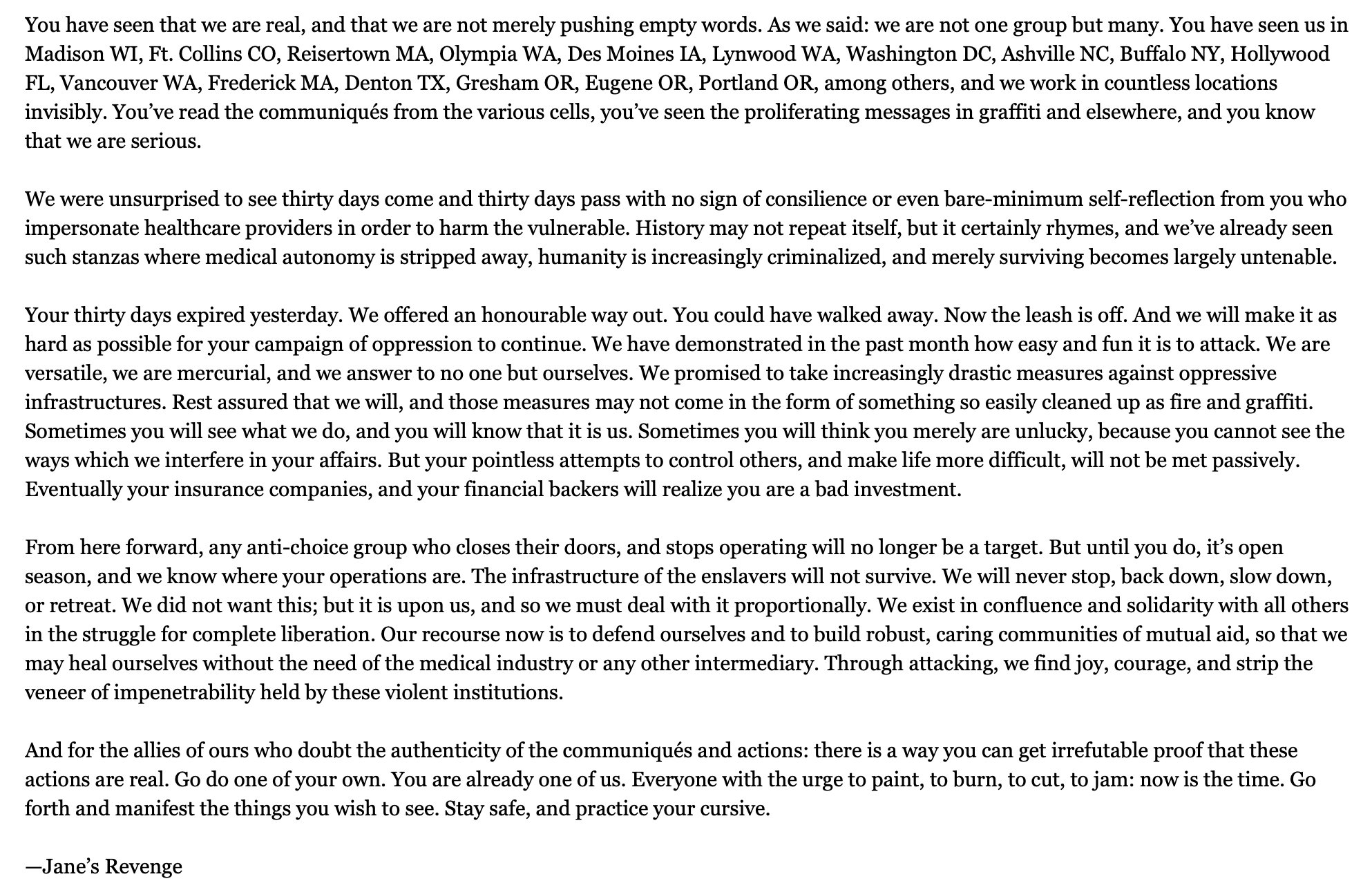 Full statement from Jane's Revenge, announcing that it's "open season" on pro-life pregnancy centers.

Future measures "may not come in the form of something so easily cleaned up as fire and graffiti," the terrorist group threatens.

Merrick Garland????? pic.twitter.com/zxnB53mVzi

— Caroline Downey (@carolinedowney_) June 15, 2022
🚨🚨🚨🚨🚨

Absolute silence from Biden and Dems because this was the plan

1) Leak the supreme court opinion
2) Have left wing dark money groups like Demand Justice and Ruth Sent Us send mobs to intimidate justices
3) Use fear and violence to get your way https://t.co/qyXoNLngLD

— Comfortably Smug (@ComfortablySmug) June 15, 2022
Paul Bois: Radical Abortion Group 'Jane's Revenge' Threatens Domestic Terrorism: Jane's Revenge, the group responsible for firebombing dozens of pro-life pregnancy centers throughout the country, has now threatened acts of domestic terrorism.
Steve Watson: Kavanaugh's Neighbour Claims Pro-Abortion Protesters Are Threatening Homeowners; "F*ck You, F*ck Your Children": "This will escalate in a way that is very unpredictable and very unsafe." … Reminder that there is an existing law on the books forbidding this bullshit and Biden's AG Merrick Garland refuses to enforce it. Probably because he's still pissed at republicans for not allowing his Obama nomination to the SCOTUS to move forward in an election year. So, SCOTUS Justices, especially those damn republican nominated ones can just go to Hell. Sure is fortunate for the nation this shit-heel was not put on the SCOTUS bench. His lack of mental mettle is just about a half-point above Biden's.
Chuck Ross: Pro-Life Facilities Are Under Attack. A Top DOJ Official Called Them 'Fake Clinics.'
J.J. Sefton @ AoSHQ as usual has his spot-on evaluation of where this country and the world is right now and how the Hell we got here: Civil Rights Division: Fake It `Til You Make It … The fact of the matter is our justice system and much of the government levels are filled with 'socialist' lawless radicals from the 1960s, and those who aren't that old have been groomed by those that were, mostly in the guise of college professors. They're now in our kids' schools as well.
Twitchy: 'Lying to your FACE': 'Twitter Law School' thread on Red Flag Laws and how they will ABSOLUTELY be abused an INFURIATING must-read
MORE:
Questions an old school "investigative journalist" would be investigating and asking … but not today's 'journos'…
1. Ariel Zilber: Kansas heat wave kills at least 2,000 cattle: officials
Does anyone care to explain why so many cows have been dropping dead in a short span of time and why so many food processing plants, trains carrying fertilizer, and food packaging facilities have been randomly burning down over the past few months? Worldwide, too.

— Ian Miles Cheong (@stillgray) June 16, 2022
Extreme heat and humidity killed thousands of cattle in Kansas this week so far. An estimated 10,000 heads of fat cattle dead.

— Ian Miles Cheong (@stillgray) June 15, 2022
Even thousands more dead in Nebraska. Looks like a meat shortage is coming, in addition to the wheat shortage. You will eat the bugs. You will own nothing. You will be happy.

— Ian Miles Cheong (@stillgray) June 15, 2022
Judging from all the replies to this post from ranchers we can probably concede that the official reason ("extreme heat death") is probably bullshit and this needs more thorough investigation.

— Ian Miles Cheong (@stillgray) June 16, 2022
Something stinks. Even more than rotting flesh

— Anna Nommin (@unommin) June 16, 2022
Livestock is very tough and resilient. Whether extreme hot or cold, they manage most of the time. THIS ain't 1 of the times they wouldn't. This looks intentional, & blaming 'extreme heat/humidity' plays into the "SEE!?! 'climate change'" bullshit narrative.

— Maggie (@drillanwr) June 16, 2022
Wouldn't be the first-time ranchers've killed/buried their stock because they couldn't feed them. W/projected grain shortages & Biden's increase in ethanol production to mix w/gasoline feed for farm animals will be waning & not just for cattle & other meats. Your pets too.

— Maggie (@drillanwr) June 16, 2022
God, help us.
2.
Can you imagine all of the crazy sh*t Joe Biden says on calls with foreign leaders?

— Lisa Boothe (@LisaMarieBoothe) June 16, 2022
3. Stephen Green: Is Everybody at the Federal Reserve on Drugs?
4. Austin Bay @ Instapundit: "A MAJOR REASON HUNTER BIDEN'S LAPTOP MUST BE INVESTIGATED AND THE CROOKS TRIED AND CONVICTED: Political Corruption and Injustice Threaten U.S. National Security…"
"Junk Science" and the all-too-eager MSM rear-ending us with it:
Generally, I like the New York Post. However, they too need 'fillers' and typically don't check 'the science' from day to day on what they're reporting. For example…
Why having a 'beer gut' may actually be good for you https://t.co/JfgPFp6YZO pic.twitter.com/95wwUEwyan

— New York Post (@nypost) June 15, 2022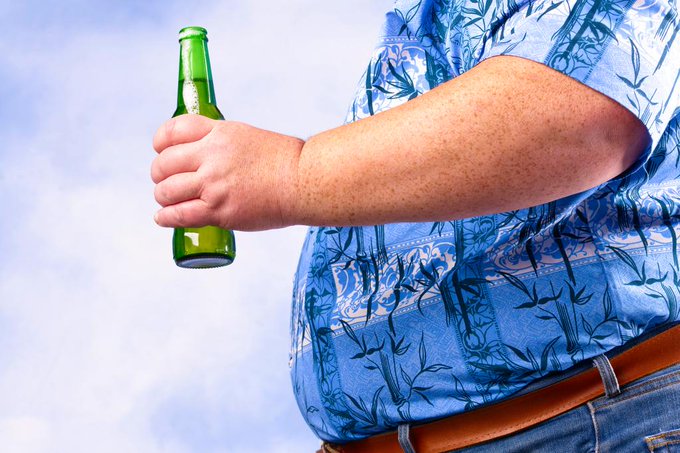 Yesterday @ NYP: Why having a 'beer gut' may actually be good for you
Ummm, this y'all yesterday??? Just sayin'…https://t.co/1FpCtRen6I

— Maggie (@drillanwr) June 15, 2022
New study reveals 'moderate' drinkers may still be at serious risk https://t.co/RdIpvyejbf pic.twitter.com/ukntghBGRA

— New York Post (@nypost) June 14, 2022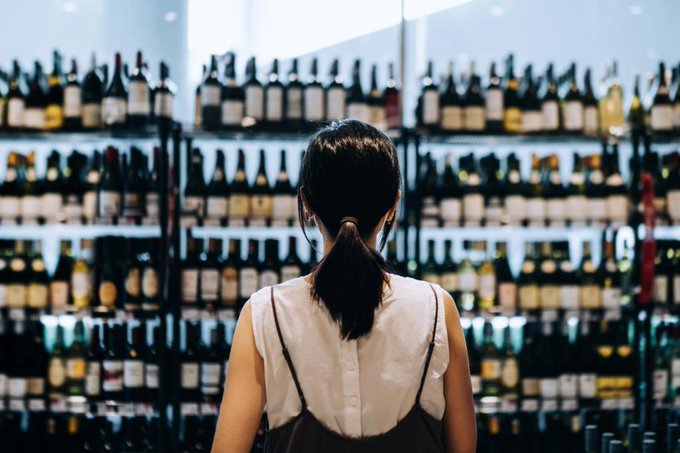 Tuesday (the previuos day) in the NYP: New study reveals 'moderate' drinkers may still be at serious risk
Mind you, it was two different reporters writing the article. But still, you can see in a mild example and look back on these last couple of years of COVID "news" and controlled information via censoring anything not toting the narrative WHY the nation's MSM is no longer trustworthy on most everything. Like this…
Twitchy: We now know what the man in the January 6 Committee video filmed in the stairwell. Why should we trust ANYTHING Dems/journos say going forward?
In comments captured by @KyleAlexStewart, Barry Loudermilk cited a golden eagle on the stairwell the man was filming. Per my own photo circa 2019, there is indeed a pretty cool golden eagle in that stairwell. pic.twitter.com/jBahEUvgiP

— Ryan J. Reilly (@ryanjreilly) June 15, 2022
Other headlines…
VIDEO: Chad Wolf: Biden admin is the 'root cause' of migrant crisis
Emma Colton: Crime spills into dozens of Minneapolis suburbs, sparking fear among residents: Minneapolis suburbanites say crime is 'really out of control'
Dan Springer: 'SELF-INFLICTED WOUND' – Overdose deaths hit record levels, murders surge after blue state decriminalizes hard drugs: Oregon's drug decriminalization effort a 'tragedy'. In 2022, the state wrote 2,576 tickets for drug possession with 75% resulting in convictions
Ken Martin: Baby formula production halted at Abbott's Michigan plant due to flooding after severe storms: The shutdown of the Abbott plant is likely to delay baby formula production for a few weeks
OUT: Epstein Didn't Kill Himself
IN: Ghislaine Maxwell Didn't Either?
Anders Hagstrom: Ghislaine Maxwell's cellmate claims she was 'offered money' to kill Maxwell: Maxwell's lawyers made the claim in a bid for a lighter sentence
~~Many thanks to Maggie and The Universal Spectator for reprint permission.