Posted by Maggie on June 30, 2022 in From the editors
SCOTUS is ruling on some of the remaining cases today before they break…
BREAKING SCOTUS RULING: Run to the Border:
Basically, sending the case back to the court it came from…
Ronn Blitzer: BORDER BATTLE – SCOTUS hands Biden victory, allows end to 'Remain in Mexico' policy: The ruling reverses a lower court decision in favor of Texas and Missouri
Meanwhile…
WARNING GRAPHIC: As @TxDPS troopers were taking a human smuggler into custody in Brooks County, several illegal immigrants bailed out of his vehicle and ran. One ran into the highway & was struck & killed by a vehicle. Smuggler charged w/ human smuggling causing death. @FoxNews pic.twitter.com/Cul762bgFl

— Bill Melugin (@BillFOXLA) June 30, 2022
VIDEO: Rep. Flores on border crisis: Dems are 'the ones playing politics'
BREAKING SCOTUS RULING: EPAs Boot-on-Neck overreach not viable on 'carbon footprints':
Ronn Blitzer: Supreme Court deals Biden climate agenda serious blow with EPA decision: The ruling in West Virginia v. EPA was highly anticipated
Due to the EPA decision, it will be much more difficult for President Biden to order sweeping environmental changes without congressional approval…

— Jonathan Turley (@JonathanTurley) June 30, 2022
…The Court states "This view of EPA's authority was not only unprecedented; it also effected a "fundamental revision of the statute, changing it from [one sort of] scheme of . . . regulation" into an entirely different kind."

— Jonathan Turley (@JonathanTurley) June 30, 2022
…Senate Majority Leader Schumer has condemned the decision which is curious for the head of one of the houses of Congress. This opinion reaffirms the power of the Congress and Article I powers generally.

— Jonathan Turley (@JonathanTurley) June 30, 2022
…It is a curious sight of a congressional leader denouncing a decision that prevents the circumvention of Congress. It is a virtual statement of self-loathing like a player complaining of being sent back into the game by the coach.

— Jonathan Turley (@JonathanTurley) June 30, 2022
…This is not the first time that Democrats have called for a president to usurp the authority of their own branch. It undermines the faith held by figures like Madison that ambition would combat ambition in the protection of the separation of powers. https://t.co/ecZpknvBle

— Jonathan Turley (@JonathanTurley) June 30, 2022
VIDEO: Biden loses Supreme Court ruling as court reins in EPA power
Jack McEvoy: Top Biden Officials Reveal Plans To Continue Pushing Climate Agenda If Supreme Court Blocks EPA
Butt-hurts…
The decades-long fight to protect citizens from corporate polluters is being wiped out by these MAGA extremist justices

Every Republican who helped seat these justices is complicit

It's all the more imperative that we soon pass meaningful legislation to fight the climate crisis

— Chuck Schumer (@SenSchumer) June 30, 2022
Catastrophic. A filibuster carveout is not enough. We need to reform or do away with the whole thing, for the sake of the planet. https://t.co/if8PIbfs42

— Alexandria Ocasio-Cortez (@AOC) June 30, 2022
Meanwhile…
Thomas Catenacci: Environmental groups sue Biden administration over first onshore oil and gas lease sale: Environmental groups argue lease sales contradict Biden administration's climate agenda
Putin lives rent-free in old Joe's empty cob-webbed attic mind:
Twitchy: Joe Biden says Americans will suffer high gas prices for 'as long as it takes' to defeat 'Russia, Russia, Russia,' whose fault everything is
Energy experts have been warning of energy rationing for weeks. IEA warned of rationing 3 weeks ago. Germany moved closer to rationing nat gas last week after Russia curtailed supplies. And today, the heads of France's 3 biggest energy companies called for voluntary rationing. pic.twitter.com/3SF8LYdgfI

— Michael Shellenberger (@ShellenbergerMD) June 26, 2022
While China is investing in oil & gas to lift nations out of poverty, Biden & G-7 are investing in renewables, which will keep poor nations poor.

Biden is hyping solar in Angola, which is being starved of investment in its oil & gas infrastructure https://t.co/tjZ33uJ1bj pic.twitter.com/GrlSvkv9k0

— Michael Shellenberger (@ShellenbergerMD) June 26, 2022
I saw this a few days ago. THIS was some very irresponsible crap right here, talking within mic/camera shot especially among other world leaders. Wreckless information/speculation slips like this could affect the world markets. Some in the video's comments are wondering if this was intentional (in front of 'selected' media types nearby). Look at clueless Joe's face as Macron fills him in….
Europe is on the verge of rationing energy and yet Biden & European leaders have just proposed $600B in global infrastructure spending focused on renewables, w/ ZERO to increase oil/gas production

Western leaders now pose a greater threat to collective security than Putin or Xi pic.twitter.com/xEPYjhJtNz

— Michael Shellenberger (@ShellenbergerMD) June 26, 2022
Biden was counting on Arab nations to produce more oil but a few hours ago French President Macron was overheard telling Biden that the United Arab Emirates is at max capacity & the Saudis can't produce much more. It appears to be a direct appeal to Biden to produce more oil. pic.twitter.com/vRWJVpn3El

— Michael Shellenberger (@ShellenbergerMD) June 27, 2022
This is a game-changing revelation since Biden was counting on Saudi Arabia & UAE. They were the only two OPEC nations perceived to have spare capacity.

Macron's revelation means that it's up to the U.S. to produce more oil, and soon, or the energy crisis will get much worse.

— Michael Shellenberger (@ShellenbergerMD) June 27, 2022
Biden's refusal to expand oil and gas production in the US in the midst of the worst energy crisis in 50 years was insane *before* Macron's revelation.

Now, if Biden doesn't act, he is effectively renouncing America's standing as the leader of the free world. https://t.co/wkT9G2ABo5

— Michael Shellenberger (@ShellenbergerMD) June 27, 2022
Biden's demanding Arab nations produce more oil at the same moment he is considering a total ban on new offshore oil & gas drilling, 6 days after delaying new on-shore O&G drilling, and 1 month after killing a 1M acre O&G lease sale in Alaska. It's as insane as it looks. pic.twitter.com/EJo4DkZGOP

— Michael Shellenberger (@ShellenbergerMD) June 27, 2022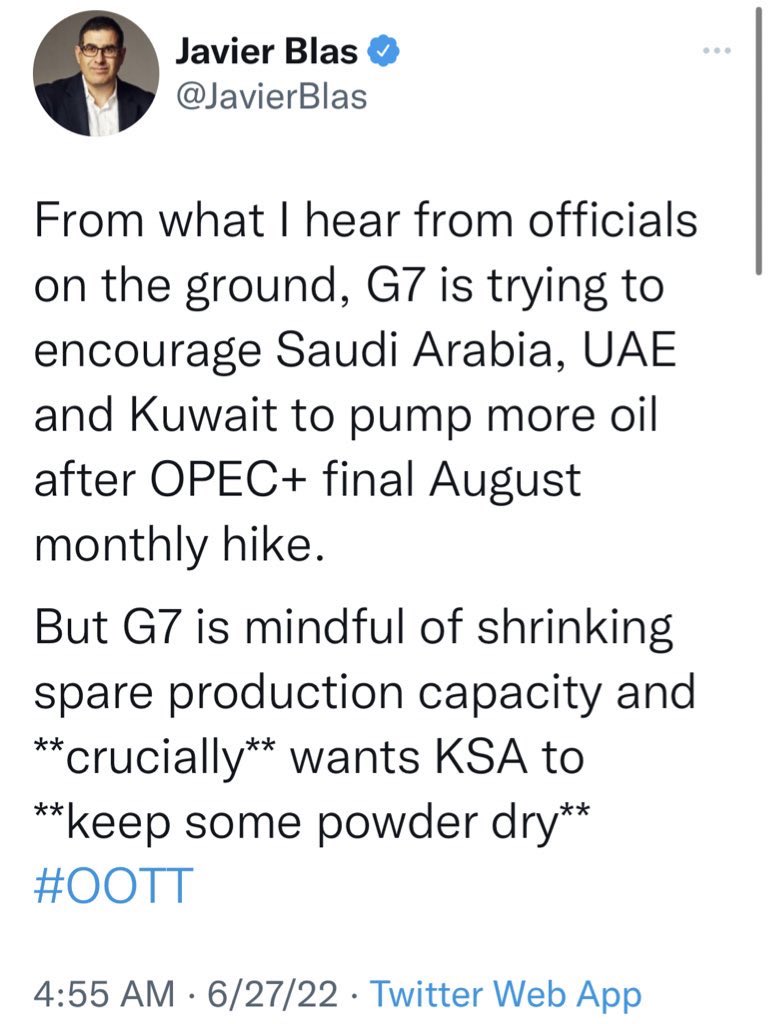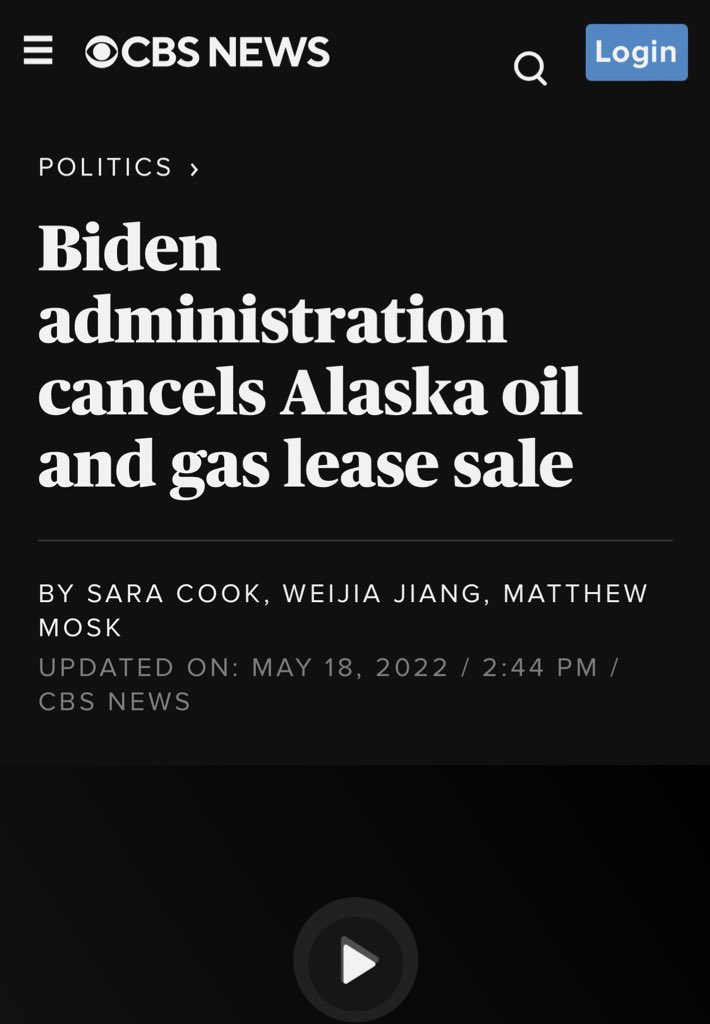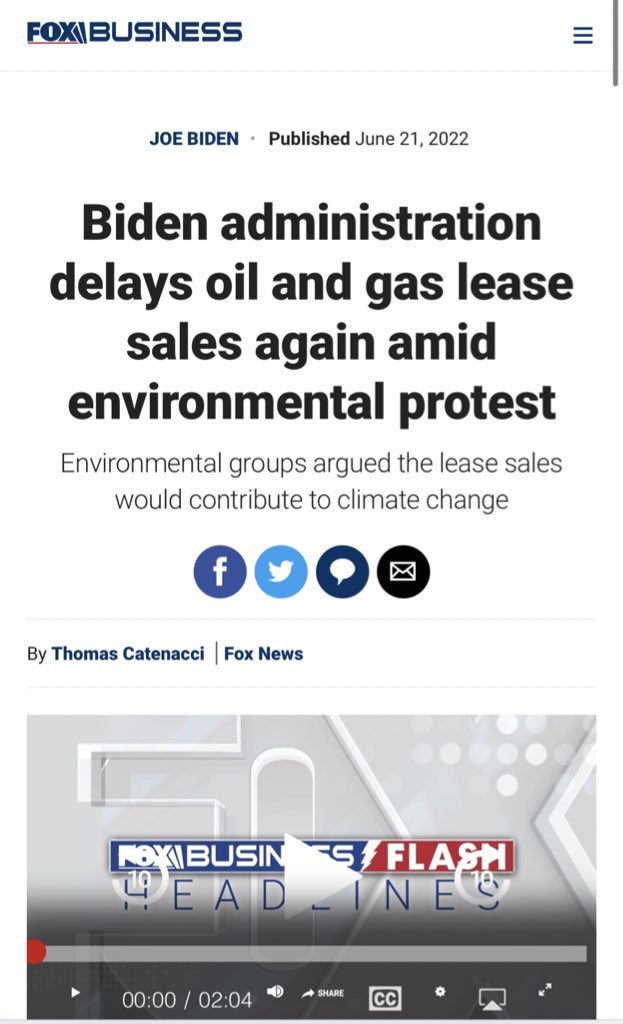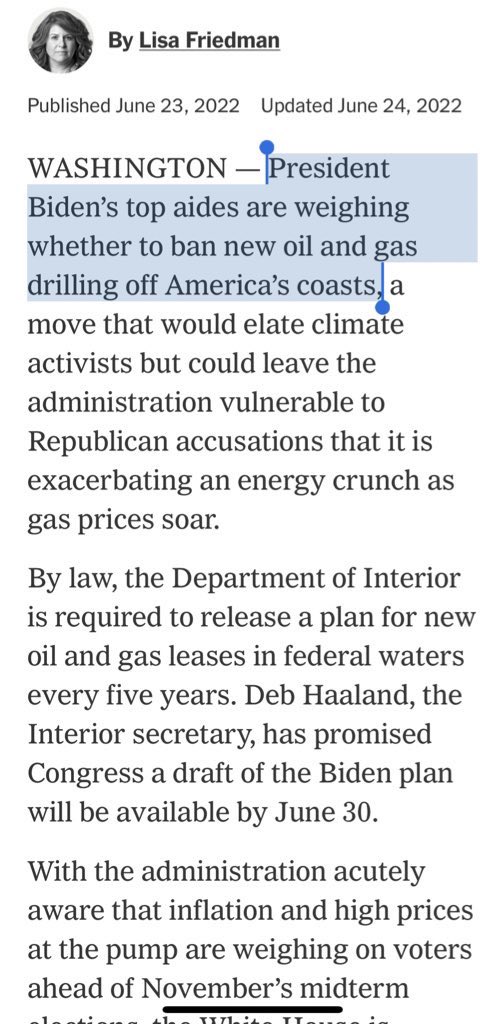 In fact, it's more insane than it looks. The reason is because OPEC is reaching the limits of what it can produce, the US will wind down releases from the Strategic Petroleum Reserve in October, and oil demand is poised to grow by a minimum of 1.5 billion barrels a day next year. pic.twitter.com/dYAzZG4b0g

— Michael Shellenberger (@ShellenbergerMD) June 27, 2022
It's true that higher oil prices will stimulate a supply response globally, but Arab nations are reaching their total production limits, sanctions on Russian oil remove a significant amount of oil from global markets, and now Biden is restricting supply growth in the U.S. pic.twitter.com/9Yvm9TTISO

— Michael Shellenberger (@ShellenbergerMD) June 27, 2022
In the past, restricting oil and gas production in the U.S. meant that it occurred elsewhere. The result was modestly higher prices. But the sanctions on Russian oil & the success of climate activists restricting O&G production in Africa make the supply crisis even more acute. https://t.co/tb6NYZ8DHF

— Michael Shellenberger (@ShellenbergerMD) June 27, 2022
Meanwhile…
Jack McEvoy: Is The Global Climate Agenda Dead? G7 Turns To Fossil Fuels Amid Energy Crisis
Max Keating: Biden's EPA Has America's Biggest Oil Field In Its Regulatory Crosshairs
The Pro-Abort "Catholics":
THAT was THEN…
FLASHBACK: Chuck Schumer on abolishing the filibuster.

They "want to turn what the Founding Fathers called the 'cooling saucer of democracy' into the rubber stamp of dictatorship … They want to make this country into a banana republic… It will be a doomsday for democracy…" pic.twitter.com/Qb2ttfkd7M

— Steve Guest (@SteveGuest) June 30, 2022
THIS is NOW…
Yesterday, Delaware leaders took action to safeguard abortion access and enhance protections for health care providers and patients seeking care in the First State.

I thank Governor Carney for this swift and necessary step to get women the care they need.

— President Biden (@POTUS) June 30, 2022
Twitchy: Joe Biden's WH steers public to abortion advice website featuring instructions for minor girls who don't want their parents to know
After the Supreme Court overturned Roe, the Biden White House is now referring the public to https://t.co/CpSZ3ETd7b.

— Philip Melanchthon Wegmann (@PhilipWegmann) June 28, 2022
The website the White House highlighted includes information for minors, children "15 or younger," on how they can bypass parental notification laws. https://t.co/7vbKofIY7K

— Philip Melanchthon Wegmann (@PhilipWegmann) June 28, 2022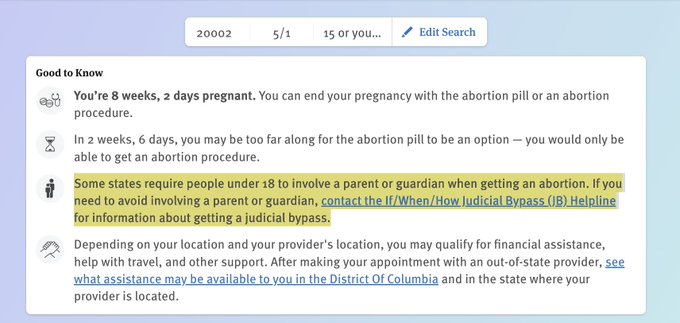 And when parent(s) have to grab their health insurance card as they call EMTs or run minor Buffy to the ER bleeding out & in acute pain & spiking a temp of 105 & the ER Dr/NP ask how'd this happen that'll be a F-ing fantastic referral to brag about esp when the copay bill comes.

— Maggie (@drillanwr) June 29, 2022
PS: Are these Biden gov-referred abortion providers exempted from lawsuits like the big pharma vax companies are?

— Maggie (@drillanwr) June 29, 2022
Anders Hagstrom: CHANGING THE RULES – Biden announces his support for ending the filibuster to pass legislation protecting abortion access: Biden called the Supreme Court abortion decision overturning Roe v. Wade 'outrageous'
Biden: "[T]he one thing that has been destabilizing [the world] is the outrageous behavior of the Supreme Court of the United States in overruling not only Roe v. Wade, but essentially challenging the right to privacy." pic.twitter.com/HUuJlOktOH

— Curtis Houck (@CurtisHouck) June 30, 2022
The context was Biden was asked by an AP reporter about what he'd say to those who don't believe "America is back" and leading the world forward

— Curtis Houck (@CurtisHouck) June 30, 2022
Apology tour, 2.0

Get him the f-ck out of here https://t.co/vyA1yZepzg

— John Smith (New) 🇺🇲🇺🇲🇺🇲🇺🇲 (@JohnSmithNew2) June 30, 2022
Biden is on foreign soil aggressively trying to delegitimize American institutions for the purpose of advocating unrestricted late-term abortions.

— Stephen Miller (@StephenM) June 30, 2022
He's preaching to countries that basically STILL have far stricter abortion regulations that the US in individual state status. He's a filthy lying idiot. pic.twitter.com/OZqNN3R37Z

— Maggie (@drillanwr) June 30, 2022
Meanwhile, the pro-abort child-shover visits Pope Frank…
Steven Ertelt: Radical Abortion Activist Nancy Pelosi Meets With Pope Francis, Receives Communion
FNC: 'The Five' co-host Jeanine Pirro questions AOC's Constitutional knowledge of the Supreme Court's job: She reacts to Rep. Ocasio-Cortez's comments on SCOTUS abortion decision (w/VIDEO)
Dave Urbanski: Adam Kinzinger calls out 'Christian Taliban,' says Lauren Boebert being 'tired' of church-state separation is what real Taliban believes
Crime Amuck:
Danielle Wallace: 'HORRIFIC CRIME' – Suspect in NYC shooting of 20-year-old woman pushing baby stroller on Upper East Side at large: Woman shot on Upper East Side from 'point-blank' range just blocks from New York City mayor's mansion
Monica Showalter: Another shocking random killing in Manhattan, and Eric Adams blames the gun
Tina Moore, Jack Morphet, Joe Marino, Kevin Sheehan and Gabrielle Fonrouge: Young mom shot dead on Upper East Side victim of domestic violence: cops
The victim, identified by her mother as 20-year-old Azsia Johnson, texted relatives that she had been planning on meeting her infant's dad on Wednesday night, according to the sources.

"She was targeted. It was a close head shot and there were powder burns," a high-ranking police source said.

Johnson had been assaulted by her ex-boyfriend in Jamaica, Queens, about six months ago while six months pregnant with his child, her heartbroken mom, Lisa Desort, told The Post.

Following the altercation, Desort said, the ex-boyfriend continued "stalking" and harassing her daughter. They called police for help, but he was not arrested, she claimed.

"We called the precinct numerous times to tell the [domestic violence] unit that he was stalking and harrowing her. Even [though] they knew what apartment he lived in, they failed to apprehend and arrest him," the mom continued.

"The city failed to protect my daughter."

The NYPD didn't immediately return a request for comment. Law enforcement sources confirmed Johnson had previously been the victim of a domestic violence incident, and that her shooting death was "domestic" in nature…
Emma Colton: Former NYC top cop says his own wife was assaulted in Manhattan in broad daylight amid rising crime: Bratton has served as New York City's police commissioner twice across his career
Semper Fi and RIP, Sir:
UPI: Last surviving WWII Medal of Honor recipient Hershel Woodrow Williams dies at 98
MORE:
As usual, the leftist dems do not need or want anything to do with evidence, facts and/or data…
Tim Meads: January 6 Committee Member Admits Star Witness' Evidence Is Hearsay, No Corroborating Evidence
Twitchy: Jan 6th Committee member Rep. Jamie Raskin falls APART under basic questioning from Jake Tapper on Hutchinson's testimony (watch)
Rachel Alexander: Move Over J6 Protesters, the Left is Back Outdoing You With Violence: Two standards of justice.
NY's Gov. Hokey…
Anne: Do you have numbers to show that it's the concealed carry permit holders that are committing crimes?

Hochul: I don't need to have numbers. I don't need to have a data point to say this. I know that I have a responsibility for this state to have sensible gun safety laws. pic.twitter.com/NiCp7POO88

— Anne McCloy (@AnneMcCloyNews) June 29, 2022
Translation: "I don't need no stinkin' facts to back-up the bullskutt I'm spewing. I've got feelings and that's what I operate on … what we ALL should make laws on! Data? I spit on your data…" https://t.co/TuDSJMhnhH

— Maggie (@drillanwr) June 30, 2022
Anne McCloy: Hochul won't allow NYS to become "Wild West", defends new proposed limits on conceal-carry
When 'facts and data' get in the way of 'feelings'…
Michael Lee , Emma Colton: SAFE HAVENS – States with higher rate of gun ownership do not correlate with more gun murders, data show: Lawmakers and gun control advocates are calling for stricter gun laws following a series of mass shootings
Andrea Widburg: Tucker puts together the long list of political arrests in Biden's America
Robert Spencer: Twitter is Just Fine With Calls to Assassinate Justice Thomas: What malicious inconsistency looks like.
Margot Cleveland: Joe Biden's Voicemail To Hunter Means It's Time To Appoint A Special Counsel: This latest development in the Biden family pay-to-play scandal provides further proof a special counsel is needed to oversee the ongoing criminal probe.
~~Many thanks to Maggie and The Universal Spectator for reprint permission.