Posted by Maggie on November 8, 2022 in General News
I awoke at 4:00am and wondered if clouds had moved in overnight to obscure my ability to see the "Blood Moon" total eclipse. These celestial events usually are obscured for me in my area. Not this time. My weather app told me it was cloudy out and I really couldn't tell from eastern view out my bedroom window. So, I got up, put on my boots and coat and went to my kitchen door to step outside and see stars in the sky, no clouds. I looked around the corner of the house and there was the red moon in the process of its lunar eclipse hanging in the western sky of my front yard. It was just above 'freezing' this morning here in NE Ohio, so, I came back in for warmer layers and woke my husband to join me in our driveway. I took several photos with my iPhone over the course of two hours. This is the best total eclipse blood moon my iPhone could do at just before 6:00am in west above my neighbor's house. The moon was actually even darker than depicted here. It doesn't help all the homes on my street have outside security lights. When I get a new phone it needs a better camera! We were able to see some super bright stars and even a faint Milky Way band or two. Anyhow, as I looked high into the twinkling of God's candles in the endless lonely darkness, I said a prayer for the best outcome as possible today for the elections in order to halt the rabid insanity being inflicted on this nation. God, please help us to help ourselves. That's sincerely all we ask, Lord.
There are a couple of things we need to get absolutely clear right now.
1.) When you hear somebody, especially a leftist/democrat, bemoaning this is "a fight for the soul of this nation," guard like Hell your soul, folks, and remember these are the same damn people that sharpen their claws whenever there is a Christian (of any stripe) political candidate, or Justice/judge nominee, and frantically warn of a "theocracy" should these candidates gain a seat in the chamber(s). These are the same people that just decades ago demanded "don't hang your morality around my neck." And their messiah constantly chided us "This is not who we are" whenever there was opposition to what was being crammed down our collective throat/mind. O'Holy Bama is still at it…
The kind of slash and burn politics that we're seeing right now, that doesn't have to be who we are. We can be better – and your vote tomorrow will help us get there. pic.twitter.com/e8LclYphIK

— Barack Obama (@BarackObama) November 7, 2022
Oh, there's that smug superiority "not who we are" claptrap again.

— Maggie (@drillanwr) November 8, 2022
2.) Which brings me to … Understand that the dems/left are using the recent SCOTUS ruling on "Dobbs", which did not outlaw abortion. It put the matter back into the states where it belongs. This alleged "right" is not in the U.S. Constitution, therefore is the responsibility of each individual state to write in detail, present to the state's citizens, and then put it on election ballots for the people to vote on. The left's obsession of abortion is quite telling. They are insisting that this one issue outweighs all things you are deciding on as priorities for you and your families, not our economy or ability to work and provide for ourselves and our families, what our children are exposed to as "education" but is seriously just cultural indoctrination. We are being told/bullied into accepting the racist/gender/sexual social-construction BS. But yet, they predicate their exasperated imploring of the plebe masses to vote for democrats, not for republicans, on killing unborn babies and back it up with this unhinged crap …
Twitchy: Jimmy Kimmel taps his wife — and young kids' mom — to beg Americans to vote blue to protect abortion
Jimmy Kimmel's wife, Molly, appears during last night's monologue to give a sermon on the need to vote for pro-abortion candidates: "Sorry are you expecting this to be funny, because it's not going to be funny." pic.twitter.com/jyLNh59U39

— Tom Elliott (@tomselliott) November 8, 2022
Isn't this the bloke that just a couple years ago was crying on TV about his sick newborn son? And here are the child's parents promoting abortion. Begs a question I could propose but won't.

— Maggie (@drillanwr) November 8, 2022
Can you imagine the 'question' I would propose to the Kimmels? Do you see the hypocrisy and irony here?
And then there is this unmitigated witch in New York …
3.) They keep breathlessly frothing at the mouth while warning that if democrats do not prevail against the projected 'red wave,' well then, "democracy" is dead. Period!!! Shut out the lights. Lock the door. Uh-huh …
Paul Joseph Watson: Analyst Warns "There Probably Won't be an Election" in 2024: Martin Armstrong claims the United States won't exist after 2032.
… While we have rejected their version of the meaning of the word "democracy" we also must thoroughly recognize and understand what's really going on behind their words. They (dems/leftists/MSM) are very actively in the process of fulfilling Barack Obama's vow to "fundamentally transform," and that means blowing-up our actual status of a Constitutional Representative Republic, not a "democracy." In 2016 Hillary Clinton was supposed to win the election Obama and the DNC/MSM had set her up for and continue his agenda, but she didn't win, thankfully, and Trump won and dragged us back from the anti-American(s) precipice Obama had set up for us. Cuba calls itself a democracy. Venezuela calls itself a democracy. China and North Korea argue they are democracies. Why? Because they hold "elections" (even if it's just one name selection on the ballot). Other than that, their peoples can just suck-it and do what they're told, including who they vote for under penalty of something really bad happening to them. We, the U.S.A., DO NOT ever want to be a "democracy." Ever.
When I was a kid they called themselves the "Democrat Party". About 20yrs ago I noticed they began insisting it's the "Democratic Party". I guess after they lose today it'll be changed to the "Democracy Party". https://t.co/d2d7xxi9Br

— Maggie (@drillanwr) November 8, 2022
The drum major in this parade of horribles has been President Biden, who was widely criticized for his earlier speech denouncing political opponents as fascists plotting to overthrow democracy.
Biden returned to this theme in his "final warning" to voters. https://t.co/CRYlXkdEeq

— Jonathan Turley (@JonathanTurley) November 7, 2022
…The Democrats' democracy-or-death mantra is not just demagoguery. It is defamation of a constitutional system that has proven itself, time and again, to be up to any challenge. Democrats indeed may be in danger in this midterm — but democracy is not.

— Jonathan Turley (@JonathanTurley) November 7, 2022
Globalist puke-puppet says what, Brandon…
If we lose the House and Senate, it's going to be a horrible two years," Biden told the small crowd gathered inside a hotel ballroom, where cameras weren't allowed. https://t.co/Pm57oNbvEw

— CNN (@CNN) November 8, 2022
FNC (LIVE UPDATES link): MIDTERM MANEUVER – How a Dem-run city's last-minute rule change could slow down the vote-counting process
Philadelphia imposes last-minute election change that will slow down vote count

Philadelphia officials voted Tuesday morning to impose a last-minute rule change that will draw out the vote-count process.

The city's three-member elections board voted 2-1 in favor of imposing poll book reconciliation, a lengthy process intended to prevent double votes, the Philadelphia Inquirer reported Tuesday. The reconciliation process would flag any mail-in ballots from voters who also cast ballots in person.

City commissioners made the eleventh-hour decision at a 7 a.m. meeting on Tuesday. The board is comprised of two Democrats and one Republican . The Republican voted in favor of the change, along with one of the Democrats, while the second Democrat objected.

Posted by Ronn Blitzer
Chris Enloe: John Fetterman's campaign is already legally challenging certain ballots: 'We are committed to using every tool at our disposal'
A poll worker says 25 percent of ballots were misread on one tabulator…

BREAKING: Votes in Key Arizona County Are Being 'Misread' https://t.co/hrKXFzLDAE

— Katie Pavlich (@KatiePavlich) November 8, 2022
Twitchy: Katie Pavlich reports 25% of ballots were 'misread' in KEY Arizona county
Twitchy: Harmeet Dhillon shares KICK-A*S thread for Maricopa County voters where 'tabulators aren't working'
CNN on Maricopa County, AZ, tabulation issue:

"Teams are taking those problem ballots to the county's election center where they will be counted…No one is being disenfranchised. All those votes, all those ballots will be counted." pic.twitter.com/WXZ8mI7w6x

— Townhall.com (@townhallcom) November 8, 2022
Oh, well, hey … I feel better.///

— Maggie (@drillanwr) November 8, 2022
ELECTION 2022.🗳️🚨

This just in: Pennsylvania Judge allows ballots to count that are received up until November 14th. This is unconstitutional.

— Kyle Becker (@kylenabecker) November 8, 2022
Katie Meyer of Spotlight PA: Philadelphia makes late change to its vote-counting plan for 2022 Pa. election after GOP challenge
The game plan seems to be: wait until we know the results, then make up the difference with fraudulent mail-in ballots before the unconstitutional Nov. 14th deadline.

— Marty Gatz (@DillGatz) November 8, 2022
I LOVE this man…
ABC News: Justice Department to monitor voting rights across 24 states: The Justice Department is sending monitors to 24 states in an effort to ensure compliance with federal voting rights laws in the midterm elections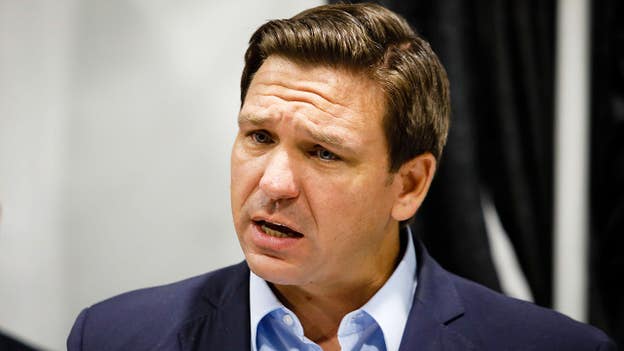 Brianna Herlihy: ACCESS DENIED – DeSantis bans Justice Department from putting certain monitors inside polling places
DeSantis administration says federal poll monitors 'not permitted' at Florida polling sites

The DeSantis administration warned Biden's Department of Justice late Monday that federal Election Day poll monitors are "not permitted"  inside polling places under Florida law, and said Florida will send its own monitors to "ensure there is no interference in the voting process."

On Monday, the DOJ released a list of 64 jurisdictions within 24 states in which the department plans to send attorneys to "monitor for compliance with federal voting rights laws" on Election Day. Included in that list are Broward, Miami-Dade and Palm Beach counties in Florida.

Brad McVay, general counsel to Florida's Department of State, told the Civil Rights Division of the Justice Department in a Monday letter that the DOJ "seem[ed] to indicate" that these monitors will be placed inside polling places. However, he said that is not permitted.

"Section 102.031(3)(a) of the Florida Statutes lists the people who 'may enter any polling room or polling place,'" McVay wrote. "Department of Justice personnel are not included on the list."
Ace: Gestapo DOJ Sends Election Meddlers to 24 States; Ron DeSantis Tells Them They Are Forbidden to Enter State Polling Places
Know who else sends centralized government authorities to "monitor" election polling places? "Democracies" like Iran, China, Cuba, Venezuela, North Korea…
And count on the dem's MSM to set the stage for post-election…
This symbol is in reference to the 2020 election steal the democrat districts did in the dead of night after polls closed and the votes were being 'counted'. And ABC News leads the way…
A "red mirage," or an artificial GOP vote lead, will likely reoccur Tuesday. https://t.co/tagIbNJscC

— ABC News (@ABC) November 7, 2022
Thanks for admitting that happened November 2020. I guess "here we go again 😉😉" means you think we're stupid 🙄

— SeldenGADawgs (@SeldenGADawgs) November 8, 2022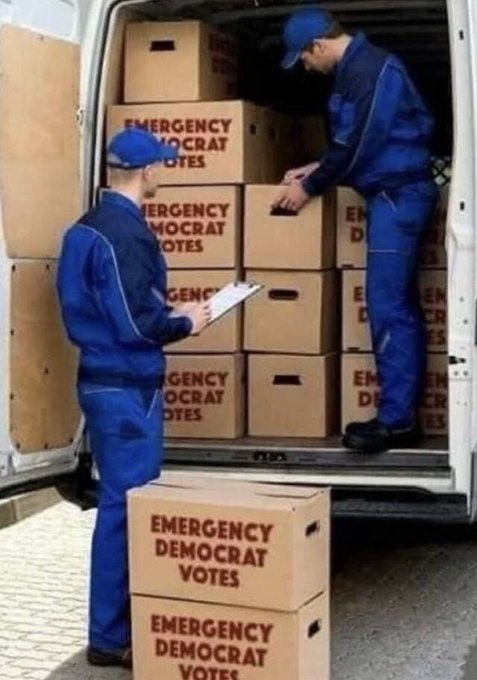 imgflip.com
Many states don't allow mail-in ballots to be counted before Election Day.

But many races can't be called until mail-ins are counted, which can take over 24h.

This is normal, but some GOP are laying ground to claim any race not called tonight is suspicious. Don't fall for it.

— Alexandria Ocasio-Cortez (@AOC) November 8, 2022
It's not normal. This started in 2020. Stop lying to people. You are degrading our Republic and turning us into a third world country.

— Collin Pruett (@pruett_collin) November 8, 2022
It wasn't normal before 2020 in the USA lol but it has always been normal in third world nations.

— Styxhexenhammer666 (@Styx666Official) November 8, 2022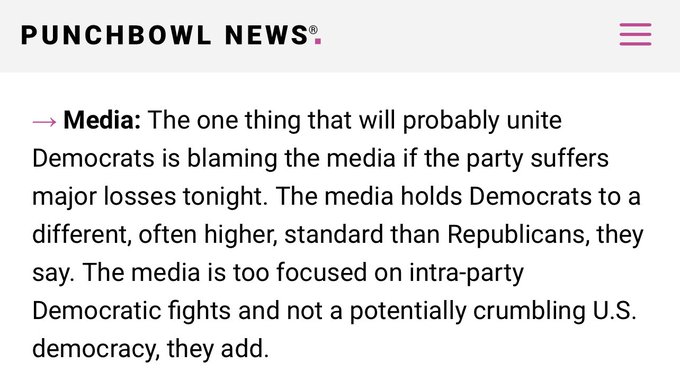 Divorced from reality pic.twitter.com/25sL2PxnQj

— Ryan Saavedra (@RealSaavedra) November 8, 2022
Twitchy: Punchbowl reports that Dems will blame media for election losses because media are *too nice* to GOP
Kevin Downey, Jr: The Top Five Excuses Democrats Will Use When They Get Annihilated on Election Day
MORE:
Kerry Picket: Hochul accuses Zeldin of 'hyperventilating' about crime in New York
Democratic Gov. Kathy Hochul claims her GOP challenger Rep. Lee Zeldin is "hyperventilating" over the crime problems in the state.

During a campaign stop Monday at the 72nd Street subway station in Manhattan's Upper West Side, Mrs. Hochul said Mr. Zeldin has been "trying to scare people for months" over the crime issue.

"And New Yorkers are on to it," the governor said. "All the legitimate media organizations have called him out for what he is doing — fear-mongering," she said. "That's not just here in New York. That has been the Republican playbook all across this country."

Asked by The Washington Times why her campaign has taken a "mocking tone" with New Yorkers who have experienced legitimate fear about crime in the city, particularly in the subways, Mrs. Hochul called that "an absurd assessment."

"We have been in the subway," she said. "I stood there with Mayor Adams just a few days ago, talking about an intelligent plan, not just to scare people to say that's over here. And you can scare people, but I'm working on a real solution," referring to her announcement with Mr. Adams in late October known as the "Cops, Cameras, Care" initiative…
Are we supposed to infer that since she and the Mayor weren't assaulted while in the subway that it's ridiculous to believe the subways aren't safe? Because I'm pretty damn sure both she and Adams had more than enough armed law enforcement with them to scare-off anyone looking for trouble. Just sayin', Kath.
Joe Borreli: Lee Zeldin can win NY's governor race — you just need to turn up and vote
VIDEO: New York gubernatorial candidate Lee Zeldin (R) sends Election Day message to New York voters: 'We have to work together to save the Big Apple' and addresses key issues concerning to New York voters and responds to attacks against MAGA Republicans.
The crime is rising in mostly dem-run cities, even if the left wants to claim some are "in red states" they are in dem-run cities…
I&I: FBI Buries the Data on Murder Rates
Based on a misunderstanding of new FBI data, NewsNation is reporting that 14,677 murders occurred in the U.S. during 2021, a supposedly large decline from 2020. In reality, that figure is far from complete, and comprehensive records from death certificates show that about 24,493 people were murdered in 2021. This is about:

1,000 more murders than in 2020.
6,000 more murders than in 2019.
10,000 more murders than NewsNation reported.

Murders have become so common over the past two years that if the murder rate remains at the 2021 level, one out of every 179 people in the U.S. will eventually be murdered. Yet, certain politicians and media outlets are downplaying this bloodshed, while others are blaming it on Covid—a claim at odds with the facts…
Carlos Garcia: Rob Schneider's message to Californians leaving for other states goes viral: 'Don't vote the same way to replicate the same s**t' … Ice! Cold! Hard! TRUTH!!!
Alex Nitzberg: 'I recommend voting for a Republican Congress': Musk urges 'independent-minded voters' to back the GOP during midterms
Actor Rob Reiner tells Joy Reid that Republicans are 'literally killing' people to win the midterms and that this will be our last election.

She nodded along.https://t.co/RUgfPe5Alp

— OutKick (@Outkick) November 7, 2022
Twitchy: When Rob Reiner even out-CRAZIES Joy Reid on her own show you KNOW it's popcorn-worthy (watch)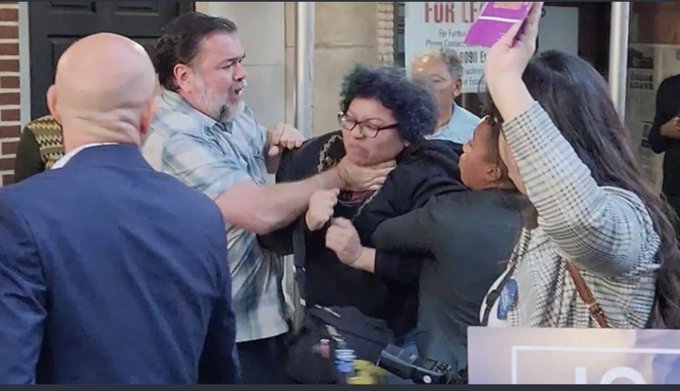 On Saturday a NYC Councilmember Crystal Hudson (D) held a woman's arm while another man choked her because the woman was carrying a sign with a political message Hudson didn't approve of. The silence from the NY media & Democrats about this thuggish behavior has been deafening. https://t.co/uHHjW89jHD

— Izengabe (@Izengabe_) November 7, 2022
Breitbart: Watch: Lee Zeldin Supporter Choked by Man at Kathy Hochul Rally, Grabbed by NYC Councilwoman: A female protestor attending a rally for Gov. Kathy Hochul over the weekend in Manhattan was choked by a man and grabbed by a New York City councilwoman, according to footage of the altercation.
Joseph MacKinnon: Federal court orders release of imprisoned True the Vote leaders who claimed China-linked Konnech committed the crimes for which it has now been charged
Emma Colton: New York voters in one county rush to polls to get viral 'dystopian rainbow spider' voting sticker: The stickers are 'getting people to come out,' one election official says
Joseph Curl: Biden's Avuncular Façade Barely Hides His Anger At The Media — And The 74 Million Americans Who Voted For The Other Guy
Twitchy: With our Democracy on the verge of collapse, the White House sends Joe Biden into hiding
~~Many thanks to Maggie and The Universal Spectator for reprint permission.