Posted by Maggie on September 20, 2022 in General News
Yeah! Me too!
A small snapshot of a mommy Facebook group I'm in: https://t.co/NrFAxy5b0A pic.twitter.com/8fnw1k7Xyq

— Bethany S. Mandel (@bethanyshondark) September 20, 2022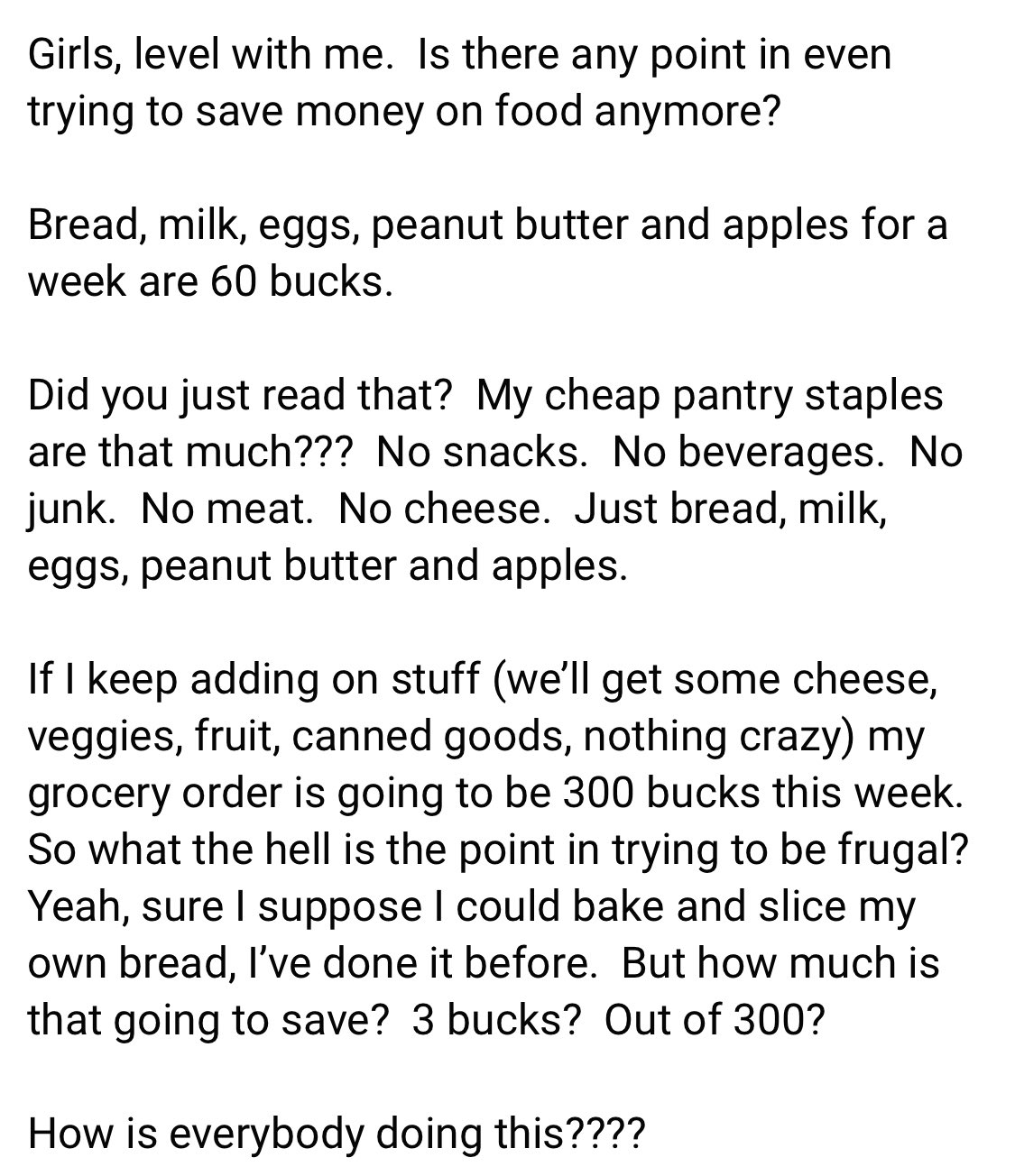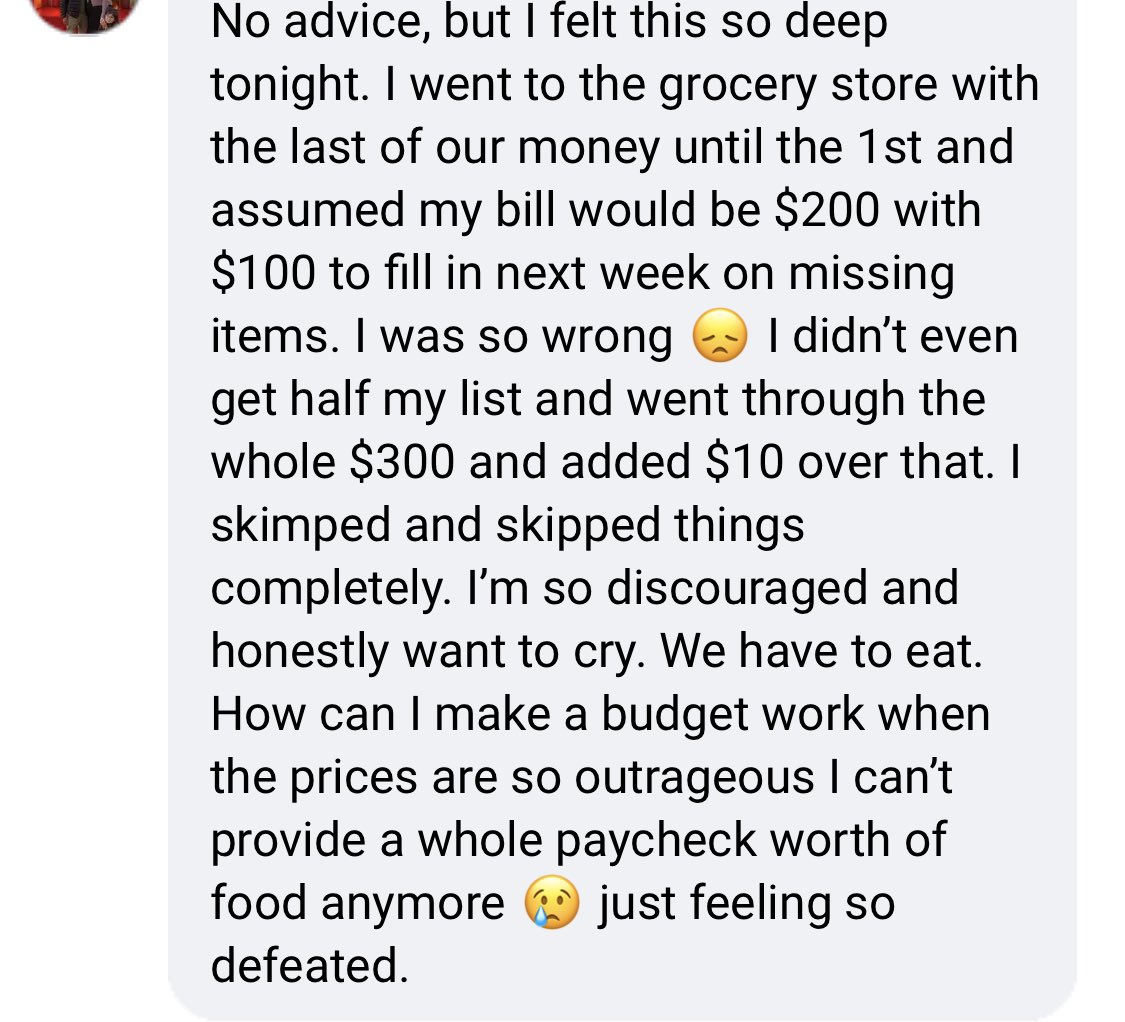 how many of those moms voted to get rid of mean tweets?

— Richard Weatherly (@Richard35357549) September 20, 2022
Indeed…
Joe Biden doesn't seem to remotely understand how bad inflation is for average Americans. Grocery costs were up 13.5% over last year for example. He's acting like forty year high inflation is no big deal. Crazy. pic.twitter.com/u7KBrwloZU

— Clay Travis (@ClayTravis) September 19, 2022
All the World are in an Economic Apocalypse:
The GND Takes the World Back to the "Game of Thrones" Dark Ages…
I am sick and tired of trickle-down economics. It has never worked.

We're building an economy from the bottom up and middle out.

— President Biden (@POTUS) September 20, 2022
"We're building an economy that's bottoming out."

FIFY, Joseph.

— AdamInHTownTX (Not a Biologist) (@AdamInHTownTX) September 20, 2022
VIDEO: Stuart Varney: The economy 'is going to get worse'. Biden tone-deaf about the economic issues the average American is facing
Ben Zeisloft: Biden Economic Czar Claims White House Is Reducing The Budget Deficit
Terence P. Jeffrey: Median U.S. Household Income Dropped 2.8% From 2019 to 2021
Megan Henney: Inflation could soon push you into a higher tax bracket: What to know: IRS to release adjustments for federal income tax brackets later this year
VIDEO: Global recession prediction seems 'very valid': Market expert: TJM Institutional Services managing director James Iuorio says the real 'damage' won't show up in CPI data for another six months.
Europe this winter. US next winter? BTW, Germany and Europe, Pres. Trump was right … Who's laughing now?
Brian Evans: 'Firewood is the new gold' – prices and theft jump in Europe as Russia's gas cutoff boosts wood demand ahead of winter
Jack McEvoy: Biden Admin To Continue Draining Oil From Strategic Reserves Through Election Day
Rick Scott, Evan Hafer: Woke Wall Street is in for a reckoning: Wall Street's ESG is the slippery slope to a Chinese-style social credit system
Gone in 60 Minutes Brandon:
NEW: Joe Biden told us on 60 Minutes yesterday that those who think he's not mentally fit to be president should "watch me."

America has been watching, Joe, and we've seen enough.@XStrategiesLLC pic.twitter.com/Au8ua92aYL

— Greg Price (@greg_price11) September 19, 2022
"Look man, I've got the mental acuity of a seven-year-old and the physical fitness I've had since I first went into the Senate 150 years ago."
KJP: "The president said, and he was very clear in his 60 Minutes interview, that COVID remains a problem and we're fighting it."

Biden in his 60 Minutes interview: "The pandemic is over." pic.twitter.com/3kZKBCuSGy

— Townhall.com (@townhallcom) September 20, 2022
Gabriel Hays: White House ridiculed after walking back Biden's statement that pandemic is over: 'He is not in charge': Ted Cruz mocks Biden: 'Like clockwork. Biden's handlers are out in force'
Taylor Penley: Wall Street Journal editorial board calls out Biden for COVID comments: He wants it 'both ways': Biden claimed the COVID-19 pandemic is 'over' during an interview on CBS' '60 Minutes'
Business Booming on Biden's Broken Border: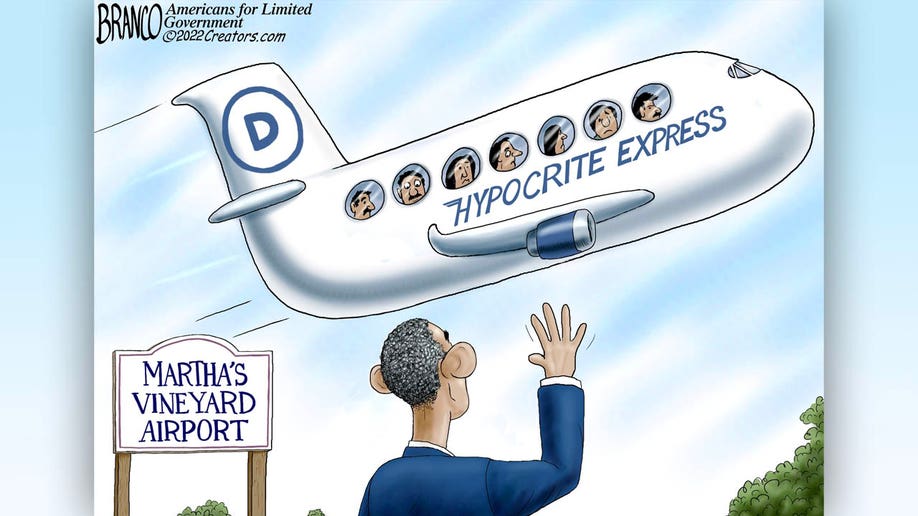 Reporter: "Why is the border more open than ever under your watch?"

Biden: "There are fewer immigrants coming from Central America and Mexico. This is a totally different circumstance." pic.twitter.com/hMOoXbsg4R

— Greg Price (@greg_price11) September 20, 2022
Well, that's what happens when most of those folks that are coming are, like, already here … and when you add countries around the globe now in the numbers, Joe.
VIDEO: Former Acting DHS Deputy Secretary Ken Cuccinelli on the Biden border policy being based off political pressure, not deterring migrants. CBP reports over 200,000 migrant encounters in August
Nicholas Ballasy: Border patrol seizes drugs, nabs gang members, sex offenders as immigration arrests top 2M for year: In one single week, U.S. Border Patrol agents "arrested 14 gang members, two sex offenders, and a migrant previously convicted of possession, theft, and driving while intoxicated."
Ryan Saavedra: DeSantis' Office Issues Blistering Response To Democrat Sheriff Who Launched Probe Into Flights
Ace: Air DeathSantis Has a Flight Today, Direct From Miami to Joe Biden's Beach House in Delaware
Melanie Arter: Law Professor Jonathan Turley: If Transporting Migrants Is Illegal, 'Biden Would Be the Biggest Coyote Ever'
Hank Berrien: Calling Biden: Number Of Arrests Of Illegal Immigrants Reaches Record One-Year-High
The Corruption of the Corrupted: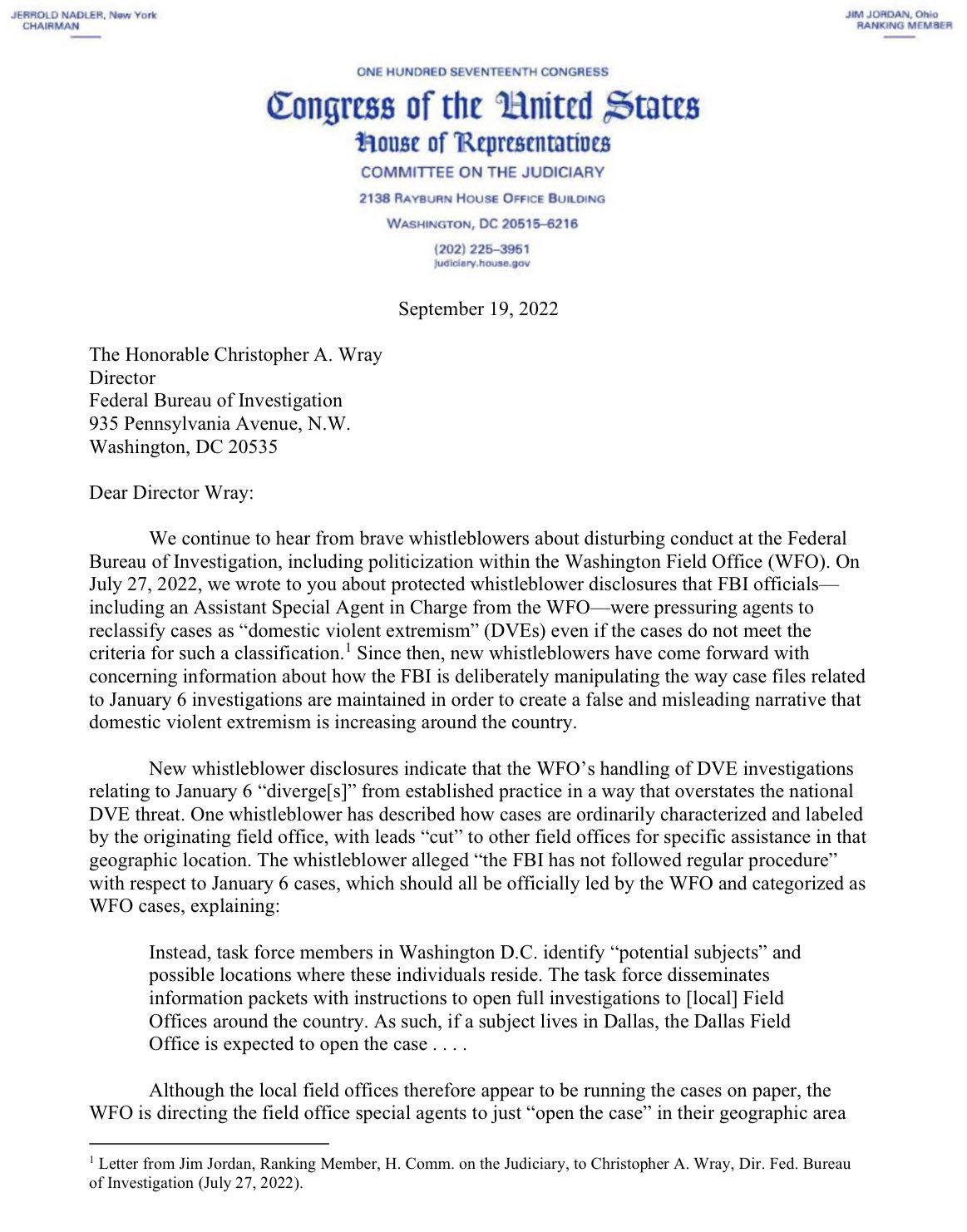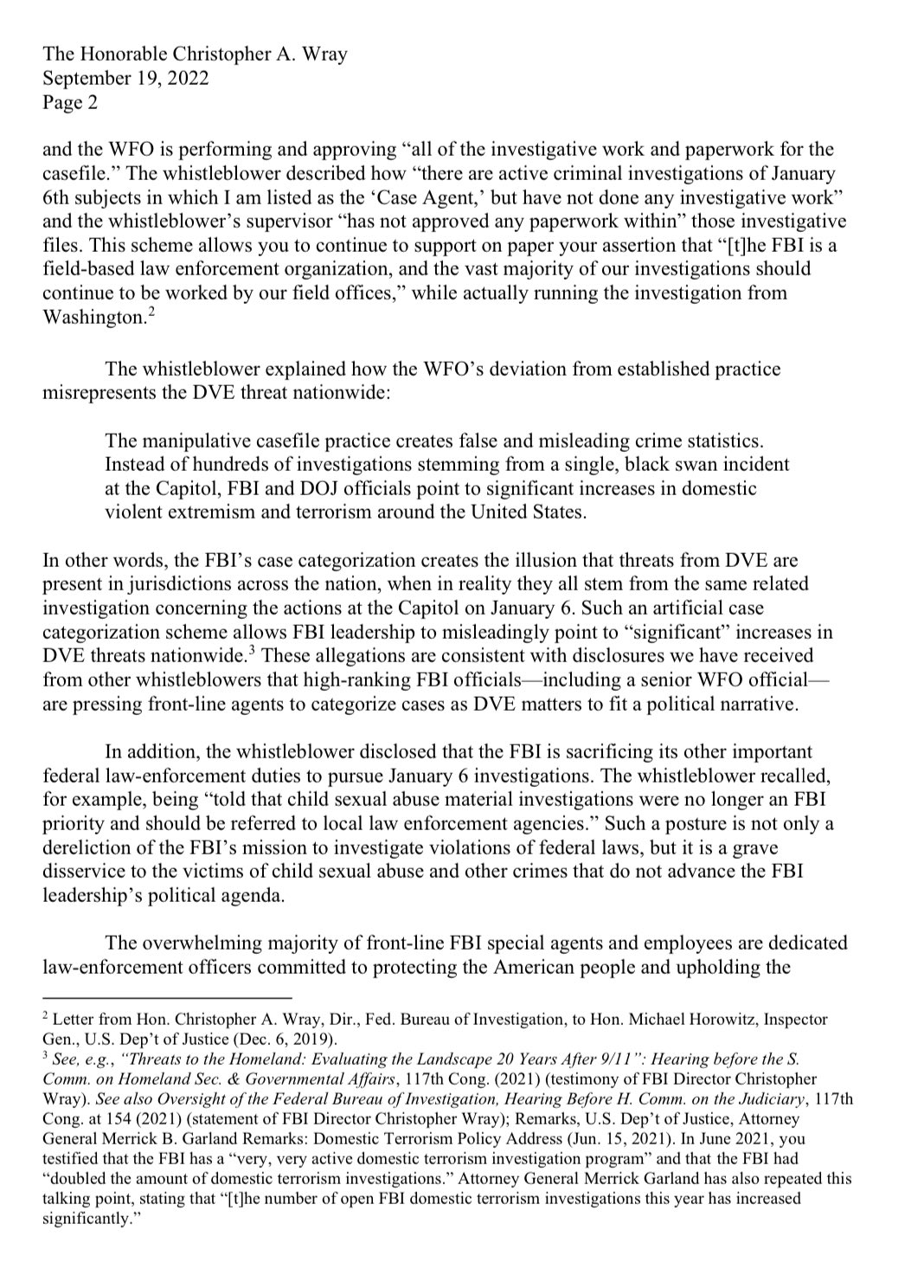 #BREAKING: New whistleblower information reveals that the FBI is moving agents off of child sexual abuse investigations to instead pursue political investigations.

The whistleblower recounted being told that "child sexual abuse investigations were no longer an FBI priority." pic.twitter.com/EBXrnVWhO6

— House Judiciary GOP (@JudiciaryGOP) September 20, 2022
The whistleblower described how a "manipulative" practice by the FBI overstates the DVE threat nationwide by categorizing Jan 6-related cases as originating in field offices around the country rather than "stemming from a single, black swan incident" in Washington, D.C.

— House Judiciary GOP (@JudiciaryGOP) September 20, 2022
John Solomon: FBI whistleblower alleges Jan. 6 cases manipulated to create illusion of national crisis: Lawmaker says FBI shift in focus is coming at the expense of other crimes, including child sex exploitation.
Twitchy: Well, well WELL: New FBI whistleblower seems to VINDICATE those crazy, conservative, conspiracy theorists out there (screenshots)
On top of everything else, not sure many are considering how this country looks if half the population views the FBI as the enemy of the people.

Game this out. FBI agent shows up at your door today asking for help/info on something unrelated to you. You helping? https://t.co/Uguq8MJ0Ou

— Jesse Kelly (@JesseKellyDC) September 20, 2022
From Social to Anti-Social to Sociopath Media:
Twitter, Facebook, Google, Yahoo all have more power of election interference than any Republican law for voter ID. Just be honest about the Authoritarian moves. #BidenWorstPresidentInHistory

— ██████████ (@SeptembersRain) September 20, 2022
Beege Welborn: Facebook reportedly sharing private IM conversations with FBI as "leads"
VIDEO: Turley: 'Enormously important case' over social media censorship
Aislinn Murphy: Twitter, Musk legal teams reportedly deposing Jack Dorsey: Musk first sought to end his bid to buy Twitter in July
At 1:00 this afternoon Twitter "locked" my Twitter account for 11+ hours for me tweeting a reply under a tweet with this Canadian male shop teacher…
Viral images of a trans teacher wearing oversized breasts that sag to the waist have been investigated by @ReduxxMag. The tech teacher is "Kayla Lemieux," of Oakville Trafalgar High School in Ontario, Canada. The school stands by its teacher. https://t.co/jtBWfpIhyN

— Andy Ngô 🏳️‍🌈 (@MrAndyNgo) September 17, 2022
My reply tweet: "I hope his back and shoulders are k*lling him."
Any woman with larger than a 34C knows exactly what I was referring to.
WARNING: AFP social media FACTCHECKER!!!
🗳️ Did King Charles III proclaim Donald Trump the winner of the 2020 US presidential election?

No, that is false — this image shows the monarch signing an oath to uphold the security of the Church of Scotland https://t.co/yPEElEje4q pic.twitter.com/5EN9Kj6qeK

— AFP Fact Check 🔎 (@AFPFactCheck) September 19, 2022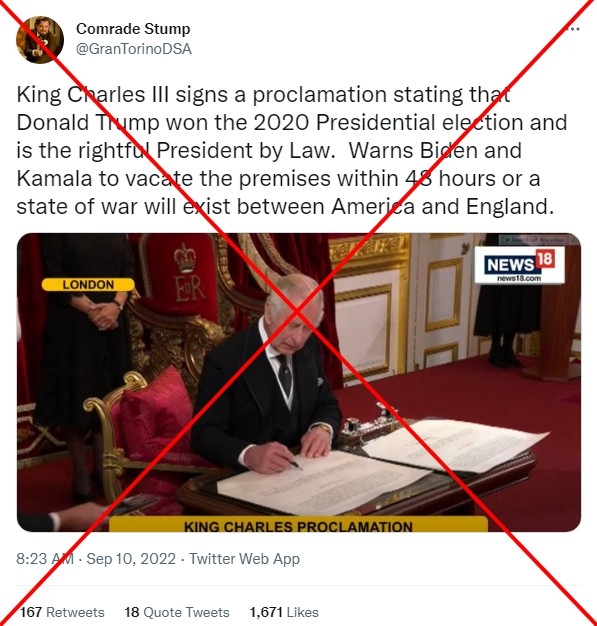 Brandon during QEII's funeral yesterday…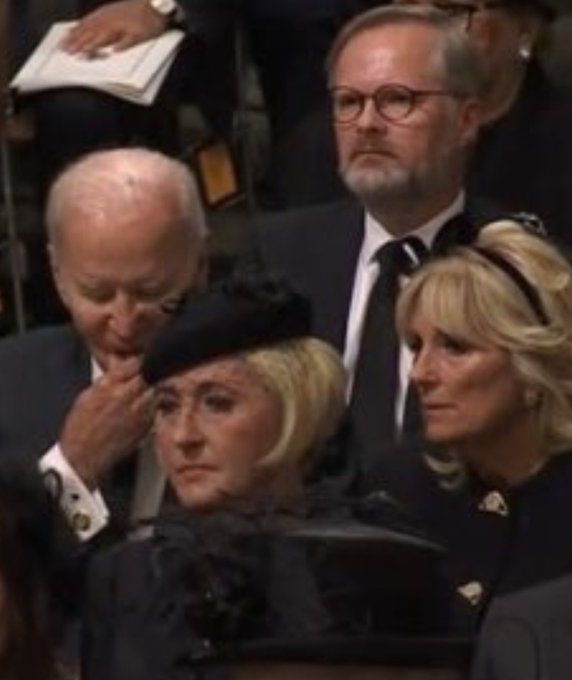 Why is Biden playing with his tongue…at the ceremony for the late Queen Elizabeth II pic.twitter.com/m6XIEFt7AI

— Patricia C. (@PatriciaSea) September 19, 2022
Guardian UK: Joe Biden forced to wait for seat after apparent late arrival at Queen's funeral: US president and first lady had to wait as procession of George and Victoria Cross-holders went ahead of them
Should have just stood in the back of the church like most bad catholics who don't want to be seen walking in late. #FJBiden

— Tony, AJ, Florida Man Bruno (@TonyBrunoShow) September 20, 2022
~~Many thanks to Maggie and The Universal Spectator for reprint permission.