Posted by Maggie on November 1, 2022 in General News
Seven. Days.
Byron York: The party is about to be over for Biden and his Democrats: Midterms, Biden's agenda, and the filibuster
Chris Queen: Is This the REAL Reason Dems in Georgia Are Tanking?
Kevin Downey, Jr: The Morning After Election Day, Who or What Will Democrats Blame for the Shellacking?
Daniel Greenfield: The Midterm Election Rigging is Underway: "This delay does not mean anything nefarious is happening."
Biden's War of GND Convenience …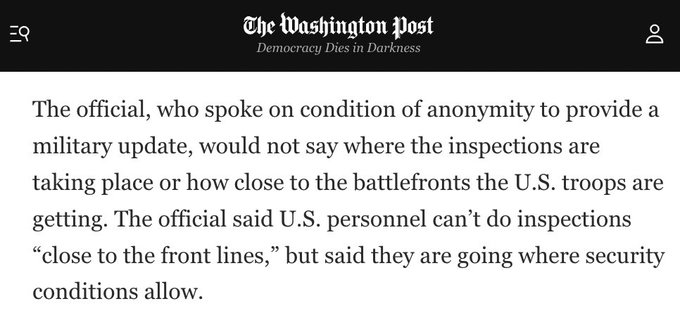 Twitchy: No big deal, just US troops on the ground (sorta like boots on the ground?) in Ukraine
The Pentagon officially confirmed today that US troops are on the ground in Ukraine, allegedly performing "inspections" of US weapon caches. This information was released via anonymous media briefing. No word on whether the troops are wearing "boots" as they walk "on the ground" pic.twitter.com/ok9aAT1gDk

— Michael Tracey (@mtracey) November 1, 2022
Could be why old Joe keeps using the inane phrase "In a time of war…" ahead of most anything he says to justify his bullshit policies and blame others that are struggling. Like oil companies…
Steven Nelson: Biden accuses oil companies of 'war profiteering,' threatens windfall tax ahead of midterms … Again *sigh*, corporations do NOT pay the taxes democrats inflict on them. They pass the taxes costs onto the consumer in the form of higher prices.
He blames Putin and the war in Ukraine, but this actually is traced back to directly fall in his lap…
Gas prices are down more than $1.20 since their peak this summer. And they've been falling for each of the last three weeks.

That's adding up to real savings for America's families.

— President Biden (@POTUS) October 31, 2022
Dude. You're a hot mess. pic.twitter.com/gzFM4hHOav

— ⬜️⬜️⬜️⬜️⬜️⬜️⬜️ ❤️ 🇺🇸 (@LynnieLorenz) October 31, 2022
Jan'21 Trump gave you $2.39/gal #MAGA 🇺🇸

It increased every month and peaked 6/13/22 at $5.00/gal because of you!

You're bragging because it's down $1.20 after you RAPED our oil reserves?

Maybe take a victory lap when you can get it lower than when it was gifted to you.

— Prox 🇺🇸 (@proxcee) October 31, 2022
The oily slick demo-commies…
Flashback to May 2008. Maxine says the quiet part out-loud and then struggles to spin it back, but it's too late…
Michael Shellenberger: Top Dems Urge Biden To Nationalize Oil & Gas Industry: Calls for Biden to socialize industry have moved quickly from fringe to mainstream … It really is their "Hugo Chávez" wet dream goal.
And Yesterday old farty sparky Brandon again showed his willful ignorance…
Aislinn Murphy: Biden slams oil company profits, threatens windfall taxes as penalty: The president called recent oil company profits 'outrageous'
The oil industry has a choice.

Either invest in America by lowering prices for consumers at the pump and increasing production and refining capacity.

Or pay a higher tax on your excessive profits and face other restrictions.

— President Biden (@POTUS) October 31, 2022
They tried to invest but you:

-shut down the pipelines
-shut down new drilling leases
-pushed Paris Climate Freak Accord
-attacked oil executives
-ended subsidies for new investments

Just like you said you would do from Day 1 pic.twitter.com/PTHcs73Ogl

— Black Sea Hoedown Swan (@TheWuhanClan) October 31, 2022
Greg Wehner: US diesel supplier warns businesses to prepare for shortages, higher prices for consumers: Company suggests being aware of tank levels and not 'panic buying' fuel.
Jon Michael Raasch: Diesel disaster: Truckers 'working for peanuts' amid surging fuel prices: One driver says truckers are 'barely getting by' as diesel shortage worsens
Ryan Ledendecker: Biden's Diesel Fuel Crisis Worsens: Major Fuel Company Issues New Warning
We are in the biggest information age in human history. Yet, it is rife with nefarious people who claim their information is sacrosanct and demand you don't question or counter their information, even if their information is completely wrong. And should you do so you're dangerous and spreading dangerous "misinformation/disinformation" and must be silenced, or worse.
And here are some of these information fascists at work…
Technically Speaking…
"Fascism should rightly be called corporatism, as it is the merger of corporate and government power." — Benito Mussolini
Ace: The Intercept: Government — the FBI, In Particular — Is Pressuring Social Media Platforms to Push Official US Propaganda on Origins of Covid and Even the Afghanistan Withdrawal, and Censor Anything that Contradicts It
Aaron Kheriaty: Our Digital Panopticon: How digital surveillance is gaining power for the biomedical security state.
Libby Emmons: DHS LEAKS: Starting in 2020, DHS began meeting with Twitter, Facebook, Wikipedia and more monthly to coordinate 'content moderation' efforts: Prior to 2020, it was reported that DHS met with Twitter, Facebook, Wikipedia, and other platforms in order to coordinate "content moderation" operations.
Victor Davis Hanson: Permissible and Impermissible Incendiary Speech? For many on the Left, what most see as incendiary and violent rhetoric is simply contextualized as the necessary talk of social justice.
Meanwhile, the left's latest "Public Enemy #1"…
Wachtell & Twitter board deliberately hid this evidence from the court. Stay tuned, more to come … pic.twitter.com/CifaNvtRtt

— Elon Musk (@elonmusk) October 31, 2022
Ariel Zilber: Elon Musk fired top execs 'for cause' to avoid paying $122M golden parachutes … Man buys company. Man fires top execs of his company. Man can do whatever the Hell he wants with his company.
Alexander Hall: 'STUPID AND INCOMPETENT' – Frequent MSNBC guest ripped for plotting to strip Elon Musk of US citizenship
Twitchy: Dean Obeidallah puts on his lawyer hat and vows to try to strip fascist Elon Musk of US citizenship
Twitchy: Prof says Apple has the power to crush Elon Musk and his 'reckless changes' to Twitter
Leftist MSM Whiplash and Malpractice:
Awwww! "Forgive and forget", or something…
Emily Oster Then: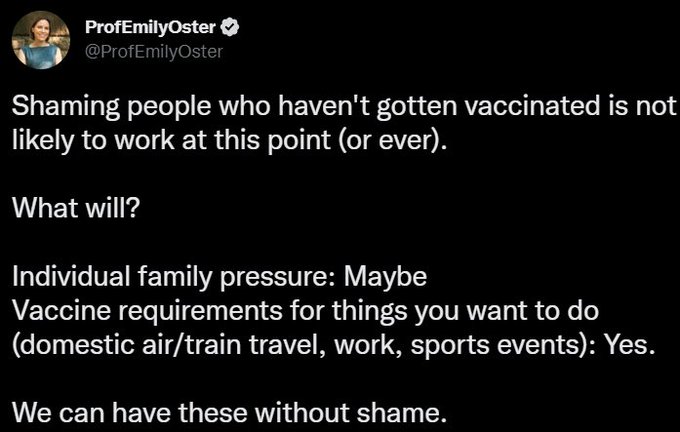 Emily Oster Now:
NEW – The Atlantic publishes a call for amnesty rather than accountability for what has been done to people during the pandemic. pic.twitter.com/sK3TYOxPBC

— Disclose.tv (@disclosetv) October 31, 2022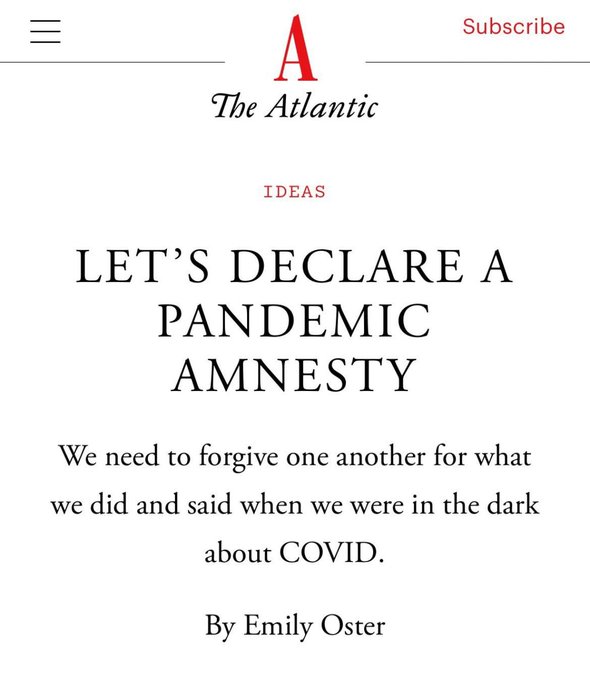 These arrogant elites (in thier minds) pulled out all the stops.
Bullied
Belittled
Browbeat
Blacklisted
Bankrupt
They tired to crush the souls of our children and too often succeed.
I say never forget what they did and said. pic.twitter.com/WLNE2ss0qz

— Charles V Payne (@cvpayne) November 1, 2022
But I'll bet Emily still ain't interested in getting to the bottom of the actual origin of the virus and its 'distribution' from a lab in China.

— Maggie (@drillanwr) October 31, 2022
They are skipping the very important step of accountability. We must have that so this never happens again.

— Beverly Hallberg (@BeverlyHallberg) November 1, 2022
So, now they're pivoting from 'long COVID' to 'pandemic amnesty'?? GFYs…
I agree with @ProfEmilyOster on this https://t.co/lXLjxRcj0E

— Randi Weingarten 🇺🇦🇺🇸💪🏿👩‍🎓 (@rweingarten) October 31, 2022
Of course you do. Because you were 100% wrong on school shutdowns and refuse to apologize for it. If you had any decency at all, you'd resign for presiding over the greatest American education failure of our lives. https://t.co/9Nj0UpRfUW

— Clay Travis (@ClayTravis) October 31, 2022
Hannah Grossman: Randi Weingarten blasted for being worse than the 'Grinch' after endorsing 'pandemic amnesty': The AFT president said it was time to 'forgive' for what people did and said during the pandemic
David French Then: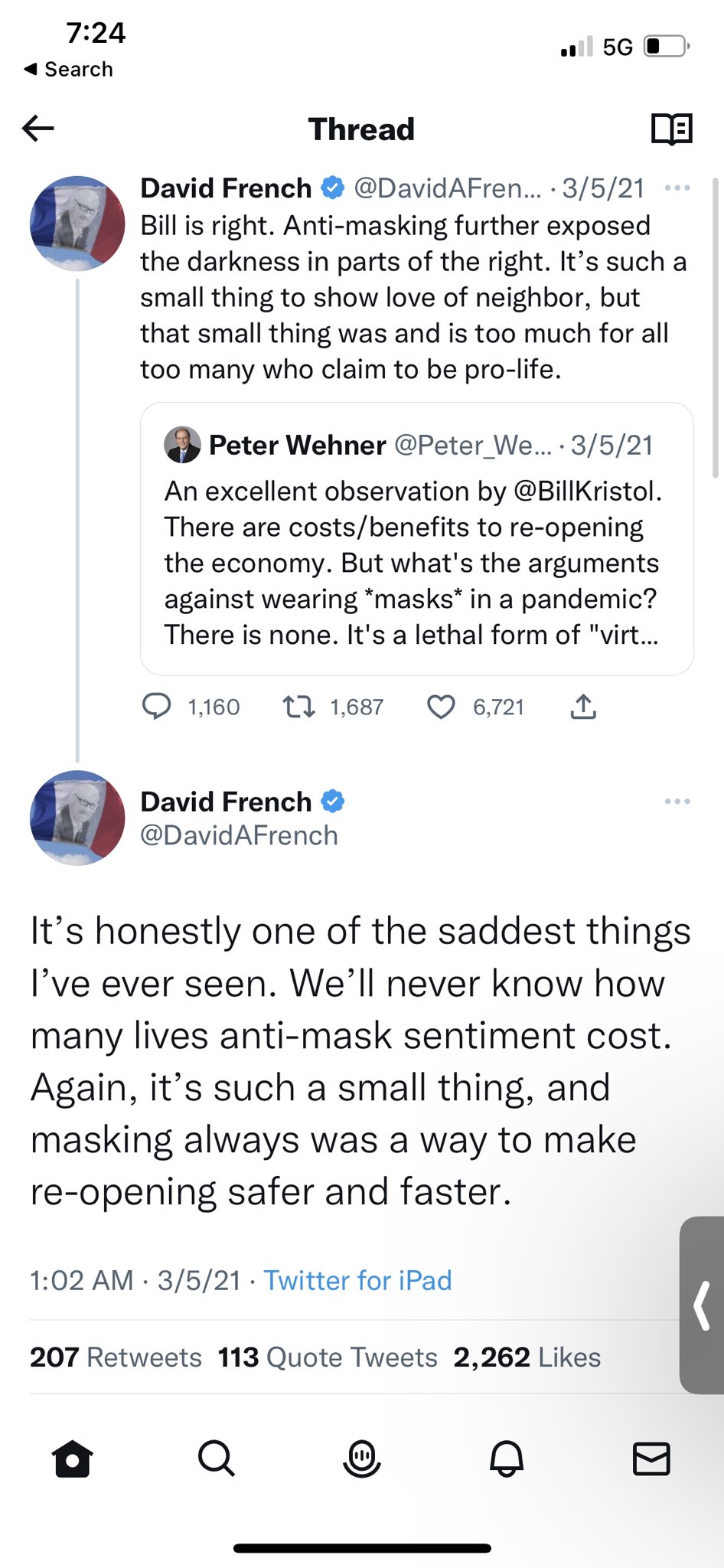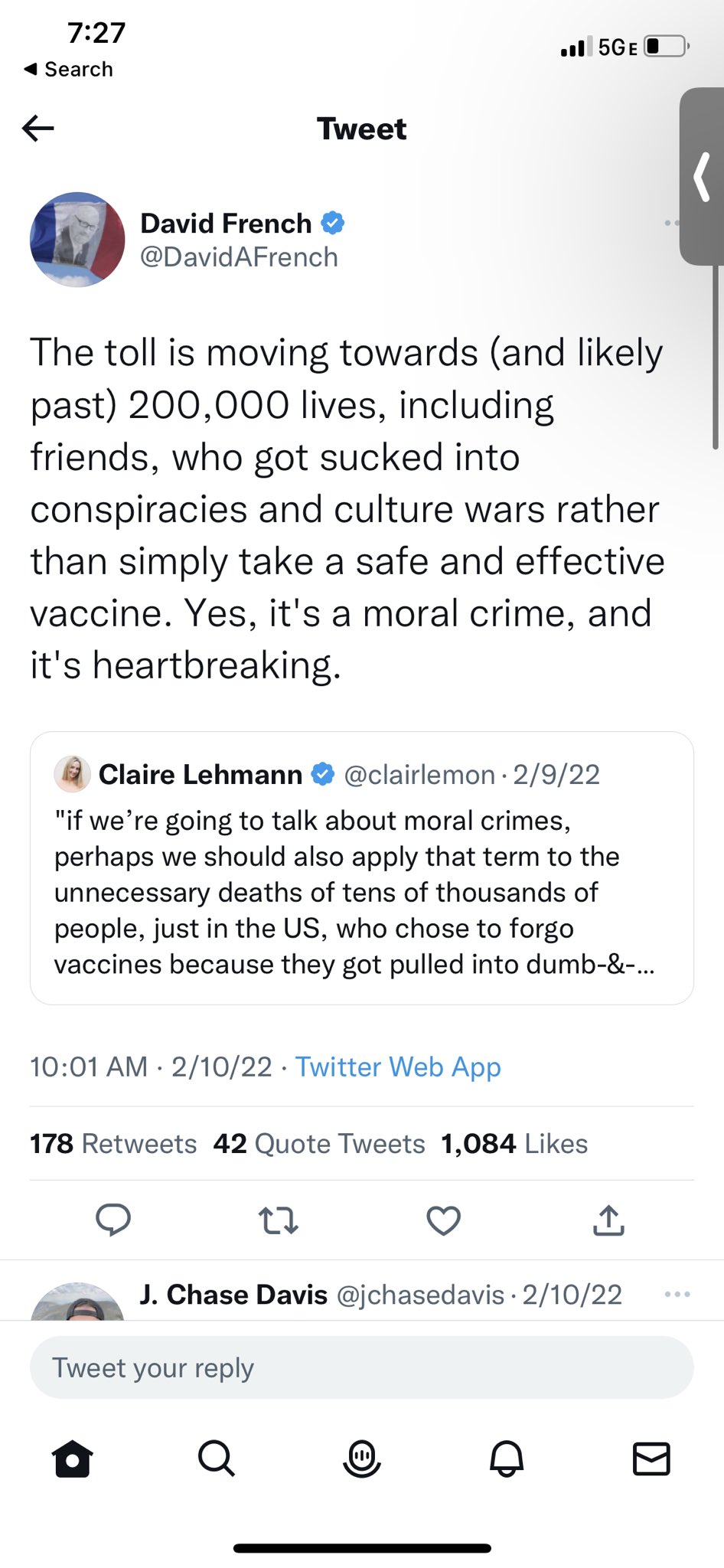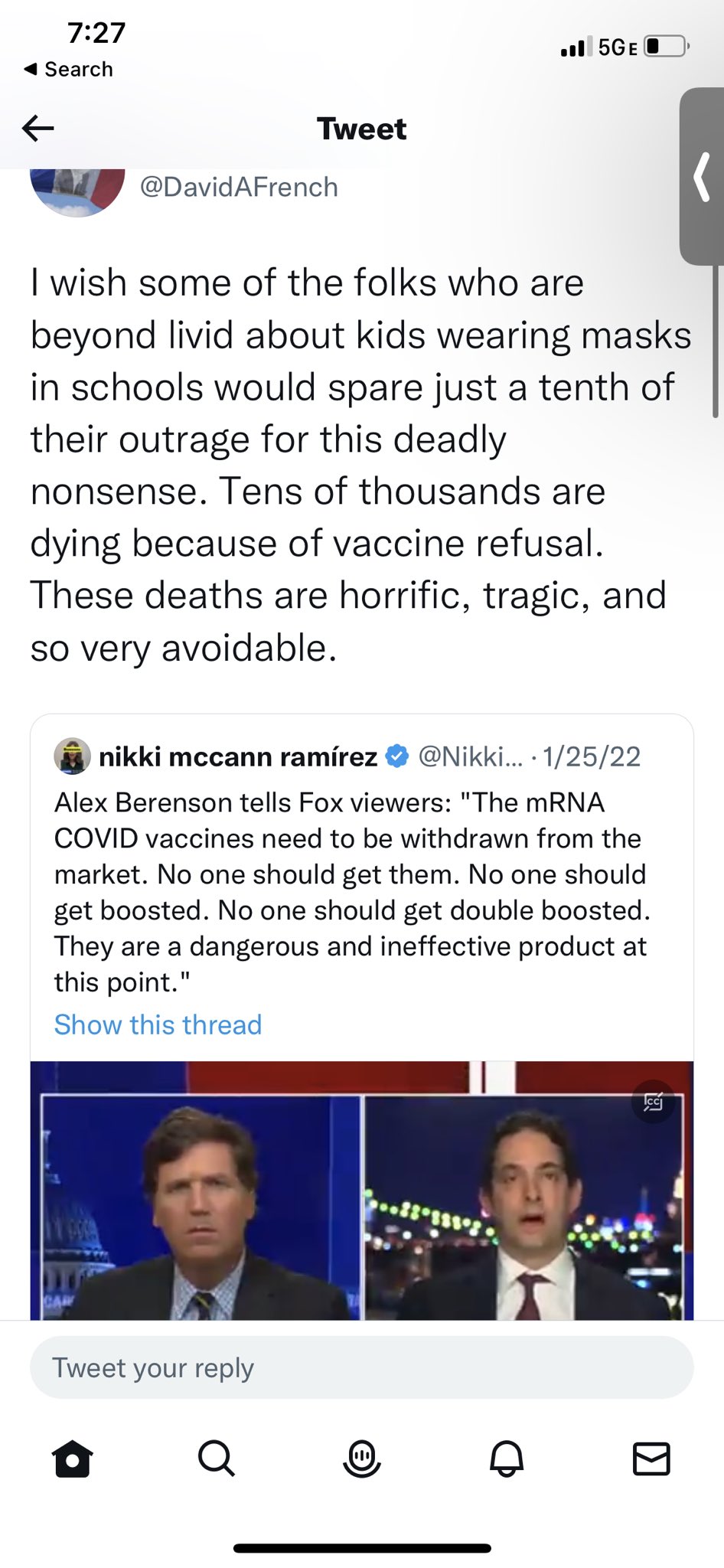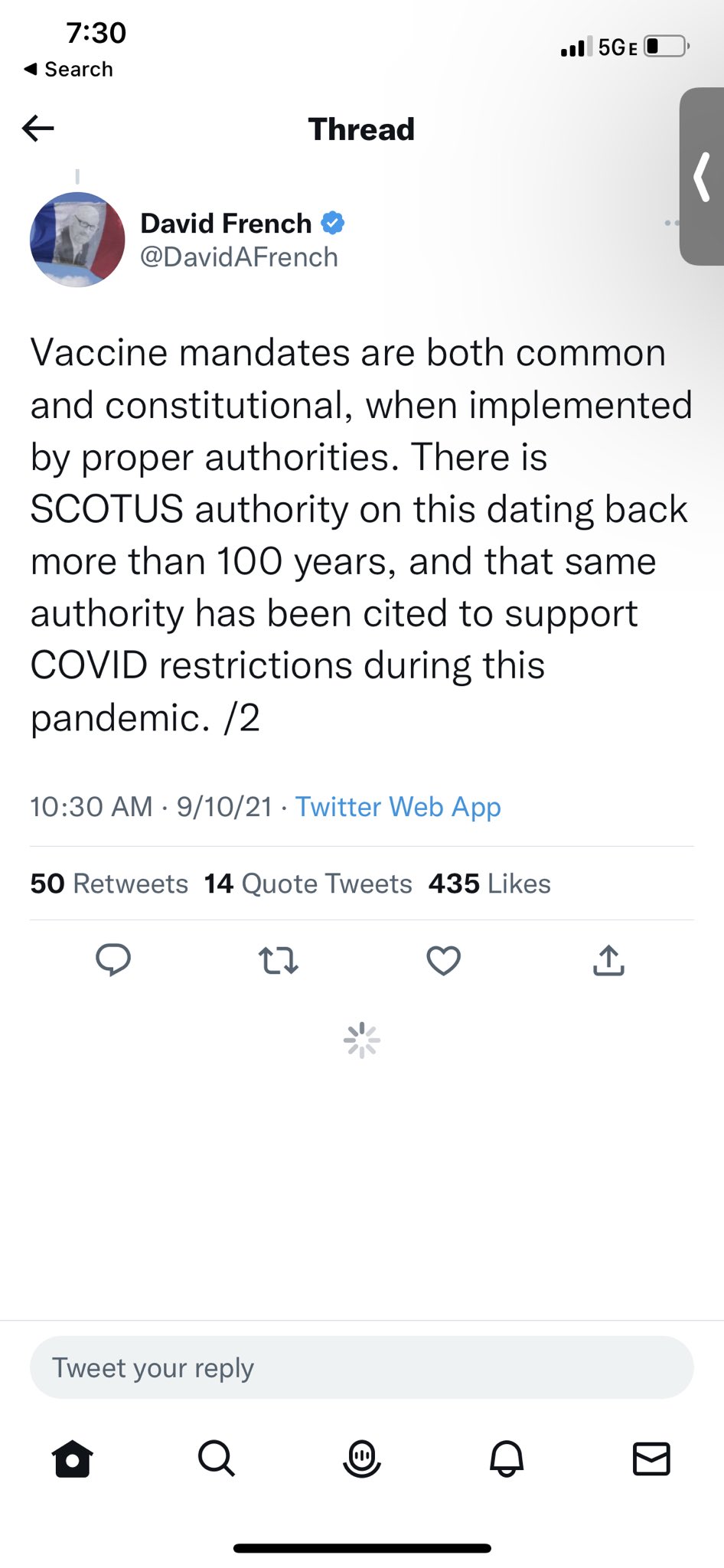 David French Now:
This is an excellent piece from someone who was, in fact, quite right about many aspects of COVID policy (including opening schools, for example). Critics are forgetting the focus of this piece is that period when we knew so little. There *should* be grace. https://t.co/LY7pbtmO6S

— David French (@DavidAFrench) October 31, 2022
David, you said it was a "moral crime" and evidence of the "darkness" on the right for people to question vaccines and masks. You mocked those who opposed mandates. You accused them of spreading disease and costing lives.

I'm not surprised you're a fan of this article. pic.twitter.com/wutS9pmWUr

— Megan Basham (@megbasham) October 31, 2022
At no point during any of it did you show the slightest bit of humility or suggest that you might be wrong. You were quite sure throughout all of it.

— Megan Basham (@megbasham) October 31, 2022
He wants the grace he didn't extend to those who were right back when he was wrong (both factually and morally).

— Seth Dillon (@SethDillon) October 31, 2022
David is like most leftists: absolutely arrogant about everything all the time, swearing that he is right and he knows better and being completely indignant to those who disagree with him. Then when he is proven wrong there is no admission of error or humility whatsoever.

— Bonk (@BonkPolitics) November 1, 2022
Twitchy: Jesse Kelly's thread of COVID hardships is why we'll NEVER forget/forgive what they did to 'protect us'
Politico Then: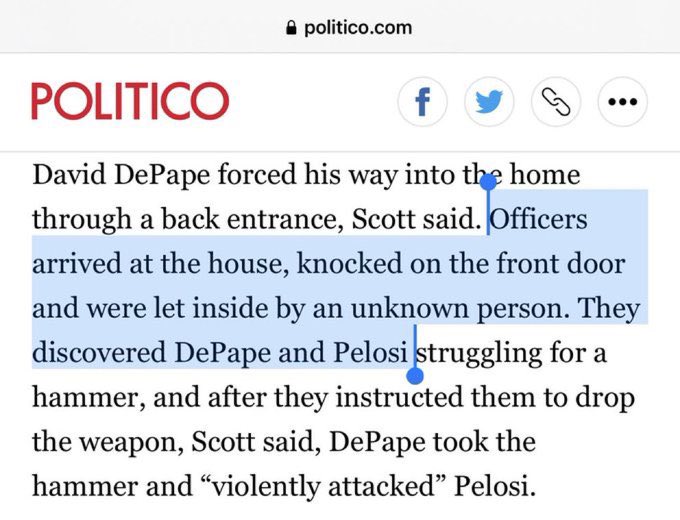 Politico Now:
Seriously WTF. pic.twitter.com/Aj4Tc1RJ8A

— Stephen L. Miller (@redsteeze) October 31, 2022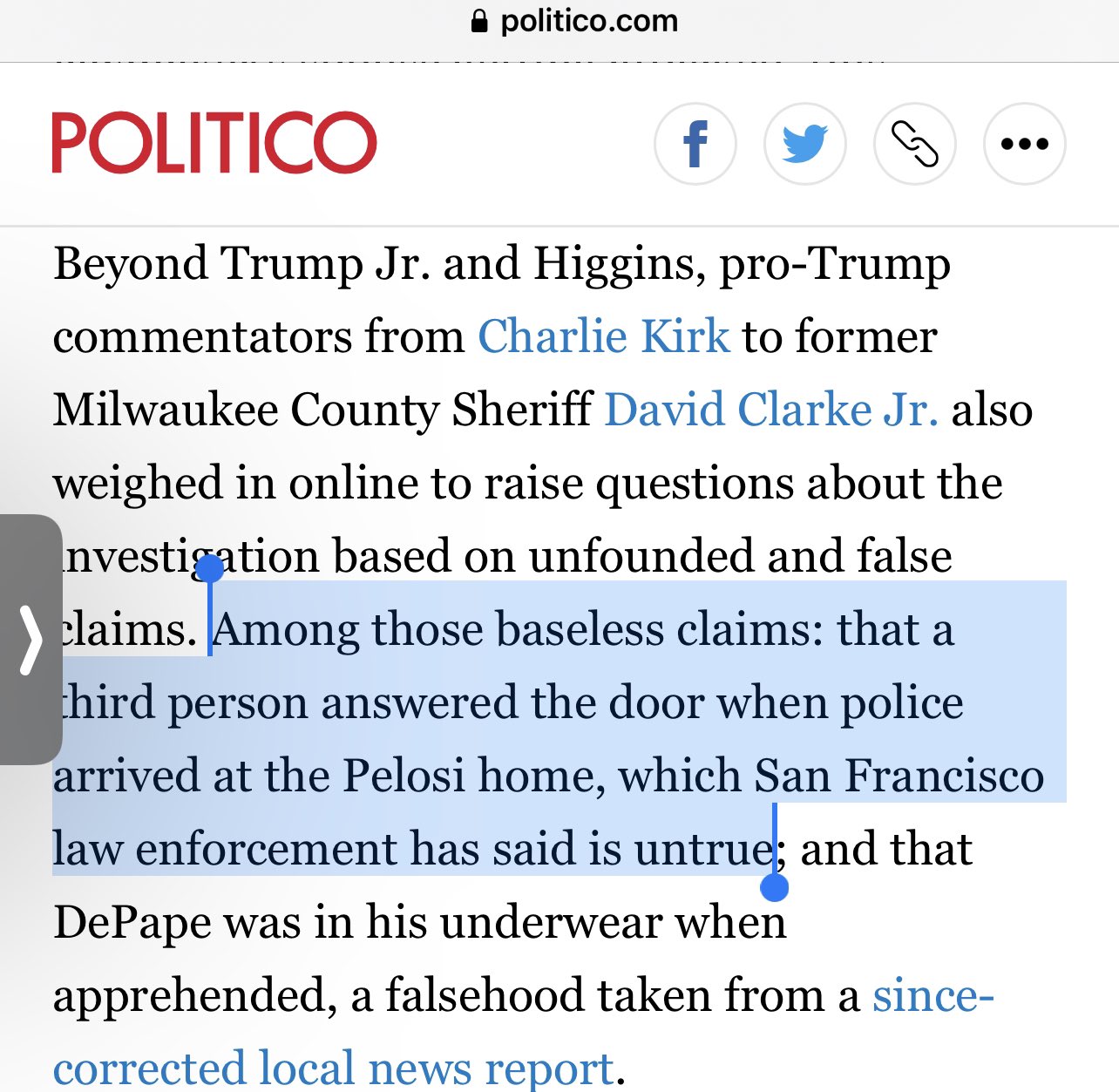 Absolute crazy pills.

— Stephen L. Miller (@redsteeze) October 31, 2022
It's one Hell of a 21st century twisted MSM version of "the chicken or the egg", or something.

— Maggie (@drillanwr) October 31, 2022
Delete your own reporting and presto, you've made anyone else discussing the original report a conspiracy monger.

In a week the attacker will have been in a Ron DeSantis tshirt and yelling about politician insider trading rules. Saying anything else will be a conspiracy.

— Scott Bridgeman (@Devils73) October 31, 2022
Meanwhile, do the dems and their propaganda MSM really want to continue twisting and spinning this Pelosi hammering story for the week ahead? Really…
News article in @washingtonpost draws direct line from boilerplate campaign rhetoric—"Fire Pelosi"—to the attack on her husband.

Some rhetoric has been incendiary and beyond the pale—see MTG, for example—but this is a smear.

1/2https://t.co/lnV6ERTVj2 pic.twitter.com/zcTSlBqIXw

— John McCormack (@McCormackJohn) October 29, 2022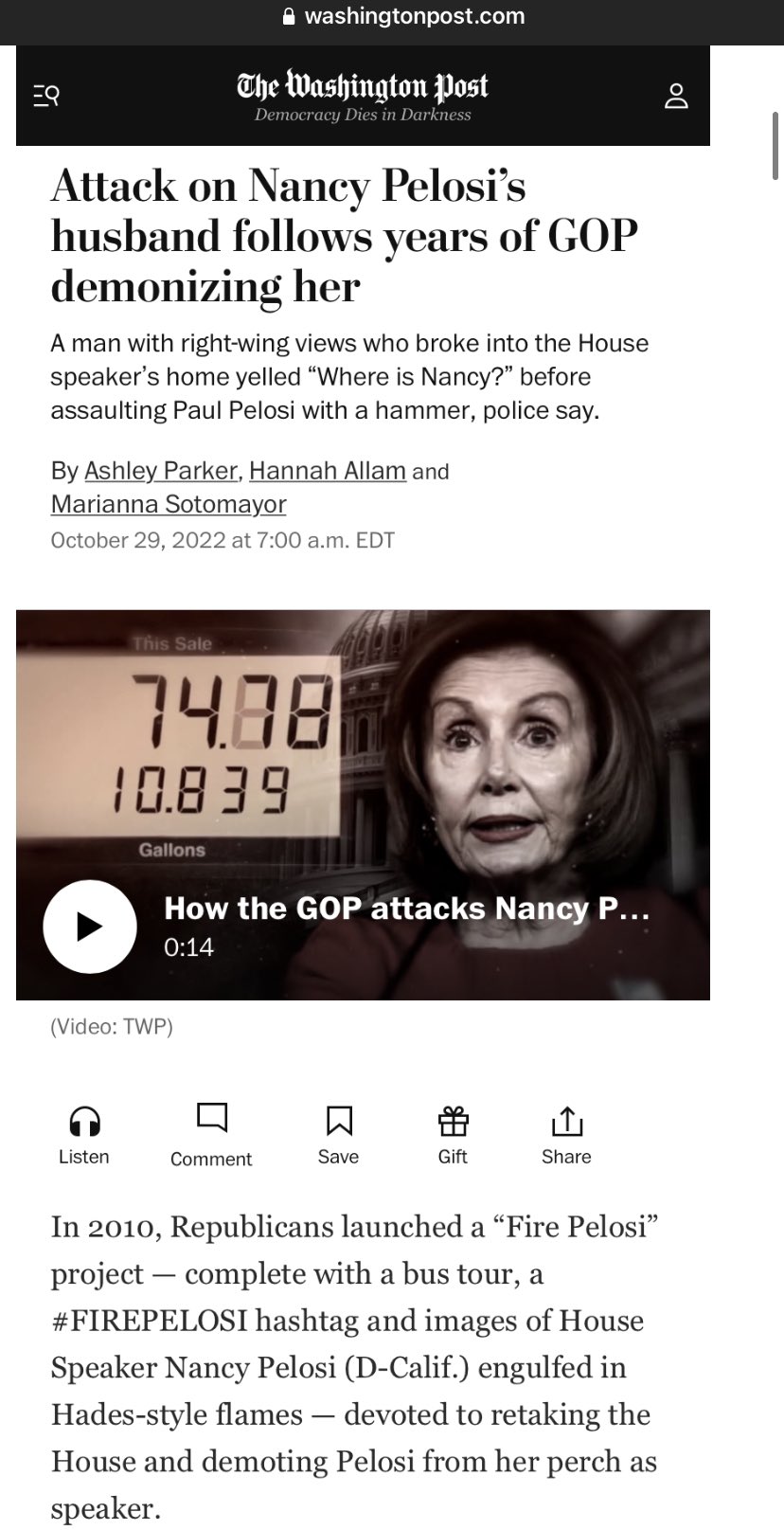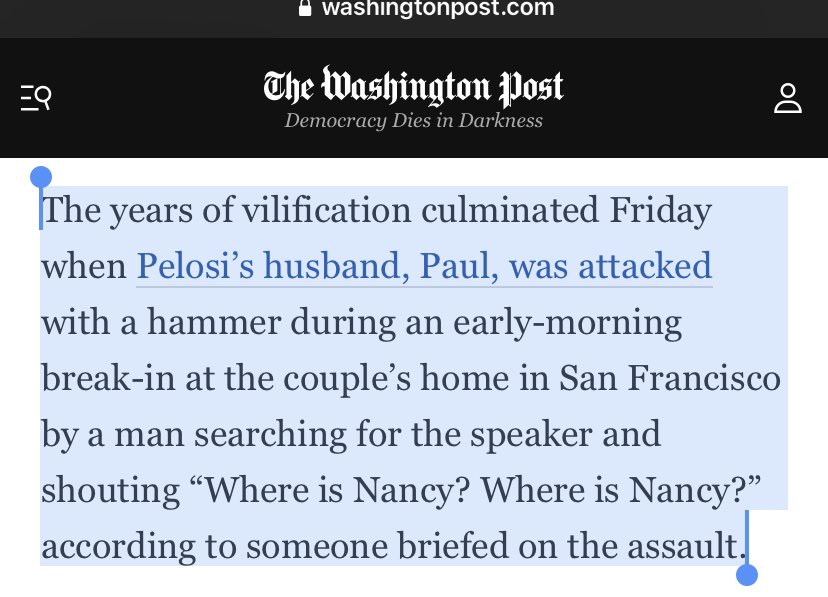 Did they write the same article after Steve Scalise was shot?! 💩

— Lfoxy23 🇺🇸💙✭ (@lfoxy23) October 29, 2022
I'm old enough to remember when Pelosi said she wanted to punch Trump.

— Blue State Snooze (@BlueSnoozeBlue) October 30, 2022
Lindsay Kornick: Washington Post report blasted as 'propaganda operation' for tying Pelosi attack to 'years of GOP demonizing': The husband of Speaker Nancy Pelosi was attacked in their San Francisco home on Friday
Always "new developments"…
NEW: Per ICE source, David DePape, the suspect accused of beating Paul Pelosi in his home with a hammer after breaking in, is currently in the U.S. illegally as a "longtime" visa overstay. @FoxNews

— Bill Melugin (@BillFOXLA) October 31, 2022
Are we just going to ignore David DePape's "spark of divinity"?

— Maggie (@drillanwr) November 1, 2022
Matt Vespa: Was the Pelosi Home Invader an Illegal Alien? … Just a reminder that San Francisco is a "sanctuary city" and Nancy Pelosi is proud of that.
Beege Welborn: On Pelosi: We're not falling for the "Right Wing Terrorist in the Tailpipe" joke
Victoria Taft: Release Paul Pelosi's 911 Call
"Four days before the attack on Pelosi, DePape shared images of a wooden birdhouse he said he had purchased for an invisible fairy he communicated with."

Looking forward to Ben Collins explaining how communicating with fairies is a Qanon and 1/6 thing…https://t.co/vt3L2Htr3c

— Steve Krakauer (@SteveKrak) October 31, 2022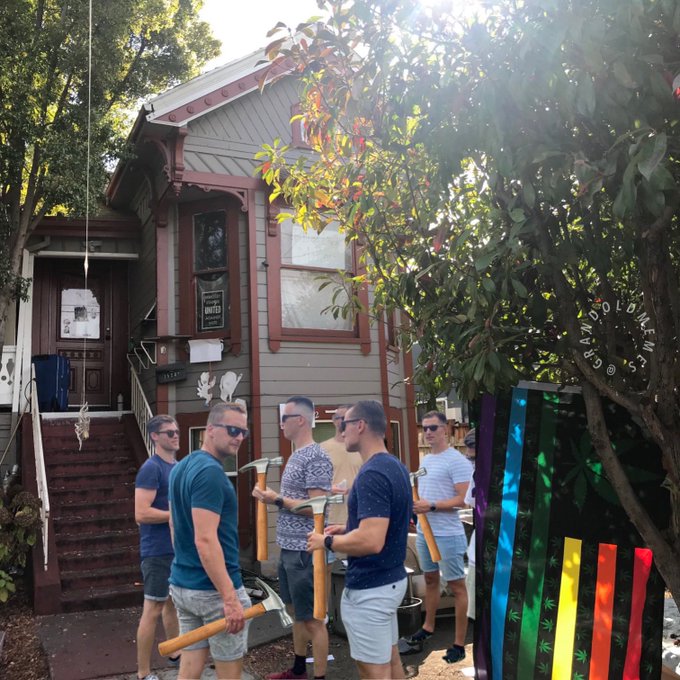 Julie Kelly: Scandal-Ridden San Francisco FBI Field Office Involved in Pelosi Investigation: Given the highly partisan nature of the FBI, and the San Francisco field office in particular, there is no reason to believe FBI brass will do anything more than run cover for the Pelosis.
Stephen Green: Insanity Wrap: Hell No, Nancy and Paul Pelosi Don't Deserve the Decency They Deny Us
The MSM malpractice always goes in one direction…
Brian Flood, David Rutz, Joseph A. Wulfsohn: From Hunter Biden to the Wuhan lab-leak theory, eight times the media admitted it got a major narrative wrong: Washington Post writer recently admitted he was afraid to criticize New York Times uproar over Tom Cotton op-ed at the time
MORE:
NYPost: Gov. Hochul, you're the real 'data denier' on surging crime
I got yer "data" right`er…
Rafael A. Mangual: Dems' shameless ploy to blame crime rise on 'red states'
Tim Hains: NY Gov. Kathy Hochul: Republican "Data Deniers" Say They're Tough On Crime, But Blue States Are The Safest Places
Kristine Parks: New York Gov. Kathy Hochul claims GOP crime 'conspiracy' manipulating voters to make them feel unsafe: Hochul tells MSNBC's Al Sharpton that Republicans are 'data deniers' and 'master manipulators'
Elle Purnell: The FACE Act Is Unconstitutional. It's Past Time Congress Got Rid Of It: Both in its application and on its face, the FACE Act is an abuse of power by bureaucrats increasingly hostile to political dissidents.
~~Many thanks to Maggie and The Universal Spectator for reprint permission.