Posted by Maggie on May 17, 2022 in From the editors
A bit of a shorty this morning, fellow Spectators. I'm out and about today … gotta get my vegie and herb plants before they're all picked over.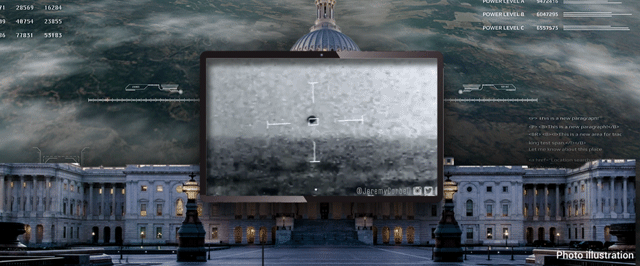 Tyler Olson and Cecilia Duffy: Congress holds historic public UFO hearing, as military struggles to understand 'mystery' flying phenomena: Congress is holding a hearing on the possible national security threat of UFOs for the first time in 50 years … Actually, Congresscritters, the bigger 'security threat' is on our border with the flood of illegal aliens. But you keep doing your overpaid useless you.
Susan Katz Keating: UFO hearings in Congress set to reopen the book on flying saucers: The U.S. Air Force previously investigated UFOs, from 1947-1969, under a then-secret program code-named Project Blue Book.
We are obviously facing a threat from either some alien race from outside our Sol-System or some time warp, or from China. Meanwhile, this generation from K-post college student loan debt are as dumbed-down as you can get in the real math and science subjects and critical thinking. ET or Xi ain't gonna give a flyin-f**k what gender you've talked yourself into or what damn pronouns you want referred to on any given day.
Puppet Presidency:
It is blindingly obvious Joe Biden is not in charge of even the pudding in the White House with an agenda even decades ago Joe would've found insane, man…
BREAKING: The nationwide average for a gallon of gas hits a record price for the EIGHTH straight day

— RNC Research (@RNCResearch) May 17, 2022
Breitbart: Biden's America: Gas Prices Reach Another All-Time High
Maggie More: The Average Price for a Gallon of Gas in LA County is Back Above $6: It's the first time the price of gas in LA County has passed $6 since April 1 of this year.
Twitchy: US Strategic Petroleum Reserve drops to its lowest level since 1987
Marc Carnegie: The Biden Price Hike: Putin deserves the blame for a lot of things, but not skyrocketing inflation.
Elon Musk said Biden is treating the American public like fools…
Tyler O'Neil: PRESIDENTIAL SLAM: Elon Musk torches Biden: 'The real president is whoever controls the teleprompter'. Musk also warned that if US ignores 'obvious' cause of inflation, it could end up like Venezuela
We're getting closer and closer.
Musk isn't the only big bucks liberal snapping at Biden's hairy ankles…
Twitchy: Jeff Bezos calls out Joe Biden — AGAIN — this time on the deficit with some bonus praise for Joe Manchin
Under my predecessor, the deficit increased every single year.

This year, we're on track to cut the deficit by $1.5 trillion – the biggest one-year decline ever.

It matters to families, because reducing the deficit is one of the main ways we can ease inflationary pressures.

— President Biden (@POTUS) May 14, 2022
This is so silly. The deficit is decreasing because we're not doing pandemic aid anymore, and federal receipts are up because of inflation. Congress, or the Biden administration, didn't do anything to lower the deficit. https://t.co/kvlLPpsUO9

— Neoliberal 🌐🇺🇦 (@ne0liberal) May 15, 2022
In fact, the administration tried hard to inject even more stimulus into an already over-heated, inflationary economy and only Manchin saved them from themselves. Inflation is a regressive tax that most hurts the least affluent. Misdirection doesn't help the country. https://t.co/a8cygcunEG

— Jeff Bezos (@JeffBezos) May 15, 2022
Twitchy: Fed-up Jeff Bezos fires back at the WH after Biden admin comes after him for calling out their disastrous economic policies
You want to bring down inflation?

Let's make sure the wealthiest corporations pay their fair share.

— Joe Biden (@JoeBiden) May 13, 2022
The newly created Disinformation Board should review this tweet, or maybe they need to form a new Non Sequitur Board instead. Raising corp taxes is fine to discuss. Taming inflation is critical to discuss. Mushing them together is just misdirection. https://t.co/ye4XiNNc2v

— Jeff Bezos (@JeffBezos) May 14, 2022
Look, a squirrel! This is the White House's statement about my recent tweets. They understandably want to muddy the topic. They know inflation hurts the neediest the most. But unions aren't causing inflation and neither are wealthy people. Remember the Administration tried… pic.twitter.com/GaMb3Kiu72

— Jeff Bezos (@JeffBezos) May 16, 2022
their best to add another $3.5 TRILLION to federal spending. They failed, but if they had succeeded, inflation would be even higher than it is today, and inflation today is at a 40 year high.

— Jeff Bezos (@JeffBezos) May 16, 2022
Musk refuses to pay for bullshit:
OMG 😂 after a thread about spam and fake accounts from the current Twitter CEO – Musk simple replies… pic.twitter.com/dITc4F9v2y

— Justin Hart (@justin_hart) May 16, 2022
Lucas Manfredi: Elon Musk sends poop emoji to Twitter CEO in response to thread on spam, fake accounts: Twitter has estimated that spam, fake accounts make up less than 5% of the social media platform's users
Tyler O'Neil: Elon Musk sets condition for Twitter purchase to go forward: Tesla CEO says the deal 'cannot move forward' until Twitter CEO reveals the number of fake/spam accounts
Twitchy: Elon Musk gives Twitter CEO Parag Agrawal's lengthy thread on spam the only response he feels it deserves
BTW…
Newsweek: Half of Joe Biden's Twitter Followers Are Fake, Audit Reveals … D'oh!
20% fake/spam accounts, while 4 times what Twitter claims, could be *much* higher.

My offer was based on Twitter's SEC filings being accurate.

Yesterday, Twitter's CEO publicly refused to show proof of <5%.

This deal cannot move forward until he does.

— Elon Musk (@elonmusk) May 17, 2022
Meanwhile, stopping the madness…
Tyler O'Neil: Jordan Peterson announces he is 'departing' Twitter: Canadian psychologist told his audience that the social media platform is 'maddening us all'
I recently stopped accessing Twitter for three weeks as an experiment. I had some of my staff post video links etc. It was a genuine relief. I started to read & write more. I started using it again, a few days ago, and I would say that my life got worse again almost instantly.

— Dr Jordan B Peterson (@jordanbpeterson) May 17, 2022
The endless flood of vicious insult is really not something that can be experienced anywhere else. I like to follow the people I know but I think the incentive structure of the platform makes it intrinsically and dangerously insane. https://t.co/NlWTUKRHlG

— Dr Jordan B Peterson (@jordanbpeterson) May 17, 2022
He's right. My weekend walk-always currently don't seem enough for me. But it's not just swimming amid the social media turds. It's the news sites content as well. And this is part of the left's plan. Bring society to peak chaos and then take over completely.
They have be touting depopulation, (as far back as I can remember) since the early 1970's! That is what Al this leads to! Everything they are doing leads to famine in the world! Health oil food! Al of it to one path VOTE REPUBLICAN! I believe your life depends on it!

— Maryanne Rodriguez (@maryannejersey) May 17, 2022
THAT'S BECAUSE HE'S ALWAYS LYING: White House Report Card: Biden's trying, but nobody's buying.
And it's going to get much worse, folks…
Nadine Batchelor-Hunt: 'Apocalyptic': Why experts fear a steep surge in food prices
Stephen Green: Could It Happen Here? 200 Dead, as Sri Lanka Literally Runs Out of Gas
Milking It:
Hanna Panreck: CBS's Margaret Brennan presses Buttigieg on baby formula shortage: 'Why has it taken so long?' – 'This has been going on for months,' Brennan said
Joseph A. Wulfsohn: Rep. Kat Cammack pushes back at Washington Post fact-check on baby formula shortage: Cammack called out Biden for securing baby formula at the border but not on grocery store shelves
Carolyn Crist: 40% of U.S. Baby Formula Supplies Out of Stock
Breitbart: FDA, Abbott Nutrition Agree on Plan to Restart Michigan Baby Formula Factory
Now, if only the stink-ass Biden administration would do the same thing for our energy policies they trashed in the first hours of their takeover … not only the price of gas would come down but the price of everything would come down and the inflation would begin to wither on the Marxist vine.
~~~
~~Many thanks to Maggie and The Universal Spectator for reprint permission.