Posted by Maggie on June 15, 2022 in From the editors
UPDATE:
BREAKING: The Federal Reserve intensified its bid to tame high inflation by raising its key interest rate by three-quarters of a point — the largest hike since 1994. It also signaled more large rate increases to come, raising the risk of a recession. https://t.co/vfrqGQLMFW

— The Associated Press (@AP) June 15, 2022
NBC News: Federal Reserve raises key interest rate 0.75% as it hardens fight against inflation: The central bank delivered its biggest interest rate hike since 1994 as the latest inflation data show consumer prices are still climbing at a record pace. … Keep the good times comin', Deadly Ernest!
We're not going back to the false promises of trickle-down economics.

We're going forward to an economy that works for everyone.

— President Biden (@POTUS) June 14, 2022
"Not a joke"

— Maggie (@drillanwr) June 15, 2022
Twitchy: Carol Roth explores the Biden admin's 'effing nefarious' plan 'to come after YOUR WEALTH'
Oh, and 'we'z at war', or something (see below)…
Caitlin McFall: Biden announces $1.2B in additional Ukraine aid: The U.S. will provide additional artillery, coastal defenses and advanced rocket systems … Oh, and Brandon's "uniting" our foes…
Adam Kredo: Iranian Oil Tanker Arrives in Venezuela as Rogue Regimes Boost Relations
The elites, the MSM, the democrat base used to 'turd-shining politicians', and establishment Washington DC had a YUGE issue with Pres. Trump's "covfefe" plain talking. But average Americans felt he was talking with them, not at them.
I just can't for the life of me figure out WTAF direction Biden's gaffe-jammed and inappropriate angry yammering is supposed to reach out to. Yesterday, old Joe figured union folks enjoy being shouted at like a junkyard dog would. And that is in addition to once again lying his diapered-ass off with bullshit easily 'fact-checked' but the MSM just "meh" shrugs it off.
VIDEO: Stuart Varney: Biden's 'jig' is up after his 'dishonest' speech to the AFL-CIO
The Tumbles and Crashing Amid the "Deadly Ernest" Hikes:
This fuckin' guy … https://t.co/iSGYA3wXxr

— The🐰FOO (@PolitiBunny) June 14, 2022
Leah Barkoukis: Biden Rails Against Republicans for Record-high Inflation
Leah Barkoukis: Press Sec Wants Americans to 'Remember Where This Country' Was When Biden Entered Office. RNC Reminds Her.
Karine Jean-Pierre says "we have to remember where this country was" when Biden "walked into office."

Yeah, gas was $2.39/gal, inflation was at 1.4%, the markets were higher, and Trump was leading a great American comeback. pic.twitter.com/jMvYb99oqp

— RNC Research (@RNCResearch) June 14, 2022

On Jan. 20, 2021, Zacks Equity Research reported that the Dow Jones Industrial average gained 116.26 points, closing at 30,930.52: "Notably, 18 components of the 30-stock index ended in the green while 12 in red. Moreover, the Nasdaq Composite finished at 13,197.18, surging 1.5% or 198.68 points due to strong performance by large-cap tech stocks. Meanwhile, the S&P 500 advanced 0.8% to end at 3,798.91."

On Monday, the S&P 500 entered bear market territory, losing all gains made during Biden's presidency and forcing Americans on the cusp of retirement to make difficult choices as their retirement savings plans are wiped out.
Anders Hagstrom: CRUDE AWAKENING – Biden threatens oil companies with 'emergency powers' if they don't boost supply amid inflation spike: Biden says oil companies are earning 'historically high' profits
VIDEO: Charles Payne: Under Joe Biden's oil policies and his "climate change" pandering, crude oil costs have skyrocketed
Refineries for the past 20 years: we would like to build new refineries please
Environmentalists and Dems: F*CK YOU
Biden today: Why isn't there enough refining capacity you greedy bastards?

— Greg Pollowitz (@GPollowitz) June 15, 2022
Ace: Biden Threatens Oil Companies That He Will Punish Them If They Don't Start Producing More Oil, As His Policies Have Made It Impossible For Them to Do
Twitchy: Biden writes to oil execs demanding explanation for lack of gasoline (ok then, here are a few)
President Biden writes to oil executives complaining (!!!) the industry shut down too much refining capacity:

"At a time of war, refinery profit margins well above normal being passed directly onto American families are not acceptable" (full letter via @axios ) #OOTT pic.twitter.com/rOv2ANxxGD

— Javier Blas (@JavierBlas) June 15, 2022
"At a time of war"??? We are at war? Who knew? Where exactly is the USA at war, Joe?
With its letter today to oil refining executives, the White House seems to have waken up to what most in the oil market have seen for several weeks — a lack of refining capacity is inflating fuel prices | #OOTT @opinion https://t.co/mMOBAWXIUJ

— Javier Blas (@JavierBlas) June 15, 2022
Much of that "loss of refining capacity" for conventional fuels is in plants that are converting to produce alternative fuels.

Isn't that what the Administration wants?

You can't have your cake and eat it too.

— Steve Maley (@DerekBarge) June 15, 2022
Biden, in letter to Exxon CEO: 'At a time of war, refinery profit margins well above normal being passed directly on to American families are not acceptable.' In past, hasn't phrase 'at a time of war' referred to US being at war? Which it is not now… https://t.co/48qgWyTGFp pic.twitter.com/UOvTI2Agy8

— Byron York (@ByronYork) June 15, 2022
Biden Climate Czar John Kerry: "We absolutely don't" need to drill for more oil and gas. pic.twitter.com/F6EA6JHIuG

— RNC Research (@RNCResearch) June 14, 2022
Joe Biden said he was willing to see people hurt economically to get us off fossil fuels. Your high gas prices are all part of his plan. Don't believe me. Just listen to him. pic.twitter.com/NKpf4qumSs

— Erick Erickson (@EWErickson) June 11, 2022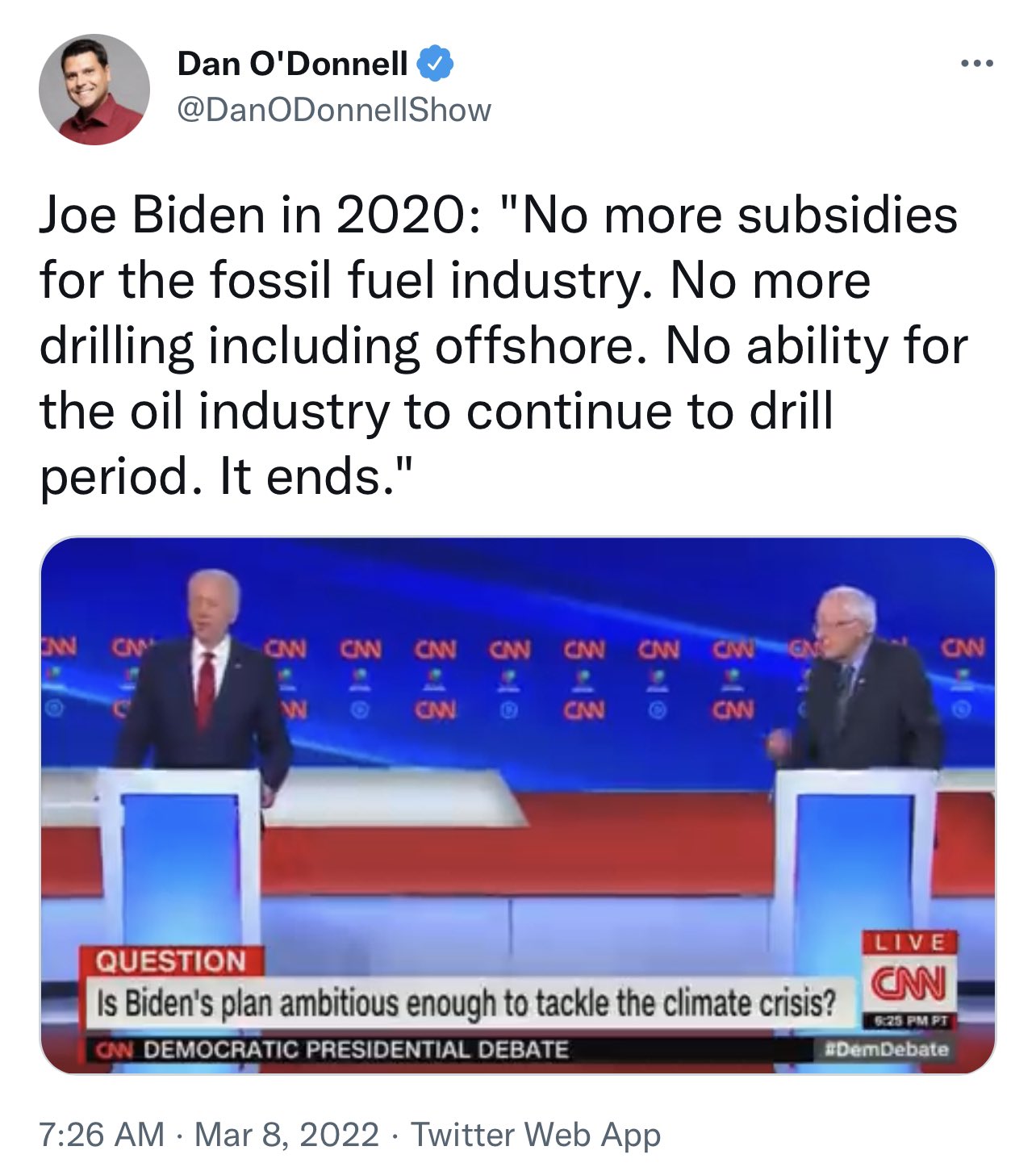 Joseph Simonson: Is America Really Producing More Oil Under Biden Than Trump? No, Obviously Not.
Twitchy: Washington Free Beacon busts Ron Klain and Biden admin for lying about domestic oil production
VIDEO: Ingraham Angle: What now? Biden hobbled America, sabotaged us, sapped us of our energy independence, then when he goes hat-in-hand to the most despotic regimes on Earth for help, he wants a standing ovation.
Taylor Penley: RAKED OVER THE COALS – Climate czar John Kerry slammed for 'out of touch' take on energy: 'We absolutely don't' need to drill for more oil: Critics noted Kerry's contrast from other top Democrats
Meanwhile…
Dipu Rai: Crash of the Crypto: Why are cryptocurrency investors fleeing?
Paul Vigna: Bitcoin price trades around $21,000 as crypto firms announce layoffs: Bitcoin continued its decline on Wednesday morning. It is down more than 30% over the last eight days.
Megan Henney: May retail sales unexpectedly decline as consumers confront sizzling hot inflation: Economists expected retail sales to rise modestly in May, despite sky-high inflation
Chris Enloe: WH press sec offers answers detached from reality when pressed about stock market spiral, inflation crisis
About that whole "at a time of war" bullshit, Deadly Ernest…
Yup! DERP!
Scoop w/ @nwadhams @SalehaMohsin: US officials surprised by companies pulling out of Russia are worried the move could worsen other problems, like inflation https://t.co/QGSOWKW2g3

— Daniel Flatley (@DanielPFlatley) June 14, 2022
NEW: Some Biden officials privately express concern that rather than dissuade the Kremlin as intended, US sanctions have instead exacerbated inflation, worsened food insecurity and punished ordinary Russians more than Putin or his allies

w/ @DanielPFlatley + @nwadhams https://t.co/n72fPni7p3

— Saleha Mohsin (@SalehaMohsin) June 14, 2022
Remember when everyone who warned this exact thing would happen was called a Putin apologist https://t.co/Ni6nj0f54S

— Paul Gottinger (@PaulGottinger) June 15, 2022
Deadly Ernest Biden's Open Border and Unfettered Pharmacy: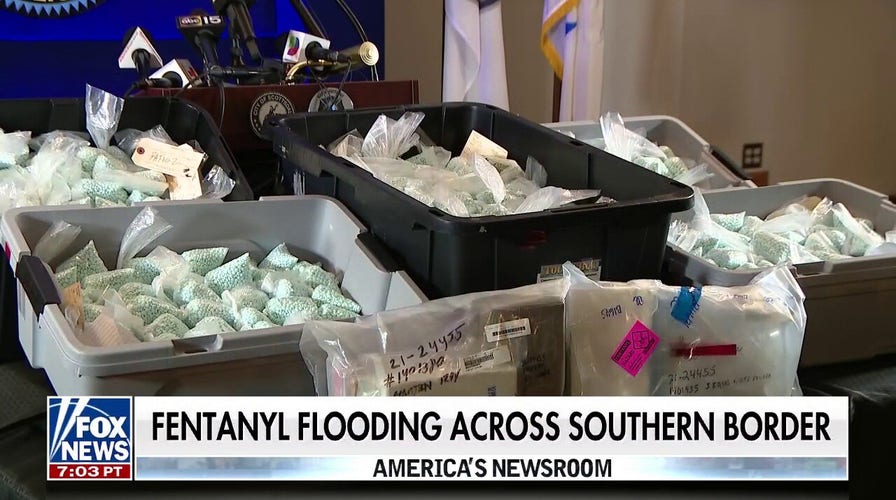 Biden says we are in "at a time of war". Well, it is and we are at war … with China making and sending the fentanyl and their Mexican drug cartel soldiers invading our US border with this shit…
Paul Best: Feds seize 478,000 counterfeit fentanyl-laced pills, charge 26 with drug trafficking and other crimes … These aren't people overdosing and dying from straight fentanyl use/ingestion. Various pills are being laced with the deadly chemical and people are unknowingly taking fentanyl and dying from a pill that would likely not have killed them were it a pure pill, like the ADD drugs college students sometimes (obviously wrongly) self-medicate with to stay awake and study for exams.
Isabel Vincent: Mexican cartels exploiting border chaos to smuggle fentanyl into US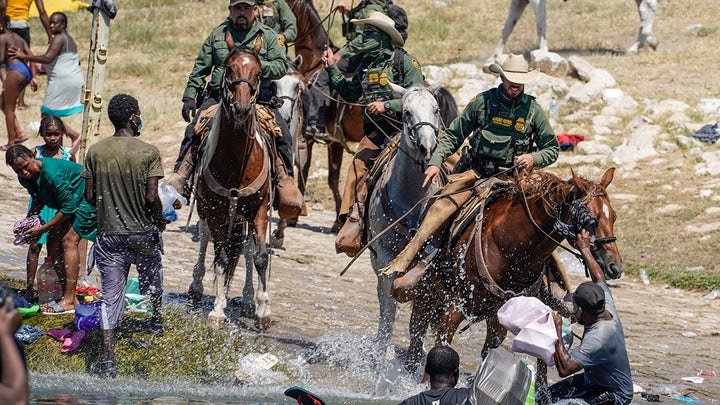 BREAKING: Per federal source, DHS is preparing to discipline multiple horseback Border Patrol agents who were accused of "whipping" Haitian migrants in Del Rio last summer. I'm told DHS will imminently allege "administrative violations", agents will be able to respond @FoxNews

— Bill Melugin (@BillFOXLA) June 14, 2022
Per federal source, this announcement is expected to come down any day now. It's unclear what "administrative violations" the BP agents will be accused of, but they are not being accused of any criminal conduct. The horseback unit involved is based out of Carrizo Springs, TX.

— Bill Melugin (@BillFOXLA) June 14, 2022
It has been nearly 9 months since this incident took place. The agents have been taken off their normal duties and have not been allowed to have contact w/ migrants since.
President Biden assured the public at the time that "there will be consequences" for the agents involved.

— Bill Melugin (@BillFOXLA) June 14, 2022
Bradford Betz , Bill Melugin: DHS set to punish Border Patrol agents accused in Haitian migrant 'whipping' incident: The Border Patrol agents' charges are said to be 'administrative violations' … Geebuzz fucking crisp, this administration! There's video of the whole interaction and there is no whipping. These men were cleared of the "whipping" charge. Their moral is already in the shitter, but they stay on duty. The US Border Patrol should go on strike, and that includes the damn diaper changing and meal serving to illegals in the facilities.
Terresa Monroe-Hamilton: DHS to punish Border Patrol agents cleared of whipping Haitian migrants; Biden vowed consequences
"No Security for YOU" and Gun Grabbin':
Jessica Chasmar: These 27 Democrats voted against protections for Supreme Court justices: The Supreme Court Police Parity Act passed the Senate on a 100-0 vote last month
The House passed a bill Tuesday to increase security for Supreme Court justices' immediate families, with 27 Democrats voting against, less than a week after a man was arrested for allegedly plotting to kill Justice Brett Kavanaugh.

The bill that's now headed to President Biden's desk for final approval provides for 24-hour protection for Supreme Court justices' families, similar to what is already provided for some members of the executive and legislative branches…

Democrats who opposed the bill argued that it also needed to include protection for court staff, including clerks, and their families…

All those who voted "no" on the Supreme Court Police Parity Act on Tuesday were Democrats. They are:

Rep. Joyce Beatty, D-Ohio
Rep. Jamaal Bowman, D-N.Y.
Rep. Cori Bush, D-Mo.
Rep. Veronica Escobar, D-Texas
Rep. Adriano Espaillat, D-N.Y.
Rep. Chuy Garcia, D-Ill.
Rep. Sylvia Garcia, D-Texas
Rep. Joshua Gottheimer, D-N.J.
Rep. Raúl Grijalva, D-Ariz.
Rep. Steven Horsford, D-Nev.
Rep. Pramila Jayapal, D-Wash.
Rep. Brenda Lawrence, D-Mich.
Rep. Barbara Lee, D-Calif.
Rep. Tom Malinowski, D-N.J.
Rep. Marie Newman, D-Ill.
Rep. Alexandria Ocasio-Cortez, D-N.Y.
Rep. Bill Pascrell, D-N.J.
Rep. Donald Payne, D-N.J.
Rep. Ed Perlmutter, D-Colo.
Rep. Ayanna Pressley, D-Mass.
Rep. Mikie Sherrill, D-N.J.
Rep. Albio Sires, D-N.J.
Rep. Rashida Tlaib, D-Mich.
Rep. Norma Torres, D-Calif.,
Rep. Nydia Velazquez, D-N.Y.
Rep. Maxine Waters, D-Calif.
Rep. Bonnie Watson Coleman, D-N.J.
We have yet to hear exactly who made the Roe v Wade draft letter leak of over a month ago.
Julio Rosas: MD Police Chief Gives Disturbing Details of Kavanaugh's Wannabe Assassin's Actions
Meanwhile, "gangster's paradise"…
Hi @JohnCornyn!

Did you see this promise from a leading Democrat that he would use "red flag" laws to silence conservative opponents? Did you also see how naked Hunter got a pass from the DOJ on his clear gun crimes?

This is why we are so dead set against it.@LeaderMcConnell https://t.co/DANb6WB4dl

— Kurt Schlichter (@KurtSchlichter) June 7, 2022
Kevin Haggerty: Eric Swalwell's cocky tweet claiming 'lunatic' Ben Shapiro a 'reason for red flag laws' comes back to bite
Please tell me this lunatic does not own a gun. Reason 1,578 America needs red flag laws. https://t.co/NA9IPs0CDV

— Rep. Eric Swalwell (@RepSwalwell) October 12, 2019
J.J. Sefton @ AoSHQ: "I Feel Safer Already"
Recall that the former Soviet Union locked people up in insane asylums because they deemed them crazy for wanting to emigrate to the west. That was literally a "red flag." Imagine a red flag law that allowed the confiscation of anyone's firearms if they knew the hapless patsies of the FBI's Gretchen Whitmer entrapment scam. Hell, if you lived on the same block as any of them. You don't need to be Nostra-freaking-damus to see where this is going. It is a fact that our law enforcement agencies and most of our courts are nothing more than corrupt rubber stamp enforcers of this junta and have zero regard for the protections afforded to us in the Constitution. Worse, my feelings about the mindset of the average beat cop, National Guardsmen or uniformed military soldier when given orders from this junta.

If you oppose crackpot race theories, transexual deviants grooming your children, or as "Va" Gina McCarthy shrieks "the transition to green energy," then you're crazy. And sure as night follows day, you need to have your weapons confiscated since your dangerous "insane" thoughts are a red flag.
Twitchy: Gun grabber Joe Biden apparently had *five* guns as of 2018, according to his son Hunter Biden
Spencer Brown: After Boudin Ouster, PA Lawmakers Look to Impeach Philly's Woke DA
The under-fire DA, though, is sticking to his soft-on-crime agenda and, publicly at least, continuing the charade that his woke policies are a good thing. "There is nothing new about there being resistance when you're trying to bring meaningful change and you're trying to change society," Krasner said this week sounding like Chesa Boudin. "What they are doing in terms of impeachment is clearly without a legal basis, it is clearly unconstitutional, and that will all come out as this proceeds — if it proceeds at all," he claimed trying to brush aside the scrutiny.

But in reality, the City of Brotherly Love is not so loving these days — violent crime has skyrocketed since Krasner took office in 2018. In 2021, Philly was one of 12 cities to smash their annual homicide record set in 1990 with more than 520 slayings. In December of last year, Krasner was asked about the spiking crime in the city whose laws he's supposed to enforce and whose citizens he's supposed to protect. His response, as Townhall reported, was literally unbelievable:

"We don't have a crisis of lawlessness, we don't have a crisis of crime, we don't have a crisis of violence," the district attorney said at his weekly news briefing in South Philadelphia according to The Philadelphia Inquirer. "It's important that we don't let this become mushy and bleed into the notion that there is some kind of big spike in crime," Krasner added.

That kind of brazen ignorance and attempt to brush aside a record-setting number of homicides as not a crime or violence crisis — while still refusing to take a tough-on-crime position — that made him a target for those who want to see law and order restored in Philadelphia.

Instead of cracking down on crime and putting criminals behind bars, Krasner has, for years, pursued "shorter sentences, diverting low-level offenses from the justice system, and charging crimes at a lower level."…
VIDEO: Shelter owner asks potential adopters about gun control: Civil rights attorney Robert Patillo and criminal defense attorney David Bruno share their insights on whether a shelter asking for beliefs regarding gun control prior to adoption is legal … Insane.
Cripesakes, Hollywood, get a clue. Even Bill Maher gets it…
Other Voting News:
Can't sleep. Still processing me magnitude of what just happened down in the RGV. One of our fellow Young Republicans just turned the political world on its head. The ripple effects of tonights election win will be felt this November and beyond. Great job to the @HidalgoYRs, pic.twitter.com/JfFTmteRDS

— Michael Salvo (@michaelsalvo4tx) June 15, 2022
Kyle Morris: FLIPPING RED – Mayra Flores wins big for GOP in Texas special election, will be first Mexican-born congresswoman … She's here legally and she is married to a US Border Patrol agent.
I voted for Mayra Flores – first time I ever voted Republican.

Massive red wave in 2022.

— Elon Musk (@elonmusk) June 15, 2022
Gotta say, congratulations again @MayraFlores2022 that's one hell of an endorsement to get.

— Ian Miles Cheong (@stillgray) June 15, 2022
Lorraine Taylor, Ken Martin: Elon Musk votes for Mayra Flores in Texas special election, suggests he likes DeSantis for president. Elon Musk also predicted a massive red wave is coming in 2022
Guy Benson: Siren: GOP Flips Overwhelmingly-Hispanic Texas Border Congressional District From Blue to Red
This broad needs to just give it up and get a friggin' life…
The latest January 6 hearings show that Trump knew he lost the election.

His own people told him he'd lost the election.

He then chose to wage a criminal conspiracy to overturn the results and prevent the peaceful transfer of power for the first time in American history.

— Hillary Clinton (@HillaryClinton) June 14, 2022
You're involved in a criminal conspiracy to overturn the 2016 election. You should be in jail.

Lock her up

— Wendell Husebø (@WendellHusebo) June 14, 2022
Twitchy: Hillary Clinton takes a swing at Trump for not accepting election loss, KOs herself (and other Dems) instead
It's like you're talking about yourself … lol.

Except, of course, he actually was president. You, not so much. 🙂 https://t.co/bNCLU7NOvS

— The🐰FOO (@PolitiBunny) June 15, 2022
MORE:
Old Joe's "Influencer"…
VIDEO: Joe Concha: Hunter Biden caught bragging about power over dad in laptop audio… Umm, hold on a second…
Steven Nelson: Joe Biden sticking to claim he and Hunter Biden never talked about foreign business
VIDEO: Douglas Murray on Hunter Biden: 'The prince is always the problem' with developments in the Hunter Biden investigation.
Co-COVID infections…
VIDEO: Dr. Makary: We are 'not sure' why kids are experiencing more than three viruses at once and doctors seeing offseason viruses at the same time.
"Hump Day" Reads:
I have a long and busy (very hot) weekend, so, these are quick-hit links to click and read…
Rick Moran: How Much Is Biden's Cookout Going to Cost This Year? In July 2021, some genius at the White House got hold of an American Farm Bureau report that claimed an American family's Fourth of July cookout cost all of 16 cents less than in 2020.
Biden on food shortages: "It's going to be real." pic.twitter.com/QGWRCf6LiB

— Townhall.com (@townhallcom) March 24, 2022
Athena Thorne: You Think Times Are Hard Now? Buckle Up, Buttercup
Chuck Ross: 'Dangerous': Top FBI Official Had Close Relationship With Dozens of Journos, Accepted Tickets to White House Correspondents' Dinner
Kylee Semple: Even With The Media Tossing Her Softballs, Biden Press Secretary Karine Jean-Pierre Can't Get The Bat Off Her Shoulder: There's really no other way to say it: White House Press Secretary Karine Jean-Pierre is really bad at her job.
Guy Benson: Feel-Good Story of the Week: Left-Wing Groups Destroying Themselves From Within Over Wokeness
Kevin Downey, Jr: Liar Liar, Narrative on Fire: Schiff and Cheney Get Clown-slapped for J6 Whopper
Kiyan Kassam: Jack Del Rio Was Right About The George Floyd Riots, And He Was Punished For It: While leftist elites obsess over the events of Jan. 6, the rest of the country is rightly concerned about the things that actually matter.
Daniel Greenfield: How the Media Used Russiagate Conspiracy Theories to Create a News Cartel: The alliance between Big Tech and Big Media was sealed with censorship and cash.
Eric Lendrum: Thousands of Californians Moving to Mexico to Escape High Taxes, Costs of Living … All those illegals from South/Central Americas and countries around the world crossing over the border into our country should have a look at this and reconsider and stay in Mexico. The US will look like California soon enough.
The stark irony of "1 in 5″…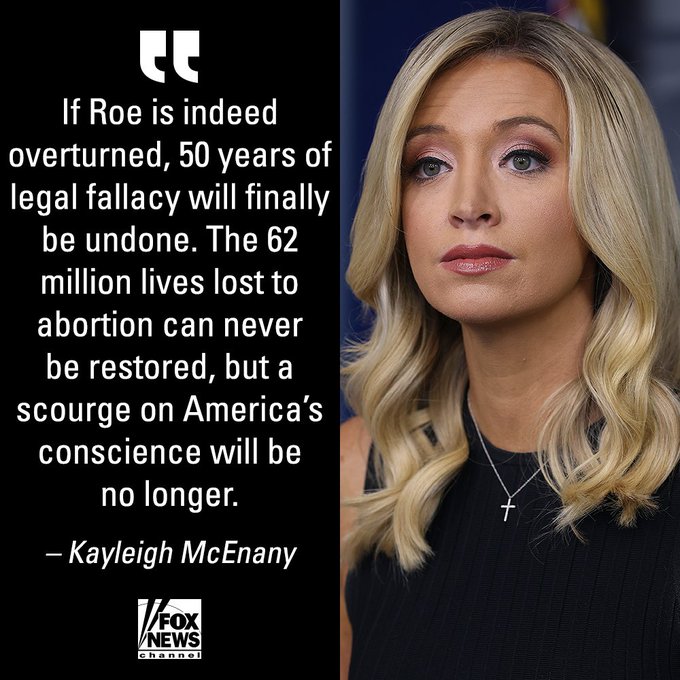 How incredibly sad…

1-in-5 children were aborted in 2020.https://t.co/hdENIi4WH4

— Kayleigh McEnany (@kayleighmcenany) June 15, 2022
Carla K. Johnson: US abortions rise: 1 in 5 pregnancies terminated in 2020
Natalie Winters: TRANSHUMANISM: Former Govt Advisor Claims '1 in 5' Babies Will Be 'Virtual' By 2075. UH… … Get a Tamagotchi.
Shawn Fleetwood: John Roberts' Refusal To Release Dobbs Opinion Is Jeopardizing The Lives Of His Colleagues: Roberts' refusal to issue the Dobbs decision has opened the floodgates for a bevy of continued threats and acts of violence against sitting members of the court from left-wing anarchists.
Throwing monkey shit at the wall to see if it sticks…
Natalie Winters: Scientists Want to Change the Name Of Monkeypox To Make It 'Non-Discriminatory' and 'Non-Stigmatizing'. SOUNDS LIKE THE SCIENTISTS HAVE BEEN SPENDING THEIR TIME USEFULLY AGAIN.
Paul Best: WHO renaming monkeypox virus after scientists voice concern that it is 'discriminatory and stigmatizing': At least 1,600 monkeypox cases have been reported across more than three dozen countries … Hey, worked out pretty great for racism with the pancake mix, box of rice and butter.
Natalie Winters: Wuhan Lab Isolated 'Causative Agent' Of Virus 'Closely Related' To Monkeypox. THIS IS ONLY EVER GOING TO GET WORSE.
~~Many thanks to Maggie and The Universal Spectator for reprint permission.