Yep. And YEP!
It says so much about that absolute moron Joe Biden

His idiot policies cause inflation and the price of gas to spike

But his focus is on taking away cigarettes and juul pods from Americans while his criminal son is free to smoke crack on film

They want to rub it in your face

— Comfortably Smug (@ComfortablySmug) June 22, 2022
C. L. Stallworth: Biden's planned ban on menthols hurts Black and Brown communities most: The target of the proposal is menthol cigarettes which are the most common choice of Black smokers
Julie Musto: Biden administration expected to reduce cigarettes' nicotine levels: report – Tobacco use remains the leading cause of preventable death
Ariel Zilber: FDA to ban Juul e-cigarettes in the US: report
Twitchy: Biden admin hopes to crack down on smoking by killing more smokers and increasing crime (don't worry, your gov't-issued crack pipes are safe)
Again, and YEP…
As usual, everything the left does has the opposite result(s) promised to the people, yet, the exact results the left intended…
Zero Hedge: "Showbiz", "Gimmick": Pelosi, Obama Dismiss Biden's Push To Suspend Federal Gas Tax Into Midterms … My local radio talk guy figured it out yesterday and it comes out to less than 20 cents/gallon. It will not stop the price of a gallon of gas from rising. So, if you are paying $5, $6, $7 a gallon it will only add up to a few dollars off your filled tank. And the prices will continue to go up because some people will have a false sense of savings and there will be a run on gas stations, and the gas supply will decrease … and the prices increase.
Liz Sheld: Morning Greatness: Biden Considers Gas Tax Holiday
FNC: Biden's move to suspend gas tax slammed as an 'unserious' solution by Oil and Gas Association president (w/VIDEO)
ABC News: Democrat Joe Manchin signals he won't support Biden's call for a gas tax holiday
John Carney: Just 11% of Americans Blame Putin for High Energy Prices: President Joe Biden's attempts to convince the American people that Russian leader Vladimir Putin is responsible for high gas prices and inflation has failed, polling data released Tuesday showed.
Joe Hoft: White House Press Secretary Makes Freudian Slip When Discussing Biden's Efforts to Address High Gas Prices (VIDEO)
Julian Conradson: Build Back Broke: Biden's Multi-Trillion Dollar Federal "Stimulus" Package Cost Taxpayers $855,000 Per Job Saved, Made "Near-ZERO Impact on National Income and Economic Growth"
More holes shot into The Bill of Rights…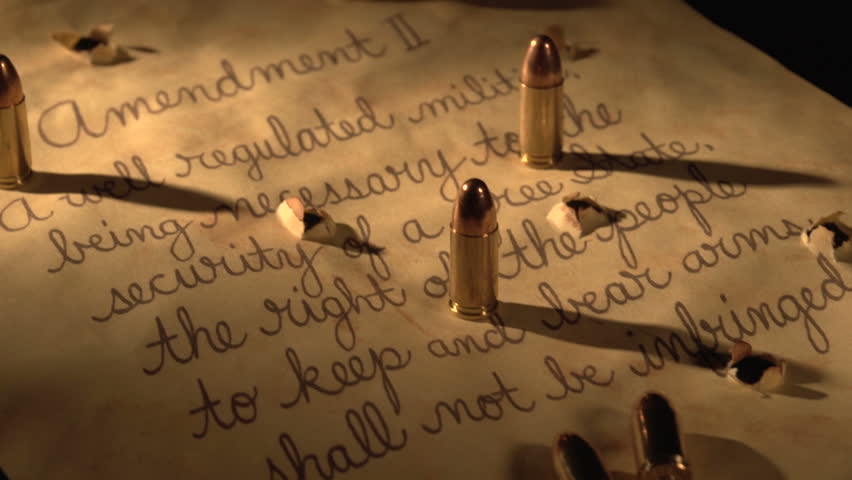 Landon Mion: Senate votes to advance bipartisan gun control legislation: Senate Majority Leader Charles Schumer said he expects the bill to pass by the end of the week. More than a dozen Republican senators back new gun control bill
Victoria Taft: The Bipartisan Gun Bill Is Every Bit as Bad as We Warned You It Would Be
Wednesday and is it just me or does it seem as if we have absolutely zero representation in government? Meh, why even ask that question when I have been asserting since January 6th, 2021 that we no longer even have a government. Our lives and everything we've worked for and played by the rules to build, achieve and try to leave as a legacy for our children is being destroyed and stolen by politicians who embody the perfect storm of zero morality, zero empathy, and most dangerous of all, essentially zero accountability in legal or political terms.

I don't need to go into the motivations of the tyrannical evil that is the Democrat-Left. To paraphrase that old song, "If you don't know them by now," etc. And then, there's the GOP…

Case in point is John Cornyn. After being greeted by an auditorium of jeers, boos and catcalls for his eagerness to join the Democrats (I use the word "join" as a placeholder since he never was separate from them) to grab our guns, and with Texas about to be swamped by a fresh invasion of hundreds of thousands if not millions more illegal aliens, both resulting in an indigenous Latino population fleeing Democrats, what does John Cornyn do?…
Read the whole thing.
Sean Moran: Sen. John Cornyn (R-TX) insisted on Wednesday morning that he was joking when he made a comment to other senators on Tuesday night promising an immigration deal after the gun control deal he negotiated in the Senate.
Twitchy: 'Disgraceful': Tweeters share contents of bipartisan gun bill supported by over a dozen Republican senators
Insurrection Intersection and Dissection:
Monica Showalter: NPR visits a swing district — and much to its surprise, learns that voters don't care about Dems' Jan. 6 hearings
Jeff M. Lewis: To the J6 Committee: Please, Spare Me Your 'Insurrection' Hysteria. Your double standards and Trump Derangement are the threat to the Republic.
Kevin Downey, Jr: Police Report Shows Undercover Cops Were Embedded With J6 Protestors … Well, we already knew the FBI was embedded in the crowd. And we already know and have seen the Capitol police willingly opening the building doors and practically inviting people inside.
Meanwhile…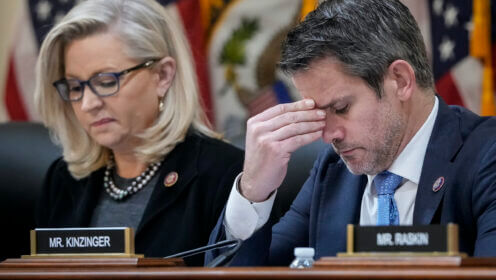 Chris Donaldson: Resistance superstar Liz Cheney now relying on Democrats to save her Wyoming House seat
Jeffrey Lord: Trump-Hating Kinzinger's Anti-Constitution Violence: As the Left's violent rampages continue, he blames Trump supporters.
Twitchy: Blue-checks are FLIPPING OUT after one of their heroes from Wednesday's Jan. 6 hearing said he'd still vote for Trump over Biden
Breitbart: Less than ten percent of Americans are following the January 6 committee's hearings "very closely," according to a new ABC News poll.
#WOOOOOOOKE Goose Meets Gander…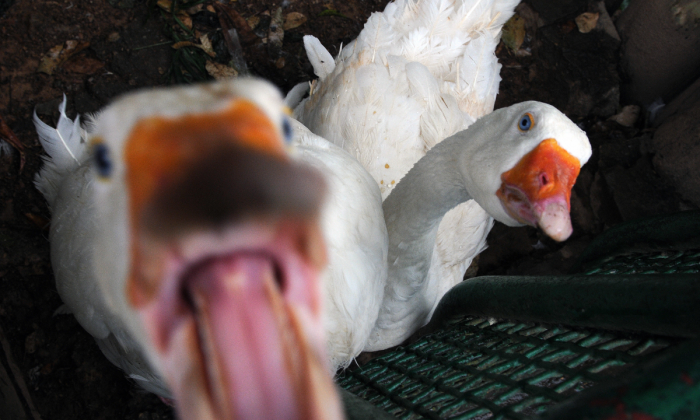 Hey, for these last 2 years conservative folks who have refused to vax, refused to use "pronouns" for themselves or others, refused to submit and bow to racial shaming, and in general not partake in the neo-fascism of the #WOKE movement have been fired. A prime example is recently sworn-in new American citizen and pro-American, anti-communist China and pro-human rights Enes Kanter Freedom who is a far better basketball player (and activist) than Colin Kaepernick was a football quarterback or a 'civil rights' activist.
Athena Thorne: SpaceX Straight-up Fires Woke Activist Employees
Stephen Kruiser: The Morning Briefing: Elon Musk Is the Boss All Woke Losers Need
Breitbart: Twitter Board Unanimously Approves Elon Musk's $44 Billion Takeover Bid: Twitter's board of directors has unanimously approved SpaceX and Tesla CEO Elon Musk's bid to take over the company for $44 billion, recommending that shareholders approve the deal. … HONK! HONK!
But … Why???
Emily Lefroy: French's creates summer's worst treat: a 'horrifying' ketchup-flavored popsicle … Finally, something to eat with those frozen hotdogs … *bleh*
Emily Miller: Lunchables shrinkflation frustrates father of autistic son: Kraft says 'cracker shortage' forces cutting from six to five
Mary Chastain: 'Stop Giving In': Customers Blast Grocery Store Pulling Pro-American Items: "Are you kidding? Do you people start on bended knee or is it like half bent and just waiting for a tweet?"
Twitchy: Announcement from Broadway theaters in NYC sparks high drama from panicked masking faithful … Good gawds, don't tell uber-mask Karen Patti LuPone!
The owners and operators of all 41 Broadway theatres in New York City will adopt a "mask optional" policy for the month of July. Audience members are still encouraged to wear masks in theatres. https://t.co/b06B8sMbCQ

— The Broadway League (@BroadwayLeague) June 21, 2022
I'm literally about to cancel tickets over this policy change so great decision!

— Katie Minard (Taylor's Version) (@KatieMinard) June 21, 2022
Good, stay home.

The more cancellations, the more shows close, and the more people will be out of work.

It's karmic retribution for the mass hysteria that's governed the city and it's performing arts sector over the last two years, and it's absolutely deserved.

— Clifton Duncan (@cliftonaduncan) June 22, 2022
Heather Hamilton: Mark Cuban's new drug company exposes billions in government overspending
USAToday: Polio is back: Virus detected in London sewage samples, health officials say … Well Hell, what a coincidence, huh, just as old Joe lets it slip, 'WE NEED MORE MONEY' … to get ready for a 'second pandemic'.
"Hump Day" Reads:
Emina Melonic: Our Outrage Addiction Disorder: The desensitization of ourselves to critical events is a serious problem for American culture.
Evan Poellinger: Abortion Supporters Make a Spectacle of the Grotesque and the Extreme: They embrace graphic imagery as Roe v. Wade faces the possibility of its demise.
Jed Babbin: The Democrat Incendiaries: From Schumer to Jane's Revenge to Joe Biden, they are setting the stage for political violence in reaction to a final ruling in Dobbs.
Robert Weissberg: Manufacturing Social Justice Warriors on an Industrial Scale
Vincent McCaffrey: Where It Begins: Destroying the books has always been a key to destroying a culture. We must save our own culture before we save anyone else's.
Joe Concha: The media bubble is real: Study shows massive disconnect between journalists, public: To say there's a disconnect between many journalists and the public they serve is a gross understatement, according to a new in-depth survey by the nonpartisan Pew Research Center.
Greenie Weinees…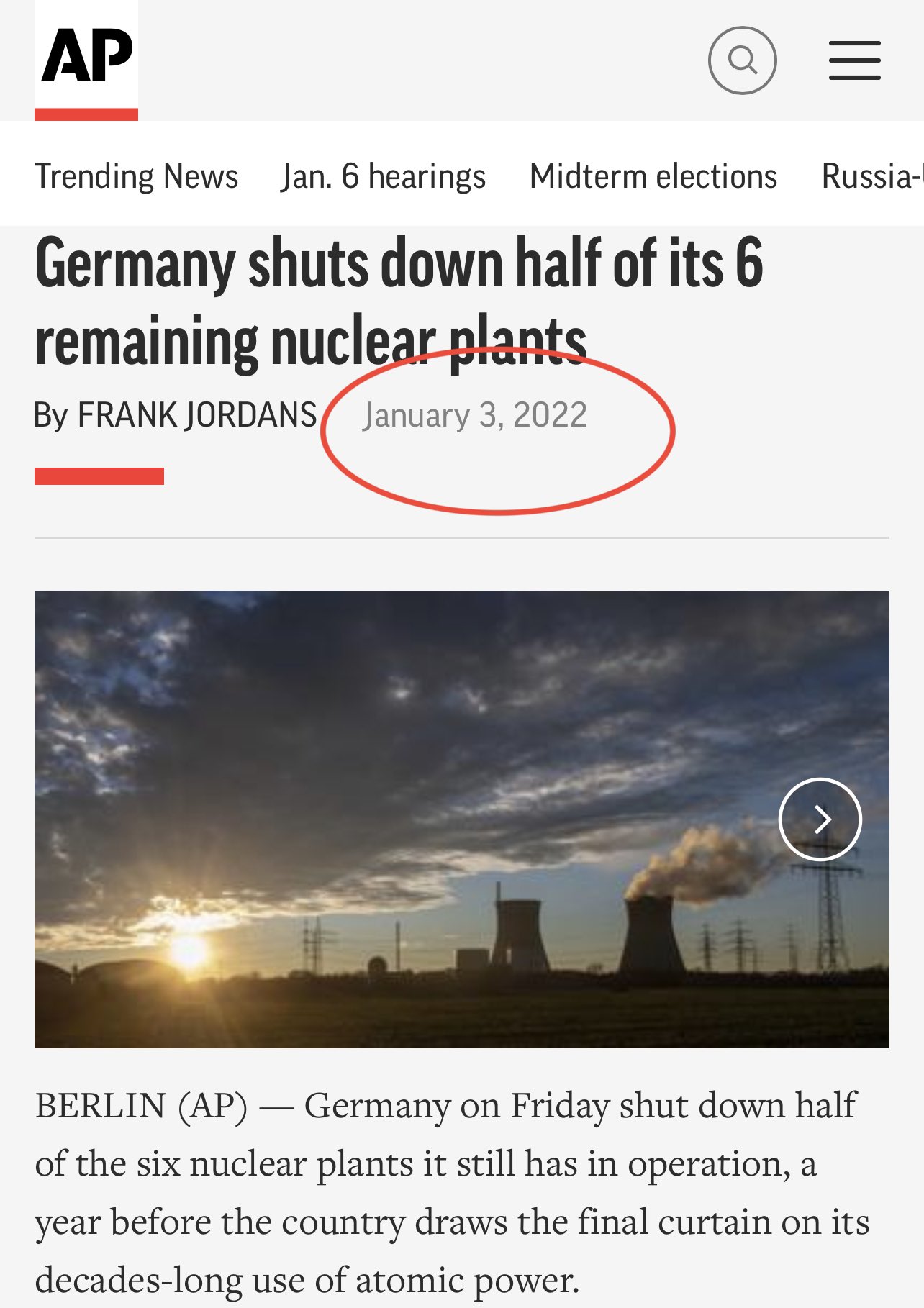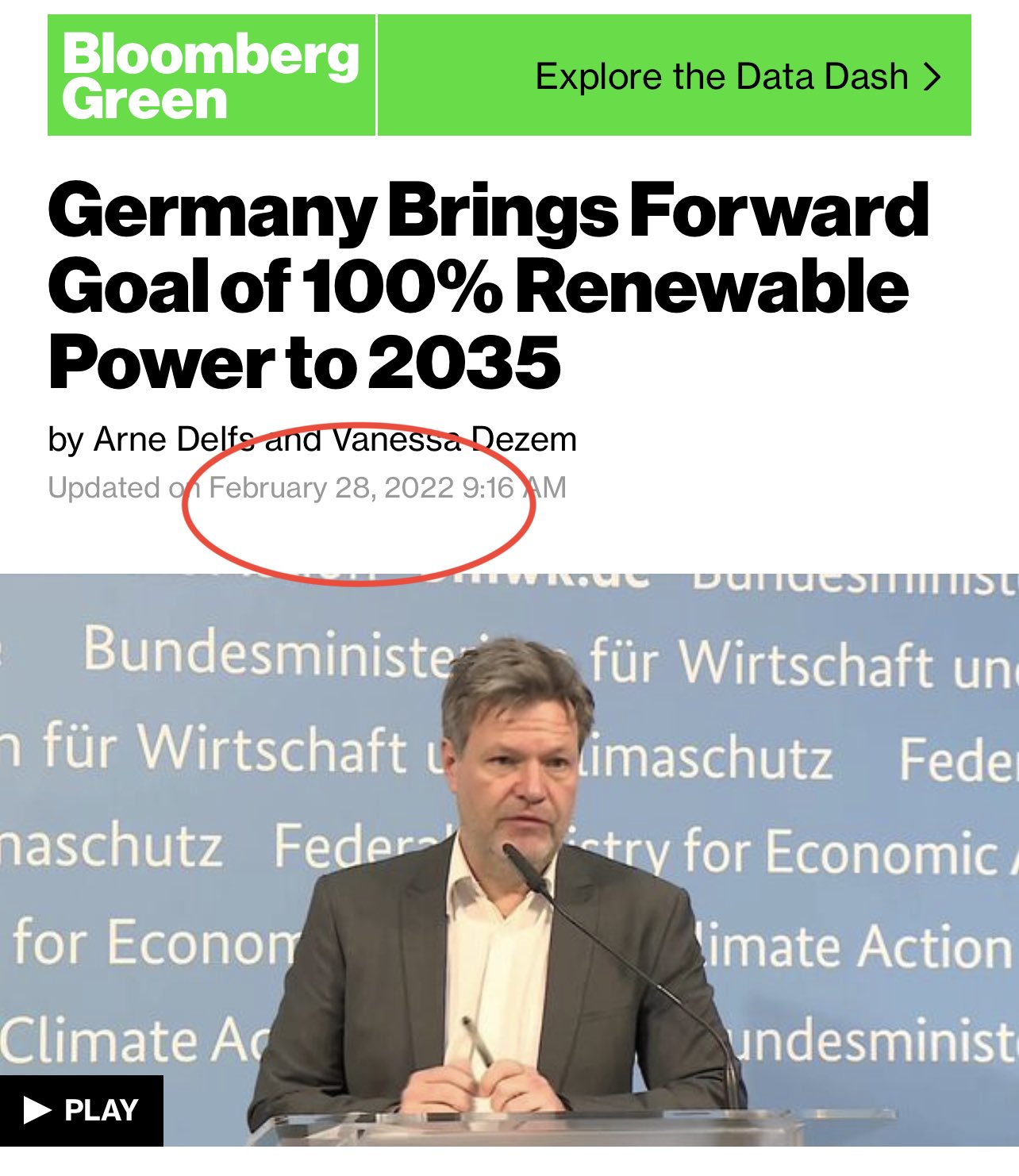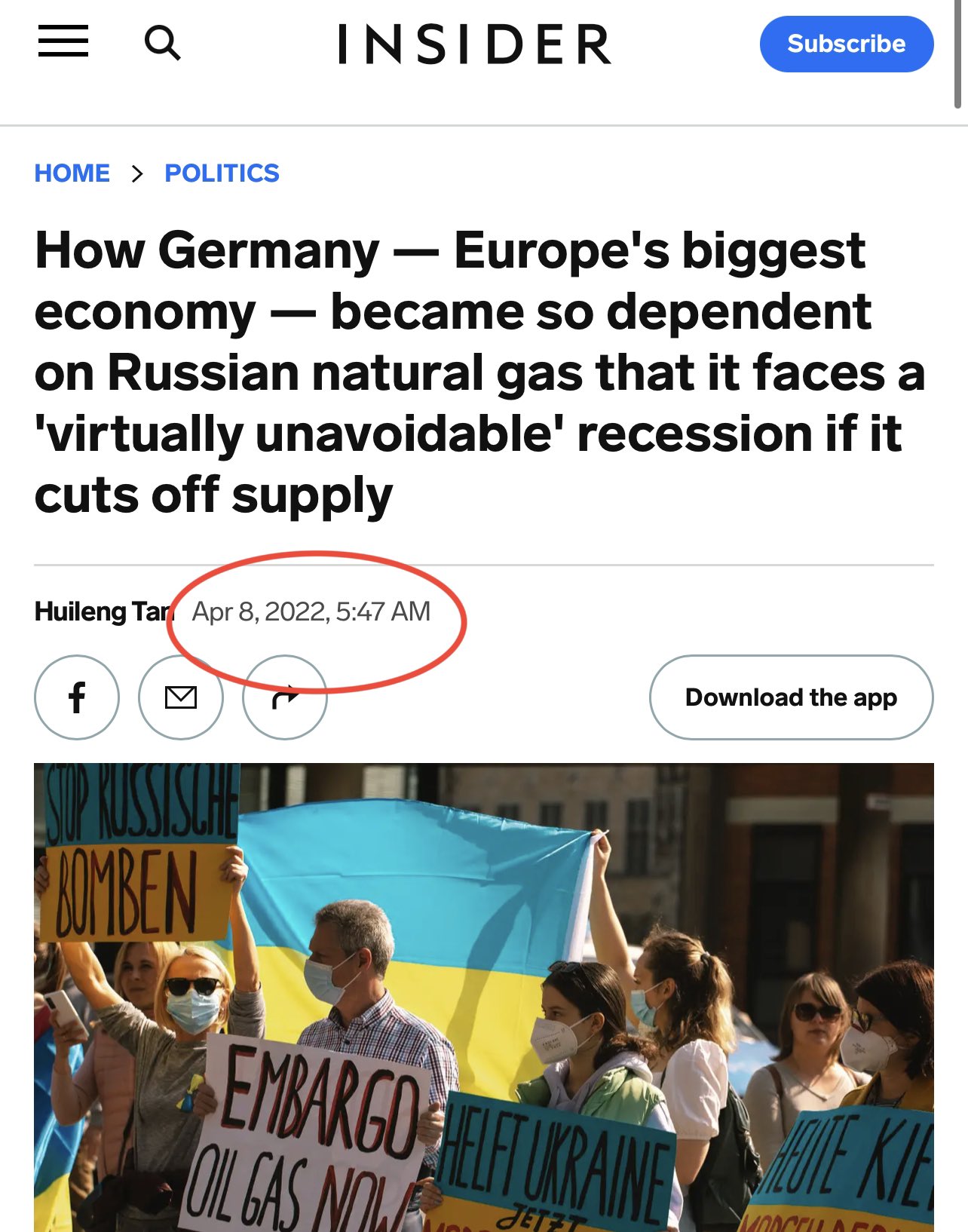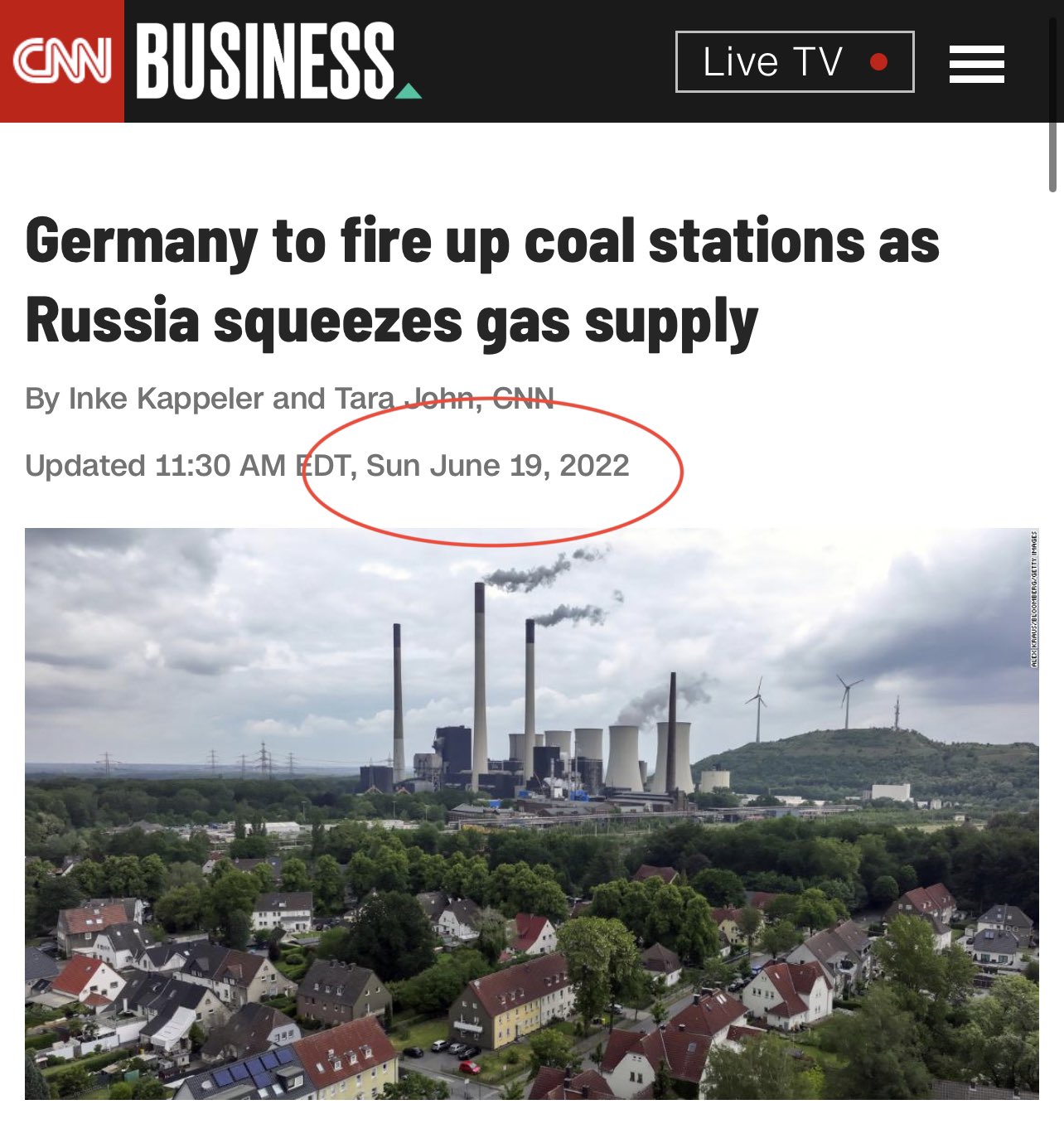 How Germany went "green" in 4 easy steps

1. Shut down clean nuclear
2. Move to unreliable wind/solar
2. Become reliant on Russian natural gas
3. Fire up dirty coal again pic.twitter.com/Jf8XsSK4rg

— Joseph Brown (@heresyfinancial) June 21, 2022
David Harsanyi: Germany's 'Green' Energy Disaster Is A Warning To The United States: As gas hit historic highs, leftists keep arguing it's a perfect time to transition to a "clean energy" economy
Jennifer Hernandez: Green Jim Crow: How California's Climate Policies Undermine Civil Rights and Racial Equity
Sarah Weaver: Attorney General Intervenes After Bill Gates Buys A Massive Amount Farmland In North Dakota
Joe Blows…
Putin says intercontinental ballistic missile will be used in combat 'by the end of this year'
The Telegraph pic.twitter.com/sridPIwxAb

— Wittgenstein (@backtolife_2022) June 22, 2022
Biden cancels sea-launched nuclear missile from Pentagon budget $ request … while Putin launches "Satan" missile 🚀🤦‍♀️ https://t.co/QjwusNsaU4

— Joni Job (@jj_talking) June 22, 2022
Patty-Jane Geller @ The Heritage Foundation: Putin Is Smiling: Why Did Biden Cancel the Navy's New Nuclear Cruise Missile?
Jen Mills: Russian colonel Vadim Zimin who carried Putin's nuclear codes briefcase found shot at his home near Moscow. carried Putin's nuclear codes briefcase for him. Vadim Zimin, 53, is gravely ill in intensive care, say reports.
Melanie Arter: Biden: 'There's Going to Be Another Pandemic': President Biden said Tuesday that there's enough COVID relief funding to get through "at least this year," but the administration needs more money for vaccines for children and "to plan for the second pandemic."
Gary Anderson: Biden and the Loss of Respect for America: Putin's contempt for Biden has been validated. ith friends like President Joe Biden, you don't need many enemies.
Ed Brodow: Five Reasons to Impeach Joe Biden: How Biden has crossed the line into serious legal jeopardy.
Russell Brand has 'thoughts' on 'centralized' power/government and corporate oligarchies pulling the political parties' puppet strings, and it's all peppered with a slight cockney accent…