Joe's Due for Ice Cream…
Micaela Burrow: US, Saudi Arabia On Alert After Warnings Of Iranian Attack
The Saudi military and U.S. troops stationed in the country have elevated their alert level after Saudi Arabia revealed information that could indicate an imminent attack from Iran, The Wall Street Journal reported Tuesday, citing Saudi and U.S. officials.

Saudi Arabia shared intelligence with the U.S. that Iran intends to attack targets in the Kingdom and in Erbil, Iraq, a move officials said would serve to distract from the increasingly severe protest movement within Iran, according to the WSJ. Officials did not specify the nature of the intelligence but said that the U.S., Saudi Arabia and other neighboring countries have upgraded their alert levels in response to the warnings.

The White House's National Security Council acknowledged the threats and said it would be prepared to respond if Iran followed through with the suspected attack…
Oh, goodie.
Meanwhile, Joe's gonna try to throw a "Hail—- you know, the thing" pass…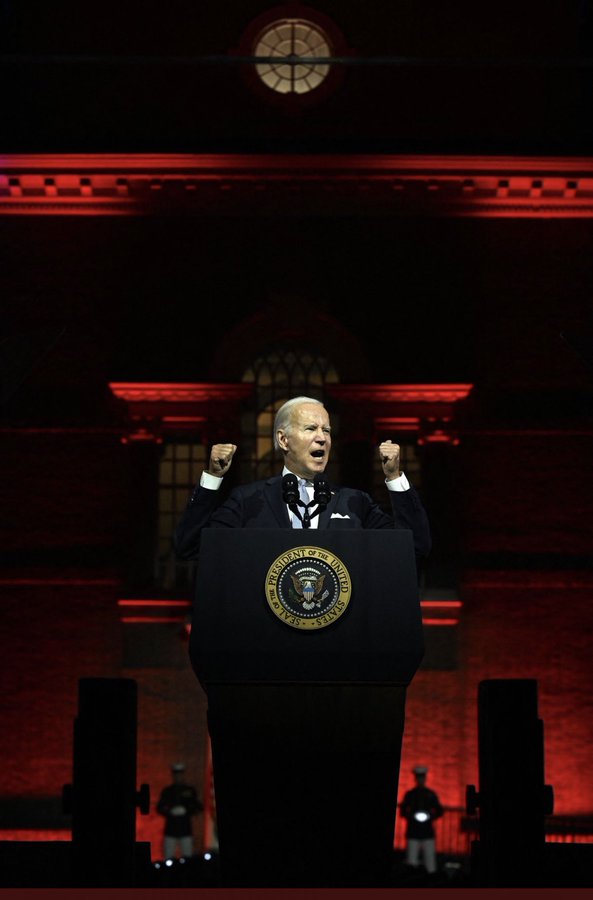 Chris Pandolfo, Kelly Phares: SURPRISE SPEECH – Biden to deliver remarks unscheduled DNC speech at Union Station near Capitol because 'that's where there was an attempt to subvert Democracy,' White House official says
Ronn Blitzer: Republicans push back against Dems' 'same old lies' about ending social security: RNC chair Ronna McDaniel accused Democrats of using 'scare tactics' before Election Day … So bad that even the WaPo gave Joe Biden and the rest "Four Pinocchio's".
Christopher Jacobs: Joe Biden Is Lying To Americans About Medicare And Social Security's Insolvency: While Biden and his cronies line their own pockets, ordinary voters will get hit the hardest by Democrats' debt denial.
It's Criminal to Ignore the Nation's Growing Crime Problem that Democrat Policies are Exacerbating:
Louis Casiano: NY mom killed in front of children hours after husband freed on no bail in alleged Facebook video beating
Katherine Donlevy and Reuven Fenton: Grieving Buffalo mother blames Kathy Hochul's no-cash bail for daughter's murder
FLASHBACK: Last week – Jack Birle: Hochul to Zeldin on crime: 'I don't know why that's so important to you'
Let's point out that most of the above crimes listed are typically committed with a weapon, and most of the weapons used are guns. But yes, let's make more gun laws, or something.
Halloween night terror in Chicago as atleast 20 people were shot, children (one as young as 3 years old) were shot while Trick-or-Treating…
Andrew Murray, Sophia Slacik: Top Democratic prosecutors revolt against criminal justice reform law they say will 'destroy' Illinois: A Democratic prosecutor is sounding the alarm over an Illinois law that will end cash bail
But these democrats and their lapdog MSM insist crime is down, so, republicans just shut-up. It's down very slightly in certain crimes, but that's compared to last year's high, not on whole and is still very high. And it is also mentioned that the federal government law enforcement agencies' data are counting these crimes differently, incompletely and inaccurately.
Gov. Murphy says republicans are "racists" for pushing the growing crime rate as an election issue…
Brianna Lyman: Phil Murphy Bashes GOP For Playing 'Crime Card Relentlessly And Shamelessly': "It reminds me, frankly, it goes back to Nixon's 'Southern Strategy.' It's got racial elements to it. Let's just call that for what it is."
WWWWOW!!! You know, a Hell of a lot of the innocent victims of this crime wave are Black, Hispanic, and Asian! Also, is Murphy insinuating the people committing the crimes are non-white races? Race should not be in any way a dismissive matter in this issue. It's hard to pick which Governor, Hochul-NY or Murphy-NJ, made the worst remarks on crime.
Stephanie Pagones: NJ suspected gunman at-large in Newark police officer shooting considered 'armed and dangerous,' officials say: New Jersey suspected gunman wanted for alleged attempted murder of Newark police officers
Kendall Howard, 30, shot two Newark Police officers on Tuesday while they were trying to question him near Chancellor Avenue and Van Velsor Place, the Essex County Prosecutor's Office said. Police were intensifying their manhunt on Wednesday.

Officers received a tip shortly before 1 p.m. Tuesday from "concerned citizen" who thought they recognized a suspect from a previous shooting. Newark Public Safety Director Fritz G. Fragé said officers were working to identify the suspect and went into a local building to try to do so…

Howard, who police said has a criminal history, remains on the loose, but has been charged with attempted murder, unlawful possession of a weapon and possession of a weapon for an unlawful purpose, the prosecutor's office said.
One Dem operative working on House races in NY says that the politician who's the biggest drag on Dems in the state isn't Biden or Pelosi — it's Gov. Kathy Hochul. "She's dragging down the whole ticket and we'll lose winnable House races because of it," the operative says.

— Josh Kraushaar (@JoshKraushaar) November 1, 2022
Jon Levine: Vulnerable New York Dems keep their distance from Gov. Hochul ahead of Election Day
Stacey Abrams is doing the same in Georgia

— BTFD (@JCBarraza2) November 1, 2022
Yep. Abrams ruined the Dems' ground game and it is one reason I think Walker can escape a runoff.

— Erick Erickson (@EWErickson) November 1, 2022
VIDEO: Dan Bongino: Kathy Hochul's message is 'patently offensive' to New Yorkers
There are no words. Actually, there are several but we'll keep it classy. https://t.co/3GIN3ZK2Rw

— Joe Concha (@JoeConchaTV) November 1, 2022
Multiple clowns on @TheView, @MSNBC
Etc are lying that crime is down under Biden.

It really isn't… And you can use his own Administration's data to prove it.

First, homicides.https://t.co/mKcYtbapIS

— Pradheep J. Shanker (@Neoavatara) November 1, 2022
Twitchy: Dr. Pradheep Shanker helpfully fact-checks Joy Behar's claim about crime 'going down under Joe Biden'
Hanna Panreck: 'The View' host Joy Behar dismisses Republican focus on crime ahead of midterms: 'Crime is not on the rise': Behar said crime rates were going down 'under Joe Biden'
Really? How about give up the ABC Studio limo service and ride the subway for a week, Joy.

— Maggie (@drillanwr) November 1, 2022
David Harsanyi: Biden's Energy 'Windfall' Tax Is Election Theater For Economic Illiterates: Not to mention, semi-fascisty
Leslie Eastman: U.S. Media Awakens to Nation's Looming Diesel Fuel Crisis: Wait until press discovers the root cause of the shortage is rabid fossil-fuel hate based on Franken-science it peddles.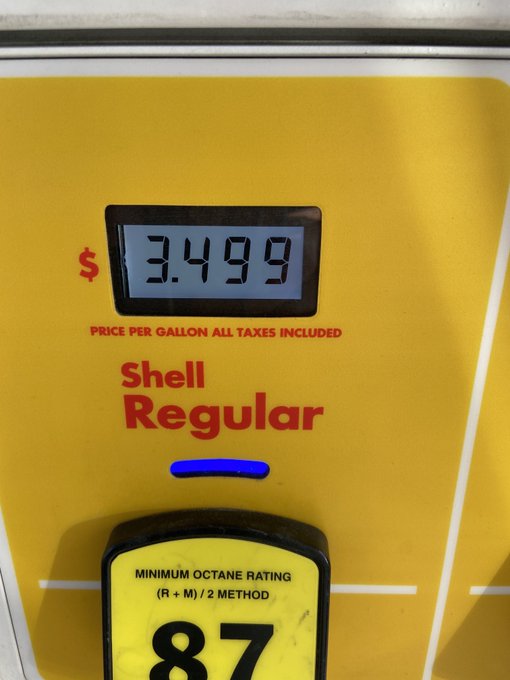 I don't get the obsession with "high" gas prices. pic.twitter.com/wWz6RJkIe1

— Patricia Zengerle  (@ReutersZengerle) November 1, 2022
Twitchy: Mystified Reuters journo can't for the life of her understand 'the obsession with 'high' gas prices'
Compared to a year ago, fuel prices in N. Va. are up anywhere from 28 cents/gallon for the lowest quality gasoline to $1.66/gallon for diesel, by which most goods are shipped. I don't get why propaganda press are so obsessed with pretending this isn't a valid concern for people. pic.twitter.com/qfWpk4XVd9

— Mollie (@MZHemingway) November 1, 2022

Exactly, Mollie. If only these naysayers would look at the outrageous price of diesel they might see how this "trickle up" energy policy of Biden's and his GND handlers is affecting the rising cost of everything from groceries to durable goods to electronics to fast-food/restaurants.
Next Tuesday night and the days after are gonna be lit…
Eric Lendrum: GOP Sends Election Observers to Monitor Close Races in Key States
Shawn Fleetwood: FL Democrat Election Official Claimed He Didn't Know Anything About Ballot-Harvesting Problems. This Video Says Otherwise: A Florida Democrat election official who claimed he had no knowledge of ballot-harvesting issues in his county is on video acknowledging the problem earlier this year.
VIDEO: Joe Concha: Democrats' election arguments are getting boring
Jeff Crouere: Democrats Show Desperation In The Home Stretch
New WSJ poll:

Generic Congressional Ballot: R +2
Last poll taken in August was D +3

Biden approval rating: 43/55https://t.co/Z1vmkPdTYJ

— Tom Bevan (@TomBevanRCP) November 1, 2022
Joshua Jamerson: Republican Election Prospects Rise as Inflation Overshadows Abortion, WSJ Poll Finds: New survey shows GOP with an edge in midterm voting enthusiasm as economic pessimism grows
Absolutely stunning movement among white suburban women. pic.twitter.com/sVjkvDaV23

— Tom Bevan (@TomBevanRCP) November 1, 2022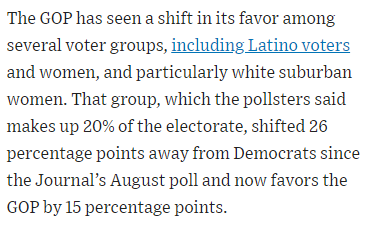 We tried to warn them about school closures, covid overreach, the sexualization of our young children, CRT and radical trans ideology in our schools. They didn't listen. Now they will hear these women loud and clear from the ballot boxes across America. https://t.co/Pxn3pPyJCg

— Megyn Kelly (@megynkelly) November 1, 2022
Red Dawn 2.0
Invasion: A large groups of mostly single, military-age adult males and females crossing a country's border illegally, waving another country's flag and attacking citizen authorities…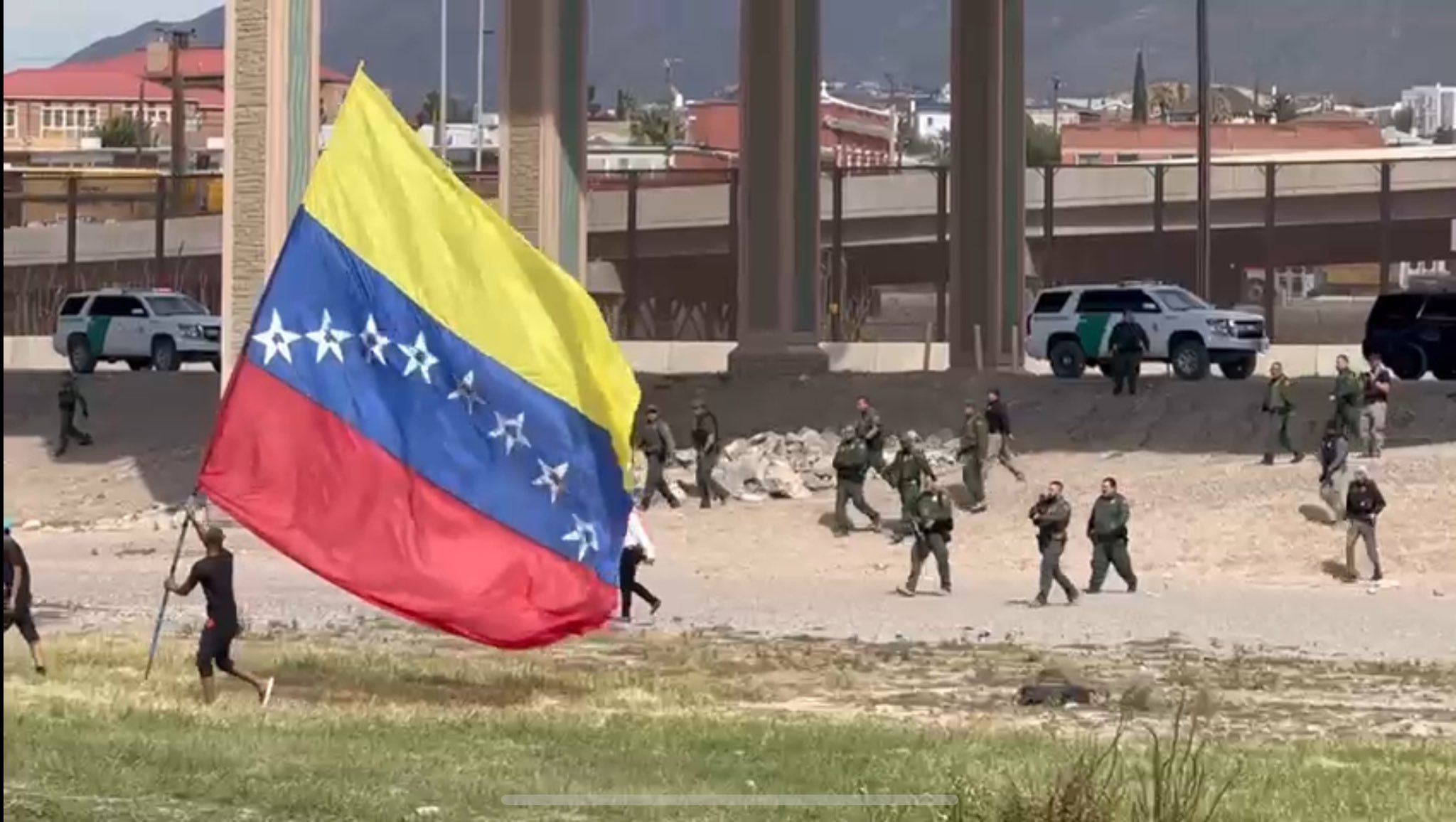 NEW: Longer video provided by activist at scene shows incident in El Paso yesterday where Border Patrol agents fired pepper balls at a group of Venezuelans crossing illegally into the U.S.
CBP says a thrown rock injured one agent, & another was assaulted with a flagpole. @FoxNews pic.twitter.com/t7FrGjnAtb

— Bill Melugin (@BillFOXLA) November 1, 2022
The activist who shot this video told us she did see one man throw a rock at Border Patrol.
CBP statement:  pic.twitter.com/0EhjhP2SYk

— Bill Melugin (@BillFOXLA) November 1, 2022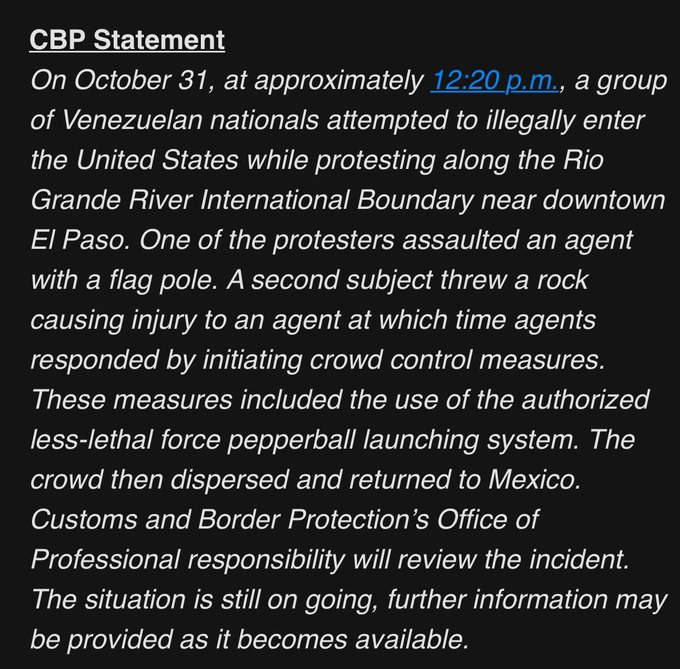 Bill Melugin and Adam Shaw: OPEN BORDER INVASION – Massive group of illegal migrants enters US, attacks Border Patrol agents while waving Venezuelan flag: In Del Rio Sector alone, there have been over 50 large groups of more than 100 migrants since Oct. 1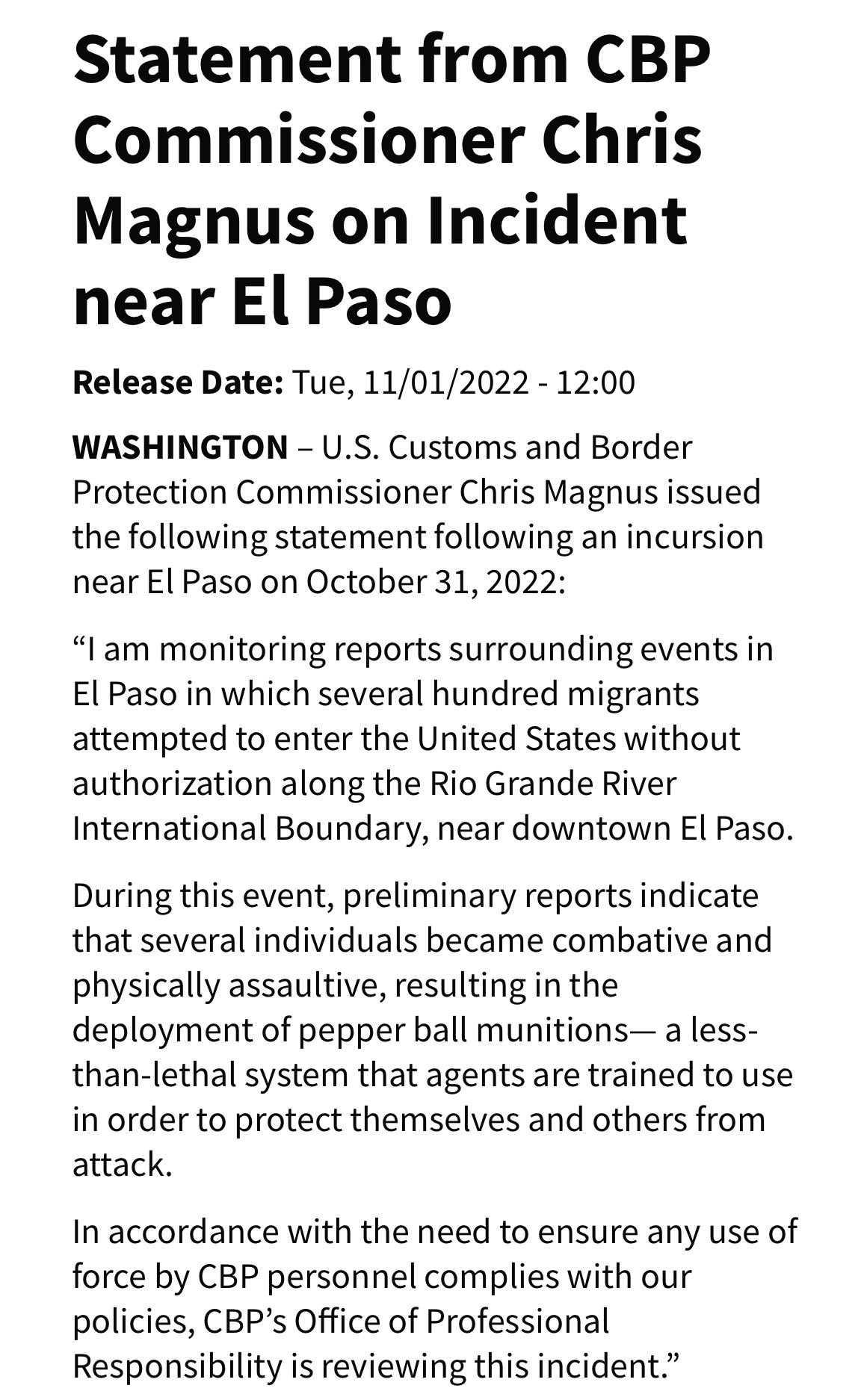 VIDEO: Massive group of Venezuelan migrants cross border, wave flag on US soil: Fox News' Bill Melugin reports the latest on the migrant surge from Normandy, Texas
Bill Melugin, Adam Shaw: BORDER WARS – Inside the 'rough' meeting between Mayorkas and CBP agents: Internal DHS emails describe 'rough' meeting between Mayorkas, Border Patrol agents
Gwendolyn Sims: Failure at the Border: 5.5 Million Illegal Immigrants Have Crossed Into the U.S. on Biden's Watch
Stephen Kruiser: COVID Is on the Ballot Next Week and Running as a Democrat
Still MORE Questions than Answers or Videos:
Yaron Steinbuch: Paul Pelosi attack: Cops weren't monitoring cameras during Paul Pelosi break-in attack: The Capitol Police has live cameras outside Democratic House Speaker Nancy Pelosi's home — but officers were reportedly not watching the feeds when her husband was brutally assaulted.
BREAKING – DEVELOPING:
Looks like Bibi's back! Winner by a landslide in Israeli elections, Benjamin Netanyahu!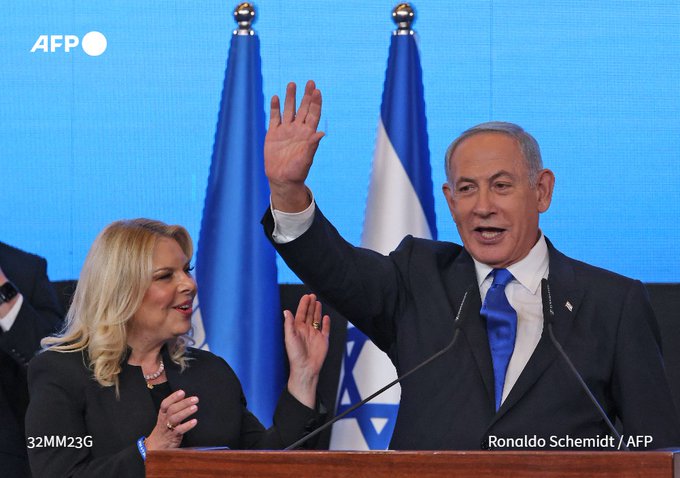 TOI: With 97% of regular votes counted, Likud-led bloc has 65 seats, Meretz out
~~Many thanks to Maggie and The Universal Spectator for reprint permission.