Posted by Maggie on August 12, 2022 in General News
I don't know about y'all but I'm a bit weary of the 'chain-jerking' of the MSM after this ridiculous week of democrat stunt drama(s). So, let's just get right to the level-heads…
Until the GOP can take back the White House in 2024, let's hope and pray they take the House and Senate and hold very aggressive investigations, financial audits, and hearings on the DOJ/FBI, and possibly even cutback on their funding…
Memo to the Democrat-media complex trying to normalize this situation. The fallout will hurt the country, and likely Democrats too. https://t.co/dn37T13rI4 via @WSJ

— Kimberley Strassel (@KimStrassel) August 11, 2022
Kimberley A. Strassel: The Payback for Mar-a-Lago Will Be Brutal: What went around Monday will come around hard for the Democrats when Republicans control the Justice Department and FBI.
Trump derangement syndrome has a curious way of scrambling coherent thought. Witness the Democratic-media complex's blind insistence the Justice Department raid on Donald Trump's home is just and necessary—rather than a dangerous move for their party and the republic.

In descending on Mar-a-Lago, the department and the Federal Bureau of Investigation shifted the U.S. into the category of countries whose ruling parties use government power to investigate political rivals. No attorney general has ever signed off on a raid on a former president's home, in what could be the groundwork for criminal charges.

Yet to read the left's media scribes, Monday's search was a ho-hum day in crime-fighting. The Beltway press circled the wagons around Attorney General Merrick Garland and primly parroted Speaker Nancy Pelosi's piety that "no one is above the law."…

The bar has always been at its highest when the investigation involves a former president. Even more so when the former president remains a contender for the office. Mr. Garland breezed past all this history and complexity in his "equal under the law" statement Thursday, even as he expressed outrage that anyone might mistrust the department and the bureau that brought us the Steele dossier and the Carter Page wiretaps.

Democrats may be betting that adverse coverage of Mr. Trump will help them in November, or in 2024. They'd better hope so. Their media defenders recklessly ignore the boomerang history of unleashed governmental powers and the long-term political danger of violating precedents and norms. A Democratic Congress enacted, and Jimmy Carter signed, the first independent counsel law in 1978. Two decades later it led to Bill Clinton's impeachment.

If anything, a perceived political persecution of Mr. Trump could help him to a second term…
It's a bit much to hear Garland lecture that it's beyond the pale to criticize FBI/DOJ, given the Steele dossier, the Page warrants, and the Mueller whitewash of all of it… The country has every right to be skeptical. https://t.co/X0xR6tTlPI via @WSJ

— Kimberley Strassel (@KimStrassel) August 11, 2022
Twitchy: Kimberley Strassel tells Merrick Garland why 'we have every right to be skeptical' of the DOJ/FBI
Under "Attachment B" of the FBI raid document, Garland demanded the seizure of literally any record Trump ever saw, read, or created over the entire 4-year term of his presidency: "Any government and/or Presidential Records created between January 20, 2017, and January 20, 2021."

— Sean Davis (@seanmdav) August 12, 2022
Twitchy: ARGLE RAR! Lefties who've spent days taunting Trump to 'ReLeAsE tHe WaRrAnT' freak TF OUT when Trump releases the warrant and LOL … And at an even higher level of insane hilarity this same ilk loves when others are doxxed by the MSM and other vile activist types. Go TF figure, huh?
THE WARRANT IS HORSE SHIT.

I've seen it.

Judge should be disbarred.

They took PHOTO BOOKS.

— Raheem J. Kassam 🍊 (@RaheemKassam) August 12, 2022
Breaking: Reports detail Biden FBI dishonesty in warrant application: Law (and prior federal gov position) is records in possession of a former president are presumptively unclassified, personal records.

— Tom Fitton (@TomFitton) August 12, 2022
Trump says everything seized by the FBI had already been declassified and could have been taken whenever they wanted it. pic.twitter.com/Gf3WMbUUcU

— Clay Travis (@ClayTravis) August 12, 2022
Twitchy: Trump statement has info related to the FBI document seizure we're not hearing from DOJ or media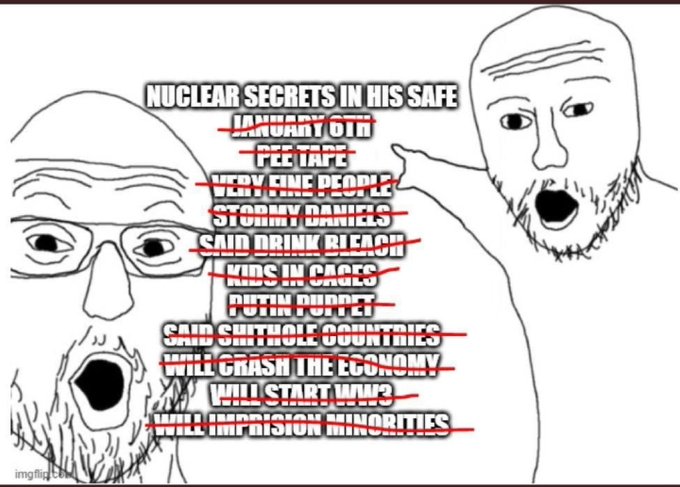 DC: 'Smoking gun': Biden admin sued for not releasing docs declassified by Trump on Russia collusion investigation
A watchdog is suing President Joe Biden's Justice Department (DOJ) for not releasing records related to the FBI's defunct probe into ties between Donald Trump's campaign and the Russian government — even though the former president declassified the records.

Judicial Watch is suing the DOJ to obtain the records, as well as communications between DOJ officials and government employees on the declassification of the records. The lawsuit, which was filed on Aug. 1, comes after the conservative watchdog submitted a Freedom of Information Act (FOIA) request in February.

"The Obama-Biden Administration and Deep State spying on Trump and his associates is the worst government corruption scandal in American history," Tom Fitton, president of Judicial Watch, said in a statement Monday. "And to make matters worse, the Biden DOJ simply refuses to release smoking gun documents about this corruption that the American people have an absolute right to see!"

Trump issued a memo on Jan. 19, 2021 declassifying materials in a binder that the DOJ gave to the White House in December 2020 on the "Crossfire Hurricane" probe. However, the binder's materials never saw the light of day after the DOJ sought to issue redactions over privacy concerns, as detailed in a memo on Jan. 21, 2021 authored by then-White House Chief of Staff Mark Meadows, who told the DOJ he would return the records.

Crossfire Hurricane was opened on July 31, 2016 and ended in May 17, 2017. Then-Special Counsel Robert Mueller concluded in 2019 that the Trump campaign did not coordinate with Russia, as did other investigations…
AMAC: The True Meaning Behind the Trump Raid
Gutfeld…
And so "State-Run Media" or "democrat party media arm"?…
Vanderleun: I curse DEMOCRAT!
Everybody Wants to Rule the World…
Micaela Burrow: World Economic Forum Wants To Use AI To Automatically Censor Speech On The Internet
William Kilpatrick: C.S. Lewis' Fantasy is Our Reality: The British writer foresaw a few things that weren't on Orwell's radar.
George Orwell's prophetic novel 1984 has often been invoked for its ability to predict the increasingly arbitrary and tyrannical nature of our present society.

But three years before the publication of 1984, another dystopian novel which was in some respects more prescient than Orwell's appeared in English bookstores.

Like 1984, only on a smaller scale, C.S. Lewis's That Hideous Strength describes a descent into tyranny that bears an eerie resemblance to our current situation. However, Lewis foresaw a few things that weren't on Orwell's radar.

When Orwell reviewed That Hideous Strength shortly after its publication in 1945, he warned that "we are within sight of a time when such [monstrous] dreams will be realizable."…
Liddy-Bitty News Briefs:
Ed Morrissey: Liz Warren: "Everyone comes up to me and says, 'I would vote for you, if you had a penis.'" … Democrat voters are such disgusting sexists!
Stephen Green: Liz Warren Says She'd Be President If She Had a Penis and I Can't Stop Laughing … Seriously, Liz, just go have gender re-assignment surgery and STFU.
Sarah Weaver: Wall Street Does Damage Control After GOP Targets Woke Capital
DC: Twitter Employee Found Guilty Of Spying For Saudi Arabia
Vivek Saxena: Bo Snerdley cuts through BS, tallies black votes needed to ensure Dems never win presidency again (w/VIDEO)
Sacrilegious…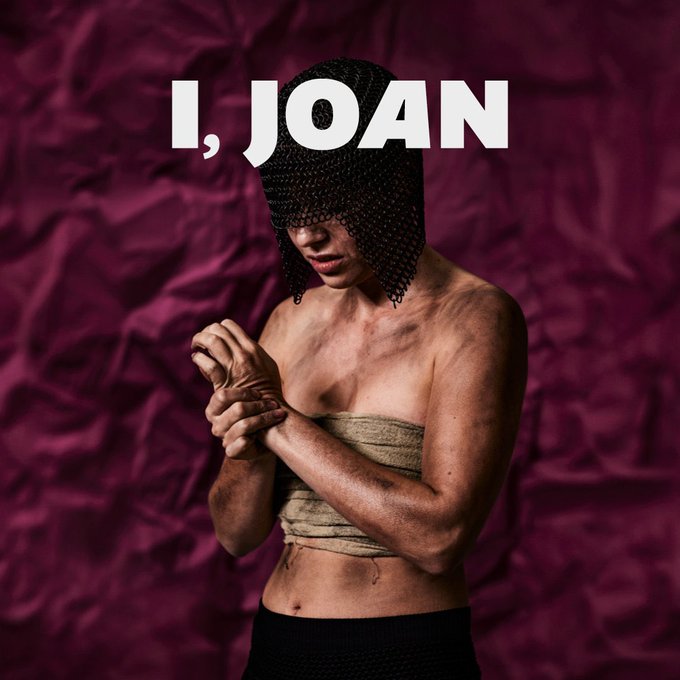 Our new play I, Joan shows Joan as a legendary leader who uses the pronouns 'they/them'. We are not the first to present Joan in this way, and we will not be the last. We can't wait to share this production with everyone and discover this cultural icon.https://t.co/19T7baWsRk pic.twitter.com/lrgOC59TvQ

— Shakespeare's Globe (@The_Globe) August 11, 2022
This sorta-kinda changes the whole impact of her sacrifice, strife & struggle in an uber-misogynistic era to get men to trust & follow her into battle, but you keep being hateful delusional anti-women slugs creating #WOKE slime. 1/2https://t.co/S68Ttkyjv2

— Maggie (@drillanwr) August 12, 2022
I specifically chose St. Joan of Arc as my Patron Saint for my Holy Confirmation because of her incredible leadership and strength in the face of everything against her.

— Maggie (@drillanwr) August 12, 2022
~~Many thanks to Maggie and The Universal Spectator for reprint permission.