Posted by Maggie on June 24, 2022 in From the editors
Ronn Blitzer & Kelly Laco: SUPREME RULING – In landmark ruling SCOTUS releases highly-anticipated decision on Roe v. Wade, weeks after unprecedented opinion leak: The case before the court centered on a Mississippi law banning abortions after 15 weeks
The Supreme Court on Friday overturned Roe v. Wade, effectively ending recognition of a constitutional right to abortion and giving individual states the power to allow, limit, or ban the practice altogether.

The ruling came in the court's opinion in Dobbs v. Jackson Women's Health Organization, which centered on a Mississippi law that banned abortion after 15 weeks of pregnancy. The Republican-led state of Mississippi asked the Supreme Court to strike down a lower court ruling that stopped the 15-week abortion ban from taking place.

"We end this opinion where we began. Abortion presents a profound moral question. The Constitution does not prohibit the citizens of each State from regulating or prohibiting abortion. Roe and Casey arrogated that authority. We now overrule those decisions and return that authority to the people and their elected representatives," Justice Samuel Alito wrote in the court's opinion.

The opinion comes after a leak of a draft opinion from February striking down Roe caused nationwide debate and promoted pro-choice activist protests at the homes of the six conservative justices. In addition, dozens of pro-life pregnancy centers were vandalized since the opinion leak, Catholic churches were targeted for protests and unrest, and a suspect was charged with attempted murder for allegedly trying to assassinate Justice Brett Kavanaugh…
SUPREME COURT:
"Held: The Constitution does not confer a right to abortion; Roe and Casey are overruled; and the authority to regulate abortion is returned to the people and their elected representatives"

— Emily Miller (@emilymiller) June 24, 2022
2. SUPREME COURT:
Abortion presents a profound moral question. The Constitution does not prohibit the citizens of each State from regulating or prohibiting abortion.

— Emily Miller (@emilymiller) June 24, 2022
Where it should have been all along. Who've thunk it that "Orangeman Bad" would've been responsible for the end of Roe v Wade?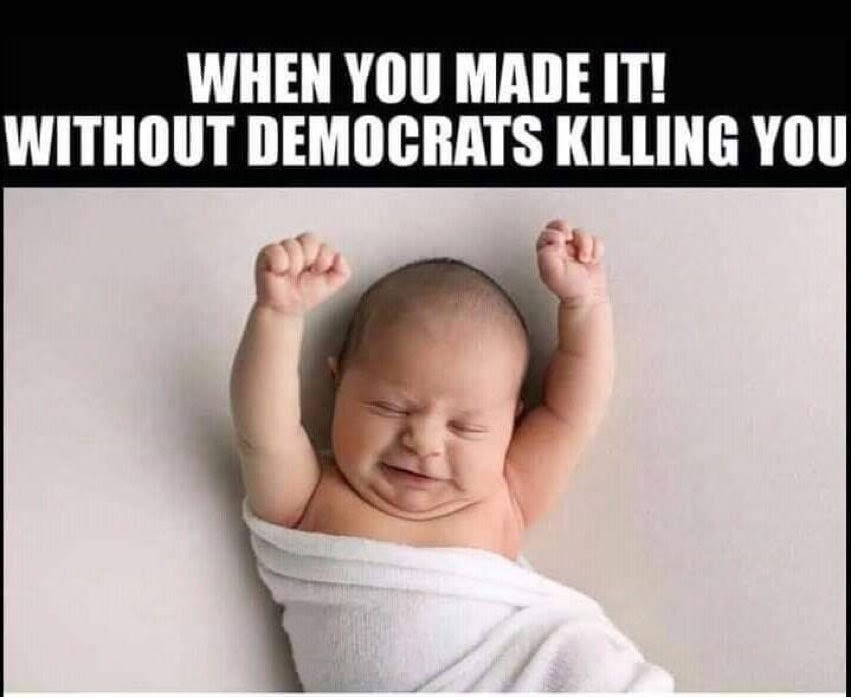 Twitchy: BREAKING: SCOTUS' 6-3 Dobbs ruling effectively overturns Roe v. Wade … now brace for the Outrage Mob … Indeed. Can't wait for the Pelosi/AOC/Schumer/etc. outrage as well.
Get ready for the gnashing of the teeth — and worse. They never take any hindrance of their blood sacrifice lying down.

— baldilocks (@JulietteAkinyi) June 24, 2022
It's clear @SpeakerPelosi didn't even read the opinion.

She just repeated a lie.

Where are the fact checkers?!

— Richard Grenell (@RichardGrenell) June 24, 2022
Speaker Pelosi just repeated the false claim that this decision now undo cases on contraception and other areas. That is simply untrue and the Court expressly addressed that false claim in the opinion…

— Jonathan Turley (@JonathanTurley) June 24, 2022
…The majority rejects that claim and notes that "perhaps this is designed to stoke unfounded fear that our decision will imperil those other rights." Having the Speaker refer to the next election despite the express statement to the Court seems to reaffirm that view.

— Jonathan Turley (@JonathanTurley) June 24, 2022
…Speaker Pelosi just called these justices "right-wing politicians." It is another attack on the integrity of the Court and its members. Yet, even law deans have called these justices "partisan hacks." https://t.co/vEgxiTbK0u

— Jonathan Turley (@JonathanTurley) June 24, 2022
Is this before or after she claimed to be a devout Catholic?

— FugitiveMama (@fugitivemama) June 24, 2022
She knows it's untrue. Stirring the pot is the goal. Inciting is the goal.

— NiedermeyersDeadHorse aka NDH (@NiedsG) June 24, 2022
It's important to remind people that overturning Roe v Wade does NOT ban abortions.

It simply returns the decision to the states.

Abortions will be EXPANDING in many blue states as a result. https://t.co/ip5uVqFybk

— JD Rucker (@JDRucker) June 24, 2022
THE MSM begins its conniption fit..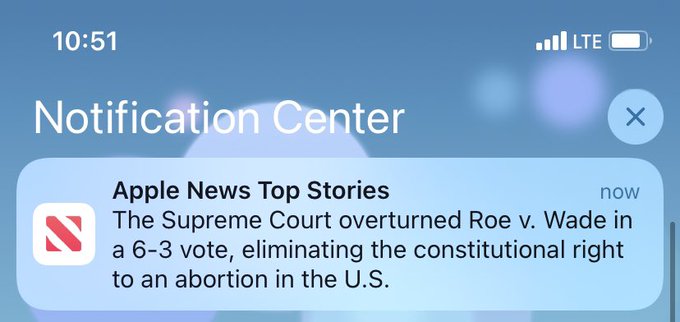 Flagging this as misinformation. Courts cannot "eliminate" a constitutional right.

The Supreme Court rightly held the "constitutional right to abortion" DOES NOT EXIST.

🤡🤡🤡 pic.twitter.com/Xep1LSIxU1

— Jenna Ellis (@JennaEllisEsq) June 24, 2022
P.S.:
Hey, SCOTUS, how about finally releasing the leaker and their punishment?
UPDATES: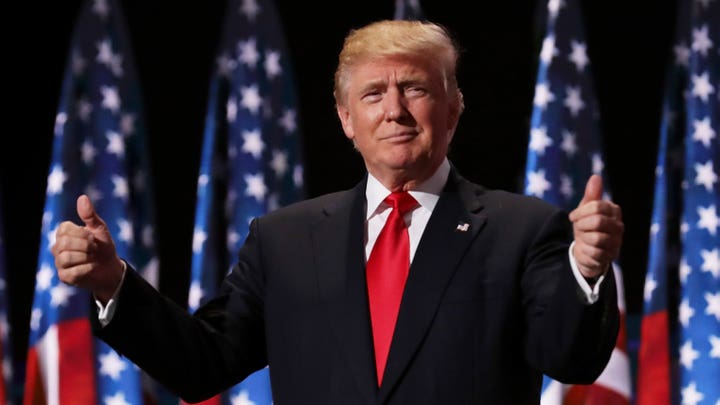 Brooke Singman: Trump praises Supreme Court decision overturning Roe v. Wade, says ruling 'will work out for everybody': The Supreme Court overturned Roe v. Wade Friday
So many dems pissed-off the SCOTUS threw out the Roe v Wade genocide/infanticide 'law'…
VIDEO: Pelosi reacts to Roe v. Wade reversal: 'The hypocrisy is raging': House Speaker Nancy Pelosi delivers remarks on the potential impact of the Supreme Court's ruling.
Thomas Catenacci: SUPREME MELTDOWN – Rep. Maxine Waters unleashes fiery response to Supreme Court as she reacts to Dobbs ruling: 'The hell with the Supreme Court. We will defy them': California Democrat says 'millions' will protest Supreme Court abortion decision
Twitchy: Feels INSURRECTION-Y: Maxine Waters goes on insane rant screeching 'TO HELL WITH THE SUPREME COURT … We will defy them!' (watch)
Twitchy: Hillary Clinton condemns Roe v. Wade decision, gets reminded what might have been if only…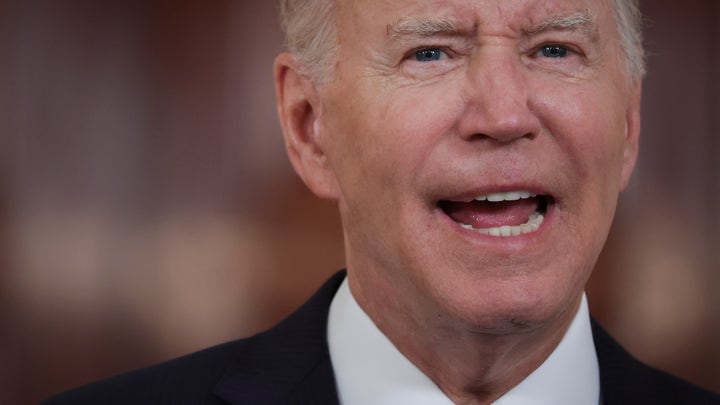 Brooke Singman: Biden calls on Congress to restore Roe v. Wade abortion protections as federal law: 'This is not over': Biden urged protesters to remain 'peaceful' after Supreme Court decision overturning Roe v. Wade
Twitchy: Welp, it's official … Jennifer Rubin's reaction to SCOTUS overturning Roe is the most 'BATS**T' we've seen YET (and that's sayin' somethin')
Kristine Parks: Roe v. Wade overturned: Liberal journalists rage at Ruth Bader Ginsburg for not retiring: 'Thanks especially to RBG today for making this possible' one writer tweeted about the Supreme Court decision
Hey, I don't have a real problem/issue with this:
See, you pro-abort libs can take care of these 'needs' for women…
.@DICKS promises employees they will pay up to $4,000 in travel expenses to get an abortion pic.twitter.com/nIuHfAiGpY

— Libs of TikTok (@libsoftiktok) June 24, 2022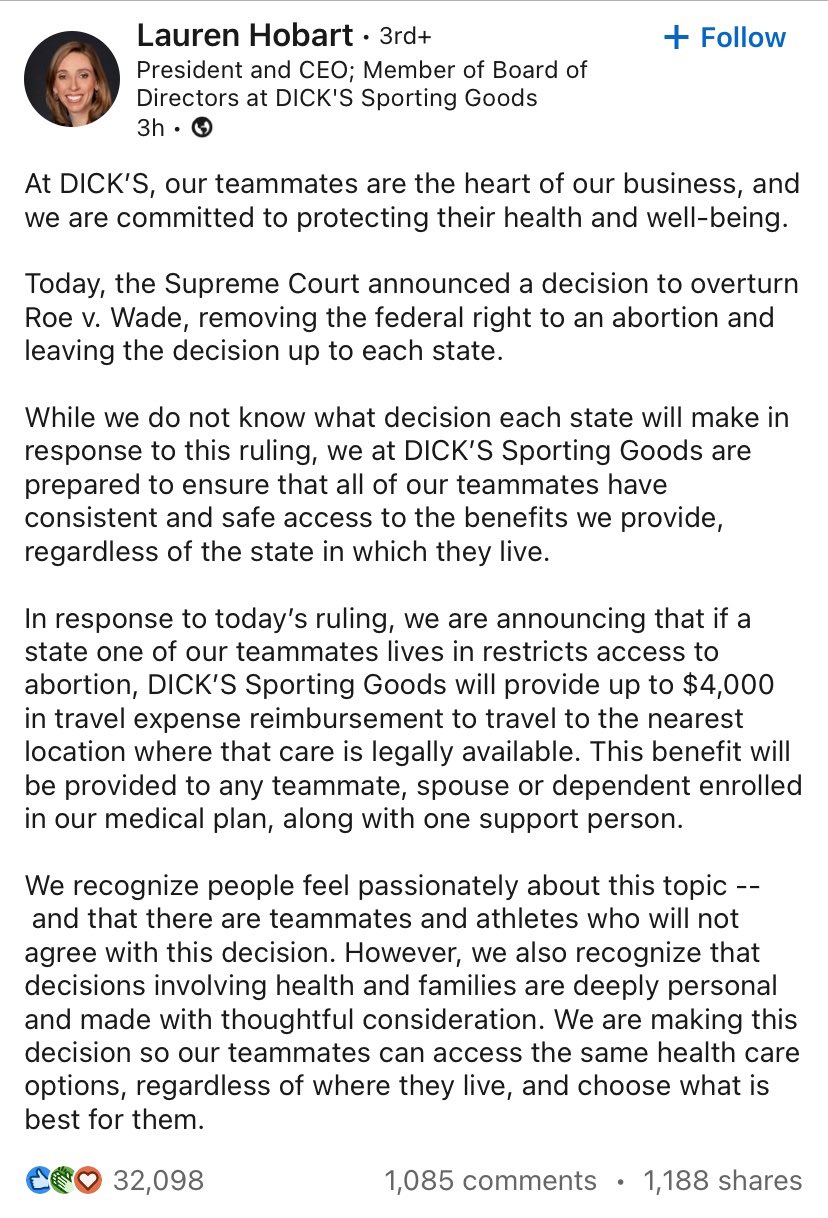 Groomers at Disney too…
Ariel Zilber: Disney to pay for employees' abortion-related travel costs after SCOTUS ruling
~~Many thanks to Maggie and The Universal Spectator for reprint permission.