Posted by Maggie on April 29, 2022 in From the editors
Good God! This damn communist insurgent administration went from "All your children belong to the government-run public schools and teachers union" to "All your truth and information belong to us". By the way, it needs to be said out loud: Joe Biden is NOT thinking up this Soviet bullshit and making the decision(s) to implement said bullshit. NONE OF IT. It is ALL being done by the termites that rode in on this rotted wooden Trojan horse.
"He who sacrifices freedom for security deserves neither." – Benjamin Franklin
On November 25, 2002, on the heels of the September 11, 2001 terror attacks, the U.S. Department of Homeland Security was formed under the George W. Bush administration. Much of the nation was still reeling from the horrific attacks and felt a sense of security that after the establishment CIA and the DOJ failure to 'connect the dots' leading up to the 9/11 attacks there would be an organized effort to do so by a department that would be designed to do just that in order to avoid any future attacks. I was one of those foolishly believing a DHS would be above the politics of D.C.. However, there were many others, left and right, who warned the department would eventually be weaponized … and not necessarily just against terrorists but against the American people. And here we are. Let me offer you my deepest apology for my mistaken trust. Since its inception the DHS has gone far outside its allotted legal rights and has been spying on Americans under the guise of 'domestic terrorism', deliberately and politically cherry-picked those American groups/people as to which are and aren't "terrorists"— BLM/antifa = NO. Parents of school children = YES. And this administration and the demo-commies are riding that dead lame mule of "January 6 was an insurrection!" to wrongly justify everything they have done, are doing and will do against the citizens of this country— oh, well, if you're not aligned with them on politics and narrative(s).
This is the Biden administration's Secretary of the United States Department of Homeland Security, a federal agency created after the terror attacks of 9/11/2001 in order to secure our nation against terrorists and terror attacks. That includes the security of our border, which is also part of his duties. Yesterday, in a House hearing Sec. Mayorkas was asked by House Judiciary Committee Ranking Member Rep. Jim Jordan about the whereabouts of the 42 terrorists on the terror watch-list that were arrested while illegally crossing into the U.S. at the wide-open southwest border…
Jordan: Have any of the 42 illegal migrants on the terrorist watchlist or no-fly list encountered on our southwest border been released into the United States.

Mayorkas: Ranking member Jordan, as I mentioned before, I will provide that data to you with respect to the disposition of each one, I do not know the answer to your question.

Jordan: The Secretary of Homeland Security does not know the answer to the status of 42 individuals who came to our southern border illegally, are on the no-fy list, and the terrorist watchlist. You do not know whether they have been released or not into the country? That's your testimony?
(Emphasis mine)
He doesn't know the answer of that question?? DOESN'T KNOW!!!??
He knew he would be asked stark and serious questions about the border mess, and the coming bigger mess once Title 42 is pitched by the Biden cabal, and Mayorkas did not even attempt to either shuffle through any prepared pages for an answer … or simply inform Rep. Jordan and the committee that it was a 'security' issue and would have to be answered behind closed doors? Or maybe he did not want to tell the committee and the American people that these 42 terror watch list/no-fly-list illegal aliens (oh, and some 22 illegal alien sexual criminals) that they were either released into our country with ankle bracelets or, good-gawd, cell phones to "track" them? Or maybe Mayorkas operates within the responsibilities as head of DHS under a 'need-to-know' position so that he can tell Congress when they hold him accountable to those responsibilities that "I don't know" without, you know, actually willfully lying. Who knows, maybe he'll take looking like an shoulder-shrugging incompetent idiot than a cover-up accomplice.
But hey, DHS Sec. Mayorkas does have priorities, doncha know. He and the DHS have officially gone full-Orwellian and have announced Da, all you information and 'truth' belong to us, comrades! … The "Disinformation Governance Board". Yeah, still sounds as bad as the 'comrade' missive and Orwell's "Ministry of Truth". But Orwell's sounds too 'religious'. This is more of a neo-Soviet cult. Be very afraid and pissed-off, America …
Emily Crane and Steven Nelson: Biden blasted for policing free speech with 'dystopian' disinformation bureau
Kyle Morris: WH Press Sec. Psaki: "NOT SURE WHO OPPOSES THAT EFFORT" …' Biden admin defends freedom of speech crackdown against severe backlash
Hmmmm… Pay close attention to the remarks within this video conversation about this being the 'shiny object' that will be used by the MSM to distract from the tidal wave of illegal aliens that will roll across our border after Title 42 is trashed, and as the months tick down to the November midterm elections…
VIDEO: Questionable timing of Biden administration's creation of 'disinformation governance board'
The Mayorkas pick for "Big Sis" of this, yet, another federal government tax dollars-sucking un-Constitutional "department" is Nina Jankowicz. Her receipts are currently being pulled up and exposed for the political hack, and numbskull, that she is…
Tim Hains: Tucker Carlson: Biden's Attempt To Create A "Ministry Of Truth" Is Where We Have To Draw The Line: "Mayorkas doesn't want justice, and neither does the president he serves. They want power. And to get power they plan to control what you think…
VIDEO: Tucker Carlson: The 'Ministry of Truth' leader: You are seeing a full-scale attack on free speech (Just in case YouTube scrubs the video below)
Elon Musk buys Twitter to save free speech and days later President Biden announces a Ministry of Truth.

It's like we're living through an Ayn Rand/George Orwell novel mash-up.

— Dan Sanchez (@DanSanchezV) April 28, 2022
I want to know where all these grand ideas originate from. Who's on these group text or calls? Obama? Soros? Then we'd know who's running this Country!

— Name Goes Here (@no_jab_4_me) April 29, 2022
YEEEASSSSSS!
Ace: "This Is the Point Where We Have to Draw the Line." … This cannot be allowed to happen.
David Harsanyi: Biden's Ministry of Truth
Jeffrey Lord: Biden's Ministry of Truth: Taking a page from Mussolini and Orwell.
So, how soon before the filthy Marxist bastards go from Orwell to "Minority Report" and start arresting and imprisoning Americans, not for committing crimes but the government's assuming and perceiving "pre-crime" notion that they might? Oh, wait. Sorry J6 folks rotting in jail without hearings and/or trials for over a year … which is also un-Constitutional.
Richard Fernandez: A Society Convinced It Needs Seeing Eye Dogs
One of the downsides to censorship — even the well-meaning kind — is that it throttles the "reality signal." The world, as experienced directly, expresses itself in a bewildering fashion, containing both signal and noise and often incomplete information about what we are trying to observe. The viewer is frequently unsure of what he is witnessing and puts forward a series of hypotheses to explain and predict what transpires. And often he is wrong.

Doubtless, it would be more convenient for some if reality could be filtered before it was perceived. That way the recipients of the signal would never be confused. Everyone would get the same official message. No one would feel upset or confused unless it was intended that they should be. In an age where populations "see" the world through social media, the appeal of pre-processing the view to governments and social engineers can be readily understood. It allows them to lead the multitudes where they should go.

But mediated views as an agency of information have drawbacks, the most important of which are information reduction, narrative artifacts, and pixelization. Information can be interpreted as quantifying the level of "surprise" of a particular outcome, a notion that is captured in the popular saying, "tell me something I don't know." Censorship is predictable; it tells us what we should know by stripping away unvetted or "unreliable" reports and always contains less raw information than the unfiltered capture. There is less surprise but also less information…
Read the whole thing.
VIDEO: Joe Concha warns Biden's disinformation board will be 'weaponized'
VIDEO: Disinformation is a 'politicized' and 'ridiculous' concept: Compact Magazine founder Sohrab Ahmari analyzes the Disinformation Governance Board, argues disinformation is a 'dangerous' term used for 'information control.' 'We should reject liberals' concept of disinformation'
VIDEO: Judicial expert and Judicial Watch president Tom Fitton: Twitter disinformation board is 'attack on civil liberties' of US citizens and the board's director an 'extremist' who should steer clear from the levers of government.
Biden's new Disinformation Governance Board is a telling replacement for the corporate censorship system. https://t.co/enjVzUqirS Now Clinton is looking to the Europeans to censor social media while Biden is turning to a type of Ministry of Truth. https://t.co/oxcOiJes3U

— Jonathan Turley (@JonathanTurley) April 28, 2022
…Homeland Security already has a public relations staff that answers questions as well as dozens of offices that release public information. Yet, Secretary Mayorkas wants an actual Disinformation Governance Board to put an imprimatur on what is truth and what is false.

— Jonathan Turley (@JonathanTurley) April 28, 2022
…On final note, it may be impossible to come up with a more Orwellian title other than the Ministry of Truth. Whoever decided to combine Disinformation with Governance wins the 2022 Doublespeak award.

— Jonathan Turley (@JonathanTurley) April 28, 2022
Twitchy: Sounds super 'Ministry of Truth'-y: Jonathan Turley shines a BRIGHT light on Biden's 'Disinformation Governance Board' in brutal thread
Jonathan Turley: The First Amendment Option: An Easy Way For Musk To Restore Free Speech on Twitter
Virginia Kruta: 'Dissolve This Monstrosity Immediately': Josh Hawley Unloads On Mayorkas In Letter Demanding The End Of 'Disinformation' Board
The weekend is here and I want to continue to focus on this hideous DHS "Disinformation Governance Board." A totalitarian Ministry of Truth by any other name would still stink to high heaven. Can someone please remind me again what country this is, or more accurately what country this is supposed to be? Considering everything we have lived through going back into the Obama eight-year reign of error and perhaps as far back as 9/11 – the cultural and political (and the cultural is political) dissolution and degradation of our society – you become almost numb to the ice pick rammed in your eye after an almost constant pounding with brass knuckles and tire irons. Almost…
Yes. Yes, I am indeed going to say it, "Imagine if Trump or any republican administration was doing this".
Alex Nitzberg: 'We're thinking about it': Elon Musk could potentially be called to testify before lawmakers about his plans for Twitter
AAAAAnd she's already "trolling". What an attention whore (yeah, I said it)…
Here's my official portrait to grab your attention. Now that I've got it: a HUGE focus of our work, and indeed, one of the key reasons the Board was established, is to maintain the Dept's committment to protecting free speech, privacy, civil rights, & civil liberties. 🇺🇸 pic.twitter.com/C4xiEGfhDt

— Nina Jankowicz 🇺🇦🇺🇸 (@wiczipedia) April 27, 2022
Oh, hunny, no. You look much better in this one… pic.twitter.com/8ztcCcuuX9

— Maggie (@drillanwr) April 29, 2022
I mean, you're already vamping that neo-Soviet grey-frock https://t.co/V5GmuHFaj3

— Maggie (@drillanwr) April 29, 2022
Nikolas Lanum: 'GOD HELP US' – Twitter users shocked by 'ridiculous' TikTok of new 'disinformation czar' singing: 'God help us''Who would have thought the collapse of the world's greatest empire would be so funny' … I want to say this was her audition video for "Idiocracy 2" but—- Nah.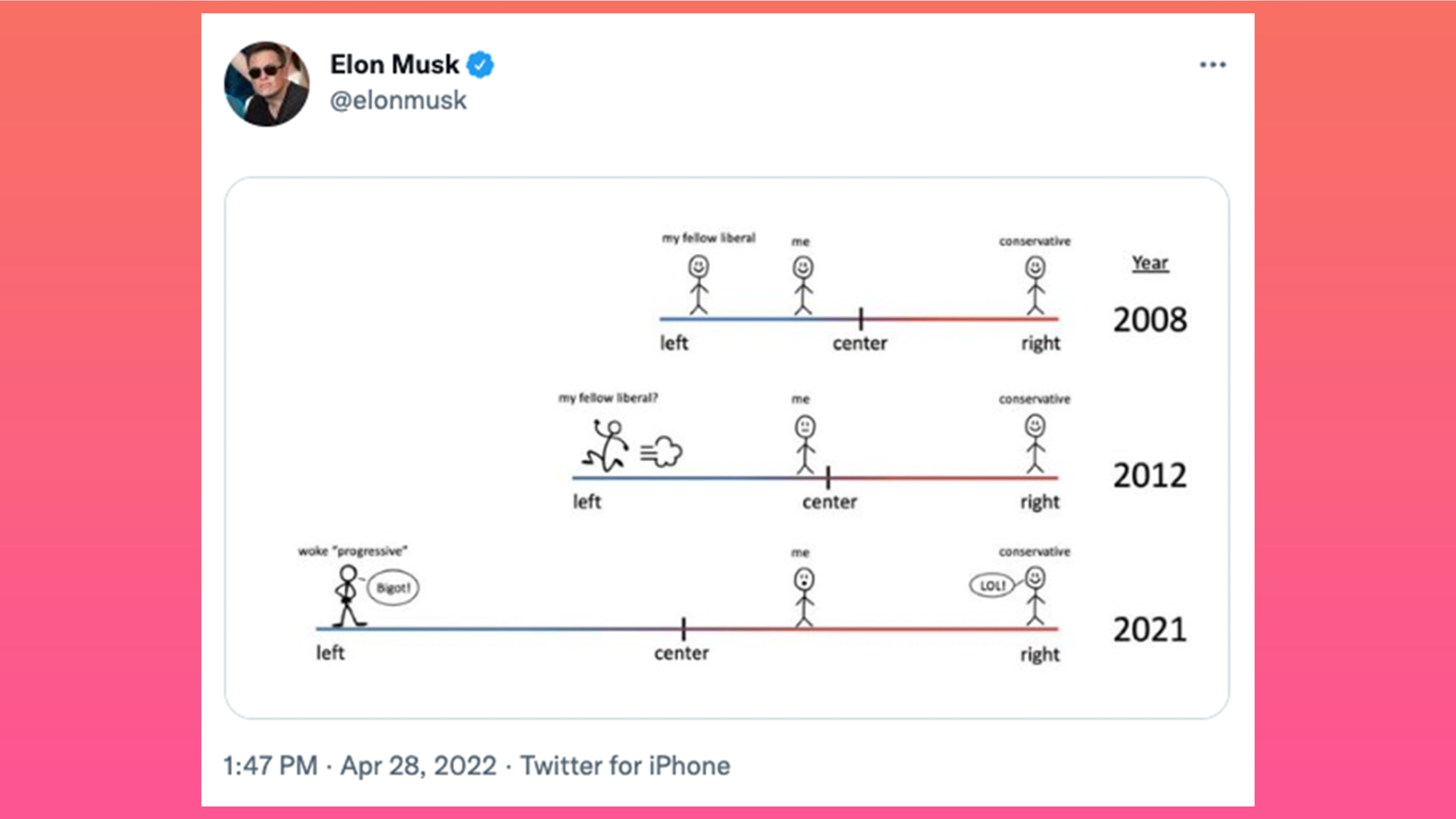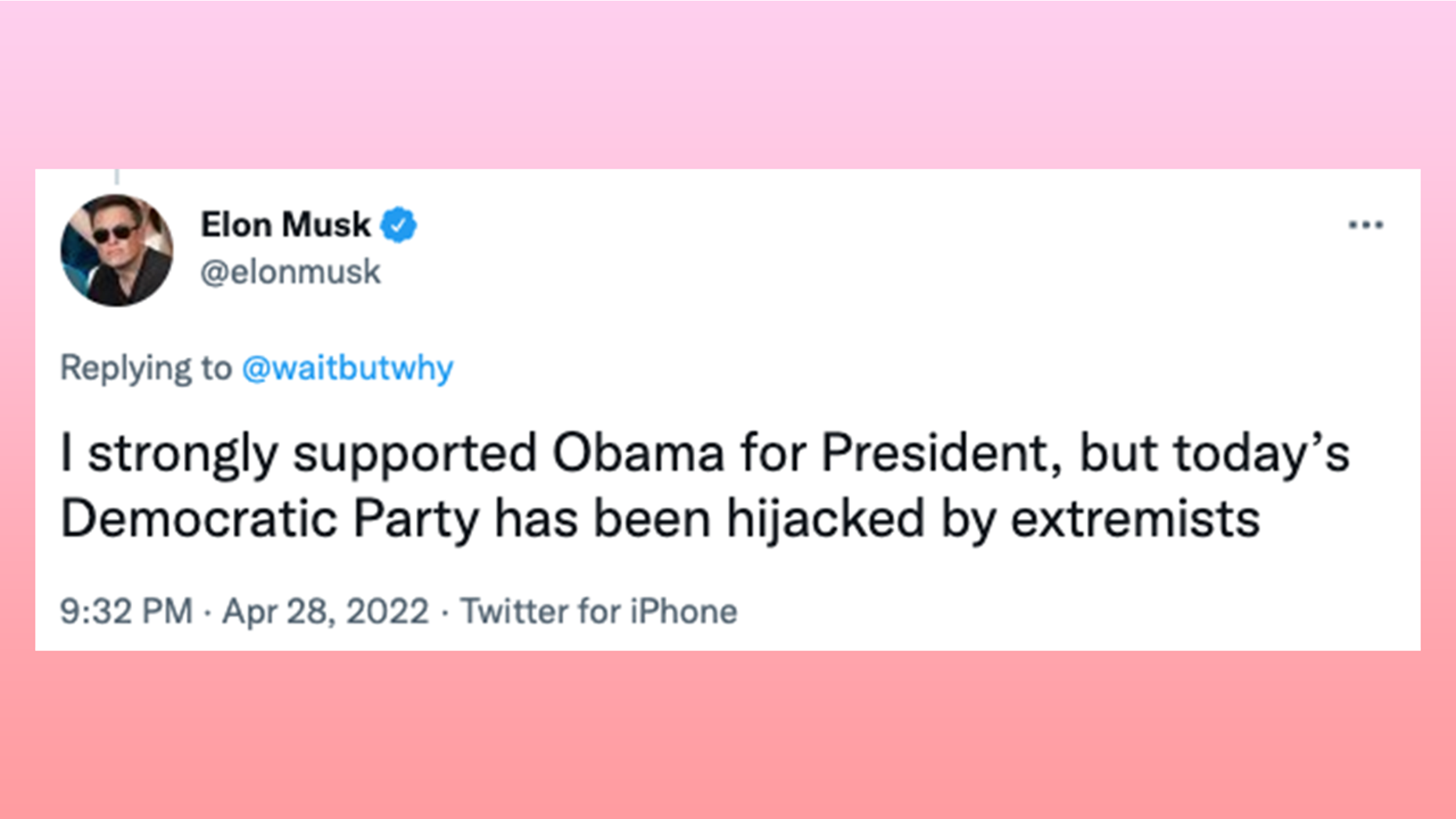 Gabriel Hays: Liberals melt down after Musk claims the Democrat Party was 'hijacked by extremists': 'It's now 100% clear that Musk is part of the GOP propaganda apparatus' … FYI, Musk is not the only 'liberal' scoffing at and shaking his head at the democrat "Progressive" mob.
The far left hates everyone, themselves included!

— Elon Musk (@elonmusk) April 29, 2022
But I'm no fan of the far right either.

Let's have less hate and more love.

— Elon Musk (@elonmusk) April 29, 2022
Andrew Mark Miller: Musk breaks silence on Biden disinformation board formation after Twitter buyout: 'Discomforting'
Matt Margolis: WHOA… Has Twitter Been Cooking Their Books? Has anyone else been suspicious of Twitter's flip-flop on selling the platform to Elon Musk?
As if we need it here's…
MORE:
Breitbart: Exclusive – Sebastian Gorka: Members of Biden Administration Should Be Prosecuted for Aiding Cartels, Human Traffickers
Breitbart: President Joe Biden's Department of Homeland Security (DHS) has seemingly confirmed plans to siphon healthcare services away from American veterans treated at Veterans Affairs (VA) to illegal aliens arriving at the United States-Mexico border.
More, from this "tipping over Guam" jackass…
Rep. Hank Johnson to Sec. Mayorkas: "I find it ironic that my colleagues on the side of want to concentrate on the southern border while completely mischaracterizing and ignoring what's happening in the interior of our country by right-wing extremists propelled" by Donald Trump. pic.twitter.com/YWCIXYVx9J

— Julio Rosas (@Julio_Rosas11) April 28, 2022
Kaelan Deese: House Democrat Rep. Hank Johnson blasts GOP colleagues for Mayorkas border security questioning
Democratic Rep. Hank Johnson accused Republicans on Thursday of ignoring so-called "right-wing extremists" spurred by rhetoric from the former president, warning they could attempt violence against future election workers.

"I find it ironic that my colleagues on the other side of the aisle want to concentrate on the southern border while completely mischaracterizing and ignoring what's happening in the interior of our country by right-wing extremists propelled by the false rhetoric of the ex-President Donald Trump," the Georgia Democrat said during a House Judiciary Committee hearing over President Joe Biden's plan to repeal the migration health policy known as Title 42…
I'm getting a fucking migraine.
Meanwhile, CNN desk jockeys continue to prove their IQs are even lower than their cable network's ratings…
Twitchy: S.E. Cupp gets the feeling that Elon Musk 'is going to run for president' (so who wants to tell her?)
Musk is going to run for President, isn't he… pic.twitter.com/YhNXJNQwNz

— S.E. Cupp (@secupp) April 29, 2022
Were CBD jelly beans a thing this Easter? https://t.co/9VEtMxO0aM

— Maggie (@drillanwr) April 29, 2022
Twitchy: CNN analyst Asha Rangappa makes a very important announcement concerning Elon Musk
I just blocked Elon Musk 🙄

— Asha Rangappa (@AshaRangappa_) April 29, 2022
Oh nos. What is the richest guy on the planet going to do now?

— Chitown Mike (@ChitownMike312) April 29, 2022
This used to be her playground
This used to be her lefthood dream
This used to be the place she ran to
Whenever she was in need of an echo chamber…

— Maggie (@drillanwr) April 29, 2022
Hunter spotted at the White House Easter event … Sorry, "Little Guy", "EASTER Bunnies", not "Playboy Bunnies"…
Cameron Cawthorne, Joe Schoffstall: Hunter Biden associate visited Obama-Biden White House 7 times after becoming head of company with CCP ties
God, help us.
~~~
~~Many thanks to Maggie and The Universal Spectator for reprint permission.