By Maggie, The Universal Spectator September 8, 2021
Man! This week is going by fast!
Two very important issues should be leading the newsfeeds in this country. However, the leftist MSM outlets are again busting ass to bury them.
The Fauci big reveal is damage control with whip cream on top for the MSM as they completely ignore yesterday's The Intercept exclusive confirming Fauci's involvement in using Americans' tax dollars to fund Chinese labs, Wuhan specifically, for GOF (gain of function) lab project, and specifically with the Corona virus found in China's bats. He has repeatedly either bald-faced denied this when asked, even before the US Congress, or had much assistance obfuscating the truth by not been cross examined vigorously by the water-carrying MSM when he has repeatedly appeared on their fawning shows.
VIDEO: Rand Paul reacts to claims Fauci lied to Congress about COVID-19 origins: Kentucky Republican slams Anthony Fauci over new documents showing the U.S. funded Wuhan research on 'Hannity.'
VIDEO: Rand Paul slams Fauci for lying dozens of times: "It's a felony punishable by five years in jail…"
The growing Sharia of Covid…
Andrew Mark Miller: ACLU denounced pandemic mandates before COVID-19: The group says that vaccine mandates actually 'further civil liberties' … And this is why we cannot handle pandemics in this, the 21st century, ladies and gents.
Stephen Kruiser: Pathetic Mask-Nazi Prof Whines About 'Emotional Hellscape' of Unmasked Students … You know, since the Texas abortion ruling of last week the left has been equating the right as the Taliban. The fact is, I don't have to say we are 'pretty close' to this public scurging over the maskless but that we are indeed here over the last year with "Karens" and the like inciting violent reactions to those who refuse to cover their faces. Nothing says Taliban like that.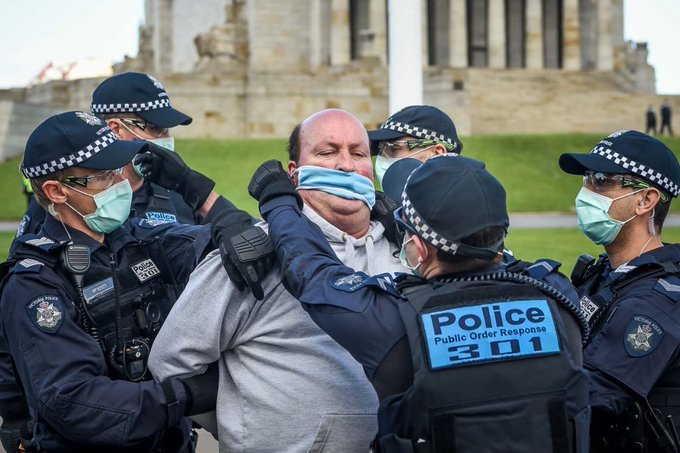 I'm fully vaccinated. But what I have noticed is that the pandemic has allowed liberals to say what they really want. They want conservatives to die. Jimmy Kimmel and the others do not care about your vaccinated status. They want you dead.

— Carmine Sabia (@CarmineSabia) September 8, 2021
Tyler McCarthy: Jimmy Kimmel says unvaccinated people shouldn't get ICU beds in his return to his late-night show: 'Jimmy Kimmel Live' host was on vacation for the summer
Twitchy: A 'leading medical ethicist' says Jimmy Kimmel's call to prioritize ICU beds for the vaccinated 'will unfairly harm low-income people and people of color'
Chris Field: Rutgers University bans unvaccinated senior from attending remote classes … Because "SCIENCE!!!"
Hacking Covid coughs being passed-off as hiccups by the MSM…
An unvaccinated minority that doesn't watch the news or trust the news is putting the vaccinated majority at undue risk. There's no way around that reality https://t.co/FkqUoh5EMW

— Brian Stelter (@brianstelter) September 8, 2021
Awww, poor loser … bless your spud-shaped heart. https://t.co/GtMNPmzZvG

— Maggie (@drillanwr) September 8, 2021
Joseph A. Wulfsohn: CNN spent the majority of summer below 1 million viewers, even worse during primetime: The liberal network averaged just 603,000 in total day viewership, a whopping 42% decrease from Summer 2020.
"There's no way around that reality" Seriously? Y'all said the vax wld save us/get us back to norms. Now you're breathlessly slobbering vaxxed are at risk? This's wht happens when MSM & poli-scientists create/spin false 'reality' (i.e., lies) as "SCIENCE". Your cred's less than 0

— Maggie (@drillanwr) September 8, 2021
Why are the vaccinated living in fear of the unvaccinated?

Do the vaccines not work?

— Thomas Glass (@thommglass) September 8, 2021
Yikes, Stelter. pic.twitter.com/bSVi6uAEjo

— Christopher F. Rufo  (@realchrisrufo) September 8, 2021
Twitchy: The AFP fact check on ivermectin use in Japan accidentally makes the case for why Joe Rogan was right to try it
Why was there such an effort to push the false narrative that ivermectin was only for livestock?

— Tim Young (@TimRunsHisMouth) September 8, 2021
Or any 'treatment' for tht matter. w/so many suffering/dying from Covid for over 18 ms, WHY has the much touted "scientific" community taken actually treating the illness w/less than a grain of salt seriousness? They've silenced dr.s tht had success w/out-of-the-box treatments.

— Maggie (@drillanwr) September 8, 2021
Yep, this is a real opinion piece from a leftist rag…
And the MSM wonders why nobody takes them seriously? I really wonder what her college major was. God, help us.
Antoinette Aubert: Lack of Liberty Leads to Death: Tyranny can be even more deadly to humans than a virus. … Fact.
Meanwhile, hopefully this doesn't make us all sick as well:
Lee Brown: India fighting to contain Nipah, a virus deadlier than COVID-19: "The virus has been shown to spread from person-to-person in these outbreaks, raising concerns about the potential for NiV to cause a global pandemic…"
Afghan crisis wreaking havoc on Northern Virginia hospitals due to lack of federal planning, local officials say https://t.co/J7O1koqKPr

— Post Local (@postlocal) September 7, 2021
Adam Shaw , Jennifer Griffin: Fort McCoy hit by case of measles amid Afghan refugee resettlement effort: The CDC says Afghanistan has the 7th highest number of measles cases in the world
Samuel Chamberlain: White House science adviser warns US not ready for future pandemics … No shit, Sherlock. If it has become a "pandemic" it is already out of control.
Barack Obama's radical Taliban government is seated in Afghanistan:
Taliban govt. will be inaugurated on Saturday, September 11. Yes, 9/11.

They have invited six countries to attend the ceremony in Afghanistan.

1) China 
2) Russia 
3) Pakistan 
4) Qatar 
5) Iran
6) Turkey 

"We Did It Joe." pic.twitter.com/SQekwAIjES

— מאק (@beingrealmac) September 7, 2021
Four out of five Guantanamo detainees whom Obama released in exchange for former U.S. Army Sgt. Bowe Bergdahl in 2014 now hold senior positions in the interim government created by the Taliban in Afghanistan.

Who was Vice President when the trade was made? Joe Biden.

— Charlie Kirk (@charliekirk11) September 7, 2021
Samuel Chamberlain: Four Taliban members swapped for Bowe Bergdahl now in Afghan government … That worked out well, or shall we say "according to plan"?
Biden doesn't want to talk about the disastrous trade he and Obama made for Bowe Bergdahl, about how four prisoners they turned over to the Taliban for the army deserter are now in senior positions.

Biden doesn't want to talk about Bowe. He wants to talk about Beau.

— First Words (@unscriptedmike) September 8, 2021
A.J. Kaufman: 'The Threat Will Be So Large': Lindsey Graham Says Biden's Decisions Will Force U.S. Back to Afghanistan … He might be an establishment neocon, but he's not wrong here. It's coming.
Twitchy: The State Department and the EU are concerned the all-male Taliban government isn't diverse enough
OFFS! WTAF did the demented & delusional Biden admin expect?? Did ya miss the signs as they stormed through Astan into Kabul & systemically began putting women back in their place … under their stomping feet.

— Maggie (@drillanwr) September 8, 2021
Yeah. That's the problem. Not the billions in American weapons and technology we left there and the Taliban's budding relationship with the CCP.https://t.co/UOm3t0KxZR

— Bonk (@BonkPolitics) September 8, 2021
I'm more confident in the private rescue efforts to more properly vet those they are trying to evacuate than the throngs of "anyone" Afghans Biden had evacuated while we were still there at the Kabul airport…
Michael Goodwin: Plane truth of Biden's Afghanistan botch: How anyone could ever think it was a good idea is mind-boggling, but Americans should never forget that Joe Biden wanted to celebrate the withdrawal of troops from Afghanistan on September 11th…
VIDEO: Chuck Schumer falsely claims all Americans who wanted to leave Afghanistan have already left
Peter Hasson: State Department obstruction of private rescue flights from Afghanistan revealed in leaked email: State Department 'will not provide an approval' of charter flights from Afghanistan, leaked email reveals
Mark Levin: 'Secret texts' blow the lid off Biden admin's Afghanistan deceit
Paul Shiver: Biden admin stopped planes chartered by Glenn Beck charity from taking off, handed manifest over to Taliban
Newsweek: Taliban Holds Up Glenn Beck Group's Planes; At Least 100 Americans Among Passengers
Glenn H. Reynolds: US troops' rage at their leaders will grow unless there's deep reform
Our military's civilian leadership is corrupt and incompetent. The brass commands respect neither among the citizenry nor the forces it commands. Mid-level officers are in a rage — a dangerous phenomenon that in many other nations triggers insurrections and coups.

Blessedly, our institutions retain enough strength to prevent such outcomes here. That said, we need to tend to those institutions more carefully, if we want them to continue to work…
MORE Reads to Read:
Twitchy: Are we already living in a 'Cyberpunk Dystopia'? This thread argues we are and it's 'not certain the world we knew is coming back'
I'm not certain the world we knew is coming back. I am certain that the world we are living in has changed. We can do better than this, regardless of any differences we may hold. Neighbors don't treat neighbors like a bunch of warring factions living in a Huxleyan fever dream.

— CulturalHusbandry (@APhilosophae) September 3, 2021
Adam B. Coleman: Tech companies' censorship makes extremism attractive: I used to believe the greatest threat to our free speech would have been the government. However, it's become increasingly obvious that private corporations are our nemesis as they have no problem encroaching on our ability to speak freely… … Yet, another arm of the left in this country being used against us and our Constitution.
Today in 24: Decree Law 35 in Cuba: what cannot be said on social networks
Will Feuer: Billionaire entrepreneur Marc Lore wants to build nation's first woke city: Lore last week unveiled plans for his utopia, called Telosa, from the ancient Greek word Telos, meaning 'highest purpose' … Oh, come on, dude. Grow a set and call it what it will be, "Babylon".
VIDEO: 'Woke, Inc.' author Vivek Ramaswamy: America needs a 'cultural cure': Entrepreneur and 'Woke, Inc.' author Vivek Ramaswamy on potential legal arguments against corporations pushing 'wokeness' on their employees.
Megan Henney: Democrats pushing slew of tax hikes to fund massive spending plan: A roundup of proposals: Take a closer look at the specific plans for individual and corporate tax hikes
VIDEO: Tax hikes could happen this year: Former CBO director: Former Congressional Budget Office director Doug Holtz-Eakin on Democrats' push Wednesday for the infrastructure spending bill.
Louis Casiano: Denver park to close temporarily after human waste, needles found; challenges reached 'tipping point': The park and surrounding areas have become hotspots for violence and drug use, the city said
Rick Moran: The Real 'Structural Racism' Is In America's Union-Run Schools … As they say, "The road to hell is paved with good intentions", except the left's intentions are anything but "good".
Caroline Adana: Homeschooling Surges In Response To CRT And COVID Mandates
Rebekah Castor: Homeschooling spike expected to continue during COVID-19 pandemic, even as schools reopen: Number of homeschooled students has doubled since pandemic began
Peter Boghossian: My University Sacrificed Ideas for Ideology. So Today I Quit. The more I spoke out against the illiberalism that has swallowed Portland State University, the more retaliation I faced. … He's right. The young in this country, on all levels of education, are now taught what to think and not how to think As a matter of fact, as some 'liberal'-minded professors are finding out … and the nation's parents as well … they are being taught not to think at all at the risk of being persecuted and eventually prosecuted.
The Eternal Sunset of Joe Biden's Poop-Streaked Mind:
Buy a man eat fish, he day, teach fish man, to a lifetime.

~ Joe Biden

— Buzz Patterson (@BuzzPatterson) September 7, 2021
VIDEO: Will shift to domestic policies fix Biden's crumbling approval ratings? … It might, because a certain percentage of "the usual suspects" in this country are too damn stupid to read between the lines and recognize what all the Biden/dem policies, taxes, regulations, and legislation really mean … and it is not good, not even for them.
Forbes: U.S. Posts Record 10.9 Million Job Openings After Nearly 11 Million Americans Lose Federal Unemployment Benefits
J.J. Sefton @ AoSHQ: "Hot Fudge Crisis"
Wednesday and the observation that the more the unmitigated lies put out by the junta in DC and its propagandists of virtually everything we are dealing with are exposed and dismantled, the more the junta and its propagandists do everything they can to strangle dissent. As this vicious cycle will no doubt continue, history has shown over and over again that at some point the word "strangle" will transform from the figurative to the literal…

As this is unfolding, he and Veep Throat Harris will be heading to California to campaign for Gavin Newsom, which is odd since the polling indicates he'll handily beat the recall effort. And then on Thursday, Biden is set to derogate the American people in a televised address dealing with the Chinese Lung Aids pandemic that he insisted he would end shortly after the magic show installed him last January 20th. Hold that thought for a moment.

I have the impression that not only does Biden, or more accurately those who are feeding him ice cream and his teleprompter bullshit, even care about a potential mass hostage crisis. I think the Biden Junta is actively rooting for or even encouraging the Taliban to get rid of the problem for them: I mean, execute perhaps hundreds of American citizens just for Biden's own political expediency.

Yeah, I went there. Biden is a sociopath; the dementia merely amplifies it. What's worse, he is surrounded by people who are equally ruthless in their lust for power, be it ideologically driven or greed or some combination of both. That they view an unknown number of their own citizens as expendable, and merely the means to their own evil ends has horrifying implications in the near and long term for us and whatever the hell is left of the free world…
Click and dive into the deep end of the dark reality therein.
Deroy Murdock: Nice guy Joe Biden has morphed into a mean man who is calculating, callous and cruel: Biden has been unmasked as a calculating, global-grade liar … "SURPRISE!" said nobody with a functioning brain cell said ever. The shithead has five, count `em, a five decades-long record of buffooneries on every level.
Liz Peek: Gloomy Americans give Biden low marks on Afghanistan, COVID and economy: President Biden is failing, and everyone knows it. They also know his decline will hurt this country. It already has
Steven Crowder: 'I have never heard a president accept less responsibility besides Barak Obama.'
VIDEO: Utility workers turn their backs on Biden as presidential motorcade passes in wake of Hurricane Ida catastrophe
Twitchy: It sure looks like 'F*CK JOE BIDEN' chants will be a thing this fall at college football games and concerts … That slogan would take a bit of a different meaning if Joe ever stepped down and Kammy Harris took over the Oral– er, Oval Office.
DeVore and Christensen: Newsom's recall desperation – whopper on California taxes shows he's in big trouble
Stephen Kruiser: California Is Probably Too Stupid to Recall the Tyrant Newsom … I'm hoping they have finally reached their breaking point with this bullshit and he'd be out and replaced with Larry Elder … but I have very huge doubts in the legitimacy of the vote/counting and anticipate the Newsome recall will be a test-study in the wreckage of voting legitimacy in the coming midterms.
~~~
~~Many thanks to Maggie and The Universal Spectator for reprint permission.