By Maggie on October 18, 2021
The top of the newsfeed this morning was obviously the passing of Colin Powell, a fully vaxxed (and I heard even booster dosed) "breakthrough" COVID death.
The rest of the flames of news from over the weekend into today thus far…
The vaccine mandates in the nations public service sectors of crime-troubled cities will backfire bigly:
President John Catanzara has never engaged in, supported, or encouraged a work stoppage. @LoriLightfoot is the only one who has said she will send our dedicated Officers home without pay if they choose to reject her unlawful orders.

Hold the line, CPD, like you always do. https://t.co/DPQtqjegcn

— Fraternal Order of Police – Chicago Lodge #7 (@FOP7Chicago) October 15, 2021
Diane Pathieu: Chicago police vaccine mandate: New CPD memo threatens discipline, firing for non-compliance
Eyewitness News-7 Chicago: Chicago police vaccine mandate: CPD elective time 'restricted,' internal memo says
Meanwhile, the Chi-town self-righteous mayor…
Twitchy: Congratulations to Mayor Lori Lightfoot, WORLD CHAMPION mask hypocrite
More than 300 Seattle police officers have either quit or retired in the past year, and this latest vax-mandate crap will not help…
Edmund DeMarche: Washington trooper signs out for last time, tells Inslee he can 'kiss my a–': About 90% of Washington's workforce has been vaccinated … Don't be fooled by that 90%. Many likely begrudgingly vaxxed in order to save their jobs and livelihoods.
Some officers plan on taking time off to decide what they will do long term. They don't seem eager to stay with SPD.

Others explained that they are going to leave the SPD by the end of the year as a result of this.

Officers took these photos in protest of the mandate. pic.twitter.com/0mkfdklo0F

— Jason Rantz on KTTH Radio (@jasonrantz) October 18, 2021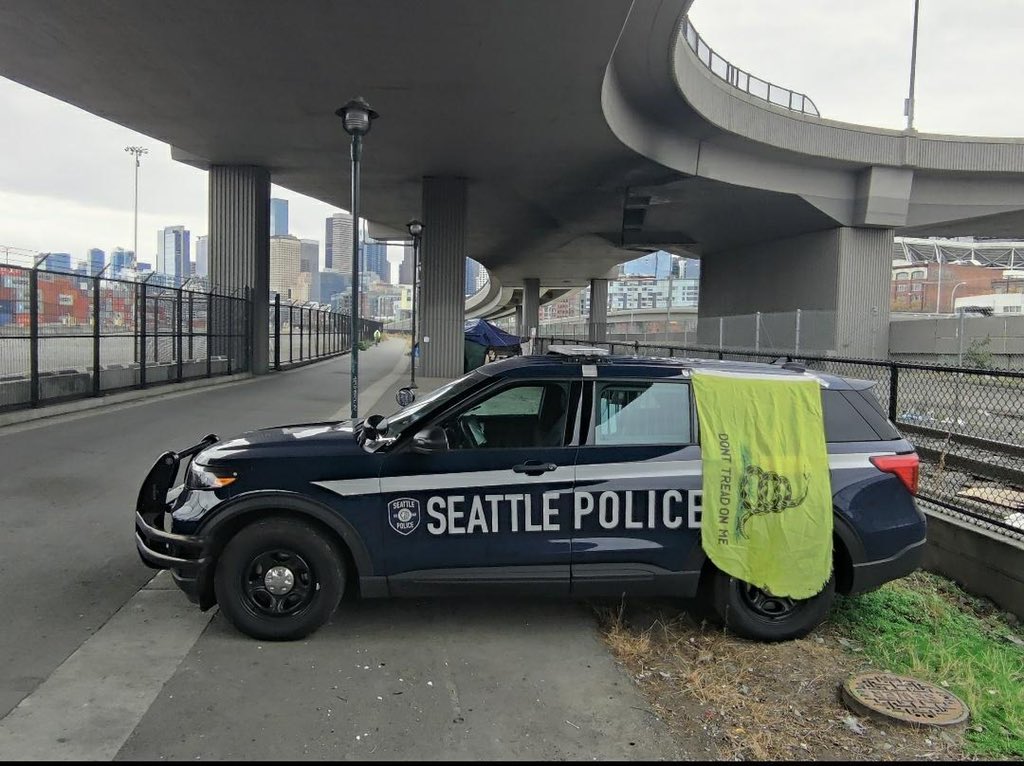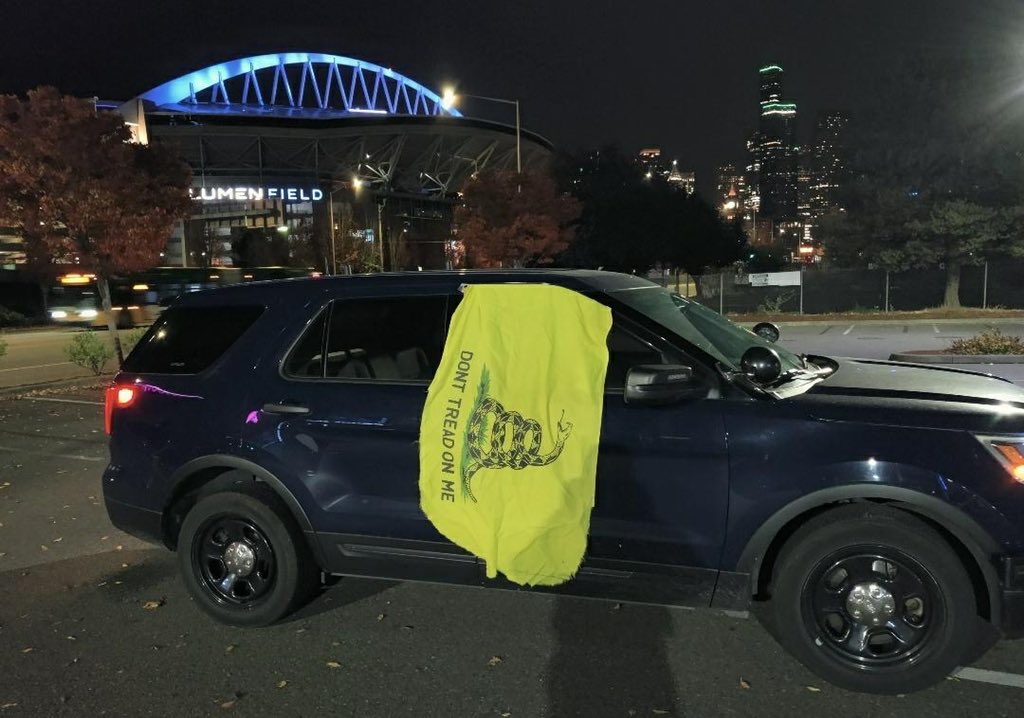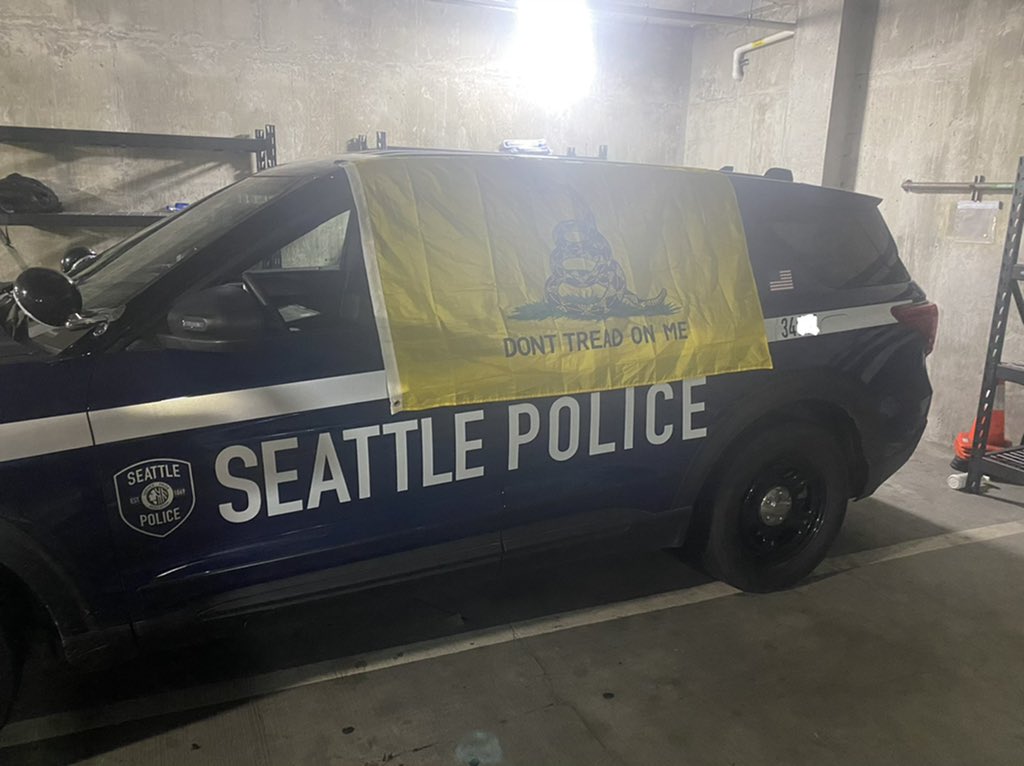 Emma Colton: 'DON'T TREAD ON ME': Seattle police officers hang flag from cars in defiance of vaccine mandate: Seattle police officers unfurl Gadsden flags from patrol cars to protest vaccine mandate. Washington state's vaccine mandate takes effect Monday
Oh, and it is not just vax mandates on these cities' (Chicago and Seattle and others across the nation) police. All first responders, fire and EMTs, etc., are mandated under threat as well.
NOW: Thousands gathered outside the Washington State Capitol singing the National Anthem, fighting back against medical tyranny.

Thousands of federal, state, and city workers face termination come October 18 if they do not get vaccinated. pic.twitter.com/x6Ldw61MF8

— Katie Daviscourt🇺🇸 (@KatieDaviscourt) October 3, 2021
By the way, the mask/vax champion also doesn't share his compliance with mandates…
PM: BUSTED: Biden caught maskless inside upscale DC restaurant in violation of indoor mask mandate
The Bidens are seen walking through ritzy D.C. seafood restaurant Fiola Mare Saturday evening.

Fiola Mare's own website clearly states masks must be worn in accordance with the city mandate .https://t.co/gpL97GjigL

— Washington Examiner (@dcexaminer) October 18, 2021
Matthew Miller: Video: Biden walking through ritzy DC restaurant maskless, violating citywide mandate
VIDEO: Joe Concha slams Biden for violating D.C. mask mandate: 'Rules for thee, but not for D's'
Julian Conradson: Biden, Pentagon Face Massive Class-Action Lawsuit Over Vaccine Mandate on Federal Employees and Military Members
Jim Hoft: Illinois Governor Pritzker Defers COVID Vaccine Mandate until End of November After Unions Revolt
David Bossie: Biden-Fauci COVID suprise coming? Sinking poll numbers, crises may bring course correction: The arrogant Biden brain trust is running out of options
Other things from China:
Matt Novak: China Secretly Tested New Hypersonic Missile in August: The test supposedly surprised U.S. intelligence agencies. … China's denial it was a 'weapon' test, saying it was a test of space technology. Well, yeah, the ability to send weapons more undetected and more unable to be intercepted would indeed call for any nuke-loaded missile to fly through Earth's orbit and come back down on its target.
Reuters: China denies report of hypersonic missile test, says tested space vehicle … Yep, they sure look like space rocket boosters on the backs of those military trucks, right?
Mark Moore: China says new hypersonic missile a blow to US 'strategic superiority'
Reuters @ FBN: China's economy stumbles on power crunch, property woes: Aluminum output declined for the fifth consecutive month and daily crude steel output hit the lowest level since 2018
Biden and company continue their ineptness in all things:
I've been noticing, and now it is being reported stores are 'false stocking' shelves because of the lack of supplies coming due to the supply chain. That's where 1-2 items are placed on the front of the shelf, while behind it is empty shelf. We are quickly turning into Venezuela. Meanwhile, reports stores are holding back on stock and purposely not filling shelves in order to (my term) ration the stock they have in order for it to avoid hoarding and to last longer. Stores are also limiting hours they're open. "Let's Go Brandon!" #FJB
Cassandra Fairbanks: WATCH: Crowd Goes Wild After California Cop Says 'Let's Go Brandon' Over Loud Speaker
the same people telling you $3.5 trillion spending packages cost $0 also tell you the IRS should track $600 bank account transactions to catch billionaires.

— Logan Hall (@loganclarkhall) October 18, 2021
VIDEO: California congressman: Democrats' massive spending bill will 'tackle inflation': Rep. Ro Khanna (D-Calif.) expressed his optimism over passing the the bill as Pelosi's October 31 deadline looms.
When confronted by the proposed government intrusion and invasion into our private bank accounts he lied over and over again and Maria was not letting him get away with it. The look on her face every time he twisted and contorted … and in fact confirmed what she premised in her question(s) on the matter, is priceless! I'm sitting there yelling "THAT'S NONE OF YOUR DAMN BUSINESS!" at the TV at Khanna every time he basically insisted his answers he was giving somehow 'disproved' what Maria was saying, but they only fully confirmed it. Normally the court has to be asked, for good reason, for a type of search warrant to do this. And never forget that 'tax evasion' is indeed a fallback charge for the government when they cannot charge someone with a crime, AND it enables the government to confiscate and keep any/all money/assets/properties. It's the communist way. Ask anyone (left) in Venezuela. This is exactly the agenda of this part of the $3.5-5.6M Green New Deal 'great reset' the dems are trying to cram through on us.
.@RepRoKhanna: "I think we have to ask a very threshold question. Are we better off today than we were one year ago? Let's just remember one year ago where we were. […] This president has made life better." pic.twitter.com/ouCZezgUp0

— The Hill (@thehill) October 17, 2021
Gas is 2x what it was last year. Food prices have increased anywhere from 10%-30% for basic items. A year ago I was financially solid, now I'm making trade-offs for basic necessities.
This is 100% on the Biden admin.
Stop pissing in my cornflakes and telling me it's milk. https://t.co/elY5iKri3l

— Shashi Galore (@shashigette) October 18, 2021
Twitchy: 'Is this guy serious'? Dem Rep. Ro Khanna explains how we're 'better off today than we were one year ago'
The whole "Hey, the shortages are a great sign because people have lots of money and demanding more products to buy!" is the narrative the administration and democrats, and their MSM propagandists, are running with right now. Total bullshit … and absolutely a trope used by every communist regime from the old USSR to Mao's China to Cuba to Venezuela have used. Ro Khanna is not the only democrat using the narrative. Bret Baier interviewed Transportation Sec. Pete Buttigieg a few days ago and he actually smiled as he repeated the missive rolling out of his mouth. If you look at the original AOC Green New Deal plan of a couple of years ago, it states the American people must be forced to "consume" far less. And here we are … starts at about 7:36…
Angelica Stabile: Bret Baier presses Transportation Secretary Buttigieg on supply chain woes: Transportation secretary acknowledges trucker shortage 'issue' as part of supply chain disruptions
With many wondering whether gifts will be in short supply this holiday season, Baier asked Buttigieg whether this should be of concern. Buttigieg noted, "Part of the reason we are where we are is that the president successfully brought this economy out of the teeth of a recession.

"People are buying more than ever before, we're seeing record goods coming through our ports. The demand is there, which is great news. It represents a policy success. Now we've got to make sure those supply chains are there to support."

"So, you're saying that's a high-class problem?" Baier asked.

"What I'm saying is that we are better off because the economy is growing," Buttigieg said, "And the economy is growing thanks to the leadership of this president."…
VIDEO: Sen. Johnson on rising inflation: Democrats are 'living in a fantasy world': Sen. Ron Johnson, R-Wisc., argued against inflation being a 'high class problem.'
Tamar Lapin: #EmptyShelvesJoe trending on Twitter amid Biden's supply chain crisis: Shipping has been stalled in LA traffic jam for more than a month, causing delivery delays
VIDEO: Texas lawmaker on possible new IRS powers, attacks 'farmers, small businesses': Kevin Brady weighs in on the new 'bank surveillance scheme' on 'Your World'
Twitchy: The leading shipping industry website rips President Biden for naming a US Maritime Administrator with 'zero shipping experience'
WSJ @ FBN: 'Crazy' bets on $200 oil invade the options market: Call options at $95 or $180 a barrel have been popular over the past week … Get ready to pay more/gal at the pump, folks. Everyone is pissing with the markets now.
But is it really "ineptness", or politically tactically intentional?
Robert Spencer: CNN: Get Used to Empty Supermarket Shelves, Comrade: No Corn Pops? Sorry, Joe!
Twitchy: 'They deny reality': Sen. Ron Johnson explains that 'we are living with exactly what Democrats want'
Liz Peek: Biden team off to UN climate summit as their green energy policies fuel inflation at home – 13 cabinet members or senior White House officials will head to Glasgow. That is a lot of firepower: 'AWOL' Buttigieg emerges for climate event amid supply chain crisis
Joe Concha: "Only Hunter Biden & Alyssa Milano" Are Less Qualified Than Pete Buttigieg
MORE:
Matt Margolis: Was the Moderna Booster Approved Despite Poor Data?
Last month, Pfizer's universal booster shot was rejected by a government advisory panel, which cited the increased risk of heart issues in young males. It was a stunning defeat for the Biden administration, which was pushing for universal boosters, but it gave many of us hope that the people making the decisions were actually looking at the real data and not just responding to pressure from the administration.

So on Thursday, when a FDA panel unanimously approved Moderna's COVID booster to people ages 65 and older, we had reason to believe the panel had tremendous faith in the booster. A unanimous vote sure sounds like a glowing endorsement, doesn't it? Well… it really wasn't.

After the vote, Dr. Patrick Moore of the University of Pittsburgh, one of the members of the committee, said that the data Moderna submitted for review "was not well explained" and that he voted yes based on a "gut feeling."

"The data itself is not strong, but it is certainly going in a direction that is supportive of this vote," Moore said.

Oh, well that really makes me feel confident…
~~~
~~There's plenty more here — read the whole thing, as we say.  Many thanks to Maggie and The Universal Spectator for reprint permission.