By Maggie at The Universal Spectator October 18, 2021
"Totalitarianism, however, does not so much promise an age of faith as an age of schizophrenia. A society becomes totalitarian when its structure becomes flagrantly artificial: that is, when its ruling class has lost its function but succeeds in clinging to power by force or fraud. Such a society, no matter how long it persists, can never afford to become either tolerant or intellectually stable." – George Orwell
And here we are, with a federal (and in several states) government's intolerance of this nation's own laws and sovereignty, and intellectually unstable at our highest level of governance and power. The corporate media complex has thrown out fact for fiction and fear in order to do 'the powers that be' bidding of the government's not so stealth control over our the economy and the citizens' employment … and in the not too distant future every aspect of our lives.
Less than a year into the Trojan Biden jackass communist heist of 2020 everything in Orwell's missive has had its box checked. I imagine that's also the case in Orwell's volume of other foreboding missives about the dystopia being crafted for us all.
It's also being dubbed Biden's Midnight Runs. Yes, indeed, the diarrhea tsunami at the U.S. border is deliberately being spread across our nation…
Midnight runs: Biden secretly flying underage migrants into NY in dead of night https://t.co/Fk9ZulbVJk pic.twitter.com/Xm6R9y5I82

— New York Post (@nypost) October 19, 2021
Chartering these planes/vehicles is not free or cheap. The question must be demanded of the Biden administration, and start with Jen Psaki today in her daily circling with White House press, "Who the Hell is footing the bill for all of this clandestine shipping of the human trafficking?" If the Biden administration could only deal with and help solve the "supply chain" shipping issue, we'd all be wrapping Christmas gifts and filling shopping carts at the local grocery stores … with or without being masked.
NYPost @ FNC: Midnight runs: Biden secretly flying underage migrants into NY in the dead of night: During July and August, 37,805 unaccompanied minors were caught entering the US from Mexico
The charter flights originate in Texas, where the ongoing border crisis has overwhelmed local immigration officials, and have been underway since at least August, according to sources familiar with the matter.

Last week, The Post saw two planes land at the Westchester County Airport, where most of the passengers who got off appeared to be children and teens, with a small portion appearing to be men in their 20s.

Westchester County cops stood by as the passengers — whose flights arrived at 10:49 p.m. Wednesday and 9:52 p.m. Friday — got off and piled into buses.

Some of them were later seen meeting up with relatives or sponsors in New Jersey, or being dropped off at a residential facility on Long Island.

A Post analysis of online flight-tracking data suggests that around 2,000 migrants nabbed after sneaking into the US from Mexico have arrived at the airport outside White Plains on 21 flights since Aug. 8.

Records show some of the planes touched down between midnight and 6:30 a.m. — when a voluntary curfew is in effect — with two arriving from Houston at 2:13 a.m. and 4:29 a.m. on Aug. 20.

The clandestine nature of the operation raises questions about how the White House is dealing with a surge in unaccompanied minors…

A source familiar with the operation at the Westchester airport said the underage migrants typically arrive carrying backpacks and are bused to locations including The Bronx, Brooklyn, Queens, upstate Newburgh and Bridgeport and Danbury in Connecticut…

Later Saturday, a similar scene began playing out in Jacksonville, Fla., where many of the flights from Texas have touched down before continuing on to Westchester — and where The Post saw a Boeing 737-700 land shortly after 10 p.m. at Jacksonville International Airport.

As local cops stood by, a group of between 10 and 15 people wearing matching white baseball caps and carrying duffel bags got off the plane and onto a charter bus near a dormant cargo terminal…

On Wednesday, The Post also saw two buses leave the Westchester airport carrying about 100 passengers who arrived on a McDonnell Douglas MD-83.

One bus stopped at the Thomas Edison Service Area off the New Jersey Turnpike in Woodbridge, where the migrants got off around 12:45 a.m. Thursday.

Over the next two hours, they were driven away in cars by people who met them there — without anyone appearing to have to show identification to the officials overseeing the operation…
Read the whole thing in full detail. Make sure you re-read the part about non-coupled/single males in their twenties. Those are the ones we are told by the administration are 'definitely' being sent back across the border. Just an important reminder that these people are not just coming up from South/Central America countries or Mexico. It is reported that over 100 countries are represented in this mass invasion of our sovereign nation.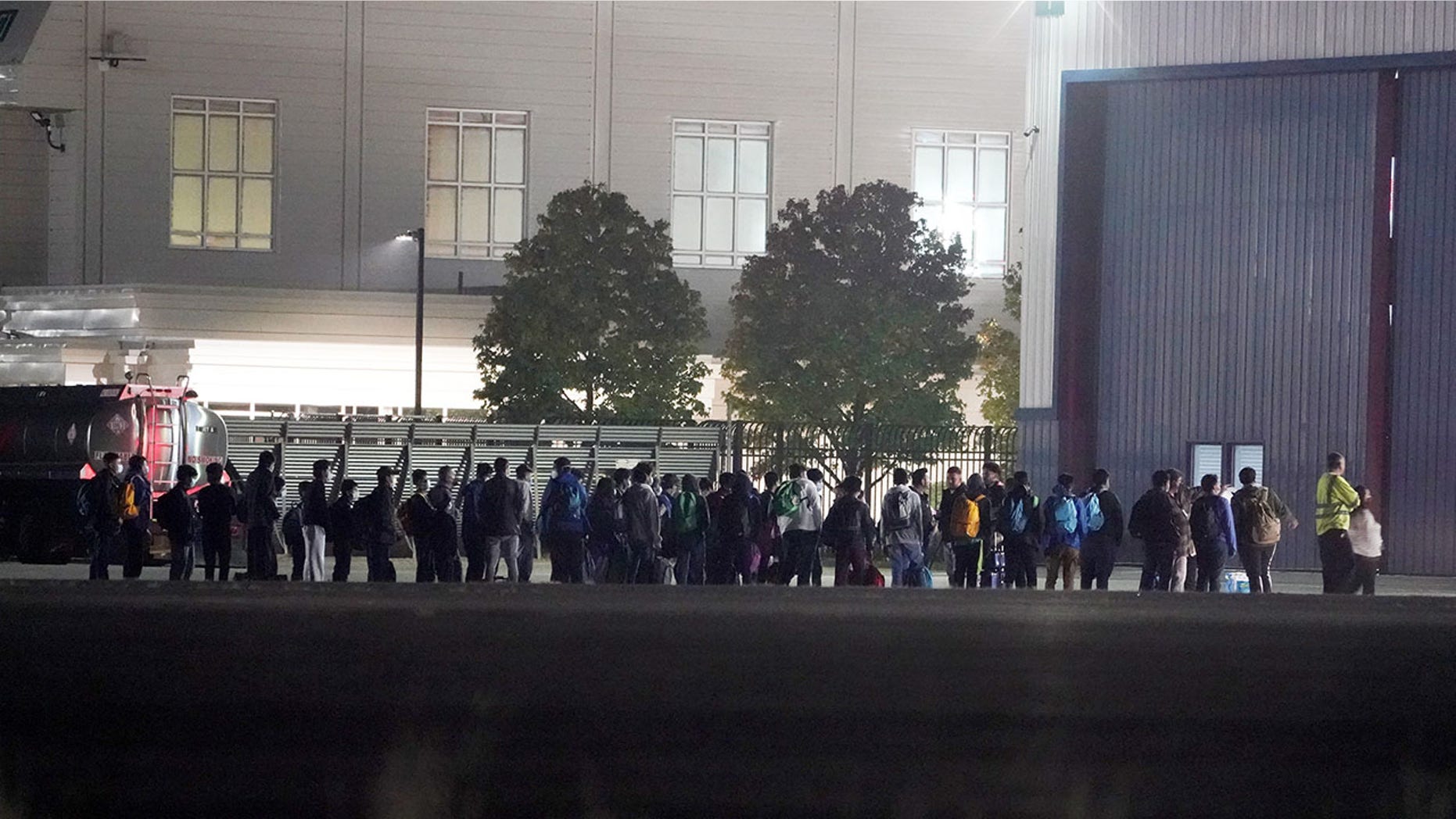 Meanwhile, it sounds as if the feds aren't even bothering to inform those states' governments and are just stealthily spreading the illegal invasion into as many states across the country, especially those states that are red … or blue states where the election graft is easiest.
VIDEO: New York Post uncovers where Biden is flying illegal immigrants: New York Post columnist Miranda Devine joins 'Tucker Carlson Tonight' to discuss the 'secret' late-night flights to New York carrying hundreds of illegal immigrants
The Biden administration isn't just helping transport and distribute the Mexican cartels' human cargo, but is now apparently helping fund this mass human trafficking enterprise…
VIDEO: Rep. Van Taylor: 'Outrageous' immigration policies have turned Border Patrol into 'border processing': Rep. Van Taylor, R-Texas., reacts to the State Department sending an additional $20 million to Mexico for migrants
Kristinn Taylor: Report: 'Caravana Madre' With 95,000 Migrants to March Through Mexico to US Starting This Saturday
In these last 9-10 months the number of illegal aliens, intercepted by authorities AND not detected, is already estimated to be a million or more. This, during a pandemic, and those people flooding over our border without COVID testing and mandatory vaccines. As I said, and those are the ones we know about. The others are obviously not being tested or vaxxed either. And so, should the COVID numbers go back up just know this administration and its MSM will be blaming American "anti-vaxxers" for the surge in infections … as they continue to not report the statistics/data of "breakthrough" 'fully-vaxxed' and now even 'booster-vaxxed' being well-within those infection/death numbers.
So instead of deporting them because they're literally legal migrants as they should be according to the law you just move them deeper into the country? Why? In before the next wave of covid is blamed on The unvaccinated Americans as Biden imports the unvaxxed third world

— Rotbringer Decrona (@PoxFulcrum) October 19, 2021
I believe he meant to type 'illegal', not "legal migrants".
MORE:
Emma Colton: Jill Biden boosts group that helps illegal immigrants avoid arrest amid border crisis: El Centro's nonprofit arm has published a series of videos on how illegal immigrants can avoid arrests … To be fair, it couldn't/wouldn't be getting done without the eager help of the Catholic churches, ministries, and charities in this country. "UNCLE" … I give. Remove tax exemption from ALL churches/places of worship, no matter the religion/denomination.
It has been nearly 1 month since DHS Secretary Mayorkas vowed that the investigation into Border Patrol agents on horseback in Del Rio would be done in "days, not weeks".
Still not done.

It is also October 18th & CBP still hasn't released September migrant apprehension numbers.

— Bill Melugin (@BillFOXLA) October 18, 2021
Twitchy: Bill Melugin's still waiting for findings from DHS investigation of border officers Dems said used 'whips'
Twitchy: Vice President Kamala Harris posts video of her walking from SUV to private jet on her way to discuss climate crisis … Biden's border czar is successfully doing everything she possible can to keep from going to the border.
GWP: EXCLUSIVE VIDEO: Kinney County Texas Sheriff Coe Announces Historic Plan to Deputize Local Citizens to Fight Back Against Biden Border Invasion
~~~
~~Many thanks to Maggie and The Universal Spectator for reprint permission.